By Zach Johnson
Elena Cañero-Reed's journey to the Oval Office begins in middle school.
That's the premise of the new Disney+ series Diary of a Future President (now streaming). Told from the narration of her diary, the series follows 12-year-old Cuban-American Elena (Tess Romero) as she navigates the ups and downs of middle school in the Miami suburbs, setting her on the path to become President of the United States.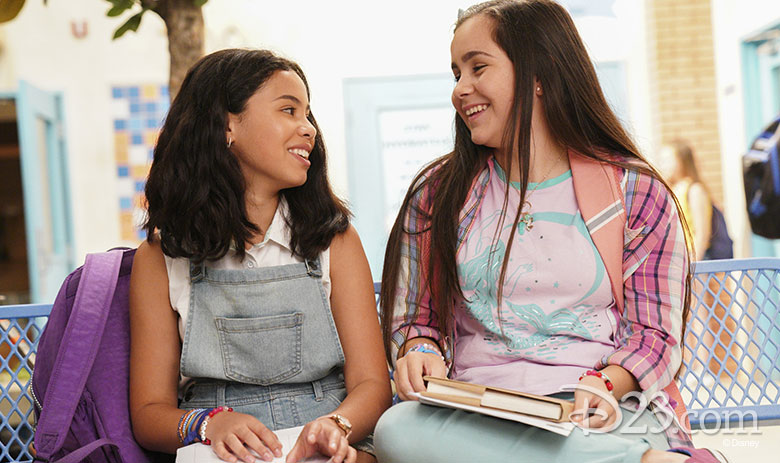 Diary of a Future President, inspired by creator and executive producer Ilana Peña's childhood, is produced by Golden Globe® winner Gina Rodriguez's I Can and I Will Productions. Rodriguez, who directs the first episode and guest stars as adult Elena, joined her onscreen mini-me to chat with us about the series at D23 Expo last summer. "At I Can and I Will Productions, our mission is to bring new faces in front of and behind the camera," explained Rodriguez. "Diary of a Future President was right in line with our mission and the kind of work we wanted to create. Disney+ was the best place to put it."
Rodriguez founded her production company in 2017 after realizing she had the ability to empower others whose stories weren't being told. "I used to feel like I didn't really see myself very often; I thought being in front of the camera was going to create change," she said. "But the Latinx community is not monolithic." With Diary of a Future President, Rodriguez said she aimed to "give women opportunities and put them in positions of power they hadn't had before." Rodriguez estimated 70 percent of the crew is women, as are the majority of the department heads. "We have a very inclusive writers' room and set; it's something I really wanted Tess to see," she said. "I wanted all our actors in front of the camera to see a reflection of the world behind it. That was important to me."
Mission accomplished. Romero, whose credits include Alternatino and Blind Spot, said she was inspired by Rodriguez's leadership. "I have learned so much from Gina on set!" the youngster said. "She's everybody's favorite because she's so sweet. She helps people be what they want to be, and we all love her so much. I'm always hearing about her. She's, like, a legend! Everybody's always talking about how great she is, how much they love her, and what she's done for them. Hopefully one day, I can get to that point."
"You will!" Rodriguez told Romero. "She will! She will!"
Want more Disney+ news? Click here to stay up-to-date with what's streaming!