By Courtney Potter
Frozen on Broadway gets a date, construction continues in a big way at Disneyland Park, and Olaf's Frozen Adventure reveals its poster … Read more, along with other news from around Disney, in this week's news briefs!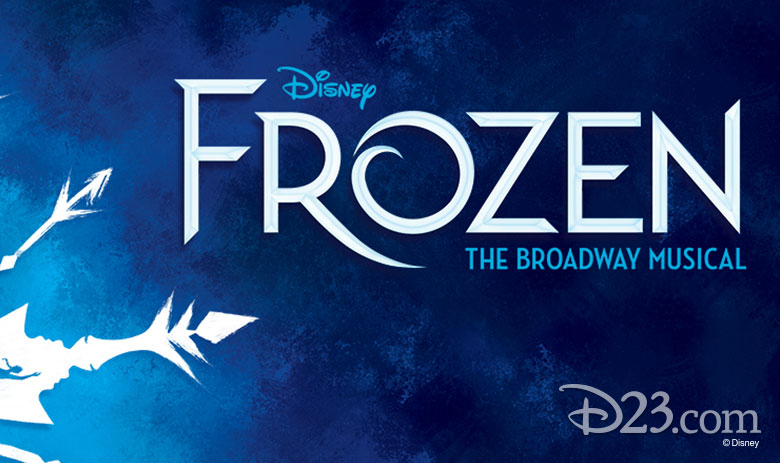 Frozen on Broadway Sets Opening Date
Disney Theatrical Productions just announced the official opening date for Frozen on Broadway—March 22, 2018, at the St. James Theatre! The show will begin "preview" performances on Thursday, February 22, 2018, joining Disney's other NYC hits Aladdin and The Lion King on the Great White Way. Tickets for Broadway performances are on sale now, so get 'em while the gettin' is good! Check out FrozenTheMusical.com for more information.
Save the Date!
Be sure to mark these upcoming Disney events on your calendar:
D23 and Walt Disney Archives


August 31, 2017


Stand Out During A Goofy Movie at the El Capitan Theatre


September 9, 2017


The Official Walt Disney Studios Tour—Presented by D23


October 1, 2017


D23's Fanniversary Celebrates 35 Years of Epcot


October 1, 2017


A Progressive Dinner Celebrating 35 Years of Epcot


October 3, 2017


D23's Sip and Stroll


November 18, 2017


The Official Walt Disney Studios Tour—Presented by D23
Parks


August 25 and 29, September 1, 7, 10, 12, 15, 17, 19, 22, 24, 26, and 29; October 1, 3, 5, 6, 9, 10, 12, 13, 15, 17, 19, 20, 22, 24, 26, 27, 29, and 31; November 1




Mickey's Not-So-Scary Halloween Party at Magic Kingdom Park




August 31-November 13, 2017




Epcot Food & Wine Festival




September 15–October 31, 2017




Halloween Time at the Disneyland Resort




September 20, 22, 25, 27, 29, October 3, 6, 10, 13, 17, 20, 24, 27, 31




Mickey's Halloween Party at Disneyland Park




2019


Star Wars-Themed Lands Opening at Disneyland and Walt Disney World



Studios




November 3, 2017


Thor: Ragnarok opens in theaters


November 22, 2017


Coco opens in theaters


December 15, 2017


Star Wars: The Last Jedi opens in theaters


Television




September 23, 2017


DuckTales Series debuts with two new episodes (7 a.m., 11 a.m., 2 p.m., 5 p.m. 8 p.m. and 10:30 p.m. ET/PT)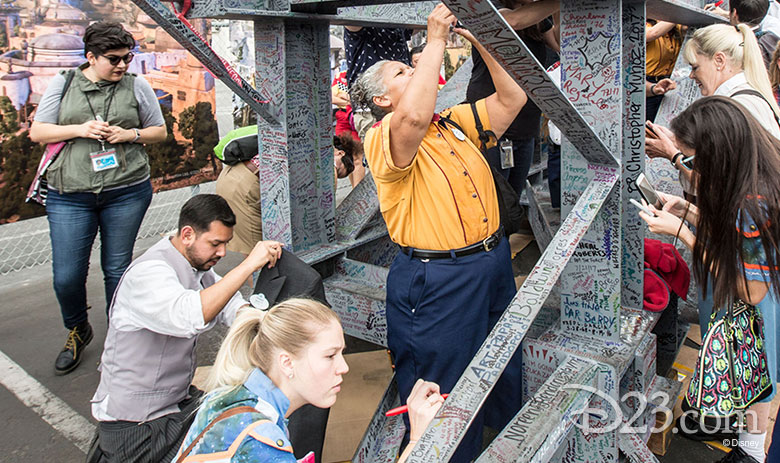 Star Wars: Galaxy's Edge Celebrates Big Construction Milestone
Huge news from the Disneyland Resort, friends: The newest land coming to Disneyland Park, Star Wars: Galaxy's Edge, just celebrated a huge (err, make that tall) milestone. Walt Disney Imagineering, as well as all the project teams responsible for giving galactic life to the land, commemorated the "topping out" of the tallest peak in the land's 14 acres! Read more about it—and see a new video detailing the festivities—right here.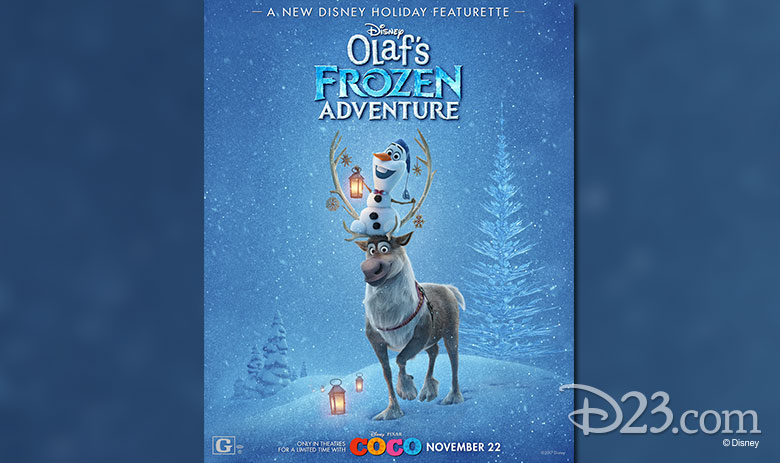 Frosty Fun: First Poster for Olaf's Frozen Adventure Released
When Disney•Pixar's latest film, Coco, is released in theaters this fall, it'll be joined by what's sure to be a terrifically adorable addition to the Frozen universe: a brand-new featurette called Olaf's Frozen Adventure! With several original voices from the 2013 film—including Idina Menzel as Elsa, Kristen Bell as Anna, Jonathan Groff as Kristoff, and Josh Gad as the happy-go-lucky snowman of the title—and all-new songs from the up-and-coming writing team of Elyssa Samsel and Kate Anderson, the featurette follows sweet Olaf as he searches for the perfect holiday tradition to pass on to Arendelle's royal sisters.
We may have to wait 'til November 22 to see the featurette—but today we got a look at its brand-new poster, above. And in case you missed it the first time around, check out this holly-jolly teaser for the featurette here!
Coming Soon: Grand Avenue at Disney's Hollywood Studios
Disney's Hollywood Studios at Walt Disney World Resort is undergoing some super-big, super-exciting changes—most notably, the addition of two lands over the next few years: Star Wars: Galaxy's Edge and Toy Story Land. But this is Disney—and Disney likes to "go big"… so there's a cool transformation happening over in the Muppets Courtyard too!
A portion of the former Streets of America, where the Muppets Courtyard "holds court" alongside Muppet*Vision 3D, is being transformed by Walt Disney Imagineering into a new area called Grand Avenue. Inspired by present-day downtown Los Angeles, Grand Avenue will include a cool corner pub (with plentiful California beers on tap) as well as Grand Park—an "urban square" with shops and restaurants like PizzeRizzo and Mama Melrose's Ristorante Italiano. But Muppets fans, take heart: The hilarious 3D attraction featuring Kermit and all his pals isn't going anywhere… its theater is being renamed Grand Arts Theatre, and it'll feature an amazing new marquee.
Look for these fun, SoCal-inspired changes at Disney's Hollywood Studios this fall!
Teaser Trailer for Disney XD's Big Hero 6: The Series
Are you ready for the further adventures of Baymax, Hiro, and all their friends? Big Hero 6: The Series is set to debut in November—and just last week, a tantalizing teaser trailer hit the World Wide Web. Check it out, above!
The series picks up right after the events of the 2014 Walt Disney Animation Studios film; Hiro is the "new kid" at San Fransokyo Institute of Technology, and he faces the challenges of a prestigious school while simultaneously being the "little man on campus." Thankfully, Hiro's got smarts and creativity—and his best friend Baymax to help him along the way! It's off-campus where things get dangerous… but with neat freak Wasabi, bubbly mad scientist Honey Lemon, fanboy Fred, and no nonsense Go Go by his side, Hiro forms an awesome (albeit rag-tag) super hero team: Big Hero 6. Together, they face madness and mayhem as a colorful array of science-enhanced villains threaten San Fransokyo.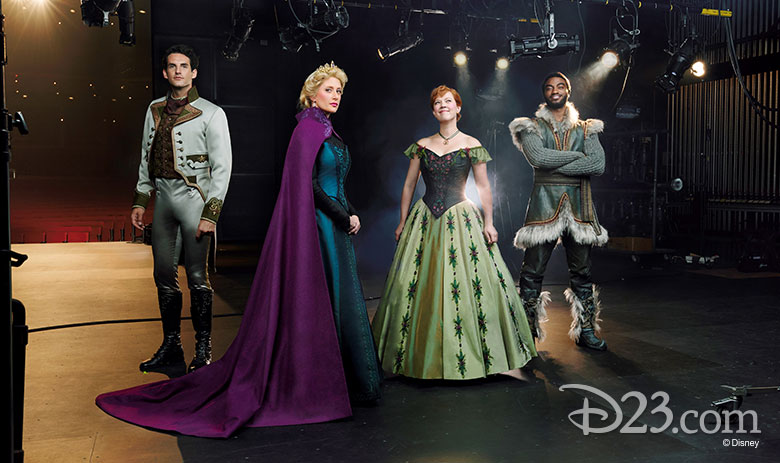 Love is an Open Door… to Seeing the Cast of Broadway's Frozen in Costume!
The stage musical adaptation of Frozen is currently playing to enraptured audiences inside the Buell Theatre at the Denver Center for the Performing Arts in Colorado… but soon, the production will move to its permanent home at Broadway's legendary St. James Theatre. Want to see what the triple-threat cast looks like in costume? D23 has you covered—check out the video worth melting for here.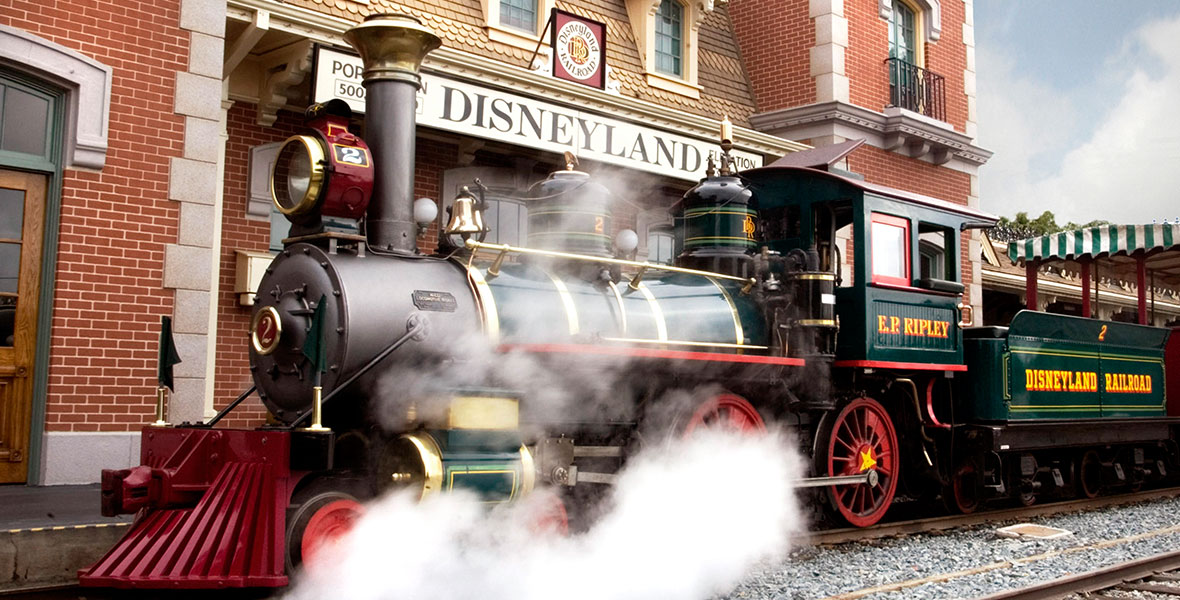 All Aboard the Brand-New Grand Circle Tour at Disneyland Park!
"Your attention please! The Disneyland Limited, now arriving from a trip around Walt Disney's Magic Kingdom."
There is a brand-new Guided Tour at Disneyland park, and it's geared towards all Disney fans—especially those who love trains as much as Walt Disney! The Grand Circle Tour is truly a look behind "the steam behind Walt's dreams" and departs daily from Tour Gardens.
The D23 team had an opportunity to experience the new tour that includes a ride aboard the beloved Disneyland Railroad's presidential car, the Lilly Belle, as well as special tour takeaways including: a specially engineered donut served with a warm beverage (coffee or hot chocolate), an exclusive tour credential, and a print of the Main Street Train Station's newly reimagined railroad map!
We sat down with Valerie Means, one of the developers of the tour, and she explained that the Grand Circle Tour is a great chance for guests to learn more about Walt's passion for trains and how the Disneyland Railroad has played an integral part to the Disneyland story for more than 60 years. She was also excited to share that this tour integrates video technology during the two-hour tour—a first for Guided Tours!
If D23 Members are interested in pricing and booking information, please call 714-781-TOUR (8687).
Calling All Girls: Join the Thor: Ragnarok Superpower of STEM Challenge!
Amazing news for all you gals out there interested in STEM—science, technology, engineering, and math. (Huge kudos if so; our own math skills need a bit of help.) This week, Disney and Marvel Studios announced the Thor: Ragnarok Superpower of STEM Challenge, in conjunction with the November 3 release of the next installment in Thor's galactic shenanigans.
The program—supported by American Association for the Advancement of Science, Broadcom MASTERS, and Society for Science & the Public—seeks to inspire young girls to use the superpower of STEM to help their family, community, or the world be safer, healthier, or happier. Girls aged 15-18 (in grades 10 through 12), living in the 50 United States and D.C., are invited to use the superpower of STEM to create an original "Do-It-Yourself" project that can be replicated by others. Five finalists will then be selected to come to Los Angeles and present their projects, in person, to a panel of experts and—drum roll, please!—to attend the Red Carpet Premiere of Marvel Studios' Thor: Ragnarok!
But that's not all: One grand-prize winner will be selected from the five finalists to attend an immersive three-day mentorship in New York City with Walt Disney Imagineering to build her STEM story, creating a professional-level video teaching other young people how to recreate her Challenge-winning project. The winner will also have the opportunity to demonstrate her Superpower of STEM project live to the nation with a brief appearance on ABC's Good Morning America.
For more info, visit the challenge's website at MarvelStudiosSTEMChallenge.com. And good luck!