By Courtney Potter
Marvel Studios' Hawkeye: First Two Episodes Debut on Disney+ November 24
This just in, and you'll wanna mark your calendars for this: The first two episodes of Marvel Studios' six-episode event Hawkeye will premiere exclusively on Disney+ on November 24! Subsequent episodes will launch each week on Wednesday. Have a look at the new trailer celebrating this announcement, above.
Hawkeye is an original series set in post-blip New York City where former Avenger Clint Barton aka Hawkeye (Jeremy Renner) has a seemingly simple mission: get back to his family for Christmas. But when a threat from his past shows up, he reluctantly teams up with Kate Bishop (Haylee Steinfeld)—a skilled archer and his biggest fan—to unravel a criminal conspiracy.
The series—helmed by Rhys Thomas and directing duo Bert and Bertie— also stars Vera Farmiga, Fra Fee, Tony Dalton, Zahn McClarnon, Brian d'Arcy James, and newcomer Alaqua Cox as Maya Lopez. We cannot wait!
5 Fantastic Things to Watch This Weekend
Halfway to Halloween and the time is right… to watch Hocus Pocus! (Who are we kidding; we watch it throughout the year.) If you'd care to join us, it'll be airing this very weekend as part of Freeform's "31 Days of Halloween" programming event. As for what else there is to watch from around the worlds of Disney, there's a truly entertaining plethora of choices—read all about 'em here.
Olaf Presents: New Series of Animated Shorts Coming to Disney+!
News from the world of Frozen: Disney+ and our pals at Walt Disney Animation Studios just unveiled plans for a new series of animated shorts starring everyone's favorite lil' snowman, Olaf, as he recreates moments from Disney Animation classics The Little Mermaid, Moana, The Lion King, Aladdin, and Tangled. See the snowman-turned-storyteller in action in the brand-new trailer, above.
In the shorts, Olaf steps into the spotlight as he takes on the roles of producer, actor, costumer, and set builder for a unique retelling of five fave Disney animated tales. The charismatic snow(show)man demonstrates his theatrical flair, taking on such iconic roles as a mermaid, a genie, and a lion king (and most of the parts in between), as he entertains Arendelle with his delightful abbreviated versions of these beloved stories. Josh Gad once again lends his voice to the perpetually cheerful Olaf, with veteran Disney animator Hyrum Osmond (Moana, At Home With Olaf) directing.
Olaf Presents launches exclusively on Disney+ Day—a global celebration that will come to life across The Walt Disney Company on Friday, November 12 (so soon!)… with new content releases, amazing fan experiences, special offers, and more.
First Look at Disney+'s Home Sweet Home Alone
Another Disney+ Day premiere that's sure to fill you with cheer is Home Sweet Home Alone, the reimagining of the beloved holiday film franchise. Take a gander at the hilarity in store in the brand-new, first-look trailer, above.
The adventure-comedy follows Max Mercer (Archie Yates), a mischievous and resourceful young boy who has been left behind while his family is in Japan for the holidays. So, when a married couple (Ellie Kemper and Rob Delaney) attempting to retrieve a priceless heirloom set their sights on the Mercer family's home, it is up to Max to protect it from the trespassers… and he will do whatever it takes to keep them out! Hijinks of epic proportions ensue—but despite the chaos around him, Max soon comes to realize there really is no place like home sweet home.
Directed by Dan Mazer, Home Sweet Home Alone also stars Aisling Bea, Kenan Thompson, Tim Simons, Pete Holmes, Devin Ratray, Ally Maki, and Chris Parnell. Look for it on Disney+ beginning November 12!
Disney Junior Dance Party! Now Back at Disney California Adventure
Good news for families with younger kids who will soon find themselves enjoying Disneyland Resort—as of today (Friday, October 15), Disney Junior Dance Party! has returned to Disney California Adventure park.
This colorful, tuneful live show features high-energy songs, dazzling special effects, and a bunch of beloved characters from some favorite Disney Junior series. Disney Junior Dance Party! is hosted by Finn Fiesta and DJ Deejay, who encourage young and young at heart to sing and dance to their favorite Disney Junior songs. This cool interactive atmosphere practically insists on audience members playing along with Disney Junior faves like Doc McStuffins; Mickey Mouse and Minnie Mouse from Mickey and the Roadster Racers; and even Vampirina from the hit Disney Junior series of the same name.
So break out those dancin' shoes and make sure to visit Disney Junior Dance Party! the next time you're visiting Disney California Adventure…
Exciting New Trailer for The Beatles: Get Back
A sure-to-be-incredible three-part docuseries is coming to Disney+ just in time for Thanksgiving… and we're preemptively giving thanks for the amazing footage contained therein.
Directed by three-time Oscar®-winning filmmaker Peter Jackson, The Beatles: Get Back is made up entirely from never-before-seen restored footage of the iconic band, providing the most intimate and honest glimpse into the creative process and relationship between John Lennon, Paul McCartney, George Harrison, and Ringo Starr ever filmed.
The docuseries showcases The Beatles' creative process as they attempt to write 14 new songs in preparation for their first live concert in more than two years. Faced with a nearly impossible deadline, the strong bonds of friendship shared by the four lads from Liverpool are put to the test. Jackson compiled the docuseries from nearly 60 hours of unseen footage shot over 21 days, directed by Michael Lindsay-Hogg in 1969, and from more than 150 hours of unheard audio… most of which has been locked in a vault for more than half a century.
Watch for The Beatles: Get Back to roll out over three days—on November 25, 26, and 27—exclusively on Disney+.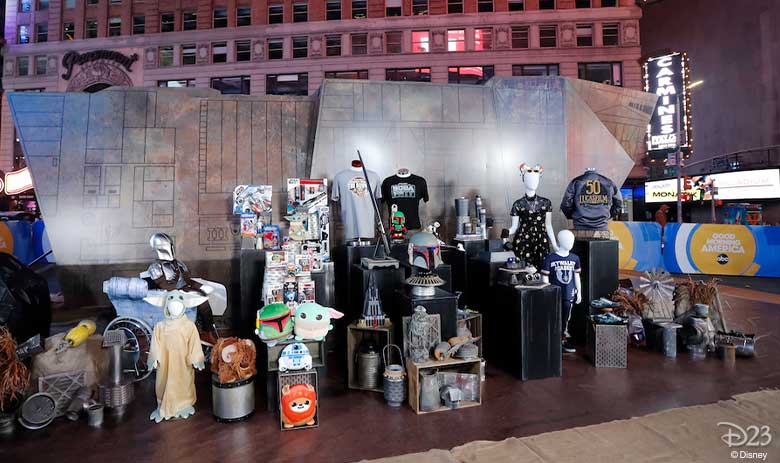 Go Galactic This Holiday Season with "Bring Home the Bounty"
Star Wars fans, here's some amazing holiday-related info: Disney and Lucasfilm just launched "Bring Home the Bounty," a global consumer products, games, and publishing campaign debuting new Star Wars products every Tuesday—now through December 28! It's all to help fans find that perfect bounty for their family, friends, and or even themselves! (Can you see us raising our hands?)
The 12-week program will include reveals of items inspired by the huge Star Wars universe including Lucasfilm series such as The Mandalorian and the upcoming The Book of Boba Fett; classic content like the Skywalker saga films; new animated series such as Star Wars: The Bad Batch and Star Wars: Visions; and lots more. Each Tuesday, new goods across toys, apparel, action figures, accessories, books, comics, games content, and more will debut on BringHomeTheBounty.com—as well as with retailers around the world, helping fans to fill out their holiday wish lists.
New products and content—including items from Hasbro, The LEGO Group, Funko, Mattel, and many more—will be revealed each Tuesday at 6 a.m. PT/9 a.m. ET, with select pre-orders starting Wednesdays at 10 a.m. PT/1 p.m. ET. Products can be found at top retailers globally, including shopDisney. Lightspeed to holiday fun!
New Marvel Studios' Eternals Featurette—and Tickets Now On Sale
We're just a few weeks away from the debut of Marvel Studios' supremely anticipated new film, Eternals… and to celebrate, earlier this week, Marvel Studios revealed a new featurette for the film. Whet your appetite by giving it a looksee, above.
Eternals follows a group of heroes from beyond the stars who had protected the Earth since the dawn of man. When monstrous creatures called the Deviants, long thought lost to history, mysteriously return, the Eternals are forced to reunite in order to defend humanity once again. The film stars Gemma Chan, Richard Madden, Kumail Nanjiani, Lia McHugh, Brian Tyree Henry, Lauren Ridloff, and Barry Keoghan, with Don Lee, Kit Harington, Salma Hayek, and Angelina Jolie. The film is produced by Kevin Feige and Nate Moore and is directed by recent Academy Award® winner Chloé Zhao.
But that's not all: Should you want to get a head start on your movie-going experience, tickets are now on sale; visit Fandango.com for showtimes near you and to reserve your seats.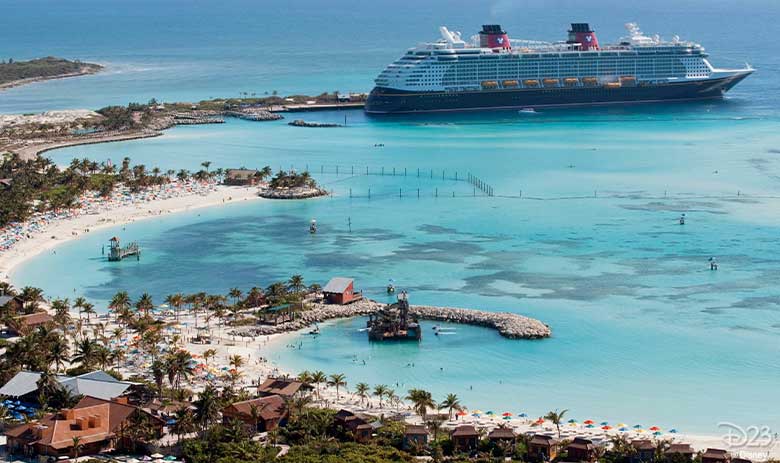 Disney Cruise Line Returns to Favorite Tropical Locales in 2023
Fun news from the good folks at Disney Cruise Line… In early 2023, they'll be returning to top tropical destinations in the Bahamas—including Disney's private island, Castaway Cay—as well as the Caribbean and the Mexican Riviera, sure to delight guests of all ages with their truly one-of-a-kind vacations at sea.
Departing from Port Canaveral, the Disney Wish will sail into 2023 with three- and four-night voyages to Nassau, Bahamas, and Castaway Cay. Cruises aboard Disney's newest ship combine enchanting new entertainment and storytelling, with the unparalleled service and magical moments that guests love when sailing with Disney. And the Disney Fantasy will begin the year with seven-night sailings to several favorite destinations in the Eastern and Western Caribbean. Plus, one unique eight-night sailing includes two days in beautiful Bermuda! And in Miami, the Disney Dream will embark on an assortment of four- and five-night cruises to locales including Grand Cayman, Nassau, Castaway Cay, and Cozumel, Mexico.
Meanwhile, in January and February, the Disney Magic will sail from Galveston, Texas, on a variety of four-, five-, six- and seven-night itineraries to the Bahamas and Western Caribbean; then, in February and March, the Disney Magic is "going down the bayou" for the first time during a debut season in New Orleans. Departing from the heart of "The Big Easy," along the mighty Mississippi River, the four-, five-, and six-night sailings will call on the tropical destinations of Grand Cayman and Cozumel.
And as for the Disney Wonder, it will return to the West Coast, sailing from San Diego in April and May with cruises to Baja, Mexico, and the Mexican Riviera.
Bookings will open to the public on Thursday, October 21. More details can be found on the Ports and Itineraries for 2023 page of disneycruise.com!
ICYMI: Behind the Spooky New Series Just Beyond on Disney+
Inspired by the writings of R.L. Stine, each episode of Disney+'s new series Just Beyond tells an astonishing and thought-provoking story of a reality just beyond the one we know… D23 had the very cool chance to hear directly from Stine as well as series executive producer Seth Grahame-Smith; see what they had to say about these perfect-for-Halloween adventures by clicking here.