By Jim Frye
In 1979, famed American writer Tom Wolfe turned our gazes skyward, releasing The Right Stuff, a book richly detailing the young pilots selected for NASA's very first attempt to put men into space. These astronauts, the "Mercury Seven" as they were called, galvanized the country in the early '60s around a shared ambition and hope, proving that they truly did have the titular "right stuff" to lead us into the new frontier. Wolfe's book became a worldwide best-seller, spawning a 1983 movie of the same name, and forever cementing the mythos of America's first astronauts into our shared national pride. National Geographic takes a fresh look at those storied events with its new series The Right Stuff, premiering October 9, 2020, on Disney+.
Based on Wolfe's iconic 1979 book, the new series delves deeper into the incredible tales of America's first astronauts, focusing especially closely on two men at the center of the story jockeying to become the first man in space: Major John Glenn, a Marine and committed family man, and Lieutenant Commander Alan Shepard, one of the best pilots in Navy history.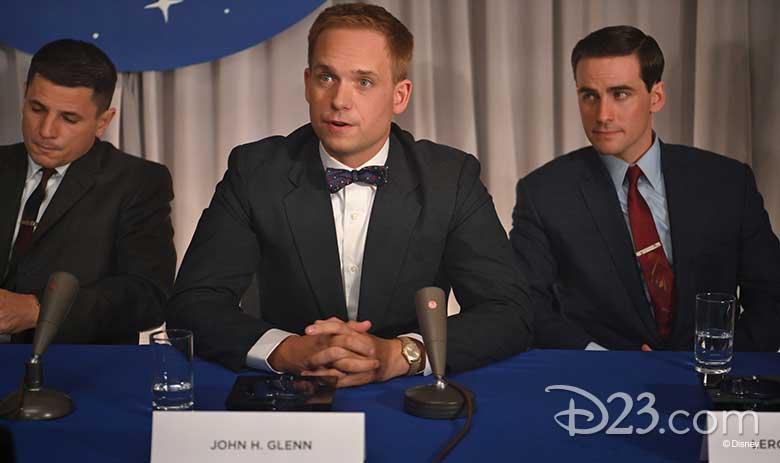 The actor Patrick J. Adams, perhaps best known for his role in the long-running series Suits, portrays Major John Glenn, a bigger-than-life character who became a giant presence in the American psyche. To prepare for the part, Adams jumped headlong into the mountains of information available to him regarding Glenn. "I had the luxury of an enormous amount of resources—John Glenn's life is incredibly well-documented," says Adams in an exclusive interview with D23.com. "Ohio State University has the John Glenn archives, which are hundreds and hundreds of boxes of stuff. I had the opportunity to spend a couple of days trying to find some key pieces. And I just tried to steep myself in all things John Glenn."
Adams was able to study a whole slew of material, from Glenn's private letters, journal entries, and notes from throughout his service, to his correspondence with U.S. Presidents and many others. "I went through it all and looked for those pieces that would spark something in me and I used those as my linchpins, and I moved away from the idea of having to do an impression of John Glenn," he says. "I had to move beyond him as a person in the culture and embrace what parts of him felt like they brought something up in me."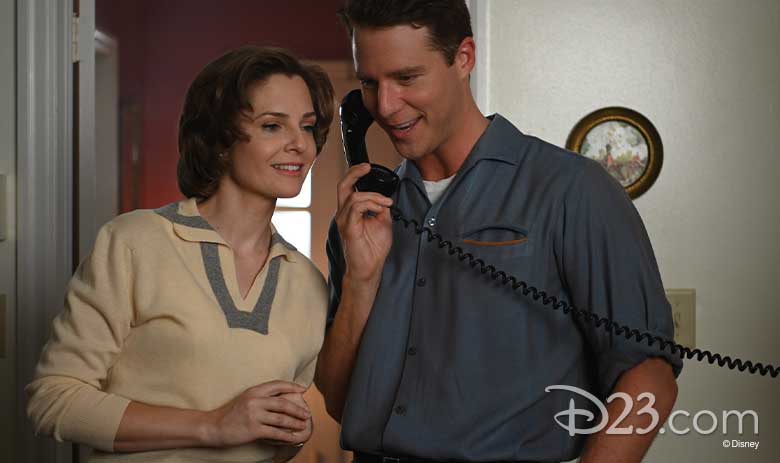 Taking on the role of Lieutenant Commander Alan Shepard is Jake McDorman, who audiences may have seen in TV series such as Limitless, Shameless, and FX's What We Do in the Shadows. In contrast to John Glenn, who seemed to embrace the acclaim and didn't shy away from the spotlight, his counterpart, Shepard, preferred a different route. McDorman describes him as the yin to John Glenn's yang—a completely different animal. "He was not a public person," says McDorman. "He was really uncomfortable with a lot of the aspects of celebrity."
As he dug into his research for the role, McDorman found out more about this dichotomy between Glenn and Shepard, and why they approached their lives—and careers—so differently. "The more I researched Shepard, the more I researched the arc of the Mercury program, and the more I found out why they were so different—I think John Glenn was already somewhat of a celebrity. He had fought in the Korean War and had been on TV in a very public persona, and he understood how important it was to have public opinion in favor of the Space Program in order to get the momentum it needed. Shepard, though, was an all-out, mad-dog fighter jock—hard-drinking from the get-to. He was uncomfortable being not just a role model but being the family-friendly persona of an astronaut that they all had to adopt."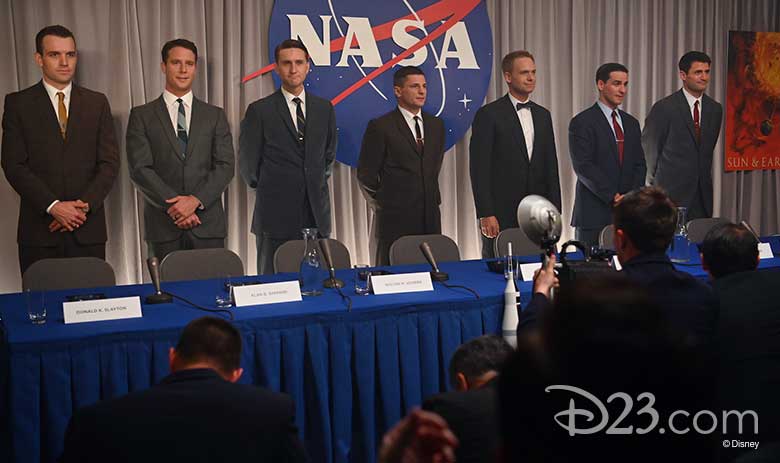 Understanding these aspects about the real-life Alan Shepard helped McDorman to get better into the minds of the test pilots and their relationship with fear, death, and international celebrity. "Shepard wanted to [keep] his head down and not lose who he was or change who he was," he says. "His drive to push the limits, as test pilots would—to find the limits, find the edge, find the line, to execute your job effectively—that was kind of what made him tick."
In the late '50s, at the height of the Cold War, the Soviet Union dominated the space race, casting a long shadow on the rocket program in America. NASA had the monumental task of sending a man into space, something engineers estimated would take decades. They were given two years, and the Mercury space program was born. And although their approaches were considerably different, both John Glenn and Alan Shepard are today regarded as modern-day heroes and examples of accomplishing the impossible.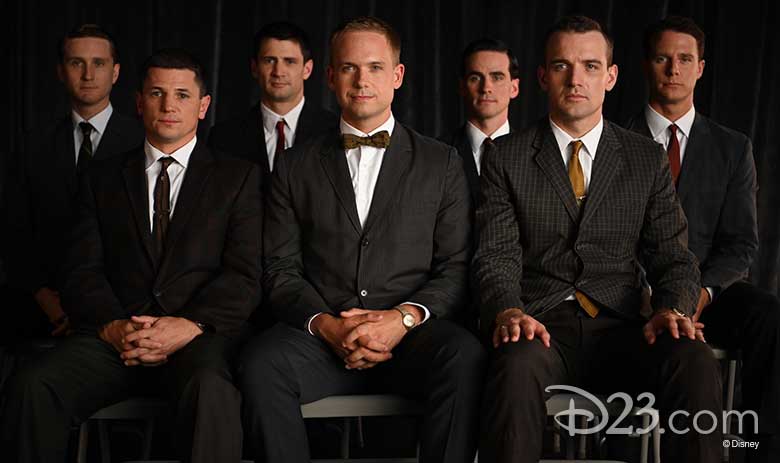 In addition to Patrick J. Adams as Major John Glenn and Jake McDorman as Lieutenant Commander Alan Shepard, The Right Stuff stars Colin O'Donoghue as Captain Gordo Cooper, the youngest of the seven astronauts; Eloise Mumford as Trudy Cooper, an accomplished pilot in her own right; James Lafferty as Scott Carpenter, dubbed "The Poet" by his colleagues; Nora Zehetner as Annie Glenn; Eric Ladin as Chris Kraft, Jr.; Patrick Fischler as Bob Gilruth, NASA engineers; Aaron Staton as Wally Schirra, the prankster; Michael Trotter as Virgil "Gus" Grissom, who became the second man in space; Micah Stock as Deke Slayton, quiet yet incredibly smart; Shannon Lucio as Louise Shepard; and Josh Cooke as Loudon Wainwright, Jr., the writer assigned to cover the astronauts.