As people around the globe celebrate Pi Day by reciting countless digits and, naturally, eating pies, D23 looks back at a Disney educational film that served its own spoonful of sugar to help the medicine (i.e. mathematics!) go down. Donald in Mathmagic Land (1959) remains one of the most popular and inspiring educational films in history, ingeniously presenting the world of math in captivating and thought-provoking ways. Enjoyed by tens of millions of viewers—from students in classrooms to patrons in cinemas—the featurette reveals the fascinating relationship between the oft-unpopular subject and the worlds of music, sports, nature, and beyond.
To help tell the story of Donald in Mathmagic Land, we've counted up a few interesting factors we thought you'd enjoy: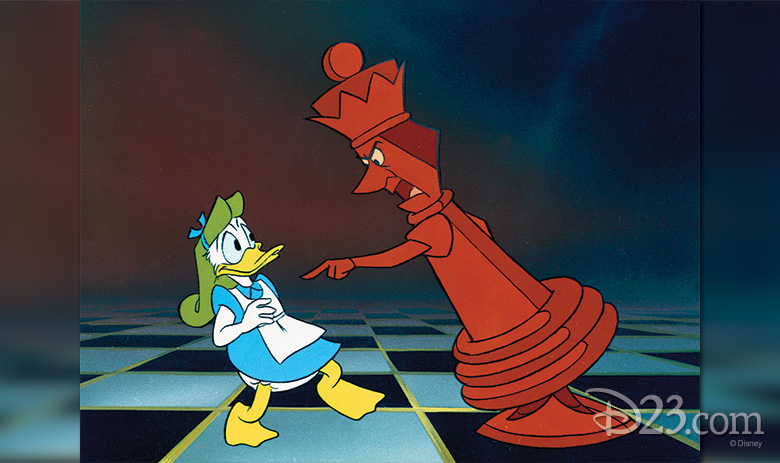 The Disney Studio helps solve a puzzling problem.
In the late 1950s, the Disney Studio embarked on a bold effort to approach a challenge facing classrooms: to build an appreciation of mathematics. For the star of their film, the staff needed to identify an entertaining personality with whom the audience could identify. It wasn't long before the directors found their biggest critic of mathematics in-house: the irascible Donald Duck. (After all, if Donald could become interested in math, who couldn't?!)
The film begins with our skeptical duck wandering through a mysterious land where numbers are the size of trees and birds take on strange geometric shapes. There, a mysterious voice—who identifies himself as the true Spirit of Adventure—informs Donald that he's about to embark on a journey through the wonders of Mathmagic Land. Our protagonist is first sent back to ancient Greece, where he eavesdrops on a top-secret meeting of Pythagoreans (or, as Donald calls them, "eggheads") and watches how math unlocks the secret to music (and spirited jam sessions). Donald soon takes on a variety of other roles—from a billiards player to Lewis Carroll's Alice—discovering the important and surprising purposes that mathematics plays in our world. By the end of their adventure, Donald and the audience are inspired to learn how math will play a limitless role in scientific achievements of the future.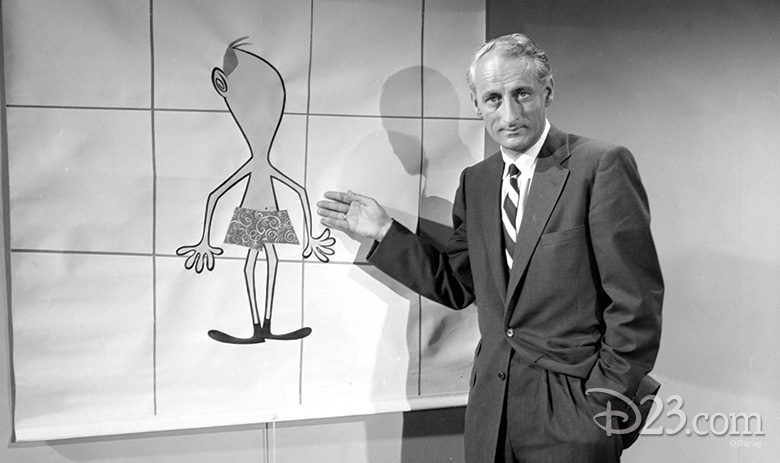 Adding a scientific expert to the equation.
While whimsical settings and imaginative scenarios were devised to engage Donald and his audience companions, the featurette needed to be "squarely rooted" in mathematical principles. The Disney Studio therefore sought the technical counsel of scientific expert and mathematician Dr. Heinz Haber, who joined as a special advisor on the production. Haber had previously consulted for (and starred in) the popular Disneyland episodes Man in Space (1955) and Our Friend the Atom (1957), which made complex visions of space travel and power sources accessible to television audiences.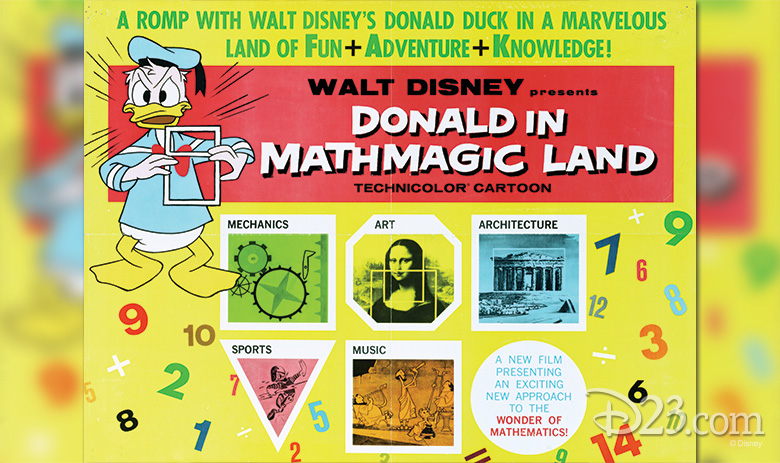 A formula for success… and multiple releases!
"The cartoon is a good medium to stimulate interest," Walt Disney once said. "It is an ideal medium for teaching… We have recently explained mathematics in a film and in that way excited public interest in this very important subject. Donald in Mathmagic Land stimulated interest in mathematics and turned out very well."
First released theatrically—on a bill with 1959's Darby O'Gill and the Little People—Donald in Mathmagic Land was so popular that it was also included in the very first episode of Walt Disney's Wonderful World of Color, airing September 24, 1961, on NBC. Perhaps most importantly, the featurette was also made available to classrooms via filmstrip (and later VHS and DVD!), quickly becoming the most popular educational film ever released by the Walt Disney Educational Media Company.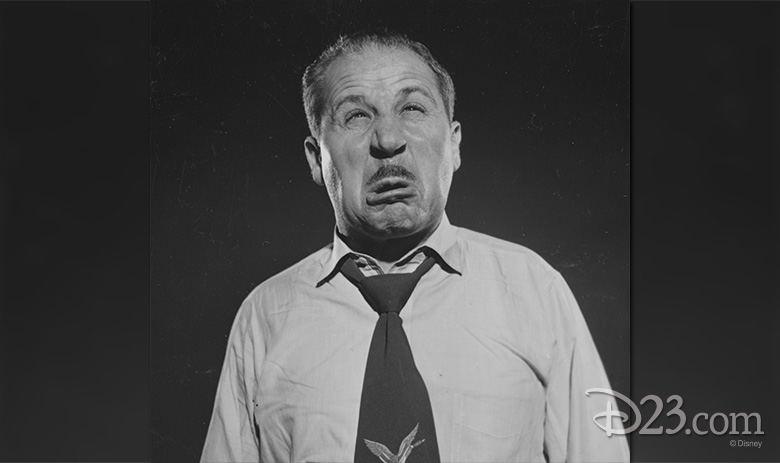 Each legend, artist, and staff member adds a unique angle.
Directed by Les Clark (who started at the Disney Studio back during the days of Oswald the Lucky Rabbit), Wolfgang Reitherman, Ham Luske, and Joshua Meador, Donald in Mathmagic Land emerged greater than the sum of its parts—which says a lot, considering the amount of talented artists (and future Disney Legends) who left their mark on the Disney production.
Opposite Clarence "Ducky" Nash—whose incomparable performance as Donald marked the character's 125th theatrical release, to be precise—was another versatile voice artist and Disney Legend. Fans of the Haunted Mansion and Adventure Thru Inner Space attractions will instantly recognize Paul Frees as our narrator, the Spirit of Adventure, a role he recorded a decade before welcoming foolish mortals at Disneyland and Walt Disney World.
And to bring the dramatic adventure to life on-screen, Studio artists employed the latest tricks of their trade, combining animation, live-action photography, color, and visual effects. From John Hench and Collin Campbell's visual contributions to Buddy Baker's mysterious musical score, the film still resonates today as a panorama of Disney showmanship at its finest.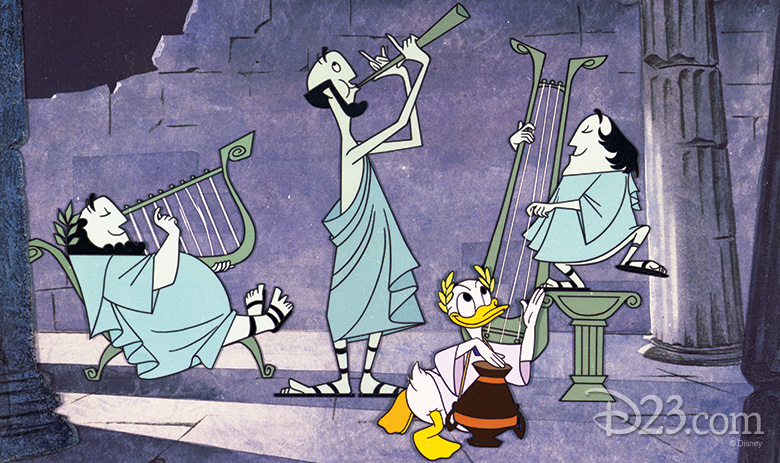 Counting up the awards and honors.
Not only was Donald in Mathmagic Land nominated for an Academy Award® (in 1959, for best Documentary—Short Subject), but it also received recognitions for outstanding achievement. Among them were diplomas of merit from the 13th Edinburgh International Film Festival (1959) and Mexico Instituto De Cultura Cinematográfica (1962), as well as certificates from the Southern California Motion Picture Council (1959) and International Educational Film Festival of Ministry of Education (1976).
These represent just a fraction of the film's many accolades. But perhaps the most important honor of all is the enduring appeal of and continued interest in Donald in Mathmagic Land. Today, nearly 60 years after its initial release, the timeless story remains as popular as ever, stimulating the minds of the young and young-at-heart well into the 21st century.
Now, about that pie…