Thanks to the discovery of the lost Oswald the Lucky Rabbit short Hungry Hoboes in a private London vault in 2011 and its subsequent digital restoration, fans are finally getting a chance to see the silent animated classic for the first time.
Originally released in 1928, Hungry Hoboes is No. 20 of 26 Oswald shorts created by Walt Disney and famed animator Ub Iwerks. Movie journalist Tim Lammers talked with animation historian David Gerstein about the cartoon, which can be unlocked with the digital purchase of the new Walt Disney Signature Collection release of Snow White and the Seven Dwarfs (online now at DisneyMoviesAnywhere.com; on Blu-ray Feb. 2).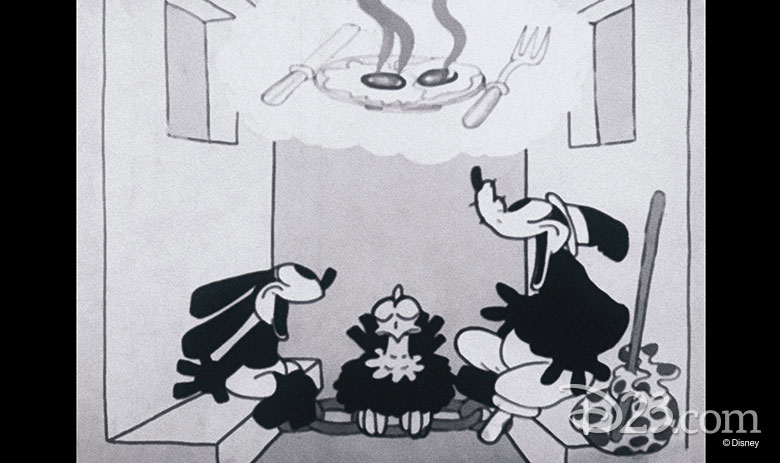 Tim Lammers: They may have similar physical characteristics, but what otherwise separates Mickey Mouse from Oswald?
David Gerstein: The two of them are rather different. I've read interviews with Ub Iwerks where he talks about how Walt wanted Mickey to be more of a Douglas Fairbanks kind of character—more of a genuine hero. Oswald has an enormous ego and consciously wants to think of himself as clever, lucky, and charming. He's the first guy on the block to puff out his chest, but he's also the first to get cold feet. He often has to bluff and outsmart the enemy, and you get the impression once in a while that Oswald the Lucky Rabbit is just what he likes to be known as—lucky. But in reality, Oswald's luck is very bad.
TL: What is different about Hungry Hoboes in comparison to other Oswald shorts?
DG: It might be the rudest and the rowdiest of all of the Oswald cartoons that have surfaced to date. Oswald is a ne'er-do-well who is on the run from the law, and he's actually pals with Peg-Leg Pete, who is usually his enemy. They don't exactly get along and they're squabbling pals like you've never seen. When you watch the cartoon, you'll see Pete is the kind of pal who will light your butt on fire and use the flame to fry an egg. Nevertheless, Pete does reach out to grab Oswald and hoist him to safety when they're running from the sheriff, so there's a little bit of love to lose.
TL: How does Hungry Hoboes reflect the comedy of its era?
DG: It's a cartoon of wild, split-second escapes and has lots of classic, early Disney fun with farm animals. Animals are bent out of shape, distorted, squeezed, and squashed to produce noise and music. It's a rowdy, outrageous cartoon in the tradition of the live-action two-reel comedies at the time. There's a little bit of Laurel and Hardy to the camaraderie between Oswald and Pete.
TL: What kind of synergy does Hungry Hoboes have with its animated counterparts?
DG: If you look at Hungry Hoboes together with earlier Oswald, Disney, and other silent cartoons of the period, you'll see that Hungry Hoboes is an amazing exercise in personality animation that at its time was almost unbeaten. A lot of us fans of classic, silent cartoons love vintage characters like Colonel Heeza Liar and Felix the Cat, who definitely emote to the audience. Walt Disney and Ub Iwerks made their characters with the same sort of sensibilities, but with a more nuanced and relatively realistic form of rubbery, smooth motion. There's just this feeling of, "We can create an emotive character in the same way, but add an extra dimension of believability to him. We're going to try to push the envelope and do something a little bit new with a little more personality."