Oswald is Coming to Disney California Adventure
You've worn the rabbit ear hats; you've tasted the Oswald ice cream sundaes at Clarabelle's. Now, beginning September 14, one of Walt Disney's earliest cartoon stars, Oswald the Lucky Rabbit, will be on hand to meet guests at Disney California Adventure Park in the area between the park's main entrance turnstiles and the Hyperion Bridge, from the time the park opens until 7 p.m. Oswald made his film debut September 5, 1927 in the cartoon short Trolley Troubles and appeared in 26 Oswald the Lucky Rabbit shorts, before Walt Disney lost the rights to the character in 1928. Oswald returned to the Disney family in 2006 and made his first Disney Parks appearance earlier this year at Tokyo DisneySea.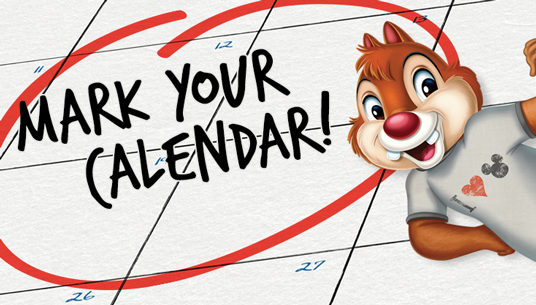 Save the Date!
Be sure to mark these upcoming Disney events on your calendar:
D23 and Walt Disney Archives


Summer and Fall 2014
D23 Disney Fanniversary Celebration


September 13


From the Vaults: The Adventures of Ichabod and Mr. Toad


September 27


D23 Member Night at Aladdin on Broadway


October 11


From the Vaults: Sleeping Beauty


November 8


Walt Disney Studios and Archives Tour


November 11


The Hunchback of Notre Dame VIP Experience


November 22-23


Destination D: Attraction Rewind at Disney's Contemporary Resort in Walt Disney World


Through January 4, 2015


Treasures of the Walt Disney Archives, presented by D23: The Official Disney Fan Club at the Museum of Science and Industry, Chicago


August 14-16, 2015


D23 Expo 2015 returns to Anaheim, California
Television


September 29


Phineas and Ferb—"Lost in Danville" premieres on Disney XD at 7:30 p.m. ET/PT.


October 13


Star Wars Rebels premieres on Disney XD at 9 p.m. ET/PT.


October 20


Kirby Buckets debuts on Disney XD at 8 p.m. ET/PT.
Parks


September 1, 9, 12, 14, 16, 19, 21, 23, 26, and 28; and October 2, 3, 5, 9, 10, 13, 16, 17, 19, 21, 23, 24, 26, 28, 30, and 31


Mickey's Not-So-Scary Halloween Parties at Magic Kingdom Park


September 26, 30; October 3, 6, 8, 10, 14, 17, 20, 22, 24, 27, 29, and 31


Mickey's Halloween Party at Disneyland Resort


November 7, 10, 13, 14, 16, 20, 21, and 30; and December 2, 4, 5, 7, 9, 11, 12, 14, 16, 18, and 19


Mickey's Very Merry Christmas Parties at Magic Kingdom Park


Studios




October 10


Alexander and the Terrible, Horrible, No Good, Very Bad Day opens in theaters.


November 7


Big Hero 6 opens


December 25, 2014


Into the Woods opens in theaters


March 13, 2015


Cinderella opens in theaters


June 19, 2015


Inside Out opens in theaters (along with the short Lava)
---

Disney To Begin Production on The Finest Hours
Disney has announced that production is set to begin in September on The Finest Hours, starring Chris Pine (Star Trek), Academy Award® and Golden Globe® nominee Casey Affleck (The Assassination of Jesse James by the Coward Robert Ford), and Holliday Grainger (Cinderella). Craig Gillespie directs the thriller based on the true story of a 1952 U.S. Coast Guard Rescue. To learn more about The Finest Hours, visit D23.com.
---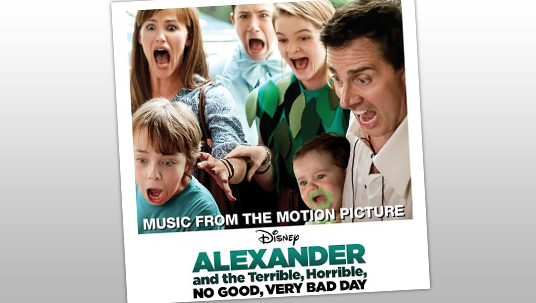 Alexander Soundtrack Available for Pre-Order, Includes Original Songs and Movie's Score
Alexander and the Terrible, Horrible, No Good, Very Bad Day hits theaters October 10, 2014 with a soundtrack that includes an original end-credit song from The Vamps, plus original songs from two of the film's stars and score by Christophe Beck (Frozen, The Hangover). The six-song EP will be released in the U.S. by Walt Disney Records on October 7, 2014. The Vamps perform the end-credit song "Hurricane" and also filmed a music video for the song that features a cameo by Bella Thorne, who appears in the film. A sneak peek of the video will debut on Disney Channel September 12, followed by the full video premiere on VEVO. Dylan Minnette, who plays big brother Anthony in the film, co-wrote the song "Surf Surf Don't Drown," which is performed by Minnette's band, The Narwhals, and also appears in the film. The other cast member who provides a song for the soundtrack is Kerris Dorsey, who portrays big sister Emily. She wrote and performed the song "Best Worst Day Ever" along with her sister Justine Dorsey. Fans can pre-order the soundtrack beginning today.
---
See Super Heroes in Action in a new Disney Infinity Trailer!
The release date for Disney Infinity: Marvel Super Heroes (2.0 Edition) is almost here. But in the meantime, check out this latest rockin' trailer that features Spider-Man, Captain America, Iron Man, Hulk, Black Widow, Rocket Raccon, and more! Save the world in play sets for The Avengers, Spider-Man, and Guardians of the Galaxy. Create your own universe with the newly enhanced Disney Infinity Toy Box 2.0 Edition. Bring on the Super Heroes!
---

Cast Announced for The Hunchback of Notre Dame at La Jolla Playhouse
La Jolla Playhouse announced the cast for its upcoming U.S. premiere musical, The Hunchback of Notre Dame, which will run October 26–December 7, 2014 in the Playhouse's Mandell Weiss Thetre. The cast features Michael Arden (Broadway's The Times They Are A-Changin', Big River) as Quasimodo, Patrick Page (Broadway's Spider-Man: Turn Off the Dark, The Lion King, How the Grinch Stole Christmas!) as Frollo, Ciara Renée (Broadway's Pippin, Big Fish) as Esmeralda, Andrew Samonsky (Playhouse's Little Miss Sunshine, Broadway's The Mystery of Edwin Drood) as Phoebus, and Erik Liberman (Broadway's Lovemusik) as Clopin. The Hunchback of Notre Dame features a score by the multiple Academy®, Grammy®, and Tony® Award-winning team of composer Alan Menken (Newsies, Little Shop of Horrors) and lyricist Stephen Schwartz (Wicked, Pippin), book by Peter Parnell (The West Wing, On a Clear Day You Can See Forever) and direction by Scott Schwartz (Playhouse's Jane Eyre, Broadway's Golda's Balcony).

---

Disney XD Announces Kirby Buckets
Disney XD has announced that Kirby Buckets will debut Monday, October 20 at 8 p.m. ET/PT. The single-camera series, a mix of live-action and animation, introduces viewers to the vivid imagination of charismatic 13-year-old Kirby Buckets, who dreams of becoming a famous animator like his idol Mac MacCallister. With his two best friends, Fish and Eli, by his side, Kirby navigates his eccentric town of Forest Hills, where the trio usually find themselves trying to get out of a predicament before Kirby's sister Dawn and her best friend, Belinda, catch them. Along the way, Kirby is joined by his animated characters, each with their own vibrant personality that only he and viewers can see. Jacob Bertrand (Marvin Marvin, Bubble Guppies) stars as Kirby, and the series also features Mekai Curtis (Alexander and the Terrible, Horrible, No Good, Very Bad Day) as confident and smooth Fish, Cade Sutton (The Neighbors) as naïve nice guy Eli, Olivia Stuck (Good Luck Charlie) as Kirby's crafty older sister Dawn, and Tiffany Espensen (Bucket and Skinner's Epic Adventures) as Dawn's whip-smart best friend Belinda.
---
Original Hoop-Dee-Doo Cast Reunites for Show's 40th Anniversary
When the Hoop-Dee-Doo Musical Review made its debut at Disney's Fort Wilderness resort on September 5, 1974, the Pioneer Hall Players were college students. They couldn't help but return to Fort Wilderness for the show's 40th anniversary, and the Disney Parks Blog shared the video above to commemorate the event.
More ►
---

Marvel Announces Super Hero September
Disney Consumer Products and Marvel are encouraging kids and their families to "Power Up Like a Marvel Super Hero" with the launch of Marvel Super Hero September. Visit MarvelSuperHeroSeptember.com to find Super Hero content and activities, including a national photo sweepstakes contest. There will also be in-store events and promotions at retailers like Walmart, Target, Payless, and Disney Store, to name just a few. And, of course, Marvel Super Hero September takes to the airwaves on Disney XD with the debut of Marvel's Ultimate Spider-Man Web-Warriors and the season two premiere of Marvel's Avengers Assemble animated series.
---

New Dancing with the Stars Cast Announced
A brand-new cast of celebrity dancers will be gracing the ballroom floor for the first time on live television during the two-hour season premiere of ABC's Dancing with the Stars on Monday, September 15 (8–10:01 p.m. ET).
More ►
---
Dogs Show Their Disney Side at Magic Kingdom
Some of Disney's favorite dogs, such as Pluto, Bolt, and Dug, were joined by Disney fans' favorite dogs on September 3 for the first-ever Disney Side Dog's Day at Magic Kingdom Park. More than 100 dogs and their owners walked the green carpet down Main Street U.S.A. for the event, which included a costume contest, a doggie dance party, and a first-of-its-kind dog walk through Cinderella Castle, led by none other than Goofy. Highlights from the event will be included in an Animal Planet Disney Side edition of America's Cutest Pet, scheduled to air in October.
---

Get Ready for ABC Family's 13 Nights of Halloween
ABC Family is bringing the thrills and chills this October with 13 Nights of Halloween. This popular programming event, now in its 16th year, starts Sunday, October 19 and concludes on Friday, October 31. This year's fright fest features brand-new Halloween-themed episodes of Melissa & Joey and Baby Daddy, an all-new Pretty Little Liars fan appreciation special, plus the hilariously scary prank specials Freak Out. The 13 Nights of Halloween will also include the network television premieres of Dark Shadows and ParaNorman.
---

New Merchandise Coming to Disney Parks
Summer may be coming to a close on the calendar, but the Disney Parks still have new pins and accessories available for purchase in August and September. The latest arrivals include a four-pin set that features Carl and Ellie from Up and new pins that feature Rapunzel, Flynn Rider, and other characters from Tangled.
---

Walt Disney Animation Studios Announces Frozen Fever
Last week, Walt Disney Animation Studios announced the new animated short Frozen Fever, welcoming back to the big screen Anna, Elsa, Kristoff, and Olaf.
More ►
---
Watch a Two-Minute Clip from Big Hero 6
Viewers who watched the ABC special, The Story of Frozen: Making a Disney Animated Classic were treated to a two-minute clip from Big Hero 6, which opens in theaters in 3-D November 7. Check out the video above to see Hiro and Baymax in action.
---

Disney Store Launches Holiday Sketchbook Ornament Collection
Leading into the holiday season, Disney Store has launched the Sketchbook Ornament Collection, which celebrates Disney artists and their creations that each began with a sketch. The fully sculpted ornaments feature a 2014 Disney Store logo charm and several styles include musical and light-up components. The pieces range from $12.95 to $16.95 and are available in select Disney Store locations and online at DisneyStore.com.