While in high school, Les Clark worked a summer job at a lunch counter near the Walt Disney Studio in Hollywood. Walt and Roy Disney used to eat there, and, one day, Les got up the courage to ask Walt for a job.
He recalled Walt's reply, "'Bring some of your drawings in and let's see what they look like.' So, I copied some cartoons and showed them to Walt. He said I had a good line, and why don't I come to work on Monday.
"I graduated [from high school] on a Thursday and went to work [the following] Monday."
Les, who was the first of Walt Disney's legendary "Nine Old Men" (an affectionate term Franklin D. Roosevelt coined for his Supreme Court Justices, which Disney adopted when referring to his key animators), spent the next 48 years of his life animating and directing for Disney.
Born in Ogden, Utah, in 1907, Les attended elementary school in Twin Falls, Idaho, until his family moved to Los Angeles. After graduating from Venice High School in 1927, he joined the company's Ink and Paint Department. Les developed an adept hand at animating Mickey Mouse, beginning with one scene in Mickey's debut film, Steamboat Willie. By 1929, he won his first animation assignment on Disney's first Silly Symphony, The Skeleton Dance. He would later animate a memorable scene in the "Sorcerer's Apprentice" segment of Fantasia, when Mickey's sleeves keep falling down as he brings the magical brooms to life.
Les animated on or directed nearly 20 features, including Pinocchio, Dumbo, Saludos Amigos, So Dear to My Heart, One Hundred and One Dalmatians, Song of the South, Fun and Fancy Free, Cinderella, Alice in Wonderland, Peter Pan, and Lady and the Tramp, as well as more than 100 shorts.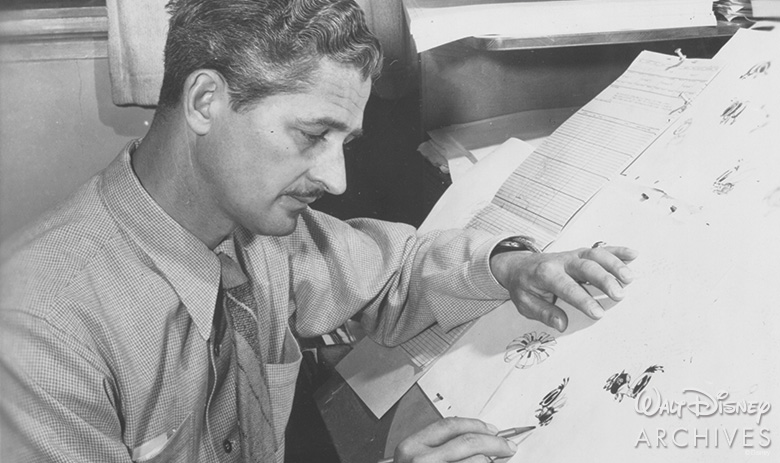 After Les served as sequence director on Sleeping Beauty, Walt asked him to direct television specials and educational films. For two decades, Les directed dozens of such productions, including Donald in Mathmagic Land and Donald and the Wheel.
Like Walt, Les didn't believe in resting on his laurels, but in always expanding his talent. As Frank Thomas and Ollie Johnston recalled in their book Disney Animation: The Illusion of Life, "Les quietly went ahead perfecting what he did best, constantly at art class working hard to improve and learn. There was much admiration for this quiet, thoughtful man, who came in with no art background yet through sheer determination and desire not only kept up, but helped advance the art with his refinements of many fundamentals."
Les Clark retired from Disney in 1976; he passed away on September 12, 1979.