By Beth Deitchman
An eccentric dognapper with a penchant for fur coats… An evil fairy whose signature headpiece looks as menacing as the dragon she transforms into… A tentacled temptress who doesn't leave her watery lair without her sea-themed jewelry and shocking red lipstick… These villains made our spines tingle but they thrilled us visually, as well. We can't forget how we felt the first time we encountered Cruella De Vil, Maleficent, and Ursula on screen—and neither can designers David and Phillipe Blond. They've looked to these and more wickedly wonderful Disney icons to inspire their Spring '19 collection, which made its runway debut this past Friday during New York Fashion Week.
In addition to the aforementioned Disney divas, Disney fans will see hints of the Evil Queen, the Queen of Hearts, Dr. Facilier, and even Flotsam and Jetsam in The Disney Villains x The Blonds collection. The New York-based luxury fashion brand is a music-industry favorite, with Katy Perry, Gwen Stefani, Beyoncé, and Bette Midler, to name a few, putting their designs in the spotlight (literally). But before they were dressing some of the biggest names in entertainment, David and Phillipe Blond were Disney fans, just like us. "The Disney Villains style is iconic and has inspired us since childhood and throughout our career. The opportunity to collaborate with Disney and see these designs come to life on The Blonds runway is an absolute dream come true," said David and Phillipe Blond, Designers, The Blonds.
"What drew us to working with Disney Villains are the complex attributes of the characters themselves," said David Blond, who serves as creative director. "Often misunderstood, Disney Villains are flawed, imposing, and mysterious, and we loved the idea of taking these characteristics and translating them in a glamorous way, making them the heroes of our story."
Led by the Disney Princess, Frozen and Villains team at Consumer Products Commercialization, and in close partnership with DPECP Franchise, Product Development, Special Events, Communications, Creative, Business Affairs and Legal, the Blonds collaboration showcased some of Disney's most notorious villains reimagined during one of fashion's most important weeks.
To put an authentically evil twist on the collection, David and Phillipe visited the Disney Animation Research Library and went back to the beginning of the villains' stories, studying their mythologies and looking at the original concept art that informed the characters that came to life on screen.
In honor of last week's runway show, we've put together our own rogues' gallery that shows the collection's progression from original artwork to designer sketch to Fashion Week fabulous.
Ursula
She may have coveted Ariel's singing voice, but Ursula always had more style and confidence than one could ever fit into a conch-shell necklace, as seen in the earliest sketches. The Blonds have brought Ursula's under-the-sea chic to the New York runway in the most wonderful way, even incorporating Flotsam and Jetsam into the collection. No poor, unfortunate souls here!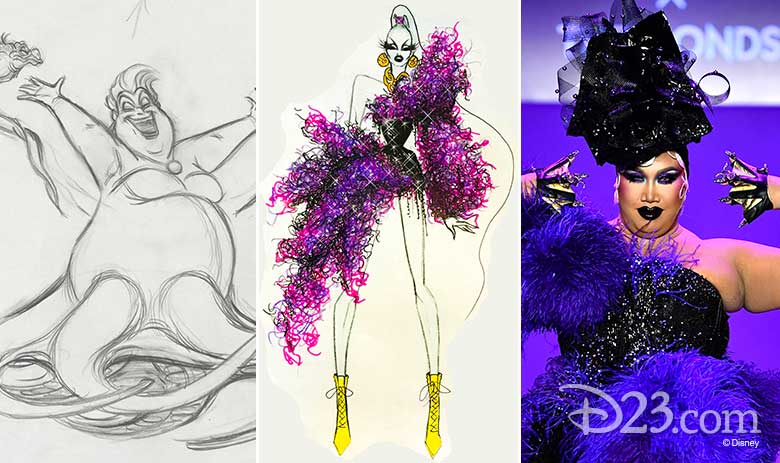 Cruella De Vil
To see her is to take a sudden chill. Cruella finally got her Dalmatian-inspired coat and, rest assured, no puppies were involved in the creation of this spectacular garment! The striking red lining can be traced back to the earliest sketches, along with Cruella's imposing shoulders and her signature black-and-white 'do.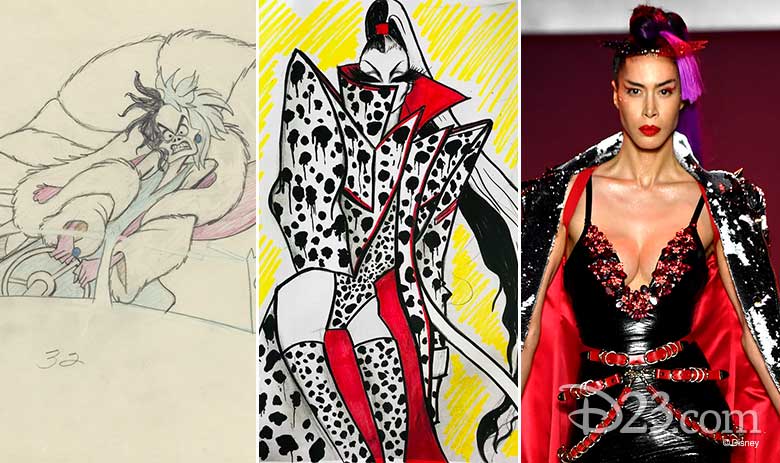 Maleficent
Pink or blue are perfectly lovely colors for a party dress, but Maleficent made her impact with bolder hues of purple, green, and darkest black. The Blonds incorporated the unconventional shape of Maleficent's headpiece into their designs, along with nods to her raven and the flickering flames she wields in dragon form. Well, well…