By the D23 Team
We're kicking off World Princess Week with a trip down the bayou to give you an exciting update involving Princess Tiana and her friends! Last year, Walt Disney Imagineering announced Splash Mountain at Disneyland and Walt Disney World Resorts will be reimagined with new theming inspired by the beloved Walt Disney Animation Studios film The Princess and the Frog. D23 sat down with Bob Weis, president of Walt Disney Imagineering, to talk some of the very first details revealed about the attraction—and today we're excited to share even more of the latest developments!
First, check out the latest rending of the attraction, giving us a sneak peek into the next chapter for Tiana, Naveen, Louis, and more of their friends. Following the adventures of The Princess and the Frog, the new attraction's story centers around Tiana's first ever Mardi Gras performance—during which some original yet familiar music will bring guests into the story.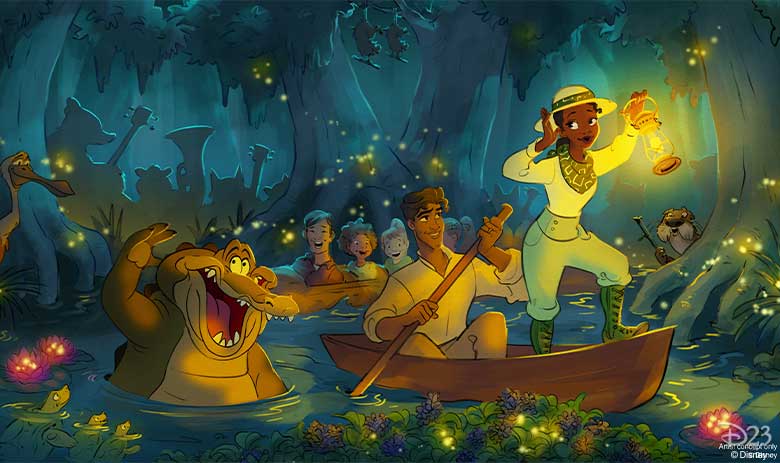 To learn more about the creative process behind the upcoming attraction—plus, to look back at Tiana's impact over the past decade—check out the panel below, filmed at Dooky Chase's Restaurant in New Orleans. Since the restaurant's founder, Leah Chase, was one of the inspirations for Princess Tiana, the restaurant was a natural fit for this conversation. Watch Kenneth Moton from ABC News as he joins Stella Reese, owner of Dooky Chase's Restaurant and daughter of Leah Chase; Carmen Smith, Creative Executive, Vice President, Inclusive Strategies for Walt Disney Imagineering; Charita Carter, Senior Producer for Walt Disney Imagineering; and Marlon West, VFX Supervisor for Walt Disney Animation Studios to hear more:
So much goes into the creative process behind attractions, include in-depth research to spark inspiration. For this upcoming attraction, Imagineers dug deep into the culture of New Orleans—the city Tiana calls home—in order to craft a story authentic to both the region and to the characters. So much makes New Orleans a distinct and unique city. From food, music, art, architecture, and the diversity of its people and their traditions, there is much from which Imagineers can find inspiration.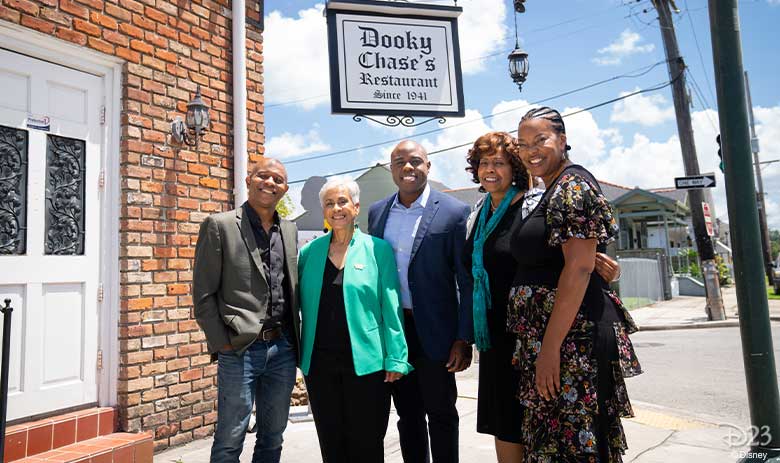 One of the early inspirations was visual artist Sharika Mahdi. Mahdi is an art educator and alumna of the renowned YAYA (Young Aspirations Young Artists, Inc.) Arts Center located in New Orleans. To help inspire Imagineers, Mahdi was commissioned to create a series of four original paintings to inspire Imagineers. You can check out one of those inspirational paintings here: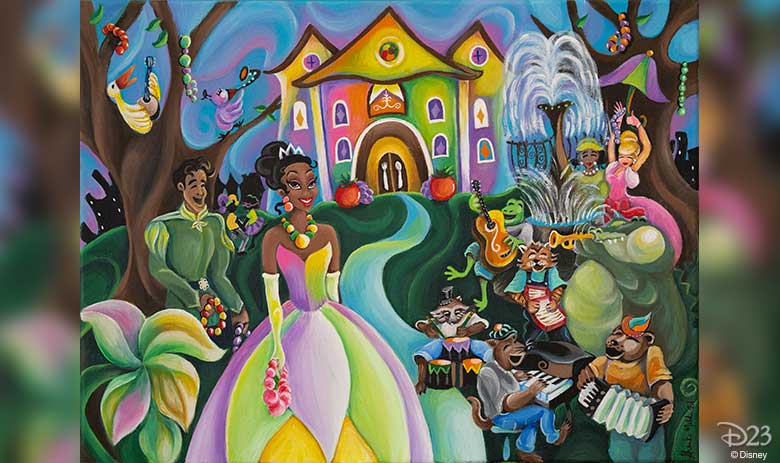 To celebrate all of these developments, our love for the city of New Orleans, and commitment to the arts and education, The Walt Disney Company today announced a $50,000 donation to NOCCA (New Orleans Center for Creative Arts), a regional, pre-professional arts training center that offers students intensive instruction in culinary arts, dance, media arts, music, theatre arts, visual arts, and creative writing, while demanding simultaneous academic excellence.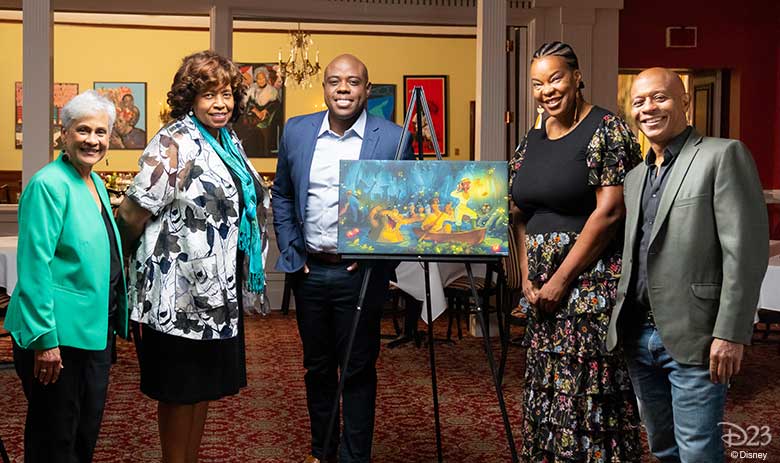 If you can't get enough of Princess Tiana, there are so many more exciting ways her story is coming to life in the future, from the Disney Wish setting sail next year with an all-new lounge, "The Bayou," and the upcoming Walt Disney Animation Studios original series Tiana on Disney+.
Stay tuned to D23.com for future updates on how this attraction develops.