By the D23 Team
The ultimate in rest and relaxation is the name of the game when Tenaya Stone Spa, a boutique retreat, opens September 16, 2021, at the Disneyland Resort. The upscale spa is nestled inside Disney's Grand Californian Hotel & Spa—and as luck would have it, you can make advance reservations starting today! FYI: Tenaya Stone Spa will initially be available for guests of the three Hotels of the Disneyland Resort, and will be open to non-hotel guests at a later date.
Inspired by the spirit of nature and California heritage, Tenaya Stone Spa is a new 6,000 square-foot facility designed by Disney Imagineers who gathered inspiration from the spirit of nature, indigenous cultures of California, and the iconic Craftsman design of the hotel. While it's just steps from the hotel's entrance to Disney California Adventure Park, Tenaya Stone Spa is a true worlds-away hideaway…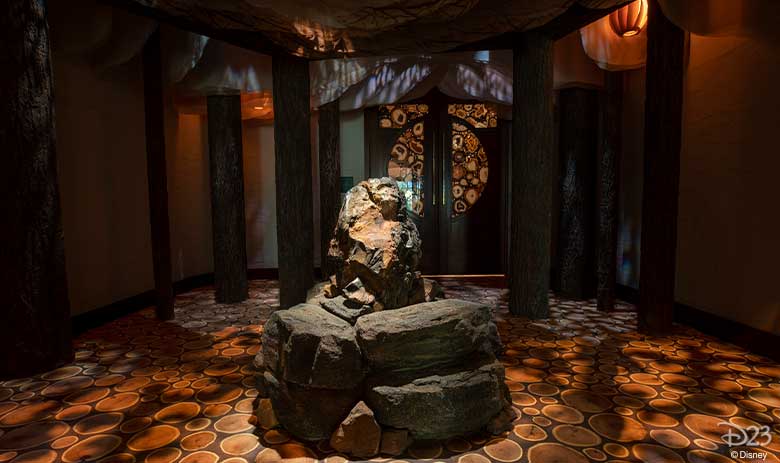 Guests can enjoy their customized spa day in this rejuvenating haven by choosing from an array of luxuriating body treatments, massage, and salon services—all performed in this softly serene setting. The spa features eight treatment rooms; two for couples' massage; four manicure/pedicure chairs; a relaxation lounge; men's and women's changing rooms; and a retail boutique. "Tenaya Stone Spa's distinctive setting and experience encourages relaxation, revitalization, and restoring balance," explains Brett Perkins, Tenaya Stone Spa director. "Our customized treatments are designed to be stress-relieving, pampering, and purposeful, combining a blend of therapies and products."
There's another beautifully unique aspect to this brand-new location: its name. "The spa name Tenaya (pronounced ten-eye-a) can be interpreted 'to dream' in the indigenous culture of the Yosemite Valley," says Dawn Jackson, a Native American cultural advisor within Disney, who began working on the project as an Imagineer on the Story Development team. "For modern-day travelers seeking a respite to dream and recharge, the spa provides an opportunity to relax into a dream-like state, a reverie of being lost in one's thoughts, regaining balance within themselves." Laid out according to the four directions of north, south, east, and west, and aligned with the four colors of white, red, black and yellow, the spa is thoughtfully designed. Guests will notice several special touches such as wood flooring cut in rounds; a chandelier designed from a tree root; stained-glass doors and windows; rocks and minerals; and art pieces crafted by regional artisans.
Within the spa, guests will discover an actual Tenaya Stone—a focal point and a place to pause and set intentions. This intimate nature-themed arbor then leads to a softly sunlit relaxation room with a stained-glass window of a rising sun and a trickling water feature. The stone was a gift from a Miwok Elder and her family who are descendants of Chief Tenaya in Yosemite Valley. With blessings, the stone now resides at the heart of the spa, offering inspiration to all visitors with its peaceful energy. "Tenaya Stone Spa embraces the concept of the natural order of four, found throughout many indigenous cultures of the world… In developing the spa, we aspired to create a fresh take on the principles of the Arts & Crafts movement by honoring nature. We drew inspiration from the foundation of the hotel, literally in the stones, the earth, and the trees, and figuratively in the promise of a place to relax and to dream," adds Katrina Mosher, art director, Walt Disney Imagineering.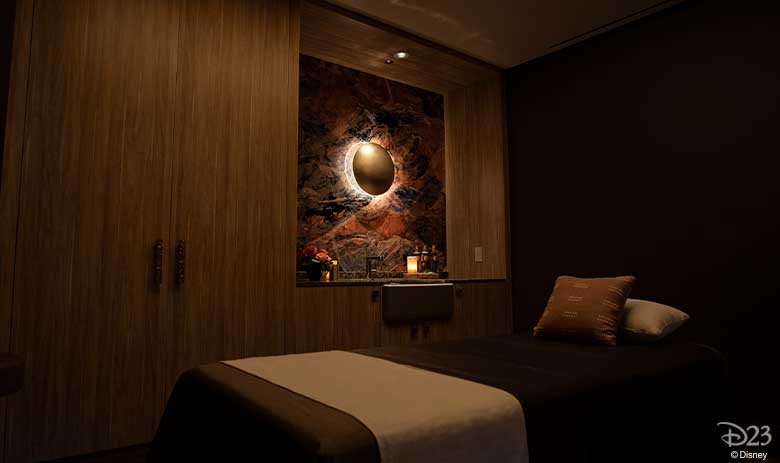 Magical Massages
Massage therapies available at Tenaya Stone Spa include the customized Tenaya Signature Massage and the Tenaya River Stone Massage, which incorporates heated river stones to help soothe and relax the body. Guests may slip into nirvana with the Head, Hands & Feet With Heart Massage or unwind with their significant other with a side-by-side Tenaya Signature Couples Massage.
The Aromatherapy Massage uses plant-based aromas made from essential oils infused with gem elixirs and flower essences. The Herbal Poultice Massage uses warmed poultices designed to melt away muscle tension by combining pressure with steamed compresses of wild crafted herbs. And the Mother-To-Be Massage uses pre-natal techniques, organic products, and pre-natal cushions designed to create comfort for the expecting mommy in mind.
Beguiling Body Treatments
The Purify & Refresh Body Treatment hydrates and exfoliates, beginning with a warm milk nectar wrap, followed by a sea salt exfoliation with notes of clove, a purifying mud wrap, and an oil-infused ginger and grapefruit extract designed to promote skin rejuvenation.
The Wild Honey and Mud Body Renewal is a four-step treatment including red clay and micro- pumice exfoliation, a peat mud nutrient mask, fruit serum and an oil massage crafted to give the skin a moisturized, radiant glow. In addition, the Nourishing Avocado Body Treatment is designed to refresh the skin with dry brushing, a whipped shea sugar exfoliation, and a nourishing mask—along with a scalp, shoulder, and foot massage.
Treats for the Feets
Hotel guests who've done a lot of walking will surely delight in the Step in Time Foot Massage, a calming foot soak and lower leg massage… or they can sink into pure relaxation with the Mindful Traveler Foot Treatment—an exfoliating foot soak and energizing massage designed to help increase circulation, reduce lower leg muscle stress, and leave legs and feet feeling silky smooth. Plus, the Avocado Lime & Honey Foot Treatment caresses the skin with antioxidant oils, smoothing exfoliation, hydrating avocado butter mask, honey-based fruit serum, and skin-glistening agave nectar oil for a ready-to-go finish.
Salon Services
In addition, spa goers can add a sprinkle of magic to their Tenaya Stone Spa visit with manicures and pedicures designed to make guests look and feel fabulous—whether strolling through the Disneyland Resort or attending an enchanting special occasion.
The spa is located near GCH Craftsman Bar & Grill, where spa guests may enjoy a bite to eat before or after their spa treatment—and it's all just steps from the hotel's entrance to Disney California Adventure park.
For more information, a complete list of services*, and to make spa reservations, visit Disneyland.com/TenayaStoneSpa. (Note that facials and make-up applications will be offered at Tenaya Stone Spa at a later date.)
*Salon treatments are for ages 18 and older; children (ages 14-17) receiving salon services must be accompanied by a parent or guardian. At this time, all spa guests are required to wear an approved face covering during their entire visit.