By Beth Deitchman
Are you ready to team up with the Avengers and tap into your inner Super Hero? Avengers Campus, an entirely new land dedicated to discovering, recruiting, and training the next generation of Super Heroes, is about to open inside Disney California Adventure park at Disneyland Resort. It's been brought to life by an incredible team of Imagineers who know and love Earth's Mightiest Heroes as much as we do, and they've gone to truly epic lengths to ensure that the campus itself, its innovative and tasty treats, and all of the magnificent merchandise will delight every fan—even those who might just be discovering these beloved characters for the first time.
"The stories take place here and now," Walt Disney Imagineering's Scot Drake, who leads the team that's assembling Avengers Campus, tells D23. But, to echo the words of Nick Fury, when you enter the land, you become a part of something bigger, with a rich history that you can't help but notice as you move from one address to another. The Imagineers looked to this storied past to inspire Easter eggs and amazing details to discover when you first visit Avengers Campus. This is just a taste, and you're sure to find something new each time you return to the land, but here are five fun finds that will get your Spidey senses tingling:
Your journey begins with a map
Drake teases that there are two maps located at Avengers Campus that provide a fascinating glimpse into the land's longstanding connection to the Starks, and you'll see nods to Tony and his family throughout the land. The Worldwide Engineering Brigade, or WEB, as the young innovators you'll encounter there prefer to call it, is located within a brick building that was home to Stark Motors when it first opened. And on both the building's façade and as you go through the brand-new attraction WEB SLINGERS: A Spider-Man Adventure, you might still see traces of its former incarnation as an automotive factory.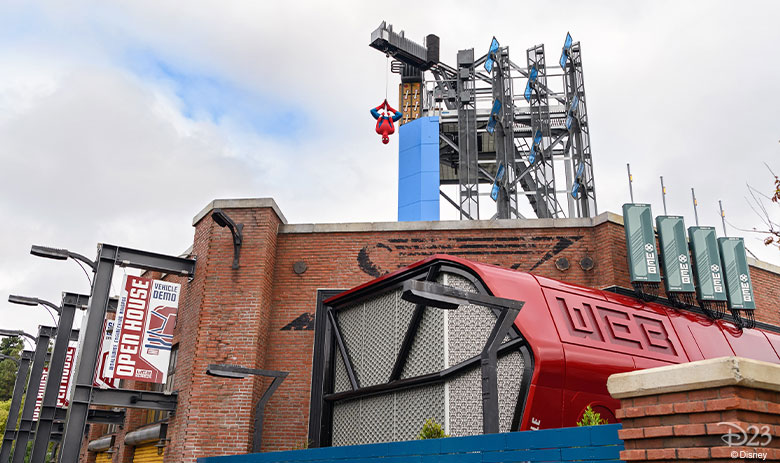 And speaking of WEB…
Look to the rooftop and you may see Spider-Man swinging above, so it should come as no surprise to find Peter Parker within WEB's walls. Peter is just one of the young innovators who has been invited to WEB at the behest of Tony Stark to invent new technologies and equip everyday people to become heroes. "Because WEB is an organization of young geniuses who are inventing the technology for the next generation of heroes, we have so many Easter eggs of other characters along their journey," Drake teases, noting, "If you go through [the attraction] you can follow that one story, but it doesn't take much to look around and see all the other fun things that they're working on and all the other characters that we're going to be hinting at."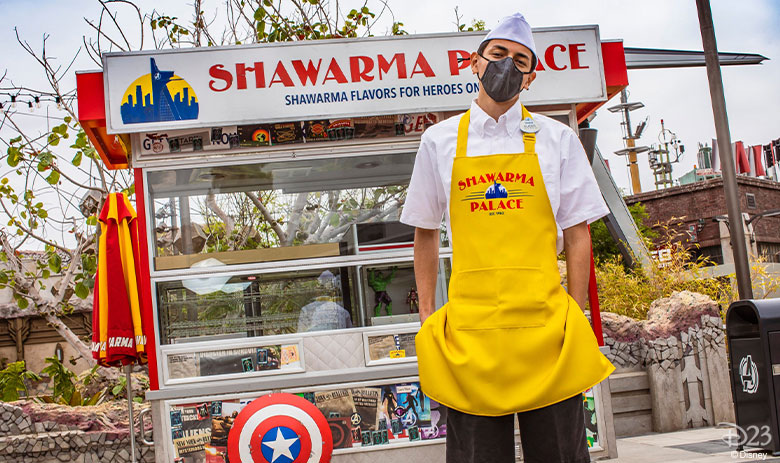 Avengers' favorite fare
The campus will feature the second outpost of Tony Stark's beloved "shawarma joint," where he and his fellow Avengers dined after the Battle of New York. The original Shawarma Palace is located just a few blocks from the battle zone, but guests at Avengers Campus will be able to refuel with shawarma-inspired wraps at this food cart. Choose from hand-held savory wraps with fragrant chicken shawarma and garlic sauce, the Impossible™ plant-based falafel wrap, or for a heroic start to the day, the Impossible™ Breakfast-Sha-Warm-Up.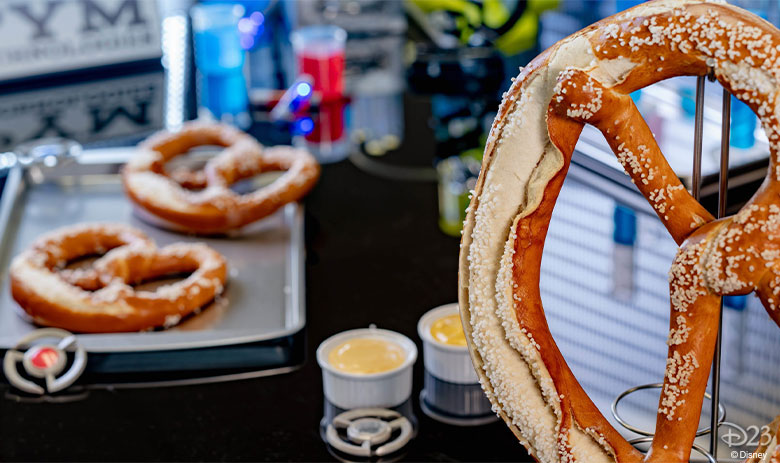 Classic Park treats meet the newest Pym technology
Disney fans, what could possibly be better than a soft, warm pretzel? Perhaps a soft, warm pretzel that's grown exponentially through the use of Pym Particles. When you enter the Pym Test Kitchen featuring Impossible™ Foods, Drake shares, "You're going to see a big conveyor belt of Park pretzels going in to this small quantum tunnel where we're going to see pretzels grow and shrink right in front of our eyes. Then you're going to be able to purchase a pretzel that can feed the whole family or a kit of mini-pretzels." In the name of science, we're happy to try both!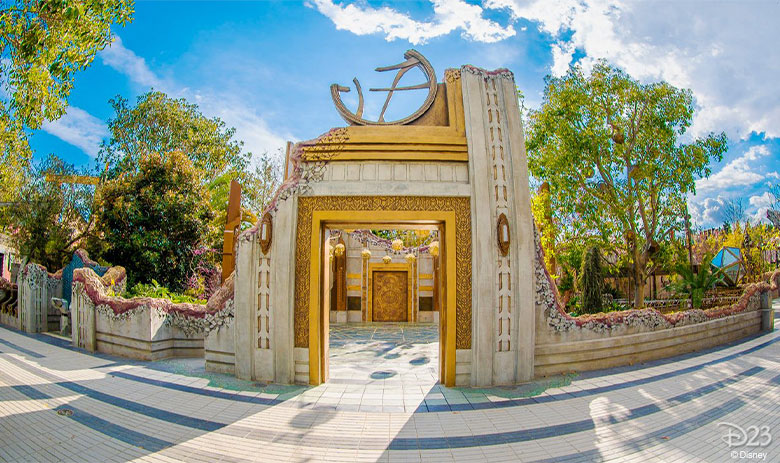 A location that might feel Strange-ly familiar
Those who are already steeped in knowledge of the multiverse may be familiar with the New York-based sanctum where Doctor Strange is frequently found. Avengers Campus guests will now have the opportunity to visit an ancient sanctum that's a bit different, as evidenced by the logo. As the story goes, this ancient site has been hidden for centuries—though there have long been rumors of unexplained events and energies that emanated from this remote location. A Stark Industries complex was built there in the late 1940s and now, decades later, Tony Stark has invited Doctor Strange to the Avengers Campus to enlighten recruits about the mystic arts. Drake reveals that this gateway now connects Doctor Strange to any other place in the multiverse, noting, "He could have just stepped through from Paris or from Hong Kong or from anywhere in the universe."
Overall, Drake and his fellow Imagineers want Avengers Campus to feel like a world of endless possibilities, a place where literally anything may happen. "And," he says, "it's not always going to be the same place every time you go into it. Something new is around every corner."