By Beth Deitchman
When you visit Avengers Campus, opening Friday, June 4, inside Disney California Adventure at Disneyland Resort, be sure to bring a taste for adventure and a heroic appetite! The brand-new land—which is dedicated to discovering, recruiting, and training the next generation of Super Heroes—is chock full of innovative new food and beverage offerings you will love 3000. D23 recently spoke with Michelle Gendreau, director of Food & Beverage for the Disneyland Resort, who gave us the inside dish on some of the delicious new items that will be available at dining locations in Avengers Campus. Here are some of the must-try meals and morsels you'll want to sample.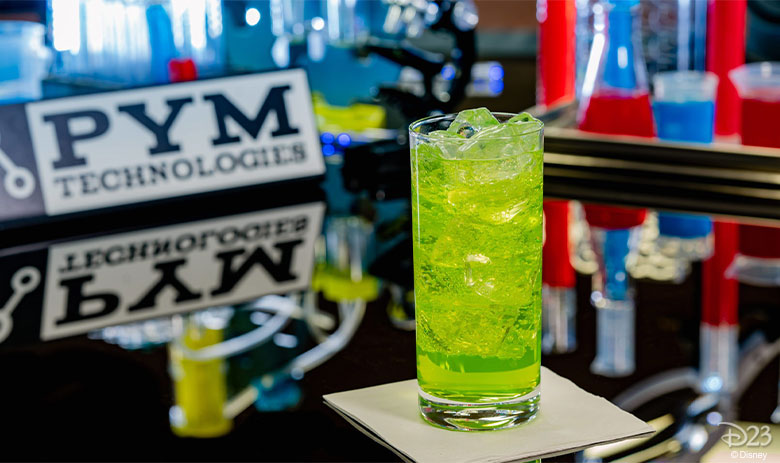 Pingo Doce
This bubbly drink is legendary in Avengers history; and it's available exclusively at Avengers Campus. You'll find the refreshing beverage—that's lemon-lime with a vanilla kick—at Pym Test Kitchen featuring Impossible™ Foods, where Hope and Hank Pym and Scott Lang are "shrinking problems and growing solutions." And speaking of "growing," you might consider picking up an Enlarged Pingo Doce Soda Can novelty and fill it with this signature drink or your favorite Coca-Cola® beverage.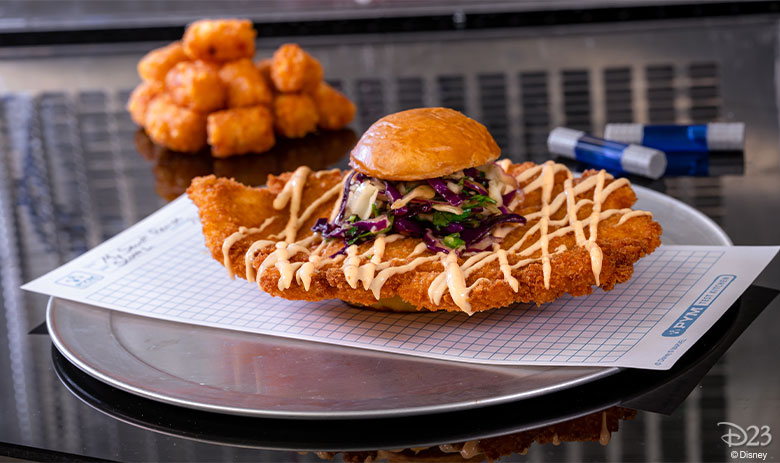 Not So Little Chicken Sandwich
The juxtaposition of a quite sizable fried chicken breast with a much smaller brioche bun makes this sandwich extra fun. "It's reminiscent of a chicken katsu," Gendreau shares, and she believes this will be an instant fan-favorite. It's served with two sauces—teriyaki and red chili—as well as pickled cabbage slaw, with crispy potato bites on the side. Order this dish at Pym Test Kitchen featuring Impossible™ Foods.
Impossible™ Spoonful
"People do not believe me that this is plant-based," Gendreau says, and this dish of rigatoni and ditalini pastas, plant-based meatballs, tomato sauce, dairy-free Parmesan, and micro basil tastes like the ultimate classic comfort dish. The presentation, however, is anything but classic. The name of the Impossible™ Spoonful comes from the enormous ladle in which it's served, and said ladle holds a bounty of noodles both large and small, as well as two "meatballs" of vastly differing sizes. "It's storytelling to the max, and the flavor is really good," Gendreau says. This dish can also be found at Pym Test Kitchen featuring Impossible™ Foods.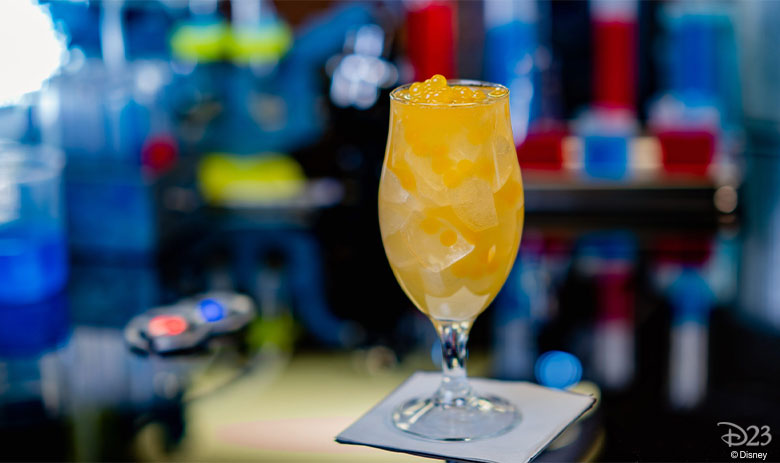 Adult Beverages from the Pym Tasting Lab
Right next door to the Pym Test Kitchen, take note of an oversized beer can for a sense of what's in store. A variety of craft beers are on tap (and glasses fill from the bottom up!), along with an assortment of Pym particle-infused cocktail experiments and beer cocktails. Among the drinks for Campus recruits who are 21 and older: The Regulator (pictured above) features tequila, Minute Maid lime juice, mango and habanero syrup, wheat ale, and mango popping pearls; while for something a bit sweeter, the Molecular Meltdown is made from marshmallow milk stout and vanilla ice cream (and is topped with miniature marshmallows). Pair all of the Pym Tasting Lab beverages with Snack Molecules, which are mini pretzels, honey roasted peanuts, and sweet & spicy popped sorghum.
Cosmic Cream Orb
Don't be deceived by its modest appearance. Within the Cosmic Cream Orb's black exterior is a spectacular whipped raspberry cheesecake mouse in an absolutely vibrant shade of purple. These are among the sweet treats that have been curated by Taneleer Tivan at Terran Treats, a cart located not far from the Collector's fortress… and they just might tempt you to pay Taneleer a visit.
There's so much more, of course, that you'll need to plan on multiple visits in order to make your way through the massive menu, which also includes shawarma-inspired wraps at the Shawarma Palace cart; a "Pym-ini" that's available in an individual portion or super-sized for a family or friends to enjoy together; and a PB&J Flavor Lab that invites the youngest food scientists to experiment with their own creations using smooth peanut butter, strawberry jelly, and Pym particle bread. Visit the Disney Parks Blog to view the entire Foodie Guide to Avengers Campus at Disneyland Resort, and prepare for an epicurean experience that's epic from start to finish.