By Beth Deitchman
Have you ever imagined what it might be like to be a Super Hero?
Well, hold on to your capes because those dreams become reality at Disneyland Resort when the brand-new Avengers Campus opens inside Disney California Adventure Park, coming soon. This immersive new land is designed for the hero within each of us, taking inspiration from the stories and characters in films and comic books that have captivated fans for generations. We recently had the opportunity to tour the land and hear from the incredible people bringing Avengers Campus to life—a group that Scot Drake, portfolio creative executive, Walt Disney Imagineering, aptly calls "a team of extraordinary people that are coming together to work on something greater than themselves"—just like the Avengers.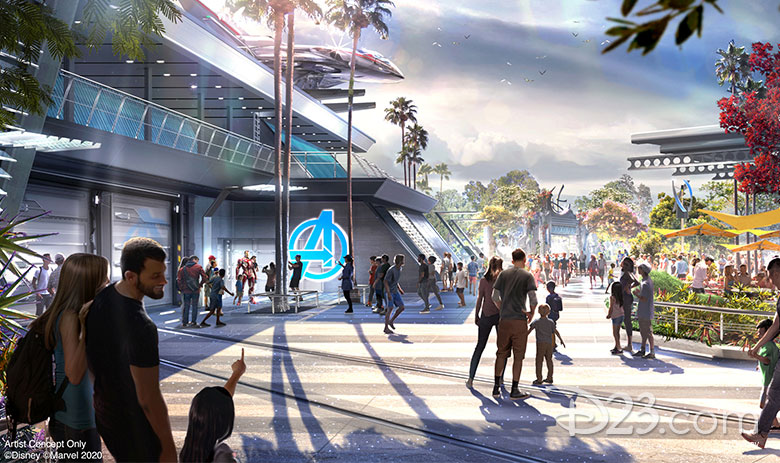 Earth's Mightiest Heroes are assembling at Avengers Campus for the common good. In fact, the name C.A.M.P.U.S. stands for Centralized Assembly Mobilized to Prepare, Unite, and Safeguard. Yes, Avengers Campus will be jam-packed with: nods to fan-favorite characters and films (as well as hidden-in-plain-sight references to upcoming big-screen and Disney+ projects we have yet to see); truly heroic encounters with an unprecedented roster of Super Heroes; and an extraordinary lineup of food and beverages. But most importantly, guests will be able to help the Avengers in their efforts throughout the land via a variety of offerings, including the interactive, high-tech family attraction WEB SLINGERS: A Spider-Man Adventure, which will feature Tom Holland reprising his role as Spider-Man.
"Since day one we have been trying to figure out, how do we bring this land to life—and not just bring it to life where you get to see your favorite heroes or you get to meet your favorite heroes, but where you get to become a hero," says Brent Strong, executive creative director, Walt Disney Imagineering. "And within the story that we've created, the idea here is that every time we've seen the Avengers go up against bigger and bigger threats—from Loki to Ultron to Thanos—the way that they've persevered, the way that they've succeeded, is with a bigger and bigger team. So this land is finally the invitation for all of us to join the Avengers—all of us to join the team—and all of us to actually find the hero within, which is just incredibly exciting."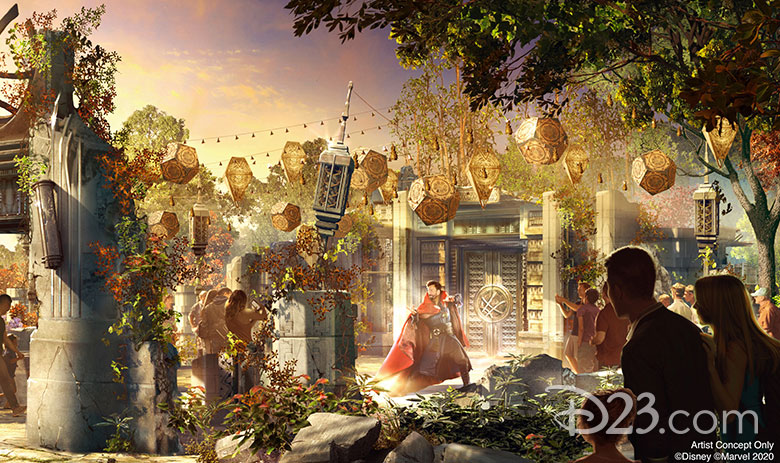 ASSEMBLING AN INCREDIBLE EXPERIENCE FOR GUESTS
The new land is coming together through an amazing collaboration within The Walt Disney Company, say both Drake and Dave Bushore, vice president of Franchise Creative & Marketing for Marvel Studios, who notes that even the challenges faced by this team have been driven by the desire not to miss any opportunities. "They're the kind of challenges you want. They're the ones [that come] when you're on the cutting edge of storytelling. We're trying to keep up with what we do at the Studio because that's what people want to step into," Bushore says.
Avengers Campus will be a living, breathing land that's forward-looking and incorporate not just films that have already been released, but stories yet to be told. This is something new for the Imagineers, Drake shares, noting, "It takes a lot of trust from our whole organization to say, hey, we're going to start building this building. But the story, we're going to wait on until we know the full series of what's happening with all the Disney+ shows. So that's definitely been the dynamic part of this. These lands start multiple years ahead of time. We have to commit to what are those core values we want to have, knowing we want to pepper in all of these fun Easter eggs, all of these different story twists along the way."
And just as the worlds of our Super Heroes have been interconnected on the big screen, guests should look for this same interconnectivity in Disney parks around the world. Avengers Campus is part of a larger story that extends to Hong Kong Disneyland—where the attractions Iron Man Experience and Ant-Man and The Wasp: Nano Battle! are already open—and Disneyland Paris, where an Avengers Campus is planned to open in 2021.
Drake recalls that the teams frequently referenced the iconic quote from Nick Fury, who initially brought together the Avengers: "You've become part of a bigger universe. You just don't know it yet." Drake emphasizes, "We take that into every attraction, every heroic encounter. Everything should make you feel like you're part of something even bigger."
Speaking of vast, the Imagineers had 80 years of comics and more than a decade of films to draw upon as they determined what lies at the heart of Avengers Campus. WDI staff writer Jillian Pagan explains, "As we were starting with Avengers Campus, we took a look at the films and the comics and we took a look at those characters and realized that the core of the Avengers universe—the core themes—are heroism, optimism, and empowerment. So we are trying to stretch those themes across every activation of the land." As they roam through the land, guests will notice older buildings that have been retrofitted for a new, optimistic purpose. They will go on missions with Spider-Man and Rocket Raccoon. And these themes will extend to food and beverage offerings and merchandise, as well, as guests live out their own heroic stories.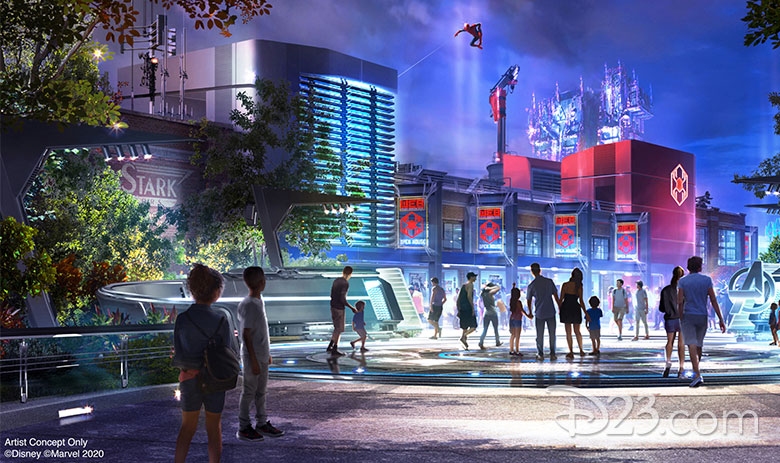 DISCOVER NEW PLACES IN THE UNIVERSE
Several important addresses comprise Avengers Campus, and the level of immersive detail in each will blow you away. "Think about the difference between being a moviegoer and being a theme park goer," says Heidi Rosendahl, principal color and paint artisan for WDI, who describes her job as being responsible for the "skin" that goes over the "bones" that have been built by other teams. She points out, "When you walk into a movie theater, the filmmaker has set the parameters for you. They tell you what to look at, when to look at it, and you can't move around inside of their environment. It's a very focused experience that you have." In Avengers Campus, you get to choose what you see and where you go. And here are some of the locales you'll want to be sure to visit.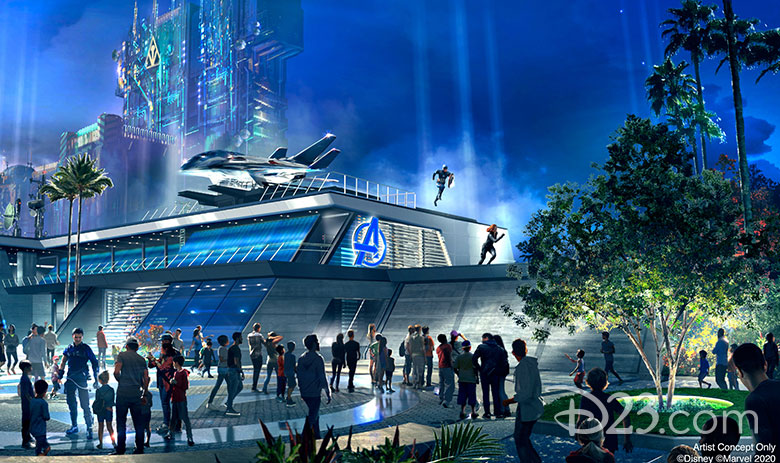 There's no mistaking Avengers Headquarters at the center of the land. Look for the signature Avengers logo, the Quinjet on the roof, and Avengers themselves springing into action to head off threats from various foes.
Not far from Avengers Headquarters, the Worldwide Engineering Brigade is better known as WEB. Once home to Stark Automotive, the 80-year-old building now houses an enthusiastic group of young inventors—including Peter Parker—who have been brought together by Tony Stark to invent new technologies and equip everyday people to become heroes like the Avengers. You'll see their technology in full force in WEB SLINGERS: A Spider-Man Adventure—but more on that later. And look up to the rooftop to take in Spider-Man's gravity-defying moves, more than 60 feet in the air. When our friendly neighborhood Spider-Man comes back down to Earth, he'll greet new recruits at ground level outside WEB.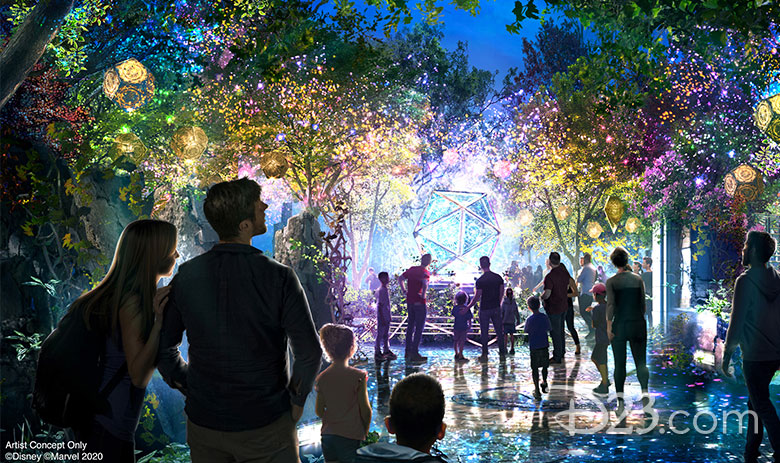 The Sanctum is one of the most beautiful locales to be found in Avengers Campus. These overgrown ruins are the perfect spot for guests to encounter Doctor Strange and learn his secrets of the mystic arts. Doctor Strange will use powerful spells to bring The Sanctum to life, and you'll want to return to the area after dark, when it will glow even more vividly with majestic colors and lights and its mystic energy will seem even more vibrant.
SLING WEBS WITH SPIDER-MAN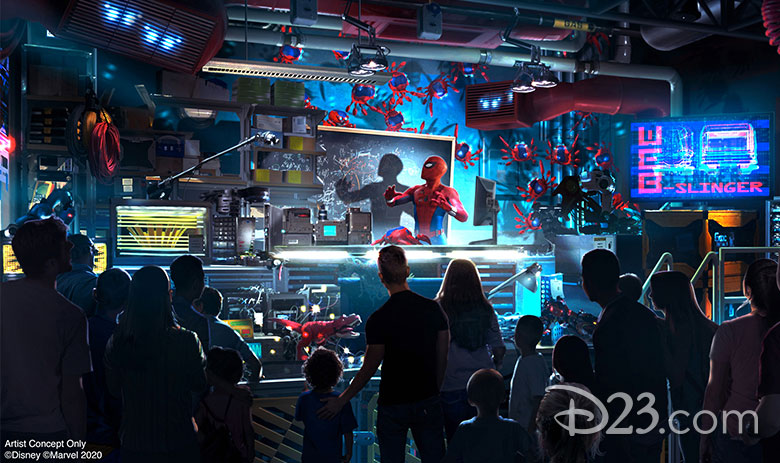 Our Spidey senses are atingle with anticipation for Avengers Campus' new attraction WEB SLINGERS: A Spider-Man Adventure, which uses new cutting-edge technology to enable guests to sling webs just like Spider-Man himself. Here's how this incredible experience transpires.
The young inventors of WEB have opened the address up for an open house, where many of their new creations are on display for guests—including Spider-Bots, affable robotic sidekicks that have been designed to build anything a Super Hero might need. But something goes haywire and the Spider-Bots run amok, replicating at an alarming rate. The open house abruptly turns into a mission, and Spider-Man needs your help! Guests will don 3D glasses and get to test drive Peter Parker's latest invention, the WEB Slinger vehicle, and discover never-before-realized powers.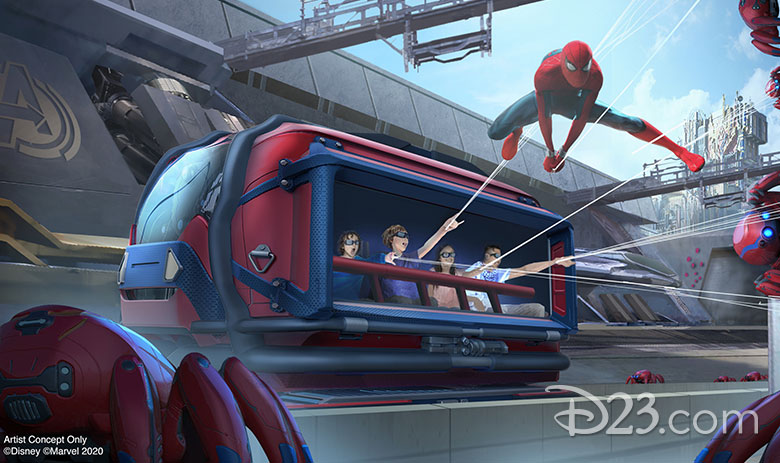 "We always start with wish fulfillment when we're creating an attraction. What is that thing that you've always wanted to do? What is that power that you've always wanted to have?" Brent Strong says. Like some attractions, WEB SLINGERS: A Spider-Man Adventure uses 3D glasses as well as a hybrid of physical sets, practical effects, and virtual set extensions. But what you won't see, Strong points out, is a blaster for guests to hold onto. "Believe it or not, with nothing in your hands, you get to reach out and you will sling webs on this ride," he details. WDI tapped into innovative technology adapted specifically for this attraction for a brand-new interface that uses a gesture recognition system that has been built into every slinger vehicle. "Sixty times a second we are able to determine where a guest's head is, their shoulders, their elbows, and even their wrists," Strong explains. "We're able to track the motion of your body so that when you reach out and sling a web, since we know where your eyes are and we know where your hands are, we can render a web—a virtual web coming right out of the palm of your hand—right out of your virtual web shooters and into a virtual world."
The attraction will take guests virtually through other Avengers Campus addresses, including Pym Test Kitchen, Avengers Headquarters, and The Collector's Fortress (otherwise known as Guardians of the Galaxy – Mission: BREAKOUT!). Best of all, the attraction will be thrilling for all members of the family. And after those rogue Spider-Bots have been rounded up, guests will learn how many they caught as a team in their WEB Slinger vehicles.
A CAMPUS "TEEMING WITH HEROES"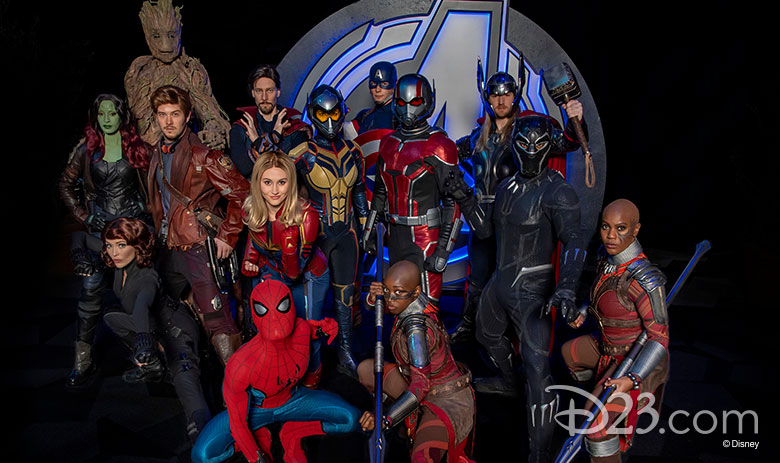 Dan Fields, executive creative director for Disney Parks Live Entertainment, states unequivocally, "This is going to be the largest assembly of these heroes anyplace, anytime, anywhere. We really have a place for them to live and work and play and protect and train."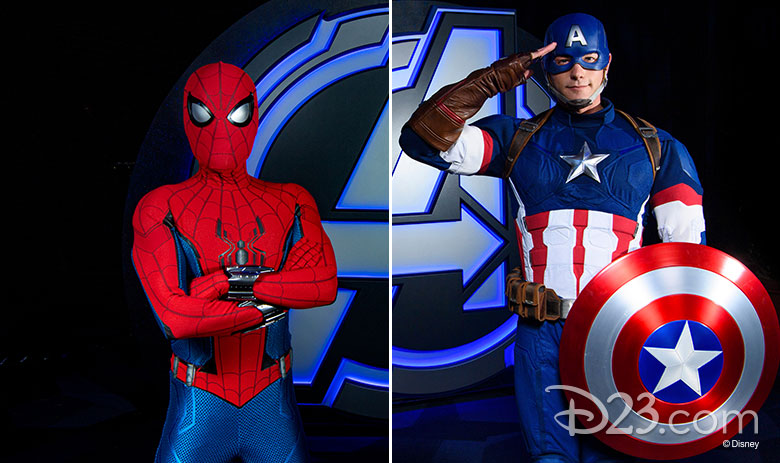 In addition to Spider-Man, who will be based at WEB; and Doctor Strange, who will most often be found in The Sanctum, guests may have heroic encounters with Black Widow; Ant-Man and The Wasp, making their Disneyland Resort debuts; Captain Marvel; Captain America; the Guardians of the Galaxy; Iron Man; Black Panther; and Thor. Plus, the beloved mischief-making anti-hero Loki will also be on hand to do what Loki does best, and Groot will continue to roam near Guardians of the Galaxy – Mission: BREAKOUT!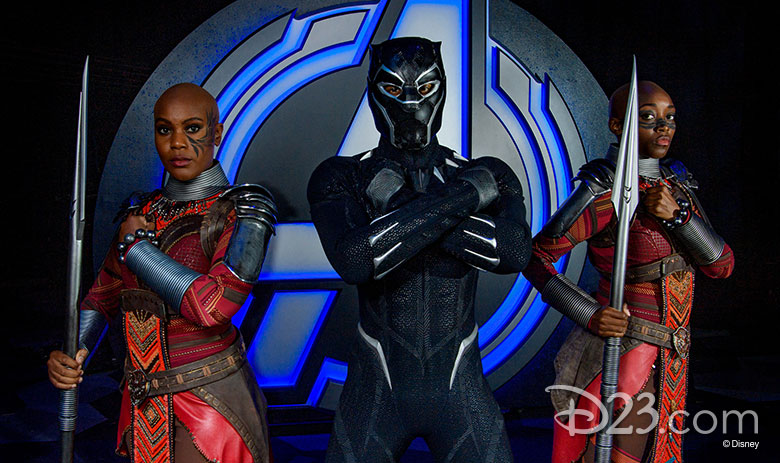 With Avengers Campus based in the real world and serving as a place for all Super Heroes to gather, the Dora Milaje are bringing wisdom from Wakanda to training encounters led by General Okoye—who makes her Disney Parks debut this summer. Recruits will train with Black Panther's loyal bodyguards and find out what it's like to be part of this elite royal guard.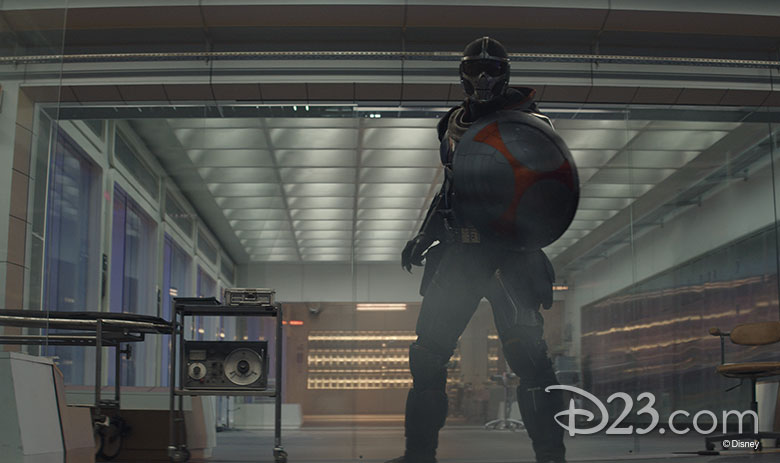 At Avengers Headquarters, Captain America, Black Panther, and Black Widow will face off against foes throughout the day. And we're excited to reveal the identity of one of the Avengers' adversaries: Taskmaster! The nefarious Taskmaster will have a role in the upcoming film Black Widow, and guests can see him in action this summer at Avengers Campus. In fact, the Black Widow stunt team worked closely with the Disney Parks Live Entertainment team to ensure that Taskmaster's unique talent—his natural ability to memorize and replicate Super Hero moves—comes to life thrillingly and authentically.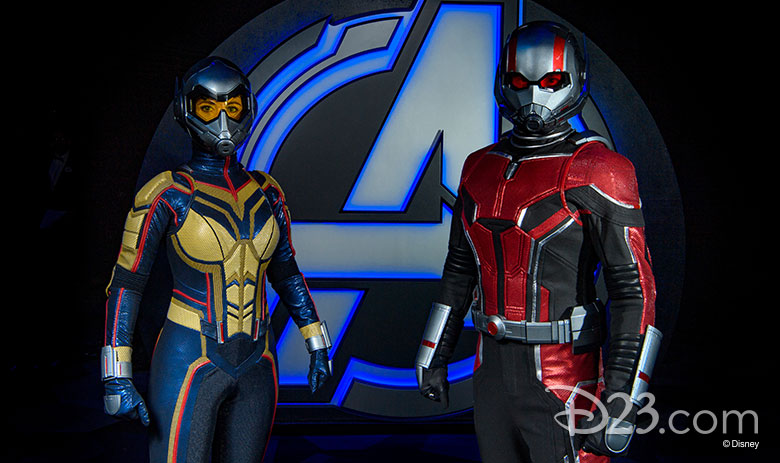 PYM PARTICLES ENHANCE TINY TREATS AND BIG BITES IN THE MOST MAGICAL WAYS
We have the technology of Pym Particles and the ingenuity of the Disneyland Resort Food and Beverage team to thank for the amazing lineup of culinary offerings that will be available at Avengers Campus at four different locations.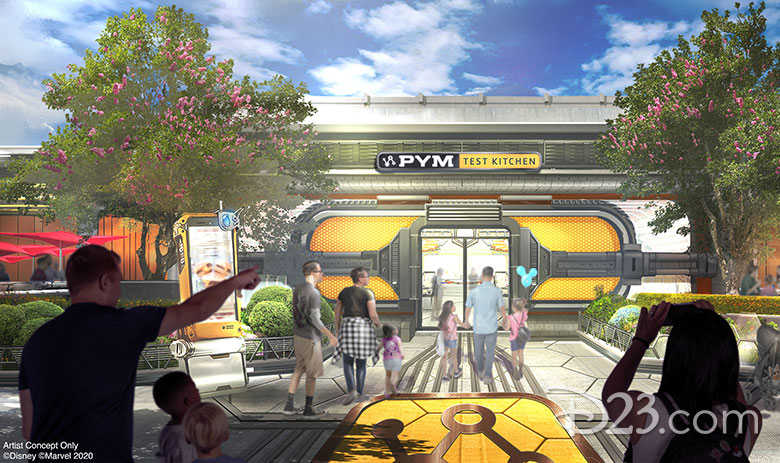 Pym Test Kitchen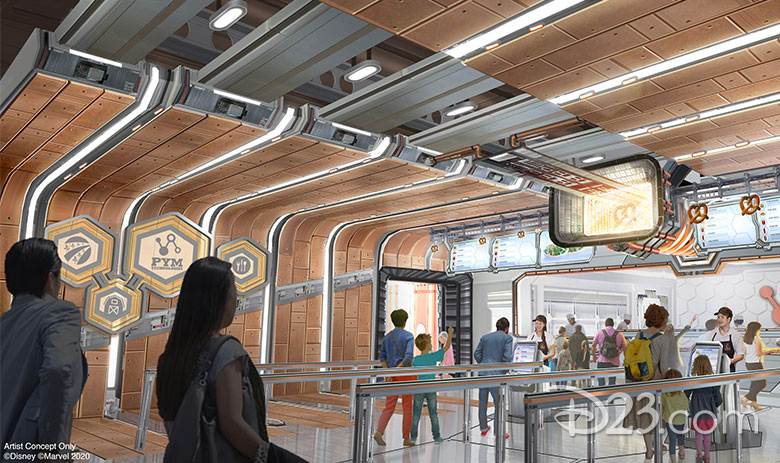 At the Pym Test Kitchen dining location, Disneyland Resort Culinary Director John State declares, "We are shrinking problems and growing solutions." The ceiling evokes a quantum tunnel, and just below that you can watch as a conveyor belt of tantalizing Bavarian pretzels go from regular-size to ginormous. How ginormous? Served warm, right out of the oven, these pretzels weigh approximately 360 grams and are perfect for sharing.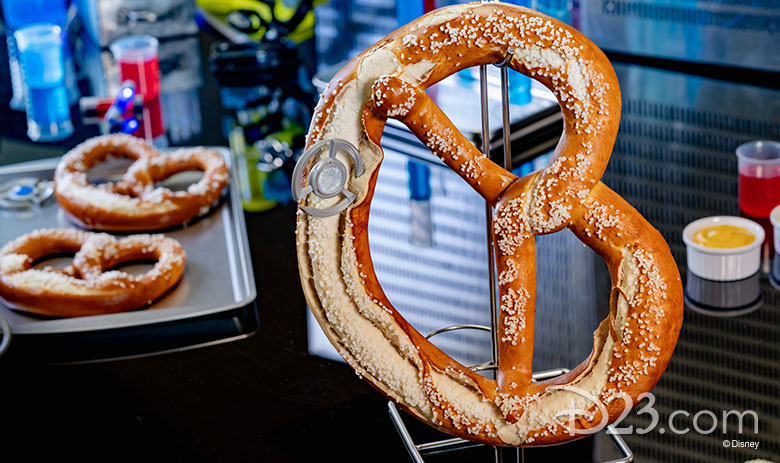 Pym Test Kitchen relies on the same technology that Ant-Man and The Wasp used to grow and shrink, well, just about anything. Here the Pym Particles lead to the creation of innovative food—traditional food at very nontraditional scale. Guests are invited to help the Pym food scientists through taste testing. We happily tried our hand at sampling the savories and sweets—in the name of science—and can report on several must-try meals at Pym Test Kitchen: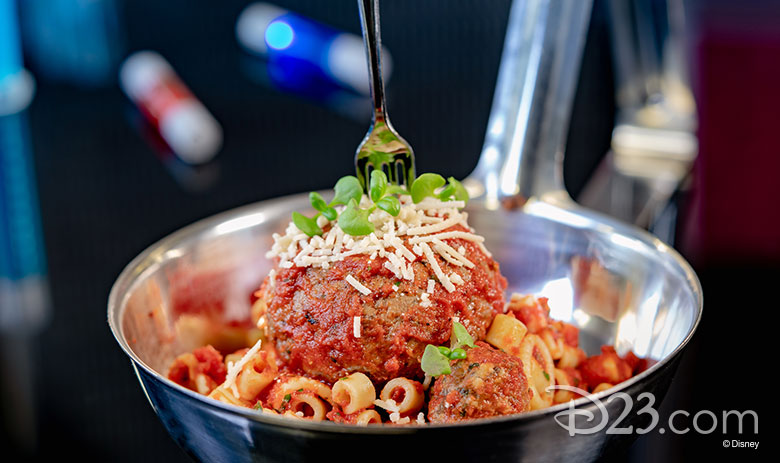 The Impossible™ Spoonful features plant-based large and micro meatballs, served in a super-sized spoon with a tiny fork.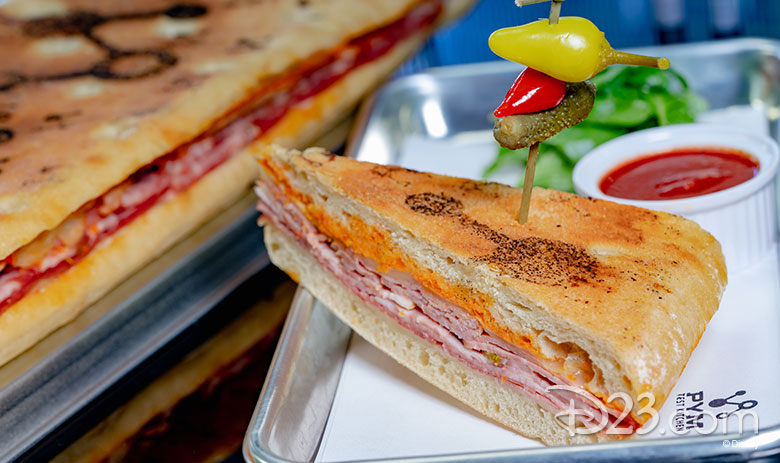 The "Pym-ini" is a hero among sandwiches. This panini on toasted focaccia with salami, rosemary ham, provolone, sun-dried tomato mayonnaise, and arugula with marinara dipping sauce, is served as both an individual-sized portion, as well as a long, multi-portion sandwich that will satisfy a hungry family or group of friends.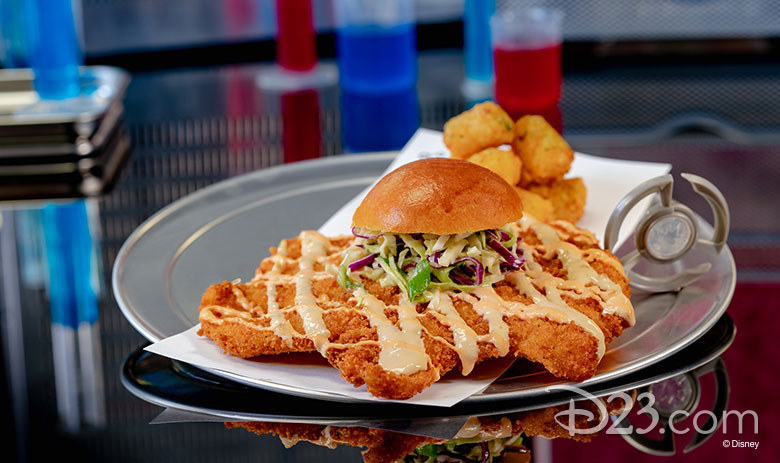 The Not So Little Chicken Sandwich was developed to satisfy guests who are looking for a high-protein, low-carb intake. A crispy breaded chicken breast has grown with the help of Pym Particles, while its accompanying bun seems to have shrunk. The sandwich is dressed with two different sauces—one slightly sweet teriyaki sauce, one slightly spicy chili sauce—and a pickled cabbage slaw. And while you may be inclined to reach for a knife and fork, State urges guests to "be adventurous" and forgo utensils in favor of their two hands.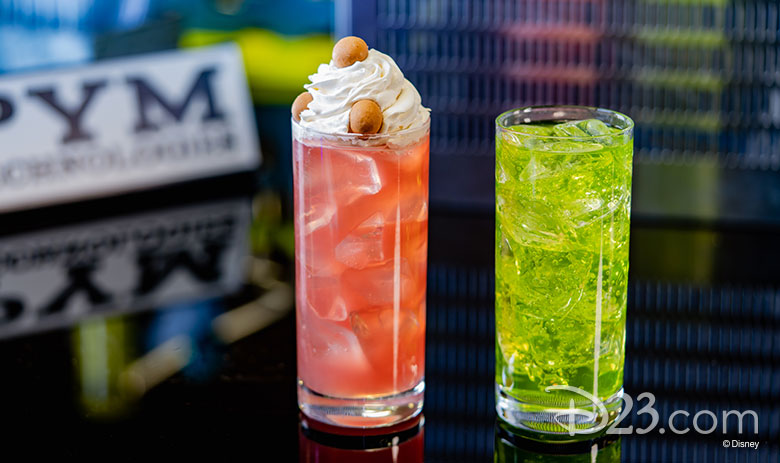 There may be no more perfect beverage to accompany any food item at Pym Test Kitchen than a refreshing cup of Pingo Doce soda (pictured above right). The distinctly green soft drink—which boasts hints of both lime and vanilla—has deep roots within the Avengers universe. Fans may remember Bruce Banner taking a job at the Pingo Doce Bottling Company way back when he was on the run in Rio de Janeiro, Brazil.
Ample outdoor seating is available at Pym Test Kitchen and offers a wonderful vantage point for Avengers activity over at Headquarters.
Pym Tasting Lab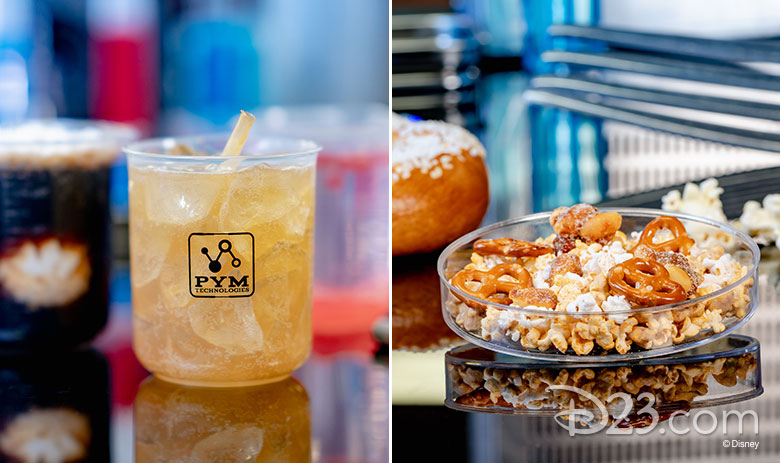 Just a few steps from Pym Test Kitchen, the Pym Tasting Lab represents Scott Lang aka Ant-Man's pet project and has a focus on adult beverages. Craft beers on tap range from a blood orange hefeweizen to an amber lager, and they're poured via an ingenious reverse draft system where the glass fills from the bottom up. The Pym Tasting Lab will feature four different beer cocktails, as well as snacks that feature big flavors but come in small, munchable bites, such as sweet and savory popped grains, mini pretzels, and salted honey-roasted peanuts.
Shawarma Palace
What would Avengers Campus be without shawarma? New York City's Shawarma Palace is an Avengers favorite (and has been since they first tried the local joint following the Battle of New York). By special request of Earth's Mightiest Heroes, the Shawarma Palace crew is opening up a location within Avengers Campus that will serve a fragrant chicken shawarma and garlic sauce, as well as an Impossible™ plant-based falafel version. Look for the cart that's decked out with Avengers memorabilia.
Terran Treats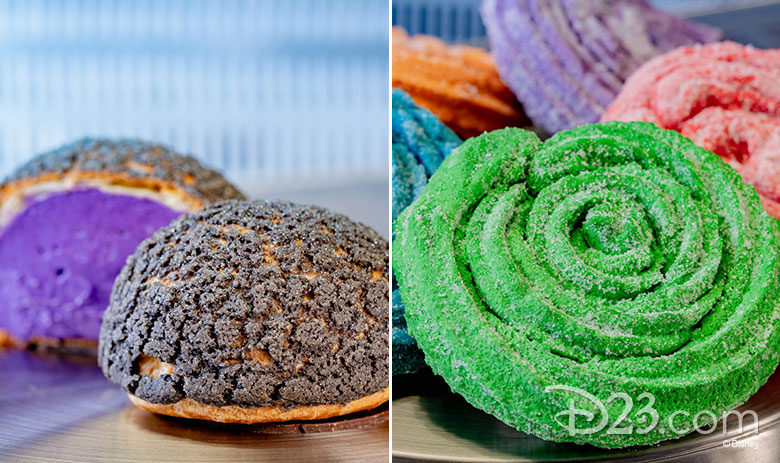 If you've already been fascinated by the unique collection Taneleer Tivan has curated in his fortress and on display at Guardians of the Galaxy – Mission: BREAKOUT!, prepare to be tempted by his equally enchanting assortment of intergalactic eats and treats at this food cart. The Cosmic Cream Orb resembles an Infinity Stone, but it has the flavor of a delectable cream puff filled with raspberry cheesecake mousse.
Terran Treats will also feature a changing variety of colorful Sweet Spiral Rations, which look and taste like what we have come to know and love as a churro.
SUPER HERO SUPPLIES AND SWAG
Whether you're looking to gear up and dress the part of Super Hero during your time at Avengers Campus or you want to continue the fun after you've returned home, WEB Suppliers should be your first stop. Located across from the WEB building, WEB Suppliers features park favorites such as headwear, drinkware, patches, pins, and more. It's also home to a version of the Spider-Bots that go haywire in WEB SLINGERS: A Spider-Man Adventure—but we promise, without the ability to replicate, they make wonderful and friendly sidekicks!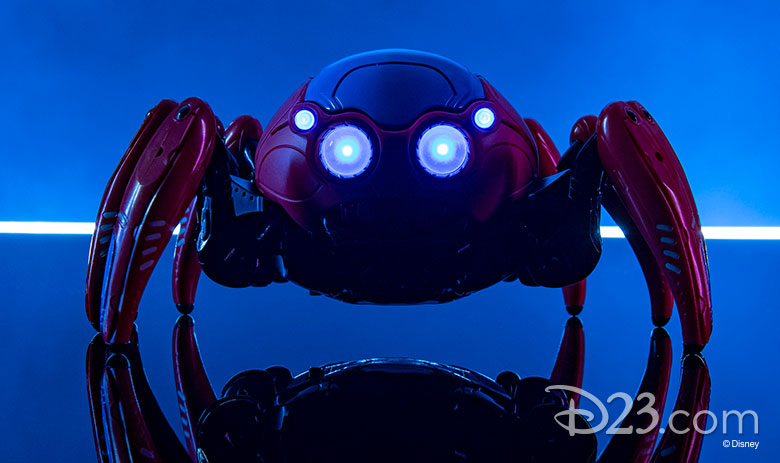 Each Spider-Bot is powered by a remote control and has eight articulated legs that move backward and forward. Also available for purchase are tactical upgrades that allow guests to customize their Spider-Bot and harness the powers and style of favorite Super Heroes, including Black Panther, Iron Man, Black Widow, and Ant-Man and The Wasp. "The team at WEB is very inspired by those Super Heroes they see training over at the campus. They've developed these tactical upgrades that change not only the overall appearance of the Spider-Bot but also enhance the Spider-Bot's capabilities," says Brad Schoeneberg, director, Merchandise Strategy & New Park Experience Development, Disney Global Product Creation.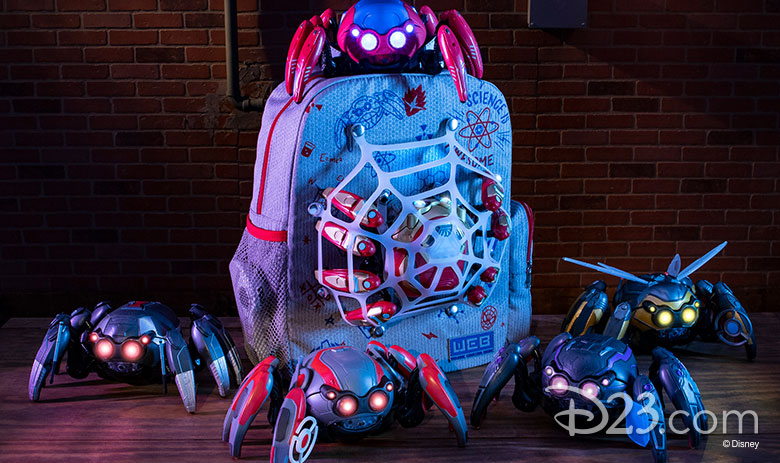 Stop by WEB Suppliers for a must-have backpack that's been specially designed to carry and show Spider-Bots when you're on the go (and they aren't!), as well as super cool Spider-Man light goggles with 17 unique expressions.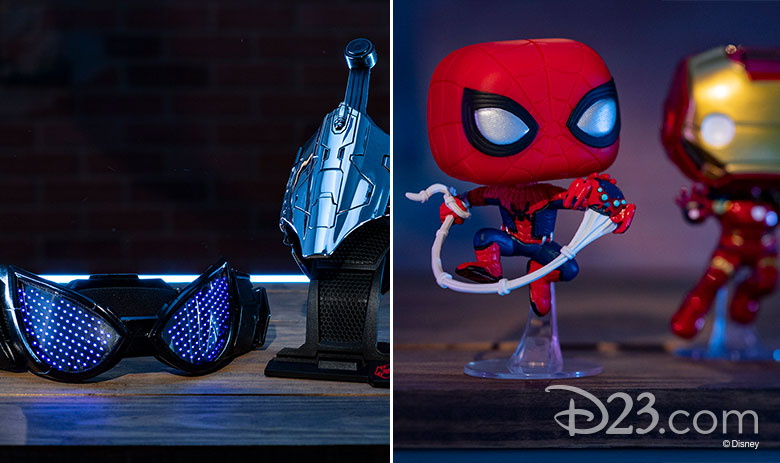 WEB Suppliers also carries a Spider-Man action figure that interacts with mini Spider-Bots, Web-shooters with authentic lights and sounds, a kit that enables fans to make their very own webs at home, and Parks-exclusive Funko Pop! vinyl figures of Spider-Man and Iron Man.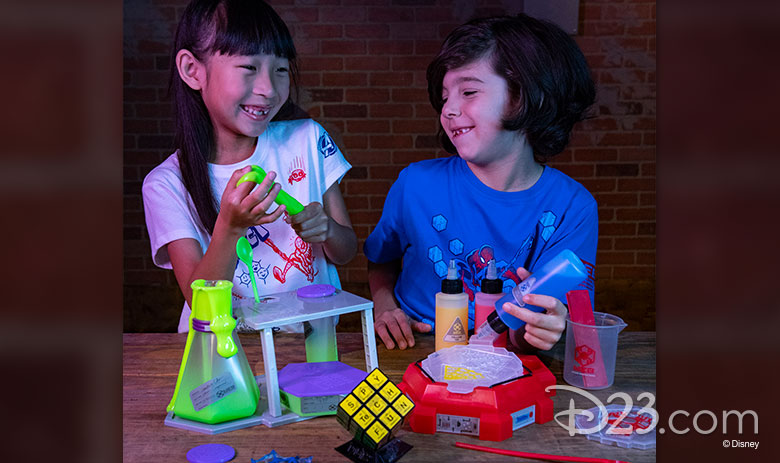 For budding WEB inventors of all ages, WEB Suppliers carries a STEM (science, technology, engineering, and math)-inspired kit that enables aspiring heroes to create their own "Gamma Goo" and more.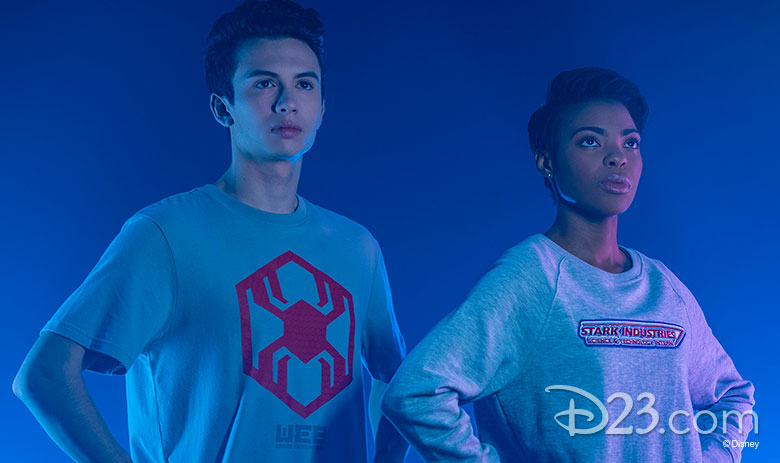 If you're aiming to dress heroically, visit the Campus Supply Pod for official Avengers Campus logo gear such as performance fleece hoodies and tees, hats, drinkware, and more Super Hero supplies.
Avengers Campus officially begins recruiting the next generation of Super Heroes this summer. And while you're waiting to sling your first web or catch your first in-person glimpse of the Quinjet, stay tuned to D23.com for updates and new details.
Our favorite Super Heroes have taught us that "with great power comes great responsibility," and the teams working on Avengers Campus keep that iconic sentiment in mind as they bring these beloved Avengers into the real world. Bushore says, "There is a lot of responsibility that comes with the iconography of that and bringing it to life for people. We're fans, first and foremost, and people take this stuff really seriously, which is awesome. And that's a really great thing to be able to tap into."