By Courtney Potter
Friday, October 1, 1982: "To all who come to this place of joy, hope, and friendship, welcome," said then-Chairman and CEO of The Walt Disney Company (and future Disney Legend) Card Walker at a brand-new Walt Disney World Resort park's dedication. "EPCOT is inspired by Walt Disney's creative vision. Here, human achievements are celebrated through imagination, wonders of enterprise, and concepts of a future that promises new and exciting benefits for all."
He continued, "May EPCOT Center entertain, inform, and inspire—and above all, may it instill a new sense of belief and pride in man's ability to shape a world that offers hope to people everywhere."
EPCOT, the acronym, was coined by Walt Disney in 1966; standing for "Experimental Prototype Community of Tomorrow," the term was used to illustrate his interest in exploring a futuristic hamlet on a plot of land in Florida. To this day, it's clear that two words in that acronym are still of huge importance: "community" and "tomorrow"... as evidenced by the transformation the park is currently undergoing, including the just-opened Guardians of the Galaxy: Cosmic Rewind, and the amazing neighborhoods unifying the park.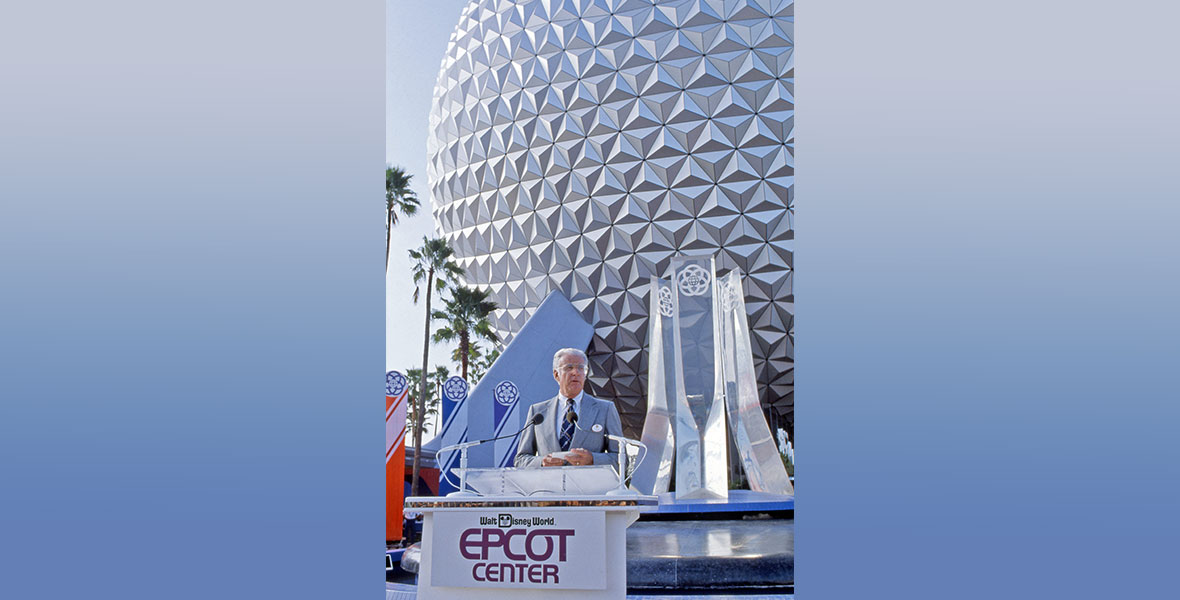 Recently, D23 was lucky enough to chat with several EPCOT notables about the past, present, and future of the beloved park... from favorite memories to what excites them most about what's to come:
Scott Mallwitz, Executive Creative Director, Walt Disney Imagineering, on what makes the park so special—and how a new neighborhood like World Celebration fits into its ever-distinctive ideals:
"EPCOT is a park about people and their connections to distinct cultures, our extraordinary planet, and a shared belief in a better future. It's a place that connects and amplifies the human experience. World Celebration is designed to focus these connections, creating space for guests to be immersed in personal expressions of art, performance, and food from across the globe.
"It's a special place—a place that has always 'been in a state of becoming.' Our design team is thrilled by the opportunities and challenges of this historic transformation. As we continue to reveal pieces like Connections Café, Creations Shop, and the new Entry Plaza, we can see the future of this park come to life... In fact, in my EPCOT future vision, I anticipate increased connectivity, personalization, and customization. The key is creating spaces and opportunity today that allow for future activations that make use of attractions, entertainment, festivals, and food experiences. Technology will be utilized to deepen these shared experiences—and create more powerful connections with the people and stories of EPCOT.
"So stay tuned—there is much more to come; we cannot wait to reveal the entirety of World Celebration!"
Kartika Rodriguez, Vice President, EPCOT Operations, on the incredible inspiration the park provides:
"A recent memory I have is seeing a small child—probably about 7 years old—who had just finished visiting our new restaurant, Space 220. And they were really excited about the experience. But what I heard them say was, 'I want to be an astronaut when I grow up.' So when I think about this park in the future, for me, it's about continuing to create memories for our families obviously—but it's also about continuing to inspire. Whether that inspires curiosity to learn about the science and technology aspects of the world; whether that's to beinspired, to understand different cultures or to go visit a place themselves; or to understand nature, talking about the beauty of our environment and our role in how we impact it, like with Journey of Water, Inspired by Moana... All those things—about bringing people together, understanding how we play together, how we work together—it's about inspiring the next set of engineers or environmentalists or architects.
"As far as the next 40 years, I see EPCOT continuing to evolve—and I see us looking for ways to continue to excite and wow our guests."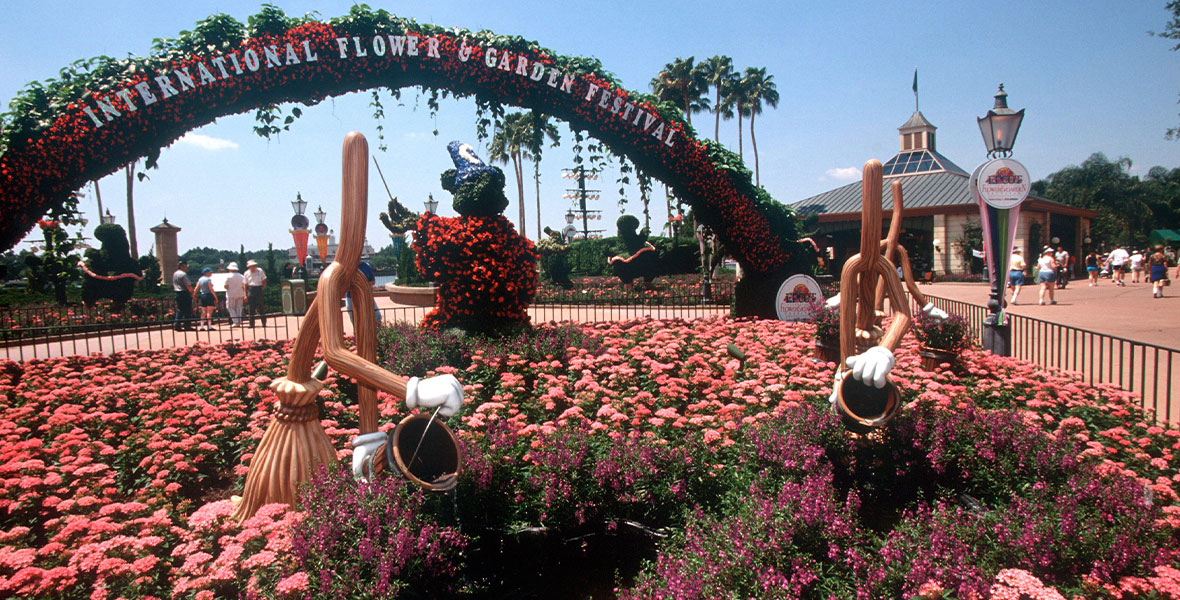 Dave Kesting, General Manager, EPCOT Food & Beverage, on how the festivals have evolved to become fan-favorite events—including one delicious example:
"One component we hit on by accident, for Festival of the Holidays, is—we thought, 'Wouldn't it be fun if we did a little bake shop?' So, we did a concept called The Cookie Nook—and our chef, Chef Crystal, made a thousand cookies. We thought that was gonna get us through the whole day, but the person who sent them out gets a call an hour later, saying, 'I need a thousand more cookies.' They said, 'No, I sent you a thousand cookies.' The people at The Cookie Nook said, 'No, we sold a thousand cookies. We need a thousand morecookies!' And that turned into what's now known as the Cookie Stroll, where it's a 'completer' activity where people get to dine around and taste different cookies and they get a fun prize at the end. And we went from a thousand cookies a day to last year, we sold over a quarter a million cookies because it was so popular with guests.
"Every festival is different—and when people say, 'I'm going to a festival,' they at least know there's going to be some kind of 'anchor' entertainment; there's going to be unique merchandise that goes along with it; there's going to be some unique family experiences. And then, at the same time, the food's going to be different. Every festival is unique. It keeps it fresh."
Jackie Herrera, Producer, Collections Management, Walt Disney Imagineering, on how the different EPCOT exhibits and galleries add to the unique mystique of the park:
"Like most things at WDI, we start with brainstorming. We find a great story that we think our guests would really enjoy and we develop an exhibit around it. From there we begin our research and work with cultural consultants. I've said in the past that working on one of these exhibits is like taking a college class; our team really immerses itself in research and talking to as many people as we can that have the knowledge we want to share with our guests.
"In the galleries around World Showcase, we exhibit real artifacts to tell the stories of different cultures around the world. So much of what we do at Walt Disney World is created from imagination and new technology—but the galleries are a tangible representation of people around the world. Whether our story is told with historical antiquities or contemporary objects, those items are real and authentically represent the people of that country... The gallery program at WDI is so diverse in the stories we tell and the different artifacts we get to work with, I'm doing something new every single day of my career."
Tom Fitzgerald, Creative Portfolio Executive, Walt Disney Imagineering, on 40 incredible years of memories from working at EPCOT and what the future holds:
"It's hard to believe that four decades have passed since EPCOT Center opened its doors. For me, it's been an incredible journey—starting with CommuniCore, then leading to Horizons, Spaceship Earth scripts, and numerous films and shows. I love this park and was fortunate to have been inspired and mentored by [Disney Legends] Marty Sklar, Xavier "X" Atencio, John Hench, and other incredible Imagineering icons in those early days... Over the decades, as my role changed, I've had a chance to work on updating several of the original World Showcase shows, from the American Adventure to Mexico and the Circle-Vision films at China and Canada pavilions. More recently, I helped guide the transformation efforts for EPCOT—including the World Showcase story.
"Walt Disney promised that EPCOT would 'always be in a state of becoming.' As we look to the future, our Imagineering team is continuing to dream up new shows, attractions, and experiences that will support EPCOT's vision of Walt's celebration of our world and its promise—A world of discovery; of nature; of cultures; of people; and optimism for the future."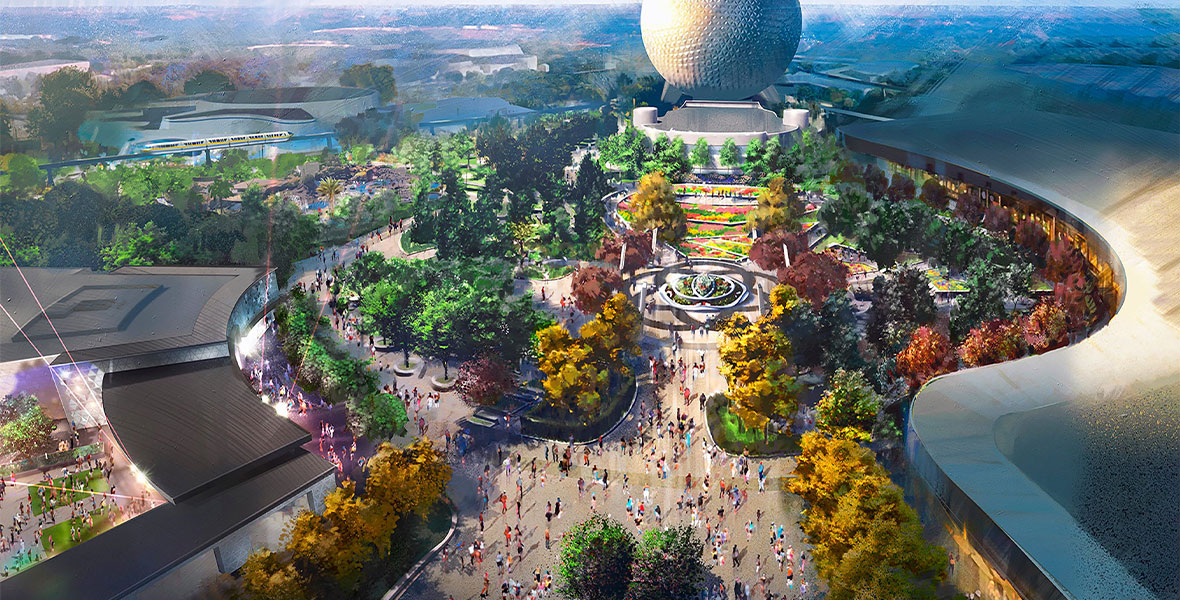 Zach Riddley, Creative Portfolio Executive / New Experience Development, Walt Disney Imagineering, on where EPCOT goes from here:
"EPCOT has always been about big ideas that inspire. Walt's original vision for EPCOT—Experimental Prototype Community of Tomorrow—was a living city at the center of his 'Florida Project' that would have housed R&D labs, experimental technologies, homes, and new modes of transportation and urban living that would be a test bed for new American communities. That idea evolved in the years after Walt's passing and as the company built and then expanded Walt Disney World Resort. The spirit of Walt's idea for EPCOT inspired the park Imagineers opened in 1982 and our teams today—a park dedicated to big ideas that inspire potential, that inspire possibility.
"We are staying true to that original spirit in the ideas we are bringing to EPCOT in this unprecedented transformation... EPCOT's ideas will never go out of style as long as they serve to inspire—and I like to think at its essence that was Walt's idea all along."