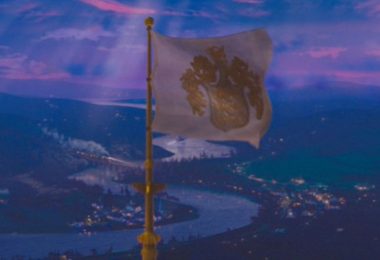 Erik, Chicago, Illinois
A:
We contacted Mike Gabriel who conceived, storyboarded, did all development pieces, directed, and art directed the Disney motion pictures logo. Here is his answer: "That is the authentic Disney family crest on the flag. It matches the Disney family crest stone plaque that is directly above Sleeping Beauty Castle's front entrance arch at Disneyland. I wanted the Disney family represented as the first thing you see on the castle as we descend from the wishing star. I was asked by Baker Bloodworth, who was producing an updated CG version of our logo if I had any ideas on how to redo it. I boarded a version in less than an hour and showed it to Baker and Susan Butterworth and they approved it to move forward. Baker produced. The castle is a hybrid of Disney park castles. Only secret hidden fun fact: Look for Roy E. Disney's
Pyewacket
, the dark silhouetted yacht in the river behind the castle, which I added to convey Roy will always have the studio's back. Disney executives approved the logo, and Weta Digital in New Zealand, led by Michael Pangrazio and his team, did all the final design and CG work based on my paintings thru teleconferencing with Baker and myself. They improved all elements."