By Beth Deitchman
On Friday, August 20, at 8 a.m. EDT/PDT on Disney Channel and Disney Junior, Mickey Mouse embarks on whimsical new adventures with his friends in Mickey Mouse Funhouse, Disney Junior's latest animated series starring preschoolers' first pal. Minnie, Donald, Daisy, Goofy, and Pluto are, of course, joining Mickey for the action on screen, and kids watching at home are invited to be part of the fun, too. Mickey Mouse Funhouse executive producer and supervising director Phil Weinstein emphasizes that the new series is all about imagination, and he and the talented artists, writers, and musicians behind the new series have tapped into their own creativity to transport the Sensational Six to unique worlds that will delight and inspire young viewers. Here are some fun facts to keep in mind for the grown-ups watching Mickey Mouse Funhouse right alongside them:
1. Anything can happen in Funhouse Forest.
The primetime special Mickey the Brave! introduced Funny, the enchanted talking playhouse who lives in Funhouse Forest, where the events of the new series unfold. In each 11-minute story, Mickey and the gang will enter the funhouse, climb the Stairs to Anywhere, venture through the Adventure Doors, and journey to another world, from the fairy tale-inspired kingdom of Majestica and the old west-themed Sunny Gulch, to the wet and wonderful Underwater Ocean World. Funny can change into literally anything, such as a rocket ship, a steamboat, or an amusement park ride, to name just a few of the experiences the Sensational Six will have in the first season. "It's just all about thinking creatively, thinking freely, and having fun doing it," Weinstein says of the fresh new series and what he hopes young viewers will take away.
2. Mickey and his pals are, first and foremost, kids' pals in the new series.
When young viewers meet Mickey and his friends in Mickey Mouse Funhouse, they'll encounter them as relatable peers. Mickey and the gang carry backpacks with them when they climb the Stairs to Anywhere and go off on their latest adventure, in much the same way that preschoolers bring their favorite necessities with them every day at school. The Sensational Six also use their imaginations just as creatively and with as much commitment as kids do. For example, Daisy may be dressed in a knight's armor when she's in Majestica, but in her mind and her imagination, she's actually a super-cool robot.
3. Mickey Mouse Funhouse has a catchy soundtrack kids are sure to love.
Each episode is filled with music, from the toe-tapping theme song, to the music that accompanies every trip up the Stairs to Anywhere. Beau Black (The Lion Guard) is the series composer and he co-writes the original songs with Loren Hoskins (Jake and the Never Land Pirates). "We're always trying to squeeze a song in somewhere," Weinstein promises, and most episodes—which are comprised of two 11-minute stories—will feature at least one original song. The digital soundtrack Disney Junior Music: Mickey Mouse Funhouse Vol. 1 is available now so that kids can add Mickey-inspired music to their own adventures, wherever they are.
4. This is not a series that kids will just sit back and watch.
Between the two stories, kids are encouraged to get up and dance! Each episode features a "Stretch Break" where preschoolers can move and stretch with Funny and the gang. And young viewers will also have the opportunity to "get the wiggles out" with the "Wiggle Giggle" song that's featured in every story. "It's like doing a Zumba class in the front yard with the funhouse," Weinstein laughs.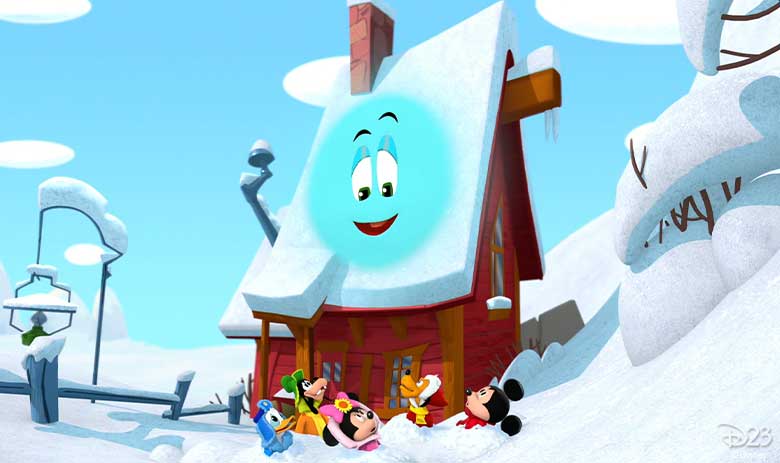 5. Mickey Mouse Funhouse is geared toward preschoolers, but filled with Disney magic to enchant fans of all ages.
Art director Alan Bodner shares that the look of the series pays tribute to the classic Disney films and series, such as the Mickey Mouse Club and Mary Blair's designs for the "Once Upon a Wintertime" segment from Melody Time and Alice in Wonderland, as well as Disneyland favorites such as Toontown and Sleeping Beauty Castle. Additionally, there are Hidden Mickeys and references to classic Disney characters and titles throughout the series. "This is a real opportunity for us to pay a little homage to the studio and what made that special—not for a little person today, but for all of us who grew up with this influence," Bodner says.