By Beth Deitchman
Disney Junior's Mickey Mouse Funhouse is designed for the youngest of viewers, but it's sure to enchant Disney fans of all ages. The animated series launches Friday, July 16 with Mickey the Brave!, a primetime special airing on Disney Junior at 7:30 p.m. EDT/PDT, followed by the series premiere Friday, August 20 (8 a.m. EDT/PDT), on both Disney Channel and Disney Junior. The special introduces Funny, an enchanted talking playhouse, and marks the beginning of brand-new adventures for Mickey and the rest of the Sensational Six in a vibrant new world that's been inspired by Disney's rich history.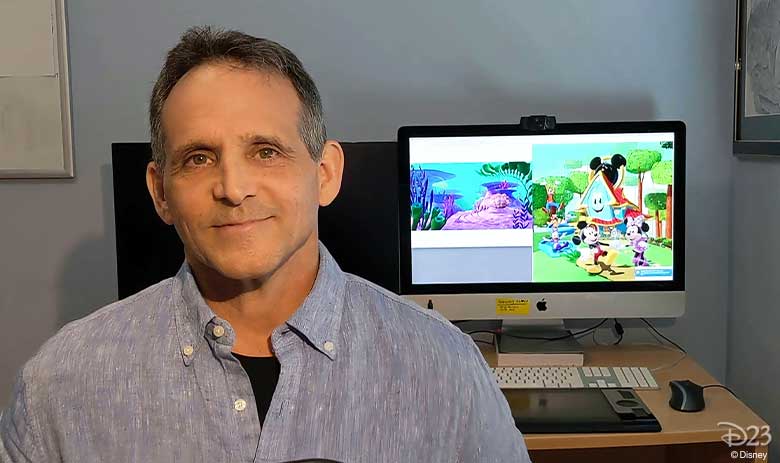 Executive Producer/Supervising Director Phil Weinstein (pictured above), who most recently served as director for Disney Junior's Emmy®-nominated Mickey and the Roadster Racers and Mickey Mouse Clubhouse, felt it was important from the outset to establish that these new stories take place in a world that's different from Hot Dog Hills, where the most recent Mickey Mouse preschool series have been set. "I almost thought of it like Los Angeles is Hot Dog Hills, and Big Bear is Funhouse Forest—a couple hours away by car," he explains. Mickey the Brave! takes the Sensational Six—and Disney Junior's preschool audience—on a journey. After their arrival in Funhouse Forest, they venture inside Funny the Funhouse where they climb the Stairs to Anywhere and step through one of the Adventure Doors. In the primetime special, that door leads to the kingdom of Majestica, where the gang encounters a mischief-making dragon named Farfus. And when the series continues in August, the possibilities for adventure will be limitless—as are the nods to Disney's rich history that Disney fans will discover in every 11-minute story.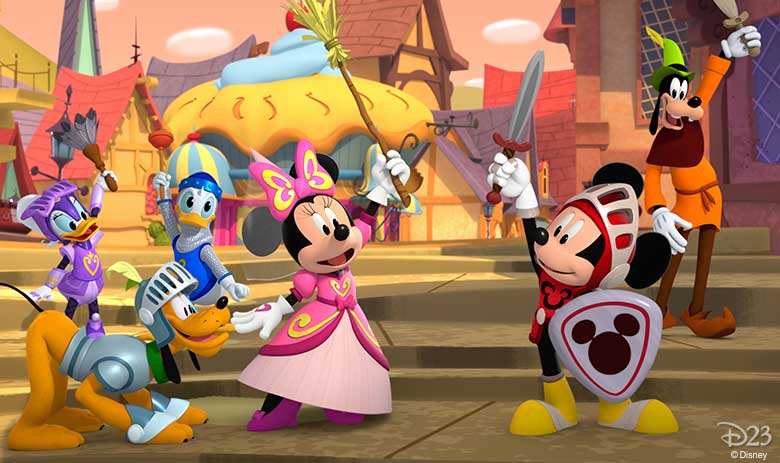 In addition to Mickey, Minnie Mouse, Donald Duck, Daisy Duck, Goofy, and Pluto, Disney fans will encounter a host of other familiar faces in Mickey Mouse Funhouse. Clarabelle Cow and Pete both make an appearance in Mickey the Brave!, and Weinstein promises that other beloved heritage characters will turn up, as well. "I don't want to spoil anything, but we've got them all," he says.
Weinstein began his career as a storyboard artist on Darkwing Duck, Winnie the Pooh, The Lion King II: Simba's Pride, and Boo to You Too! Winnie the Pooh, for which he received an Emmy Award. But his love for Disney animation goes back further than that. Weinstein points to an autograph from Mickey Mouse that he received during a first visit to Walt Disney World as a precious memento from his childhood. And later, when he moved to Los Angeles, Weinstein got to know Disney Legends Frank Thomas and Ollie Johnston through his wife, who worked for the two members of the Nine Old Men after they'd retired from The Walt Disney Company. "I think that's when my love of it grew more as a grown-up than as a kid, from that experience of learning from those two legends," he shares. The lessons Weinstein learned from Thomas and Johnston continue to guide his work today on Mickey Mouse Funhouse—from the idea of staying loose and looking for inspiration from even simple walks around the house, to using the silhouette as a kind of test to make sure animation is reading properly. The trick, Weinstein explains, involves drawing a character and filling in the design with a black marker. If you can still tell what the character is doing—walking, running, or something completely different—and read the action, you're on the right track. "And if you can't, then you've got to repose that character in such a way that the silhouette reads," Weinstein states.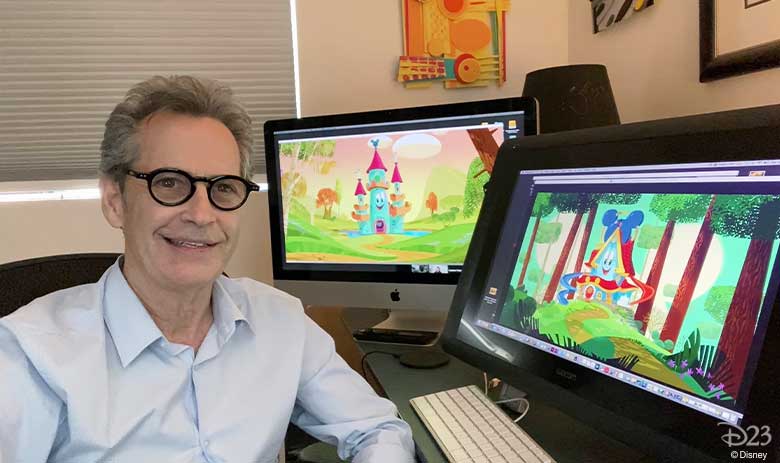 To inform the design of the backgrounds and settings in Mickey Mouse Funhouse, art director Alan Bodner (pictured above) also looked to the Disney's incredible legacy of animation and entertainment. "It's really going to be a tribute to all Disney," he says. The lifelong Disney fan remembers the experience of looking into a View-Master and seeing how the toy could bring Disney animation to life in a rich, immersive way, and it was his intent to evoke the same feeling with the design for the new series. The Sensational Six's adventures will take them to the old west, to a world that's evocative of Greek mythology, and even underwater, Bodner reveals, so to create these disparate locales—and ensure that they felt true to the wonderful worlds of Disney—his initial jumping-off point was another iconic series.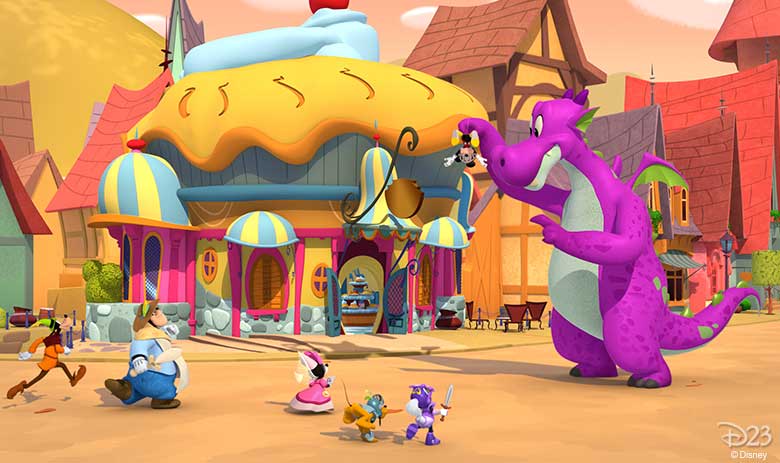 "I've always loved the classic Mickey Mouse Club, and when we started to talk about the feeling that we wanted to have with this show—a little more traditional-looking and more whimsical and storybook-like—I thought it would be wonderful to kind of reference some of those sets that Annette Funicello and all of the Mouseketeers were performing in front of," he recalls. The sets, which ran the gamut from western towns to the circus, were filled with character, and Bodner says, "To me, that's a hallmark of Disney styling." He also looked to the playfulness and beauty of Disney Legend Mary Blair's designs for "Once Upon a Wintertime" [from Melody Time] and Alice in Wonderland, as well as other classic titles such as Sleeping Beauty and The Adventures of Ichabod and Mr. Toad.
Bodner's Disney credits include Disney Channel's Tangled: The Series (which earned him an Emmy), as well as Kim Possible, Phineas & Ferb, and Cinderella II. And this isn't his first experience with the Sensational Six; Bodner was an art director on the holiday favorites Mickey's Once Upon a Christmas and Mickey's Twice Upon a Christmas. To create the world of Mickey Mouse Funhouse, Bodner and his team also stepped into the world of Mickey—literally—through research at Disneyland Park's Toontown, where they took a close look at the whimsical architecture that's so much a part of the land. Though they always wanted to define their own style for Funhouse Forest, Bodner emphasizes how helpful it was to study how unconventional shapes and forms play off each other in Toontown. "It didn't have to be symmetrical," he says of the world they were designing. "[In Toontown,] everything is kind of off-kilter, yet when you're standing in it, it fits the characters because they're kind of round-y, happy shapes. They really work well together."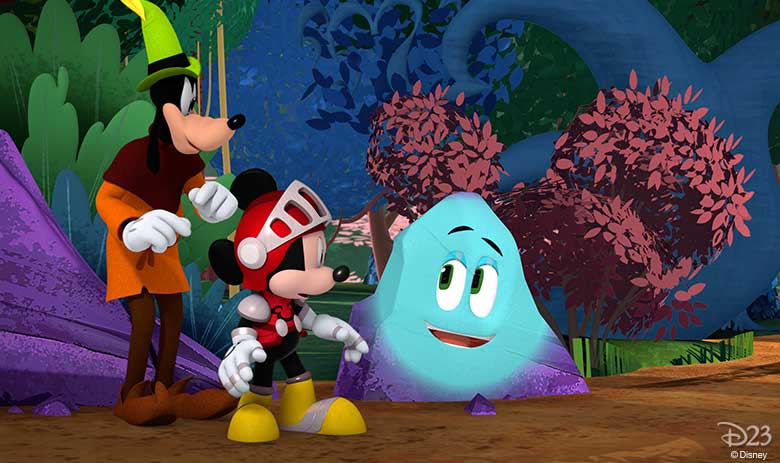 In talking with Weinstein and Bodner, it's abundantly clear that Mickey Mouse Funhouse is made for Disney fans by Disney fans. Viewers won't have to look very closely to find Easter eggs that have been hidden in the series. For example, when Funny transforms into a castle in Mickey the Brave!, the palace looks very familiar… and the fanfare that accompanies the moment will hit you like a bolt out of the blue. And hidden Mickeys are truly everywhere. "Always look to the sky! Always look at the foliage. And then keep an eye out on patterns—wall patterns, etc.," Weinstein hints.
That playful element adds a dimension that will make Mickey Mouse Funhouse a series that Disney fans of all ages can enjoy together, because while the message is geared toward younger audiences, the themes are universal—especially for Disney fans. "I think we've taken some pretty new and kind of broad concepts, but hopefully when you watch it you're just very accepting of a room stretching and the ceiling opening up and then going through a door and being transported to another land—which is just all about thinking creatively, thinking freely, and having fun doing it," Weinstein says. "It's 100 percent about imagination."