By Beth Deitchman
Think about the first time you watched Ariel flip her fins or saw Peter Pan take flight. For Disney fans who are at least old enough to drive, chances are that introduction to favorite Disney characters happened in a theme park, a movie theater, or during a family movie night that followed a visit to the neighborhood video store. And for the youngest of Disney aficionados, that first connection to beloved Disney characters—from Mickey Mouse to Olaf—may have come thanks to Disney Junior, which celebrates its 10th anniversary on Sunday, February 14.
When Disney Junior launched in 2011 it was part of a dedicated programming block on Disney Channel, anchored by Jake and the Never Land Pirates. One year later, the 24-hour Disney Junior channel debuted, creating a home for popular new characters, among them Doc McStuffins, a young girl who aspires to be a doctor like her mom and communicates with and heals broken toys and stuffed animals; Princess Sofia, Disney's first little girl princess; Puppy Dog Pals' Bingo and Rolly; and Mira, a brave and resourceful young girl who has been appointed by the queen to her role as royal detective.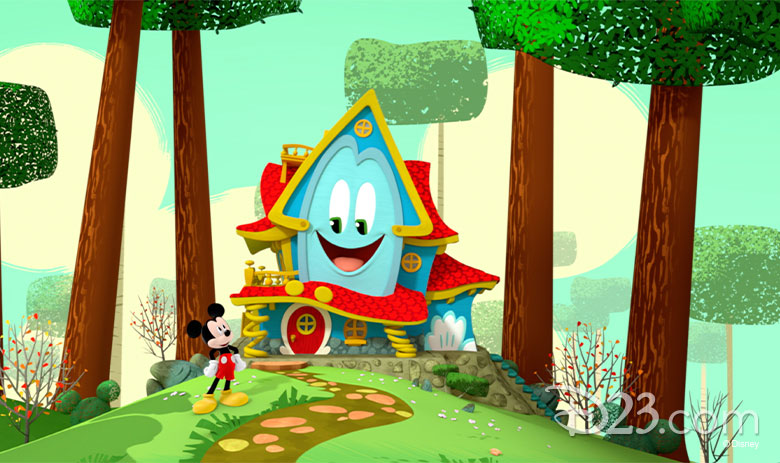 And throughout Disney Junior's first incredible decade, parents have seen more than a few familiar friends make appearances—sometimes unexpected ones—on shows as they're watching alongside their young children. Mickey and his best pals have been part of Disney Junior since the very beginning via Mickey Mouse Clubhouse, and they'll remain part of Disney Junior as the brand embarks on its next 10+ years, with Mickey Mouse Funhouse premiering later in 2021. This year will also bring to Disney Junior the first-ever full-length Marvel series for preschoolers, Marvel's Spidey and his Amazing Friends, which tells the story of Peter Parker, Miles Morales, and Gwen Stacy, who together form Team Spidey and embark on heroic adventures to protect their community.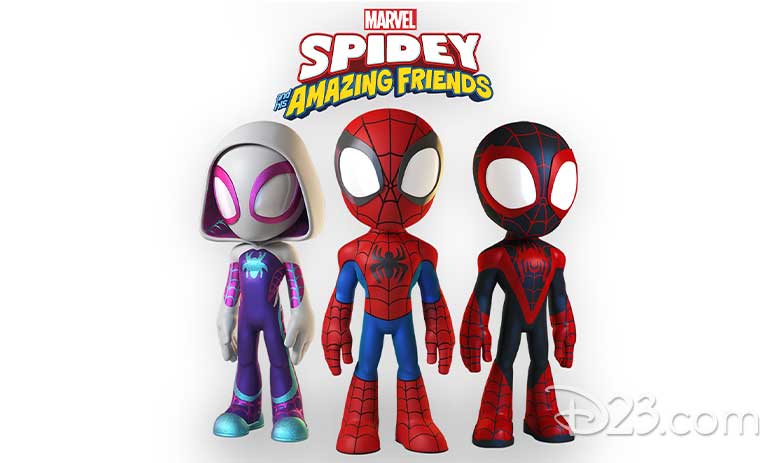 To celebrate Disney Junior's milestone anniversary, we've taken a look back at all the times classic characters have made special guest appearances on Disney Junior series. Many of these titles are available on Disney+ for you to watch with the preschoolers in your life, or even on your own. After all, you never outgrow Disney magic!
Mickey Mouse Clubhouse
Of course, Mickey, Minnie, Donald, Daisy, Goofy, and Pluto were always up for all manner of adventure on Mickey Mouse Clubhouse, from flying in a balloon race, to building a toy robot, to hosting a surprise party. But sometimes favorite friends stopped by the Clubhouse to join the Sensational Six's shenanigans.
Professor Ludwig Von Drake and his inventions often figured into the fun, whether he was testing out a time machine that turned Goofy into a baby; helping to retrieve Pluto's bouncy ball from the moon; or taking a picture of Mickey and the gang.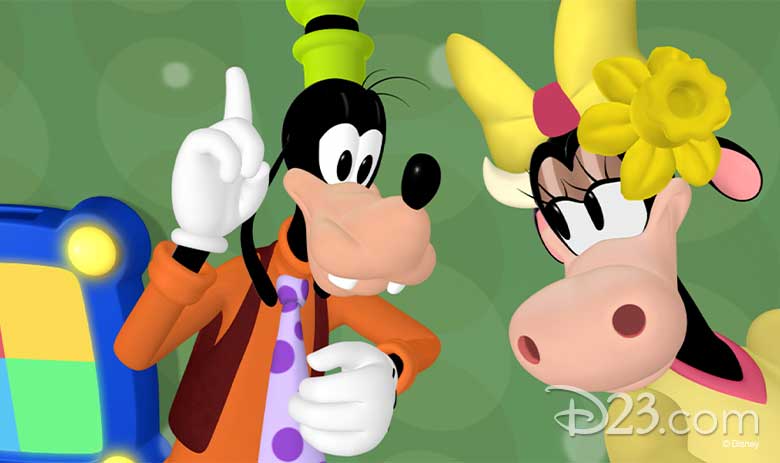 Clarabelle Cow was a veritable celebrity in the Clubhouse as the host of her very own TV show, but always made time for her BFFs.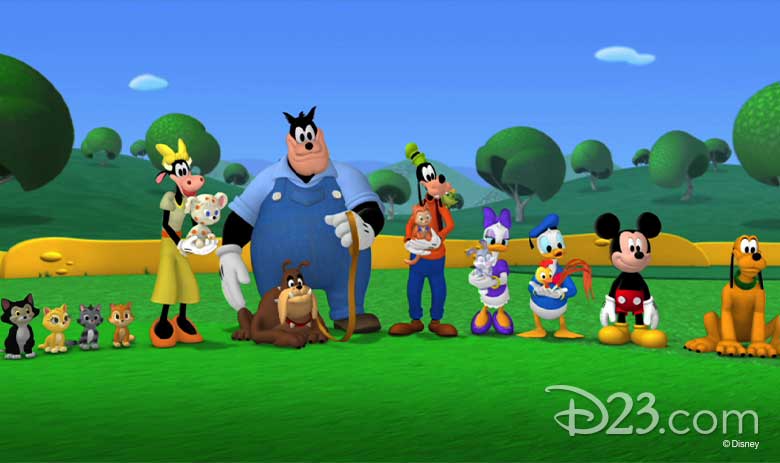 Pete was still up to mischief in his Mickey Mouse Clubhouse appearances, but it was always in good fun. Plus, he was revealed to be the loving owner of a bulldog, proving that the cat was always a softie at heart.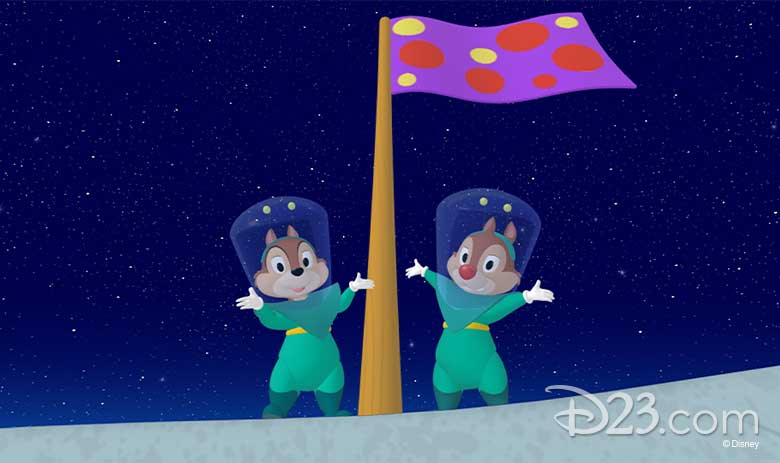 Chip 'n' Dale's many adventures on Mickey Mouse Clubhouse even took them to outer space, where they joined Mickey and friends for an out-of-this-galaxy treasure hunt.
Mickey and the Roadster Racers
The Three Caballeros were reunited when José Carioca and Panchito appeared in an episode of Mickey and the Roadster Racers. Hear the trio sing about being "Amigos Forever" in the video above.
Mickey and the Roadster Racers also included a special appearance from Morty McCool (as Mickey's rival was known when he appeared in the animated series), which found him facing off against Goofy in an exciting race.
Jake and the Never Land Pirates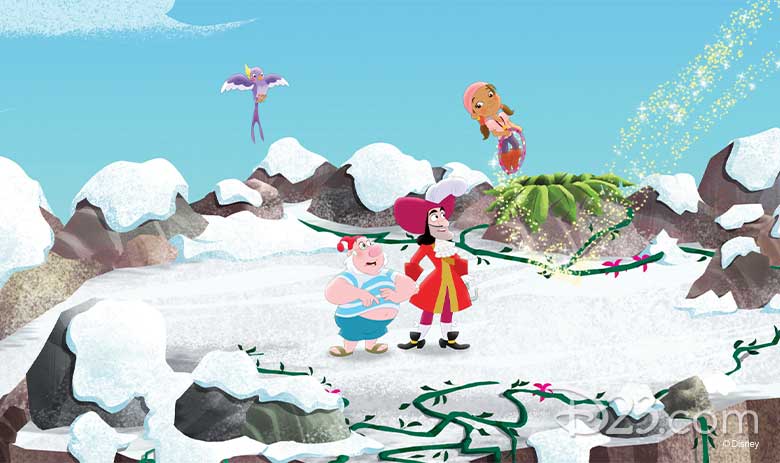 The animated series that helped launch Disney Junior followed a crew of kid pirates, led by Jake, working together to outwit the infamous Captain Hook and his loyal first mate, Smee, from the classic Disney film Peter Pan.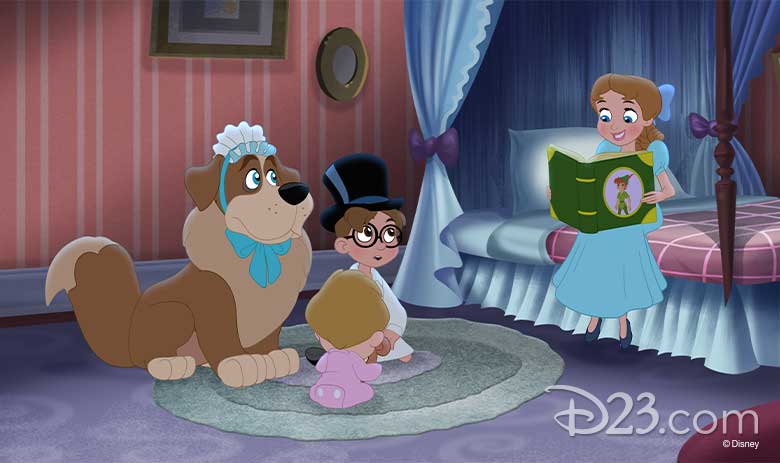 Peter Pan, Tinker Bell, Wendy, John, and Michael Darling—and even Nana the dog—were featured in the primetime special "Battle for the Book!" during the series' third season. In this two-part episode, available now on Disney+, Captain Hook steals Wendy's book about Never Land and Wendy summons Peter to help her get it back from him. Wendy was voiced in the special by Maia Mitchell, who performed a new original song, "Once Upon a Time."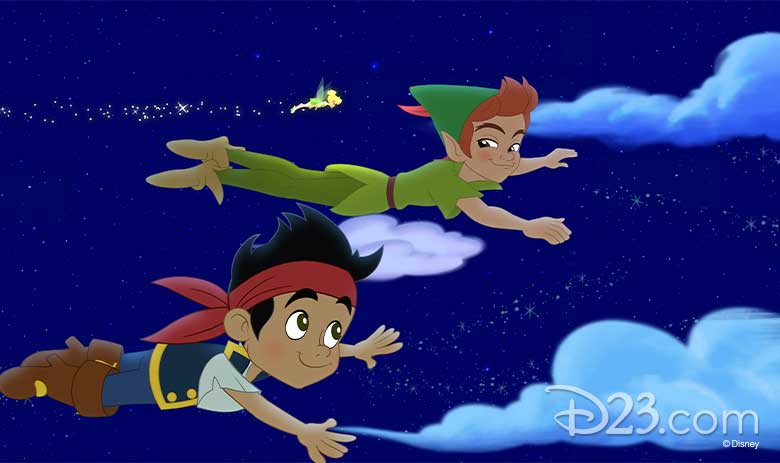 Doc McStuffins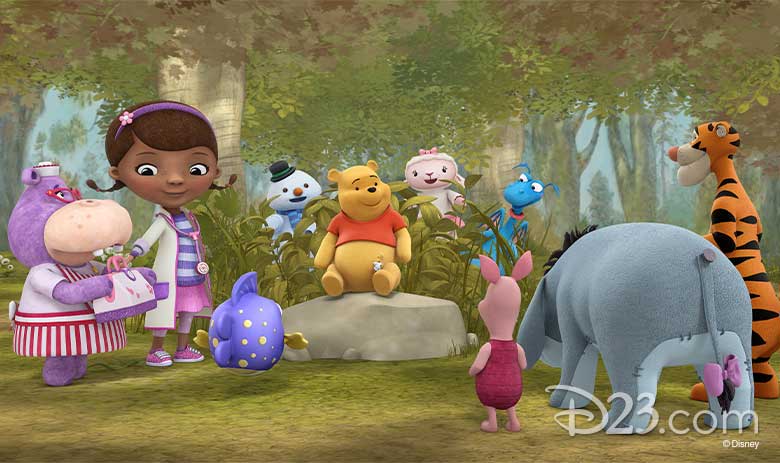 After spotting Winnie the Pooh floating through McStuffinsville, Doc and the toys follow the silly old bear back to the Hundred Acre Wood to lend a helping hand. When Pooh is blown away with a bunch of balloons, he uses music to try and sing himself back down to solid ground.
Sofia the First
Sofia the First tells the story of Princess Sofia, an adventurous little girl who becomes a princess when her mom marries the king of Enchancia. And over the course of her journey, she realizes that it's easy to look like a princess, but it's much harder to embody the characteristics that make someone truly royal. Lucky for Sofia, she enjoys visits from a number of classic Disney princesses, who help her learn to possess honesty, loyalty, compassion, and grace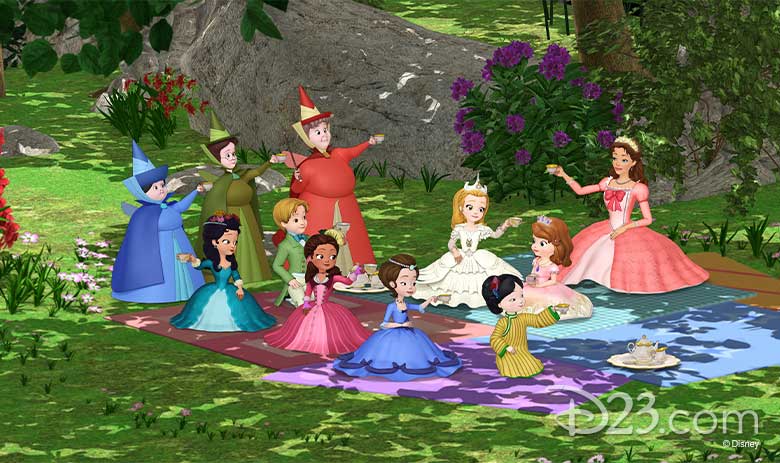 Flora, Fauna and Merryweather, the fairies from Sleeping Beauty, are devoted to helping ease Sofia's transition to royal life as the headmistresses of Royal Prep Academy.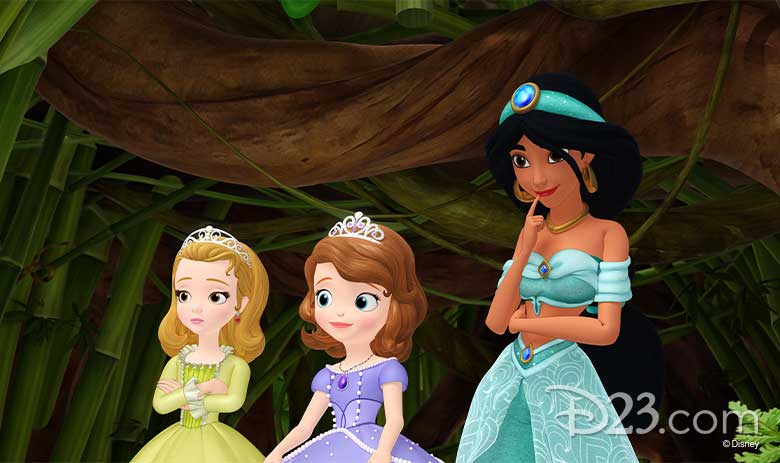 When a princess is in trouble, Sofia's magic amulet summons another princess to come and help. Princess Jasmine not only encourages Sofia and her friends to be open to a whole new world of experiences, rather than let fear get the better of them, but she even helps them tame their wild flying carpet.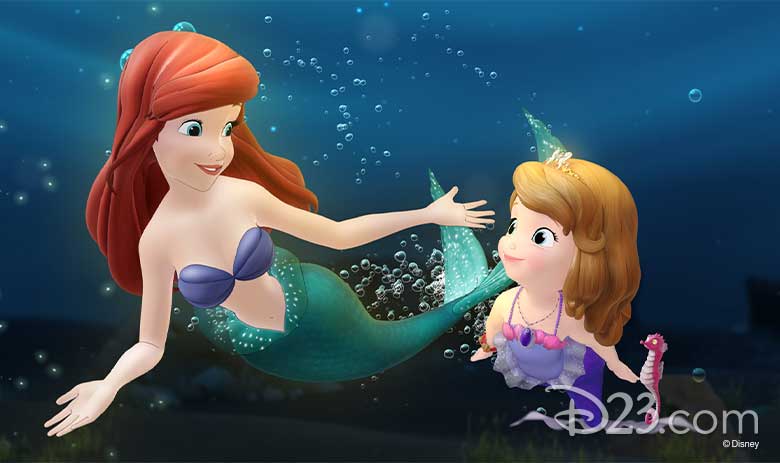 After she helps a mermaid during a family vacation, Sofia's amulet allows her to transform into a mermaid as a reward for helping her new friend. When Sofia learns that her parents and their ship are in danger, the amulet summons Ariel, who offers Sofia guidance that helps mend a long-standing rift between humans and merfolk.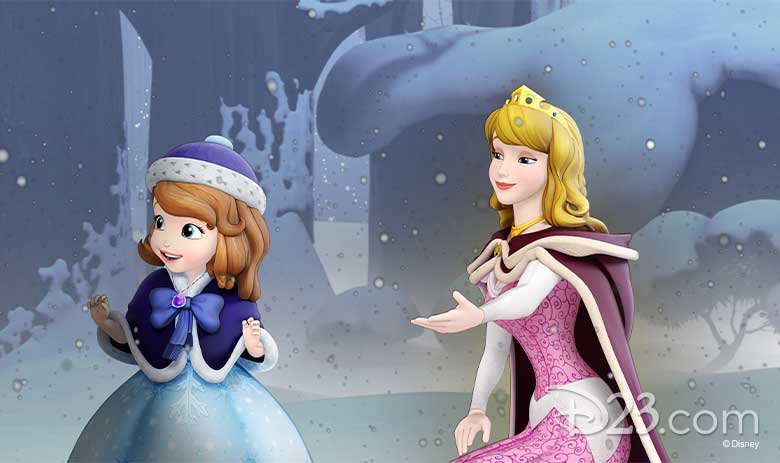 Princess Aurora teaches Princess Sofia to remember that she can always look to her animal friends for comfort and support when the humans in her life aren't available to help her.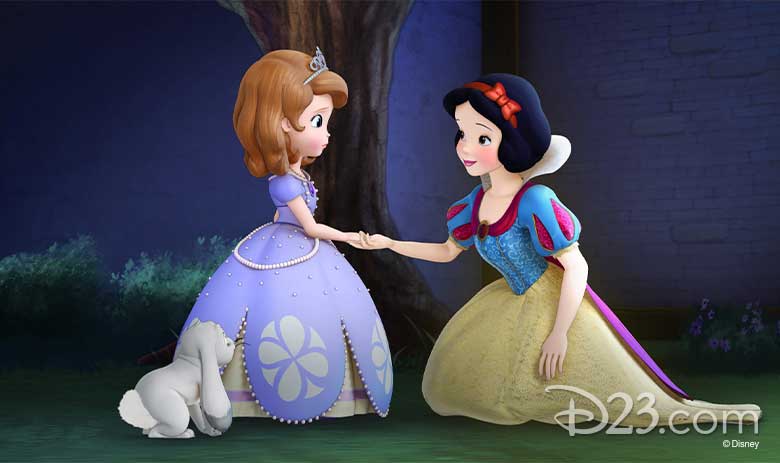 When Snow White is summoned by Sofia's amulet, it's to remind the young princess that people aren't always who they seem to be and to trust her instincts.
Cinderella, Belle, Mulan, Rapunzel, Tiana, Merida, and Princess Elena of Avalor also make their way to the kingdom of Enchancia. Our friends at Disney Junior have gathered up all of the times when Sofia meets a Disney Princess for the first time on Sofia the First in the enchanting video below.
The Lion Guard
The series continues the epic storytelling found in Disney's The Lion King as it follows the adventures of Simba and Nala's second-born son, Kion, as he and his animal friends protect the Pride Lands.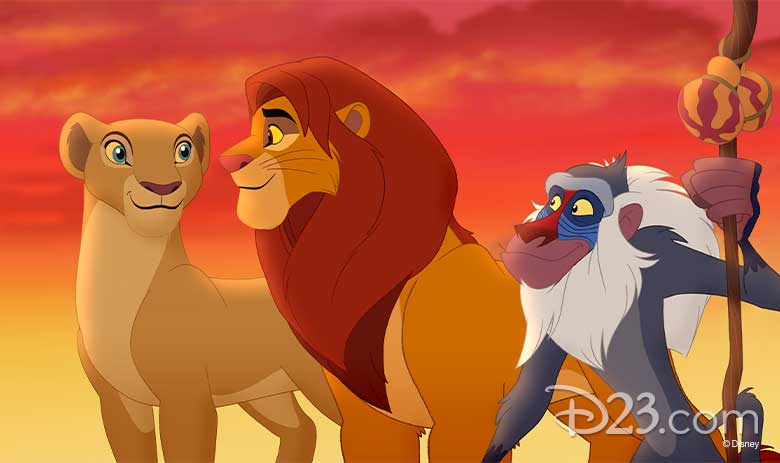 Simba and Nala reign over the Pride Lands as king and queen, and Rafiki is still quite happy to share his wisdom with the entire royal family.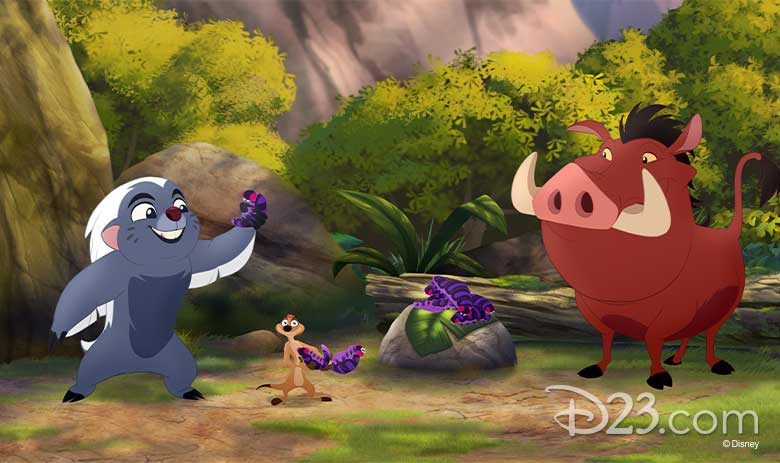 Timon and Pumbaa are now adoptive uncles to Kion's best friend Bunga, a brave honey badger who cherishes the family he's found with the beloved meerkat-warthog duo.
Muppet Babies
Disney fans were thrilled to return to the playroom in 2018, when a brand-new Muppet Babies made its debut, featuring new antics and even a brand-new Muppet Baby, Summer Penguin.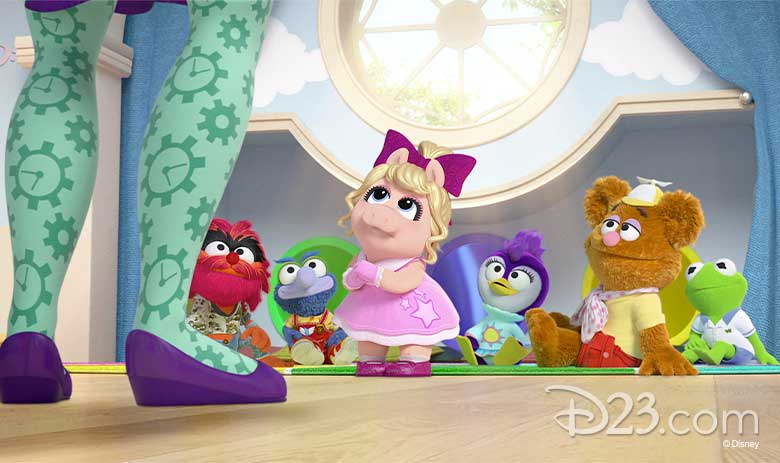 Miss Nanny keeps a watchful eye on Kermit the Frog, Fozzie Bear, Piggy, Gonzo, Animal, and Summer; and we here at D23 keep a watchful eye on the roster of guest Muppets who have appeared on the show over the course of its first two seasons. Statler and Waldorf, Bunsen and Beaker, Rowlf the Dog, Rizzo, Dr. Teeth, and the Swedish Chef are among the fan favorites who have appeared to date.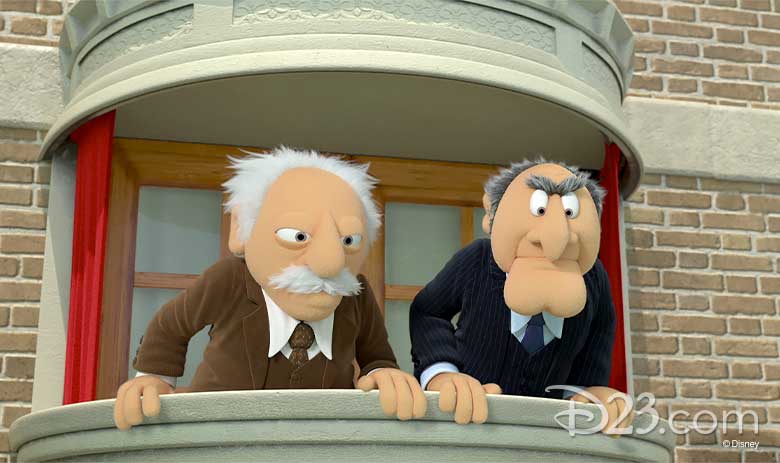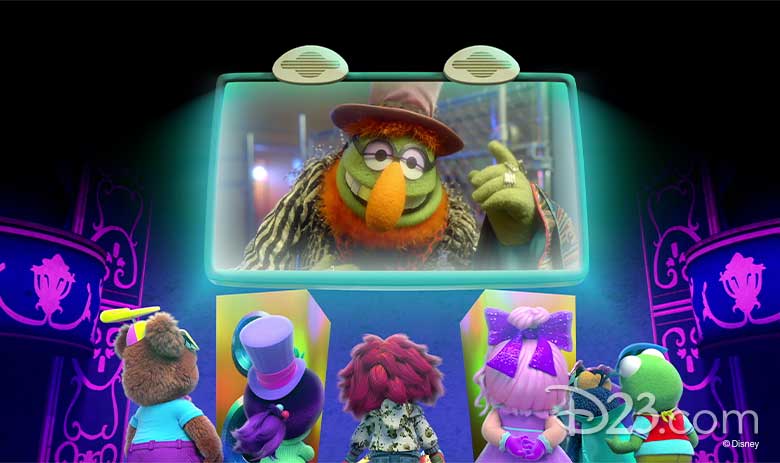 It's no surprise that Disney Junior remains the top-ranked preschool-dedicated TV network, a title that it's held since 2012. In addition to DisneyNOW and Disney Junior YouTube, the brand has also expanded to Disney+. As the brand embarks on a second decade of bringing beloved characters and stories, both classic and contemporary, to the youngest of Disney fans, we can't wait to see where Disney Junior takes us next.