By Beth Deitchman
On Disney Junior's adorable animated series Muppet Babies, Kermit the Frog, Piggy, Fozzie, Gonzo, Animal, and Summer have flown in an airplane to Paris and traveled in a time machine back to Ancient Egypt. Sheriff Kermit has faced off against Wild West varmint Gonzo the Kid, and Doctor Fozzie has cured a gaggle of Muppet patients with laughter (because it is, indeed, "the bestest medicine"). The Muppet Babies' adventures, which all take place within their amazing playroom, are limited only by their imaginations… and the collective imaginations of the series' talented creative team. We recently spoke with Muppet Babies executive producer Tom Warburton, who answered our burning questions about what's in store for the Emmy Award®-nominated series' second season.
1. Which familiar faces will we see in season two?
Keep an eye out for the bespectacled siblings Scooter and Skeeter, who will arrive in the playroom this season. We'll meet a younger incarnation of the imposing but lovable Sweetums, as well as a pint-sized Swedish Chef, who we'll see was driven to make culinary magic even as a baby. What Swedish Chef fans won't see, however, is the character's signature mustache—given that he'll appear as a preschooler. "We went with his hair being a bit more shaggy, so that his hair almost becomes the mustache," Warburton reveals.
2. How do Warburton and the team go about envisioning favorite Muppets as animated babies?
There may be no Muppet baby pictures to serve as reference, but the Muppet Babies team had the next best thing. "We work very closely with Muppet Studios," Warburton says, explaining that the team has access to a treasure trove of props and puppets that have been used on earlier projects starring the Muppets. "We take pictures of the original puppets and their textures and what they're wearing," he shares, noting that they pay attention to the texture of individual Muppets' noses, or details such as the flyaway feathers on Animal. "We try to get as close as we can to what the inside of their mouths look like and what their eyeballs look like, and what every little texture and piece of fur works with," Warburton says, adding, "And then we add our own little touches on top."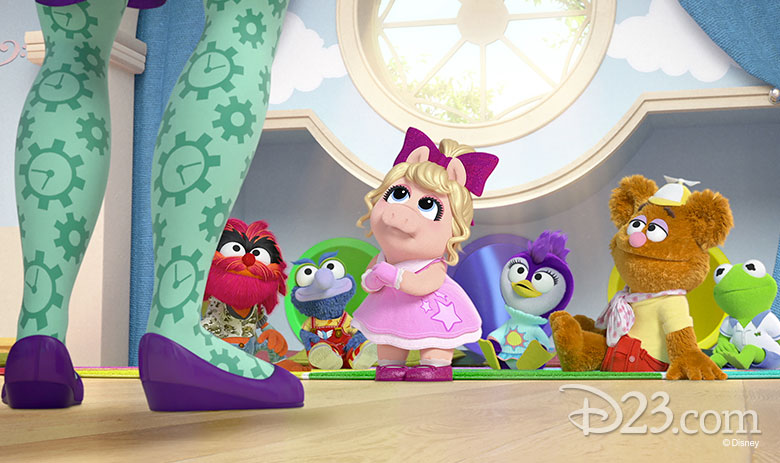 3. Who watches the Muppet Babies when Miss Nanny isn't available?
Even tireless caregiver Miss Nanny needs a little time away from the playroom for the occasional errand. But who could fill her colorful shoes? (Not to mention those incredible tights!) Enter Mr. Manny… "He comes to fill in for the day," Warburton explains, "And Piggy's not sure—she's a little nervous about this. This is someone new. Piggy is used to doing things the way that Miss Nanny does. Mr. Manny does things a little differently, and we're going to find out how she handles that."
4. Are there any Easter eggs for Muppets devotees, aka all of us?
In the tradition of the original animated series, the Muppet Babies team sprinkles in "little homages" to favorite movies, TV shows, and other pop culture classics in every episode. But there are extra details that sharp-eyed Muppets aficionados will find especially satisfying. "The curtain on the playground stage actually has little patches of the curtain from the original Muppet Show that we put in there," Warburton reveals. "We also built a set of a stage for the kids to play on that is really based on the theater from The Muppet Show. We're always looking for little things to throw in."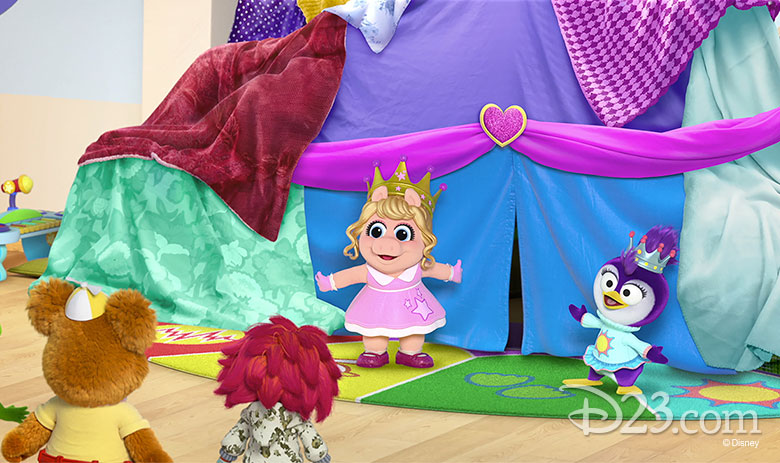 5. Why do the Muppets, more than any other beloved group of characters, lend themselves to this kind of reimagining?
"The Muppets—the puppets we all grew up with—are based around heart and friendship. They all have their little 'weirdo crazy things,' but they all still get along. I think that translates to preschool perfectly," says Warburton. He points out that The Muppet Show's writers had a strong background in kids TV, but they set out to make a show that everyone could enjoy—and the Muppet Babies team has the same goal. He shares, "My favorite thing I see is when some parent says on social media, 'My kid went to bed an hour ago. Why am I still watching Muppet Babies?' And that's a great testament to who's watching our show."
The new season of Muppet Babies kicks off on Disney Channel this Friday (8:30–9 a.m. EDT/PDT), but if you or the preschoolers in your life simply can't wait until then, a sneak peek is available right this very minute on DisneyNOW.