By Jim Fanning
Their names are Hubert, Deuteronomy, and Louis, but you can call them Huey, Dewey and Louie. Please. A triple threat of mischief, adventure, and comedic quack-ups, Huey, Dewey, and Louie have been enthralling dedicated Duck and Disney fans ever since they were hatched on October 17, 1937. Given their memorable monikers by Disney artist and employee Dana Coty—inspired by the names of political figures Huey Long of Louisiana, Thomas Dewey of New York, and his friend, Louis Schmitt—these beloved brothers may be identical, but they are instantly identifiable in whatever medium they appear. D23 presents 10 hilarious historical highlights of Donald Duck's troublemaking, trouble-shooting nephews.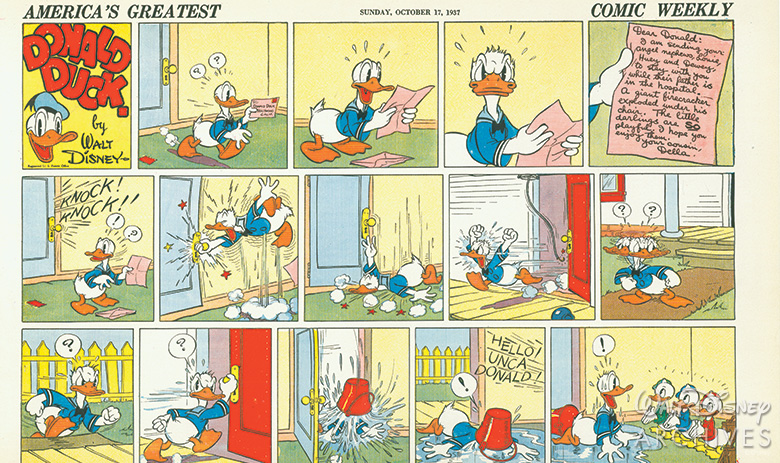 1. See You in the Funny Papers
Unlike most of the Disney characters who struck stardom in animated films, Huey, Dewey, and Louie made their debut not on the silver screen but rather in the Sunday newspaper comics section. Disney Legend Al Taliaferro came up with the ducky idea of introducing a trio of troublesome nephews to Donald Duck's supporting cast—and if Mickey had two nephews, why shouldn't Donald have a trio of bothersome little-boy relatives to get under(webbed)foot? With identical appearances and personalities, these little look-alikes made their unforgettable debut in the colorful panels of Taliaferro's Silly Symphony Sunday funny-page feature on October 17, 1937. A Disney Story Department memo filed in the Walt Disney Archives dated February 5, 1937, reads, "Inasmuch as we have decided to actually put a story crew to work on [the animated short] Donald's Nephews, we would like to recognize the source from which the original idea of these new characters sprang… Thanks."
2. The Trio Trikes into Movie Theaters (and Directly Over Donald)
With a story crew consisting of Harry Reeves and Disney Legend Carl Barks, Donald's Nephews reached movie-house screens on April 15, 1938, a good seven months after their comic-page unveiling. First seen in the picture postcard sent by Donald's sister Dumbella (the nephews' mother was his cousin Della in the comic strip), Huey, Dewey, and Louie are depicted as angelic little darlings—until the devilish ducklings actually zoom into the room on their tricycles. "They were real little hellions," said Carl Barks. "They thought they could get away with anything." Donald's Nephews was a hit, making it clear that Huey, Dewey, and Louie—who were voiced by the man behind Donald's famed quack, Disney Legend Clarence "Ducky" Nash —were here to stay, whether "Unca" Donald liked it or not.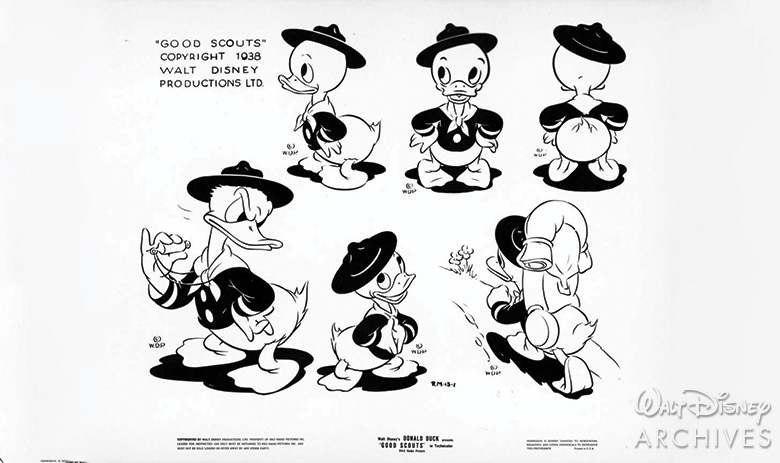 3. A Trilogy for the Triplets: Scout's Honor
Another starring picture was needed for the nephews, but, as Carl Barks recalled, "Harry [Reeves] and I realized that the [combative] character of the nephews in their first appearance would quickly become tiresome to audiences. We set out to make them more interesting and acceptable by broadening their characters." A camping expedition seemed the perfect situation to test the mettle of this dysfunctionally funny family, so Good Scouts (1938) presented the nephews as, according to a Disney publicity story, "tenderfoot scouts who, in actuality, know far more about Camping and Woodcraft than Uncle Donald." Good Scouts was a crowd-pleasing success and was nominated for an Academy Award® as Best Cartoon Short, firmly establishing the nephews as Donald's co-stars. Sea Scouts (1939) was a sequel of sorts, another top-notch Donald-and-nephews misadventure set on the high seas, while Fire Chief (1940), featuring the ducks as the members of Hook and Ladder Company 13 13/13, scouting for fires to fight, rounded out the Donald-in-charge-but-the-boys-know-best trilogy. Each of these three films established three nephews as what Carl Barks termed "the 'brains of the family."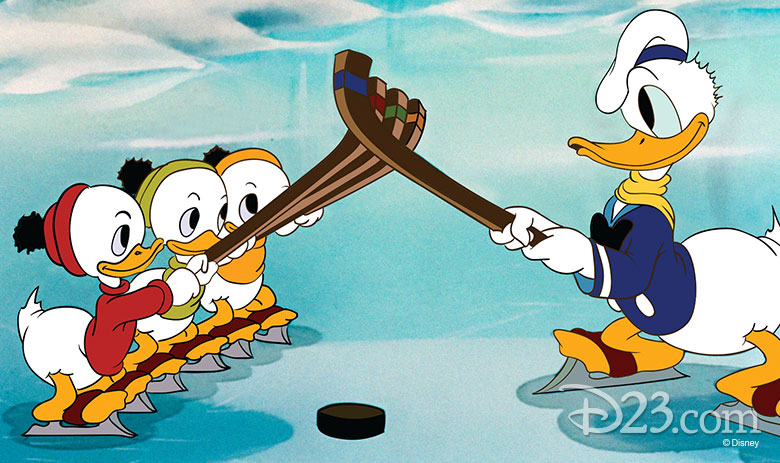 4. A Trilogy for the Triplets, Part Two: Good Sports
Since competition was still at the heart of the Donald-ducklings dynamic, sports provided a healthy (and hilarious) way for uncle and nephews to compete, even though things usually didn't end up too healthy for Donald. The nephews are Donald's "putt"-upon caddies rather than his direct competition in Donald's Golf Game (1939); their uncle's high-handed manner inspires the triplets to sabotage the game by giving him Goofy Golf Clubs and trick balls. In The Hockey Champ (1939), Donald boasts of his status as the Hockey Champion of Duck Swamp, so the nephews take on the champ in a spectacular hockey game, making him the chump. The third entry in this unofficial trilogy, Donald's Snow Fight (1942), finds winter sports devolving into a duck version of winter war with Donald's snow ship attacking the nephews' snow fort.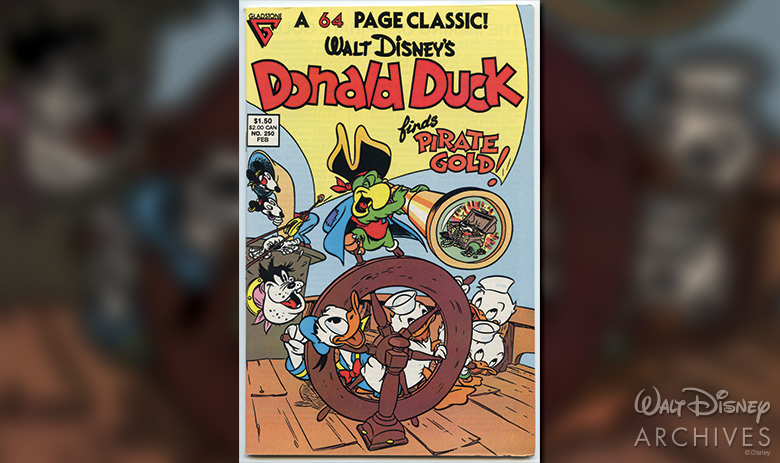 5. Huey, Dewey, and Louie, Publishing Kingpins
One of the first Disney comic books to feature original material, Donald Duck Finds Pirate Gold (FC 9 1942) prominently featured the nephews, who are characterized in a new way. Explained Carl Barks, who drew the comic with fellow story artist, Disney Legend Jack Hannah, "The comedy situation of Donald the reckless bungler getting into hopeless troubles from which he is extricated by his sharp-witted, suspicious-natured nephews was competently developed in this story, and it has carried on into many tales of high and not-so-high adventures ever since." The prominence of the nephews in the long-form Donald Duck adventure stories as well as their popularity classic 10-pagers in the top-selling Walt Disney's Comics and Stories helped establish the global Disney Comics empire.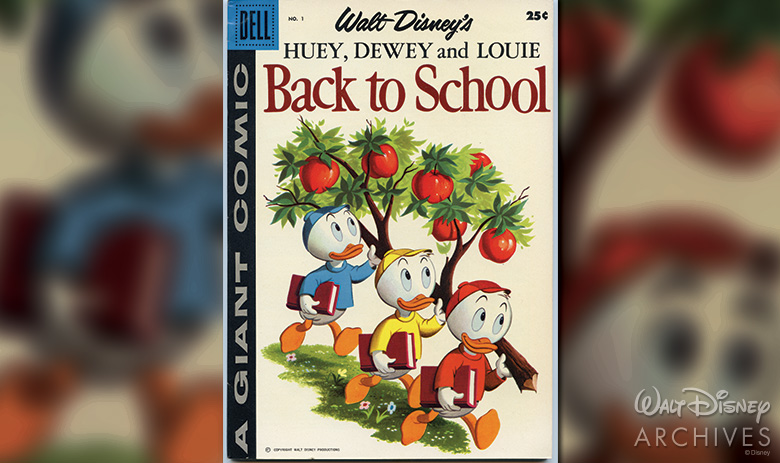 6. The Triplets are Top-Billed at Last
Huey, Dewey, and Louie were so popular they were featured in their own comic book, Huey, Dewey, and Louie: Back to School, first published in 1958. Created by writer-artist Carl Barks for the story originally published in Walt Disney's Comics and Stories, (No. 125, February 1951), he explained that he "patterned the Junior Woodchucks after the Cub Scouts, the little bitsy guys… who were supposed to be so much smarter than their older brothers." The popularity of the nephews in this scouting organization—and their use of the The Junior Woodchucks Guidebook, a fact-filled, all-encompassing volume, packed with obscure and arcane information—led to the nephews being awarded their own comic-book title in 1966, Huey, Dewey, and Louie: Junior Woodchucks. Some of the early stories, many of which were written by Carl Barks, have the nephews taking on Uncle Scrooge, as the miserly tycoon doesn't realize how he's impacting the ecology.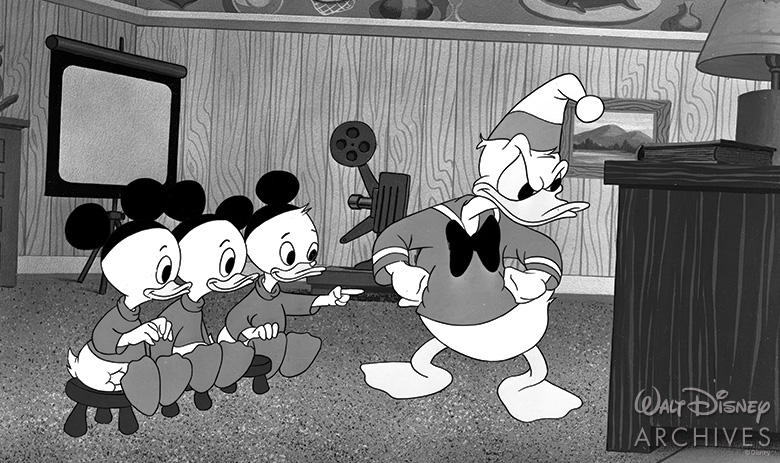 7. The Nephews in New Animation for TV
When Walt Disney entered the world of weekly television in 1954, his favorite characters stepped in front of the TV cameras, and Donald's nephews were very much part of the new medium. The nephews particularly shine in "Your Host, Donald Duck," originally seen on January 16, 1957, wherein Huey, Dewey, and Louie do their darnedest to help Donald host the Disneyland series in Walt's place, only to have to take Donald and his unstoppable ego down a peg by broadcasting some wild sound effects. In another TV highlight, "At Home with Donald Duck" from November 21, 1956, Donald wants to screen his own cartoons but the nephews assert their own tastes by watching the Mickey Mouse Club on the family TV set. Created by the artists behind the theatrically released Duck cartoons, including director Jack Hannah, this new animation of Huey, Dewey, and Louie solidified their position as side-by-side TV stars with Donald.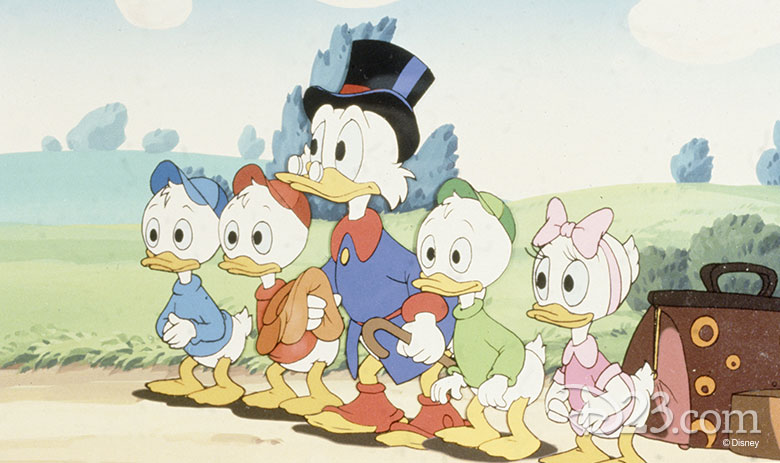 8. Just Grab Onto Some DuckTales
Their TV careers became a duck blur when, along with their great uncle, Scrooge McDuck, Huey, Dewey, and Louie became the headliners of DuckTales. Premiering in 1987, this groundbreaking Disney TV series inspired by the Carl Barks comic-book epics plunged the nephews into unending globe-spanning escapades of action and d-d-d-danger. For the first time, because of the complexity of some of the Ducks' tales, there was a way to tell these identical triplets apart. Huey was dressed in red, Dewey in blue, and Louie in green. So important was this duckling distinction that a mnemonic was created: the brightest hue of the three is red (Huey), the color of water, dew, is blue (Dewey), and that leaves Louie, and leaves are green.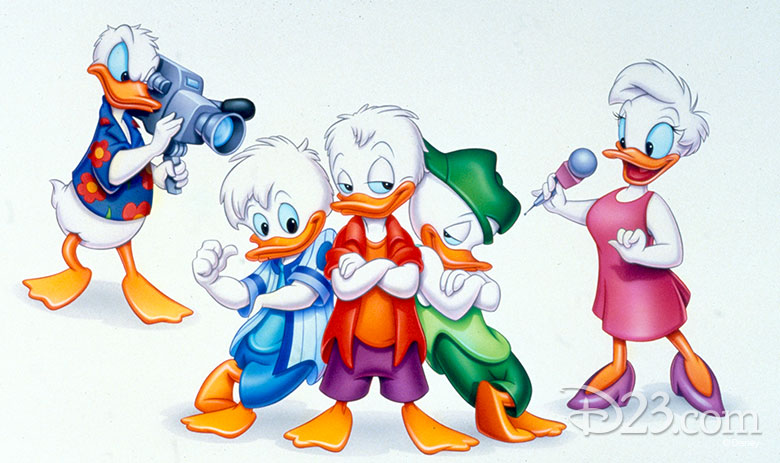 9. Quacking Up with Quack Pack
In Lucky Number (1951), Huey, Dewey, and Louie were portrayed not as little boys but as teenagers. This animated short stood as an anomaly until the 1996 debut of the Quack Pack TV series wherein the nephews were also depicted as teenagers, complete with more individualized characters and voices. "Huey is the smooth-talking, wheeler-dealer, who'd rather read the business section than the sports," explained co-producer Toby Shelton. "Dewey is the philosopher-thinker of the trio. Louie is the athlete, what he lacks in brains he makes up for with pluck."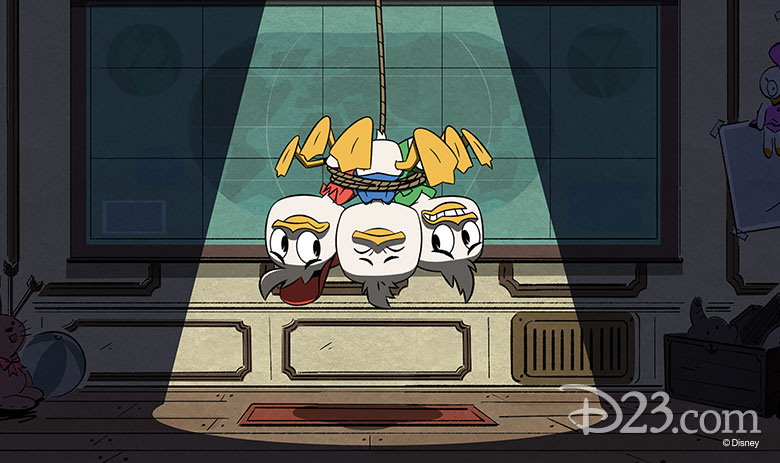 10. New DuckTales
When DuckTales got a reboot on Disney XD this year, the personalities of Huey, Dewey, and Louie (voiced by Danny Pudi, Ben Schwartz, and Bobby Moynihan) got a sharp new upgrade. "Since everyone always says 'Huey, Dewey, and Louie' in that exact order, we decided to make that the birth order, and by defining that, we were able to assign traits that fit," revealed executive producer Matt Youngberg. "So, Huey's the oldest, a little more responsible, a little bit brainy. Dewey wants to stand out, and wants to break out of being labeled as just one of a set of three. And Louie is happy being the youngest child—he can slip under the radar." As co-producer Francisco Angones put it, "Huey has Uncle Scrooge's brains, Dewey is Scrooge's guts, and Louie is Scrooge's ability to scheme and make money."