By Savannah Salazar
If you thought a moon alien invasion was the biggest adventure for Huey, Dewey and Louie, well, think again. Along with Scrooge McDuck, Donald, their mom Della, Launchpad, Mrs. Beakley and Webby, the brand-new season of DuckTales is taking viewers on an adventure of epic proportions, as they go on a globetrotting hunt for the world's greatest lost artifacts all while a secret, villainous organization is hot on their tails.
Ahead of the season three premiere of DuckTales on Disney XD this weekend, D23 spoke with executive producer Matt Youngberg and co-executive producer and story editor Francisco Angones to get the inside scoop on the flock of new characters, the exciting adventures and what's next for our favorite Duck family.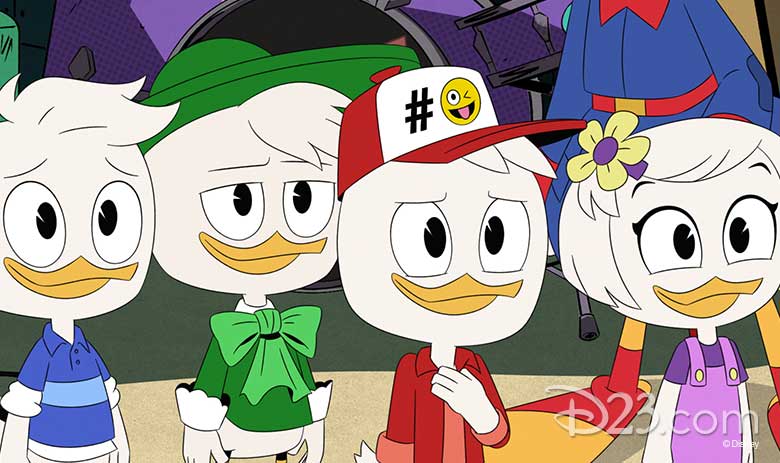 On why season three is a duckblur of adventure.
According to the producers, season three is going to be one big season-long quest. For Youngberg, "Quack Pack!," debuting on Saturday, April 4, is a perfect example of the wacky things bound to happen this season. "We're getting characters we know and love, building on it and in turn, getting crazier and bigger and more insane," he said. "We've done big things before, but those were just the stepping stones. There are so many more places to go, and I just can't wait for the fans to see what we do with this season."
On a brand-new original song.
When asked about a favorite moment in the recording booth, both Angones and Youngberg reminisced on a lot of good moments, unable to pick a specific one. "Every time I get to record it's fun. It's like going to play in a really fun sandbox," said Youngberg. Angones added, "Matt, I don't think I've ever seen you happier than when you were recording Dewey's singing (voiced by Ben Schwartz) for 'Double-O-Duck.'" The original song, appearing in "Double-O-Duck in You Only Crash Twice!" airing April 11, had "Matt smiling ear-to-ear and Ben Schwartz had a blast recording it," said Angones.
On suspecting F.O.W.L. play.
Unbeknownst to the Duck family, an evil operation of characters have been lurking and conspiring since the very first episode of season one, when we had our first glimpse of the Fiendish Organization for World Larceny (aka F.O.W.L.) leader Bradford Buzzard, voiced by Mark Evan Jackson. "When we had Jackson come in to play the character—he had two lines at the time—he was so excited 'even if it's a small part,' he said," Angones recounted. "And we were like, 'Mark, you're the main villain of season three."
Fast forward two seasons, and F.O.W.L. is finally coming to light, featuring a familiar gang of characters from the Disney canon: Steelbeak from Darkwing Duck, Rockerduck and Jeeves, Black Heron and the Phantom Blot, who originally appeared as Mickey Mouse's archenemy in a 1939 comic.
On TaleSpin, the Rescue Rangers, and more. Oh my!
During San Diego Comic-Con 2019, Youngberg and Angones surprised DuckTales fans with a big announcement: that characters from Chip 'n Dale: Rescue Rangers, TaleSpin, Gosalyn Mallard from Darkwing Duck, and Daisy and Goofy were making their way to Duckburg. "We saw Scrooge's family as the first cornerstone where everything is built off of. And now that Scrooge and the family feel really solid, we thought it would be interesting to see how they interact or inspire or collaborate or work against all these beloved characters," Angones said.
On the season's guest stars.
DuckTales has had an impressive roster of characters from its stellar main cast—where else can you get David Tennant, Danny Pudi, Ben Schwartz, Bobby Moynihan, Kate Micucci and Paget Brewster all in one show?—to fantastic recurring guest stars like Lin-Manuel Miranda, and season three is no different. This season's guest stars include Giancarlo Esposito (The Mandalorian), Selma Blair (Hellboy), Kristofer Hivju (Game of Thrones), and Disney Legend Bill Farmer, just to name a few of the talented voice cast! "We have some amazing guest stars coming up and more who I can't even talk about," says Angones. "There's one in particular who says a classic line that was just like hearing Darkwing Duck say, 'Let's get dangerous,' and I was like oh my gosh, we're very blessed."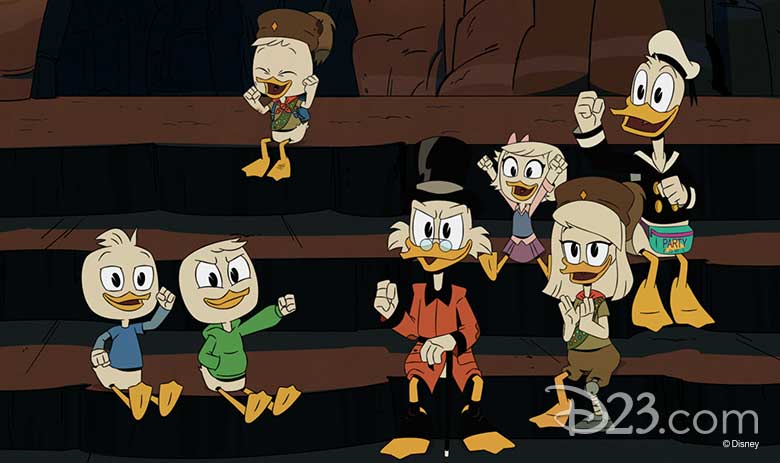 On getting to know the Duck family even more.
"The first word in the first episode of the season is legacy," Angones tells D23. "The family has finally come to together as a family and is now complete. And now, the question is 'What is everyone's part in this family?" Sure, season three takes the Duck family on some of the largest quests yet but both Youngberg and Angones explain that the characters we've grown to love start to evaluate their own selves. Dewey explores what he brings to the team; Huey, whose whole personality revolves around knowing everything, suddenly learns everything is not what it seems—thanks to a global, decade-long conspiracy; and Webby explores her role in a family she's not technically related to, but still very much considers her family.
Then, there is Donald Duck, who after taking care of the boys—Huey, Dewey and Louie—for so long has no real reason to, after Della Duck, the boys' mom, comes back into the picture. "The kids have their mom back, they're living with Scrooge. What does that mean for Donald's place in his life?" Youngberg asked. To which Angones replied, "For Donald, we're introducing Daisy Duck into the world of DuckTales for the very first time, and maybe Donald can ease up on taking care of the kids for a little bit."
Watch an exclusive clip from the season premiere, below, and tune in for the latest adventures of Huey, Dewey, Louie and the rest of the Duck family on Saturday, April 4 (9:30 a.m. EDT/PDT) on Disney XD and in DisneyNOW.