By Jim Frye
Star-Lord is back, and this time he's got daddy issues. Biiiiiiiiig daddy issues.
Picking up where Guardians of the Galaxy left off, Marvel Studios' Guardians of the Galaxy Vol. 2 continues the action-packed, irreverent, epic space adventures of Peter Quill, aka Star-Lord, played by Chris Pratt, and his gang of eccentric characters as they patrol and protect the universe. And even though the original film could have been considered a risky move at the time because of its lack of name recognition, it proved a breakout success, becoming 2014's highest-grossing film of the summer, instantly making Pratt one of the most recognizable—and likeable—actors on the planet.
That's a hard act follow—which is where dad comes in. "I knew where I wanted the story to go before the first film was out in theaters," says writer/director James Gunn. "But the one thing I had to figure out was if I was going to tell the story of Peter Quill and his father as Volume 2—which I thought was the big reveal—or save it for a later time. Ultimately I decided that it was the best story and went with it."
What do we know about Peter's father? Marvel Studios President and Producer Kevin Feige gives some hints: "When we started turning the wheels on a sequel, there were some very obvious clues at the end of the first film where the storyline could go. Peter talks about his father. Nova Prime (played by Glenn Close) tells us something very ancient, very unusual. Yondu tells us that he purposefully did not deliver Peter to his father. So James went back and started to work on where that would take us in a storyline. And it takes us to a place where we meet the Guardians, only a few months after the events of [the first] Guardians."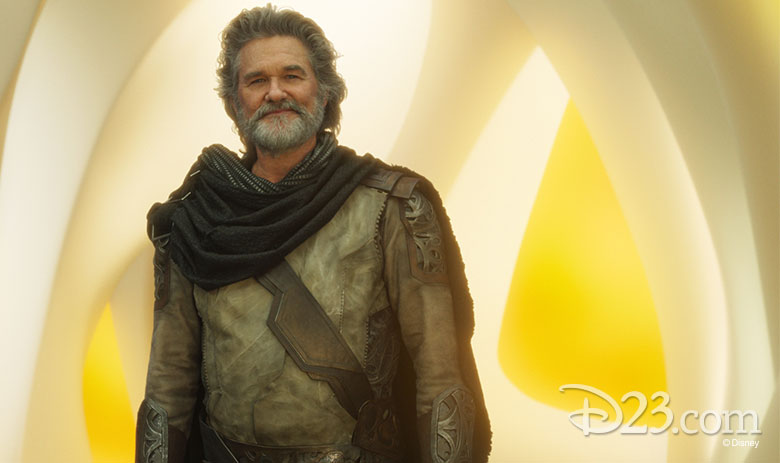 Casting Ego was no easy task, either, but Marvel ultimately went with an actor who has quite a bit of name recognition, especially to Disney fans. "In the case of Ego, Quill's father, it's a very unique character," Feige says. "You want the audience to have the same sort of rush as Peter does when he learns who it is. So when you have Disney Legend, film icon Kurt Russell step out of that ship and announce himself to Peter, it was a chill-inducing moment. And that's why you get Kurt Russell."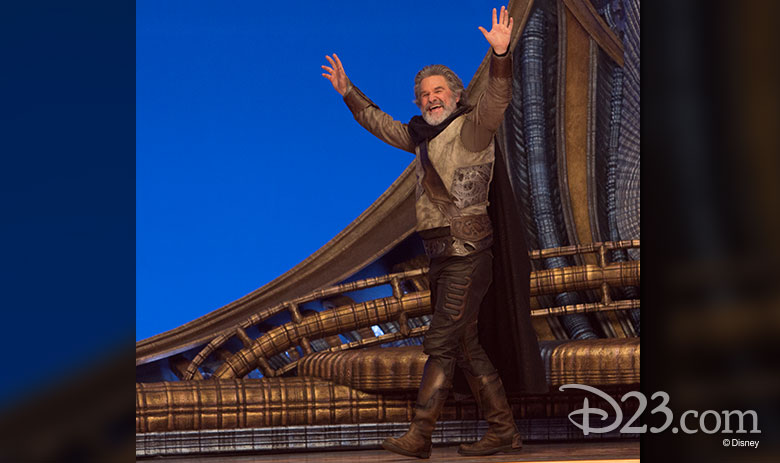 For his part, Disney Legend Kurt Russell was more than happy to return to Marvel—and Disney. "After I read the script, I watched the first movie," Russell says. "I remember that six or seven minutes into the movie, Chris Pratt is walking along. Then the music starts up, and he kicks off one of those alien rats or whatever they were. And I immediately liked the movie. I liked the atmosphere. And I liked his character."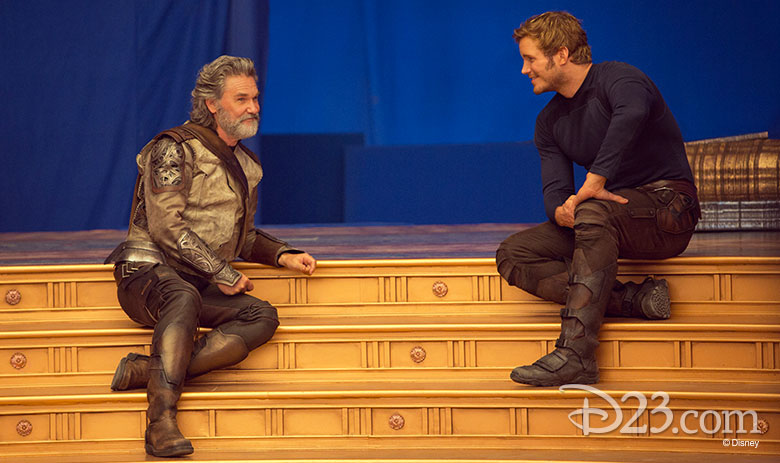 He continues, "Then as I watched it unfold, I got it. I read the script again and began to look at it and understand what was being asked. I started looking forward to it because I thought it was going to be an interesting project. There was a father/son relationship here that I thought was very relatable and very interesting that 20, 30 or even 40 years from now will sustain more than just the entertainment value of what the viewer is watching."
Describing where we find Peter in the new story, Gunn says, "As you know, the first Guardians of the Galaxy is about Peter's relationship to his mother and coming to terms with that. The second movie is about Peter Quill's relationship to his father and his other fatherly figures. Yondu is obviously a fatherly figure to him. And then he meets his actual father, Ego, played by Kurt Russell, who is in a lot of ways everything he wanted. He is coming to terms with things and with his feelings of abandonment, how he feels about his real father's life, which is very different from his own."
But who, exactly, is Peter's father, and where's he been all this time? Gunn explains: "Ego is an intergalactic adventurer in his own way who has gone to many different worlds and many different planets and had his own kind of adventures, not dissimilar to what the Guardians have gone through. He also has been looking for his son for a very long time and he wants a relationship with him in the same way that Peter wants a relationship with his father because it fills this giant void that he's had in his heart his whole life. Since he was a child, Peter has carried around a photograph in his pocket of David Hasselhoff, who he told the other kids at school was his dad. Yondu, of course, was supposed to deliver Quill to Ego and didn't, for some reason, and audiences are going to see the reveal behind that mystery."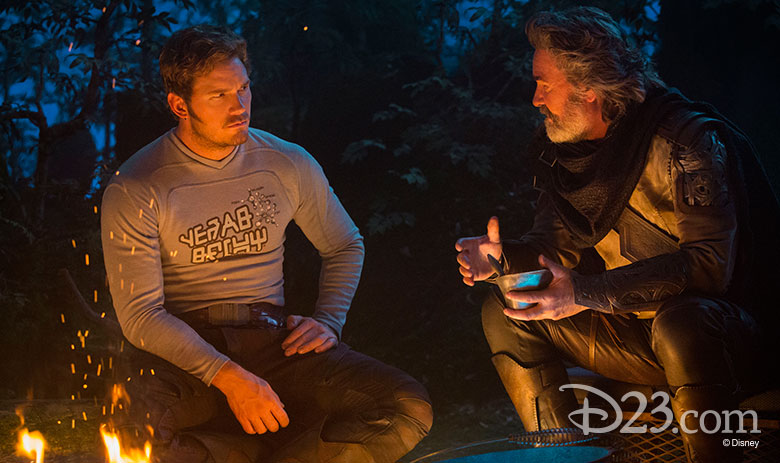 Pratt offers insight on the importance of Peter's quest to find his true parentage. "Quill is desperate to know who his dad is and dreamed his whole life that his dad was somebody special, somebody important, somebody cool," he says. "So when Quill finally meets his bigger-than-life father, who's been searching for him, it fills this giant void that he's had in his heart his whole life."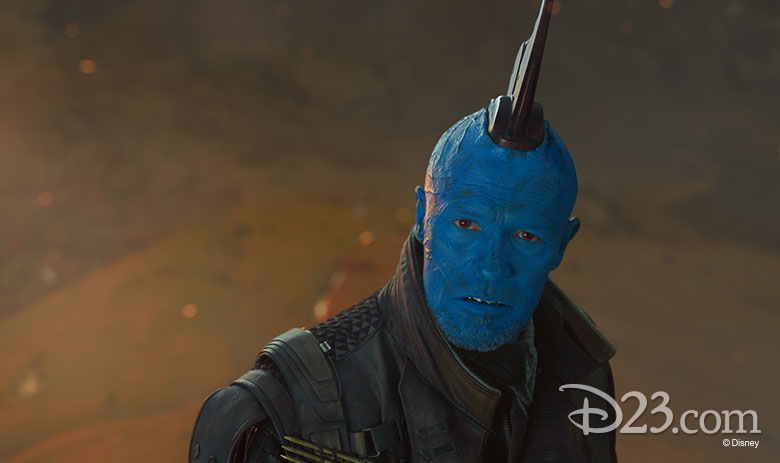 Over the course of the film, Quill finds himself reexamining his relationship with Yondu, as well. "Of course, he's always looked at Yondu, who abducted him, as being the guy who threatened to eat him or was hard on him," Pratt says. "But he learns through the course of this film that the relationship is more of a father/son dynamic than he could've ever expected to get from anyone else."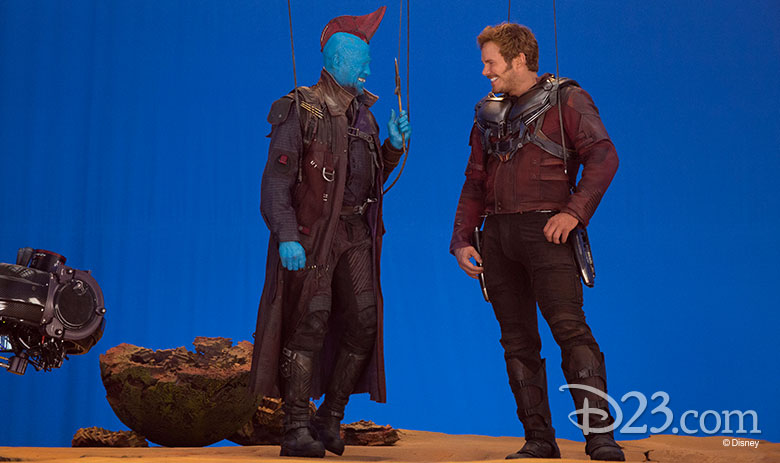 Yondu is definitely one of the more colorful and memorable characters in the Guardians films. "It's somewhat of a father/son relationship, where we don't agree on things," says Michael Rooker, who plays Yondu. "When the movie opens, they haven't seen each other in a few months, so their relationship is very intense and conflicted, to say the least. They are constantly at each other's throats. Of course, they find that there are deep-rooted feelings for one another that exist and eventually that comes out in our storyline. You discover that Yondu truly cares about this kid."
Moms. Dads. Sisters. Family. It all makes Guardians of the Galaxy Vol. 2 more than just a big adventure. It's a big adventure with even a bigger heart. Come join this galactic family reunion in theaters May 5.