By Courtney Potter
New ILMxLAB Virtual Reality Experience Brings Batuu to Your Home
If you're looking for an incredible new way to get your Star Wars fill from the comfort of your own home, have we got some amazing news for you: Later this year, you'll be able to discover new stories; explore the outskirts of Batuu; and even meet a few new characters—all from home—thanks to ILMxLAB, Lucasfilm's award-winning entertainment studio, and Oculus Studios.
Star Wars: Tales from the Galaxy's Edge is a new action-adventure experience that will give fans the opportunity to live their own adventures in virtual reality. The original story will feature both new and iconic characters from the Star Wars galaxy. Multiple styles of gameplay, as well as difficulty settings, are included—so that the experience can be enjoyed by a variety of players, from Star Wars fans to VR gamers and everyone in between.
Just like at Star Wars: Galaxy's Edge, the story will take place between Star Wars: The Last Jedi and Star Wars: The Rise of Skywalker on Batuu—with all the action happening along the outskirts of Black Spire Outpost. Stay tuned for more details on Star Wars: Tales from Galaxy's Edge as we get closer to its debut…
5 Fantastic Things to Watch This Weekend
It's the last full weekend in May, which means summer really is almost upon us. And there is plenty of fun to be had from around the worlds of Disney, conveniently showing on your nearby television (or streaming device of choice)! There's a new season of Heartland Docs, DVM debuting on Nat Geo WILD on Saturday, and be ready to play along during ABC's Summer Fun & Games lineup on Sunday, with Celebrity Family Feud, Match Game, and more! Read all about this weekend in "what to watch" by clicking here.
Get Goofy with Bill Farmer in New Storytime for #DisneyMagicMoments
We have been loving all of the amazing "Storytime with…" videos that are part of Disney Magic Moments. We're especially excited about today's newest entrant—considering we recently spent some quality time with the reader in question, both for D23's big 25th anniversary reunion for A Goofy Movie and the watch party for his new show on Disney+, It's A Dog's Life with Bill Farmer: It's Disney Legend (and voice of Goofy) Bill Farmer!
In this story, Goofy and Max go on a big outdoor adventure in a tale from 365 Bedtime Stories. See (and hear) what happens in the clip, above.
Disney+'s Secret Society of Second-Born Royals Gets Premiere Date!
We've been learning about this brand-new, live-action Disney+ original film for a few months now, and we've grown ever so excited to finally see the finished product. Thankfully, we don't have to wait too much long, as just this week they announced a premiere date for Secret Society of Second-Born Royals: Friday, July 17! Read all about it right here at D23.com.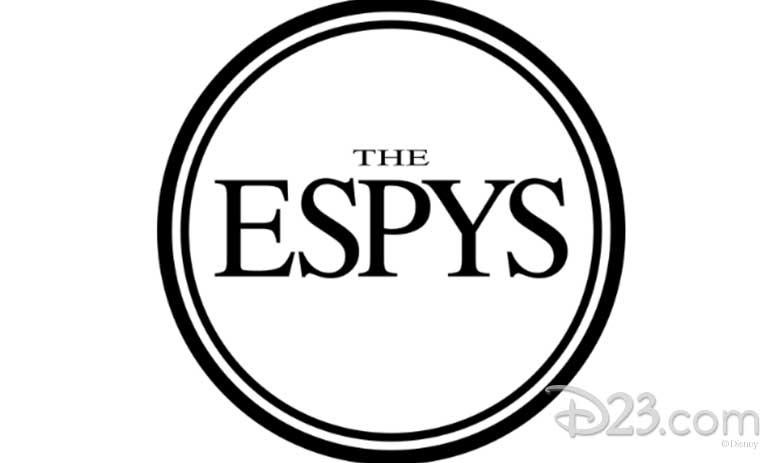 The 2020 ESPYS are Coming to ESPN June 21
ESPN is set to celebrate the year that was in sports, but with a decidedly different (but still exciting) angle… As announced this week, The 2020 ESPYS Presented by Capital One will highlight narratives of service, perseverance, and courage within the current world of sports—and it'll be hosted by three of the world's top athletes: Seattle Storm point guard Sue Bird, OL Reign winger Megan Rapinoe, and Seattle Seahawks quarterback Russell Wilson. Look for it on ESPN on Sunday, June 21, at 9 p.m. ET.
"There is so much good being done in the world right now, and The ESPYS are recognizing a sports community whose achievements reach far beyond the court," Bird recently said. Wilson concurred, adding "Although the sports world is on a pause, Megan, Sue, and I hope to shine a light on some of the amazing stories of resilience that we are seeing through this unique time."
The 2020 ESPYS will include the Sports Humanitarian Awards, sponsored by Bristol Myers Squibb, as well as the Billie Jean King Youth Leadership Award, presented by Anthem Foundation, and the Muhammad Ali Sports Humanitarian Award, presented by Dove Men+Care—among others. Each year, The ESPYS help raise awareness and funds for the V Foundation for Cancer Research, the charity founded by ESPN and late basketball coach Jim Valvano at the first ESPYS in 1993.
Magic Kingdom's Dapper Dans Keep on Dreaming in New Video
One of the sweetest sounds on Main Street, U.S.A.—whether you're at Disneyland park or Magic Kingdom park—is the Dapper Dans, offering their amazing four-part-harmony renditions of some of your favorite Disney songs. Via #DisneyMagicMoments, we can now enjoy a brand-new ditty from Magic Kingdom's Dapper Dans, in this most recent clip from the #VoicesFromHome series.
Click on the link above to enjoy a truly beautiful rendition of "A Dream is a Wish Your Heart Makes" from the classic Disney film Cinderella.
ICYMI: 10 Perfect New Ways to Chill Out with Disney Animation
Sometimes—that should probably say, all the time—it's nice to relax and get lost in a favorite Disney animated film. The good folks over at Walt Disney Animation Studios had the same idea, and recently came up with a very cool new way to do just that… it's a short-form series they're calling Zenimation, and it's streaming exclusively on Disney+. Read up on what you can expect from Zenimation (available now!) by clicking here.