By Steven Vagnini
There's nothing like a visit to Walt Disney World during the Epcot International Flower & Garden Festival. With stunning floral displays, inspired edibles created by Disney chefs, fascinating gardening seminars, and live entertainment comprising just some of the fun, this annual celebration of spring offers the perfect reason to stroll Future World and World Showcase Promenade (as if we needed another excuse!).
For Disney fans, a must-see highlight is, of course, the annual display of character topiaries throughout Epcot. A Walt Disney World tradition dating back to its earliest years, Disney-inspired topiaries have long served as beloved visual delights and horticultural curiosities. But today, with a wider variety of plant materials to bring them to life, the topiaries are more elaborate and detailed than ever before.
Now in its 24th year, the Epcot International Flower & Garden Festival boasts more than 70 Disney-inspired topiaries!
To find out more about this unique art form and some of the teams behind the Festival, D23 sat down with Eric Darden, horticulture manager at the Epcot International Flower & Garden Festival. Approaching 30 years of Disney service, Eric has dedicated his career to the care and display of plants across the 25,000-acre property—12 percent of which is devoted to gardens and maintained landscapes. (That's nearly 3,000 football fields worth of plants!) Along the way, we'll even get to hear stories about the Walt Disney World Nursery and Disney Legend Bill Evans, who established the Walt Disney World Tree Farm.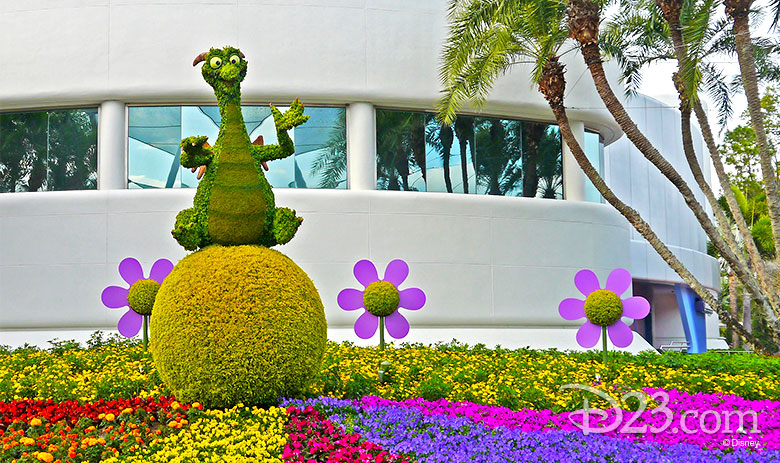 D23: We're excited to hear about the new topiaries featured at the 24th annual Epcot International Flower & Garden Festival. Epcot fans, in particular, are buzzing about an adorable, 5-foot-tall purple dragon. Would you tell us about the Figment topiary?
Eric Darden (ED): Absolutely. One of our three new topiaries for 2017 is a brand-new Figment. We know this character is very popular with our guests, so it was actually their interest that made us decide to introduce him. Many of our guests will recognize this Figment from the inaugural Epcot International Festival of the Arts, which was held earlier this year. During one of the early planning meetings, we discovered that Figment was going to play a large role in that event through a scavenger hunt and artwork, and we wanted to do everything we could to support our newest event. So we agreed to unveil our Figment topiary early. He's perched on a ball created from yellow Joseph's Coat and has a spruced-up rainbow bed for the Flower & Garden Festival.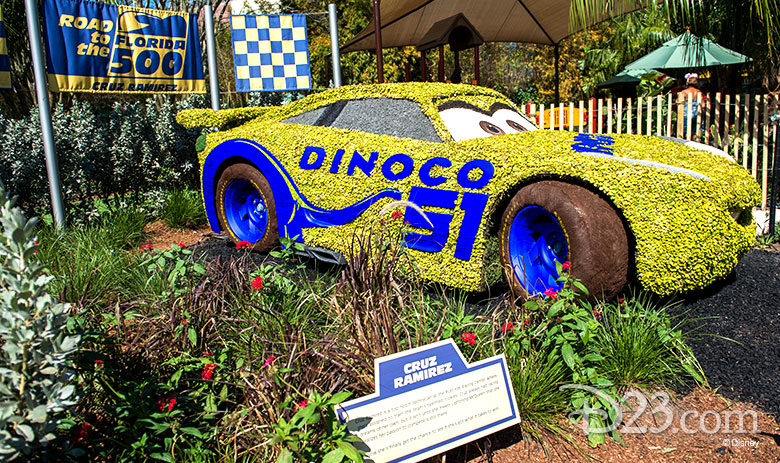 D23: We're revved up over this year's new Cars 3 topiary. What new character has been unveiled, and what was it like collaborating with Pixar Animation Studios?
ED: This year, in the new Road to Florida 500 garden, we're excited to introduce a topiary of Cruz, an all-new character from Cars 3. Since that film doesn't open until June, this will be the first time anyone will get to see her. We're in touch with Pixar daily when working on their characters. They have very high standards—as they should—so they flew out here from California to see what we were doing and make sure it was right. My favorite topiaries happen to be the Cars characters, because technically and artistically, they take a lot of effort and it's a real accomplishment each time we roll one out.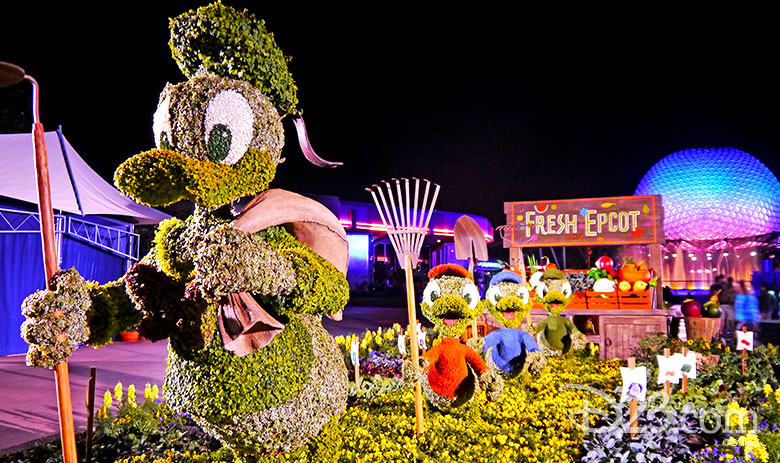 D23: What's something about Disney topiaries that most guests don't know?
ED: I don't think our guests realize that our topiaries are individual pieces of Disney artwork. When we design a new topiary, we work with the same Disney artists who do all the sculpts and drawings on property, and we hold them to the exact same character integrity standards. For instance, Belle, which is a brand-new topiary this year, features a new facial treatment that we're doing on all of our topiaries. When you see our characters with faces, like Snow White, Anna, Elsa, and now Belle, you're seeing the result of months of work between a Disney artist and a welder to make a metal frame that is, for all intents and purposes, an incredible piece of artwork. Even when the frames are empty, they are beautiful unstuffed.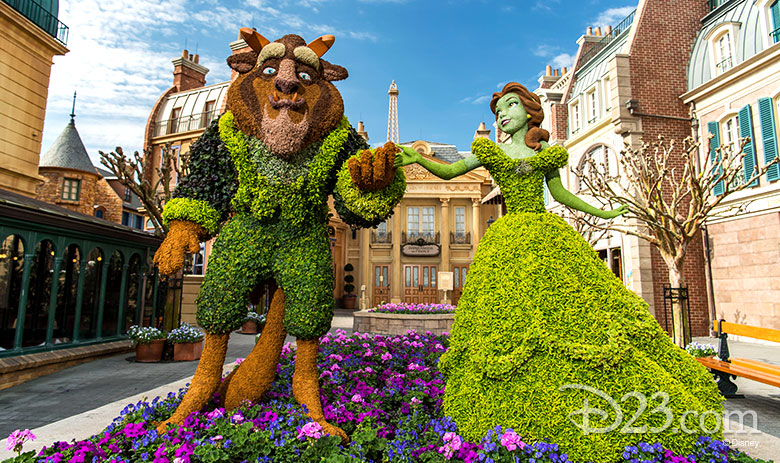 That wasn't always the case. In the past, people didn't see topiaries as characters; they saw them as green representations of characters. Now we're combining two different mediums: the topiary art we do with the sculptor's work, putting them together and making it look like one character. In fact, "topiary" isn't really the correct term for what we do now. By its loosest definition, a topiary is a sheared plant. Well, we're not using a plant anymore. We're using hundreds and hundreds of little plants stuffed into a frame. The French have a great term for it: mosaiculture. But the fact of the matter is, if our guests call them topiaries, they're topiaries!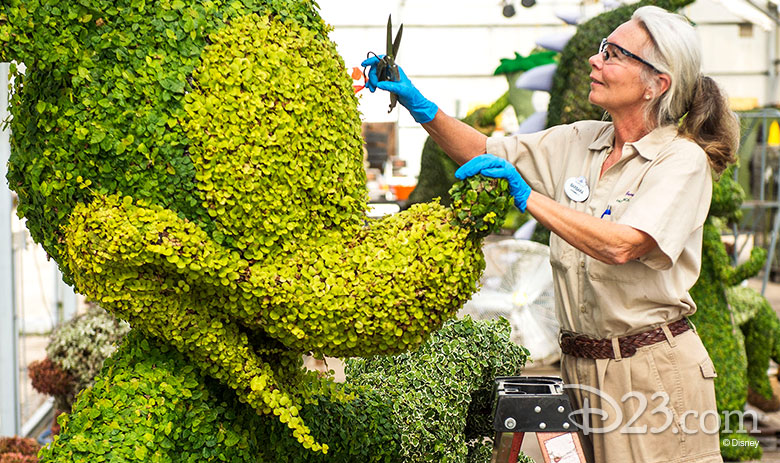 D23: Where do the topiaries go after the Festival ends?
ED: Most of our topiaries go back to the Walt Disney World Nursery, where we let them grow out, so by the next spring they just need some pruning and trimming. After four or five years, some of them are totally stripped down. We always keep 10 to 20 up and looking good, because we use them across Walt Disney World at events all year long, including the Epcot International Food & Wine Festival and Holidays Around the World. We also use them a lot at conventions and events. But we wouldn't have them without the Flower & Garden Festival.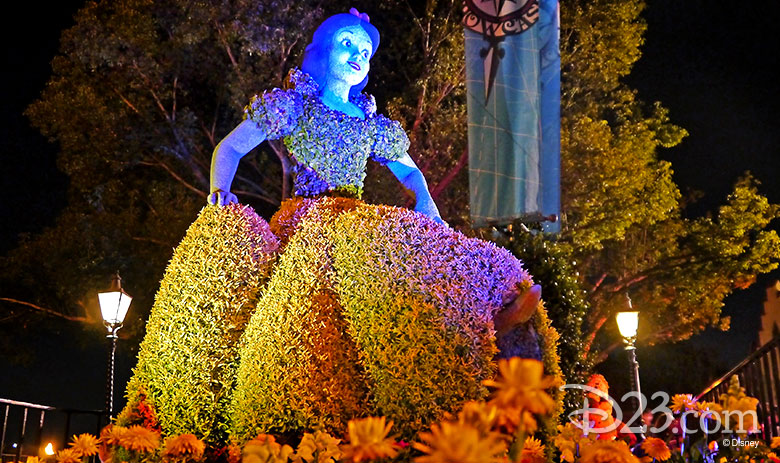 D23: You mentioned the Walt Disney World Nursery, where you started your Disney career in 1988. What is the Nursery's role at the Walt Disney World Resort?
ED: The Nursery team has two main functions. First, they produce all of the specialty crops for Walt Disney World and make specialty products. These could be bean containers, hanging baskets, flower towers, or topiaries. The other half of the Nursery team supports special events, like weddings, conventions, film shoots, and stage dresses—up to around 3,000 [projects] a year around property. Any time you see a temporary plant in the park, whether at the Walt Disney World Marathon or our Outdoor Kitchens at the Flower & Garden Festival, that's the work of the Nursery Greens department. The Nursery Greens team started when we built Disney-MGM Studios [now Disney's Hollywood Studios], and it's a term used in Hollywood for plants that support filming. We just took the name. From the leader to the gardener, the Nursery Greens team is always looking for ways to improve the show and make things prettier for our guests.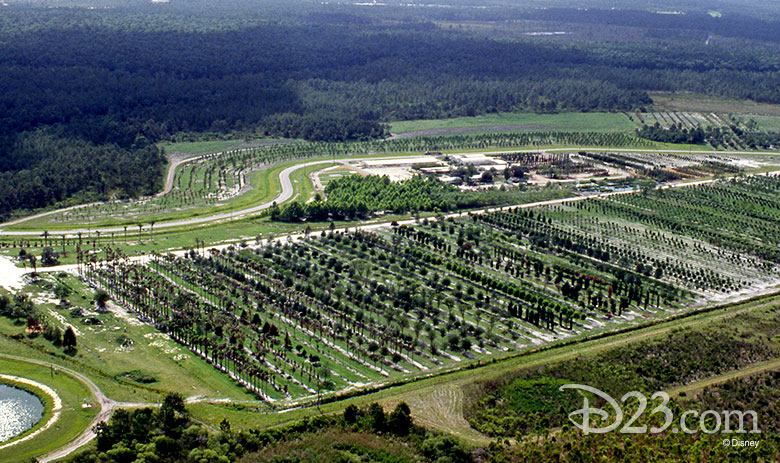 D23: The Nursery was originally known as the Tree Farm, right? We've heard stories of Disney Legend Bill Evans experimenting with plants there during the early development of Walt Disney World.
ED: Yes. People still call it the Tree Farm, but that name is no longer accurate. After I started at Disney, my first leadership role was foreman of the Tree Farm, and we were out there digging trees for all of these parks to support. Much of the area originally encompassed by the Tree Farm is where the savanna [of Kilimanjaro Safaris] is today. We used to dig trees out where the animals are now!
Several of us had the chance to meet Bill Evans on a few occasions. He truly was the father of Disney Horticulture. Back in the 1950s, he and his brother, Jack, had landscaped the grounds of Walt Disney's home in Holmby Hills, where Walt had his backyard railroad. It was natural when Walt called them a couple years later about landscaping a "little project" called Disneyland. Bill would say that little project ended up being the rest of his life! He retired in 1975, but he never really did. Even in the 1980s and '90s, when he was in his 80s, he would still come out to visit. He would walk in an area, and the next thing you knew, the foreman would get a handwritten letter in the mail with suggestions from Bill about what they might want to try in their landscape! The team that built Disneyland was a hard-driven force. And Bill was like that. He was a worker—an inspiration—and he worked until he died.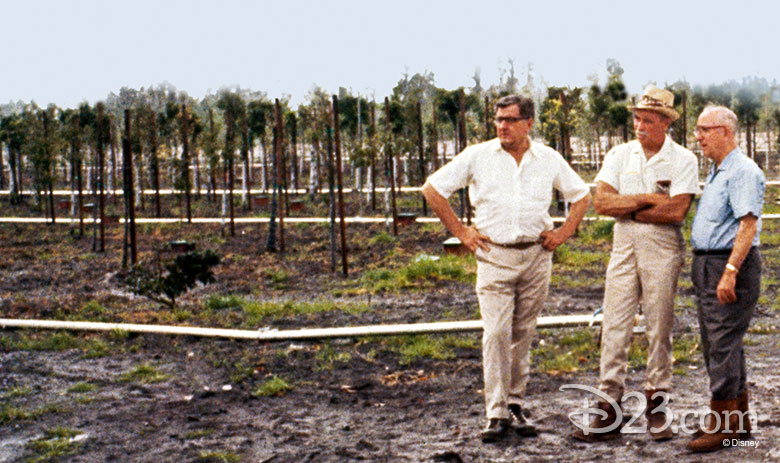 D23: Thinking back across your experience at Walt Disney World, what has been your favorite part of your role?
ED: My favorite part is the teamwork and collaboration that goes into making everything happen. The Flower & Garden Festival is a giant collaborative effort, and I get to work with folks from Marketing, Operations, Entertainment, and now, of course, Food and Beverage. We also have very talented and experienced people in Horticulture, where my almost 30 years with Disney isn't considered long service. A couple years ago, several of us sat down to discuss the next festival at Epcot. Within 10 minutes, we had designed the whole front entrance bed. With just six people there, we determined we had well over 180 years of Disney experience in the room! When you have people with that kind of experience, you know what works, and it doesn't take long to get things nailed down.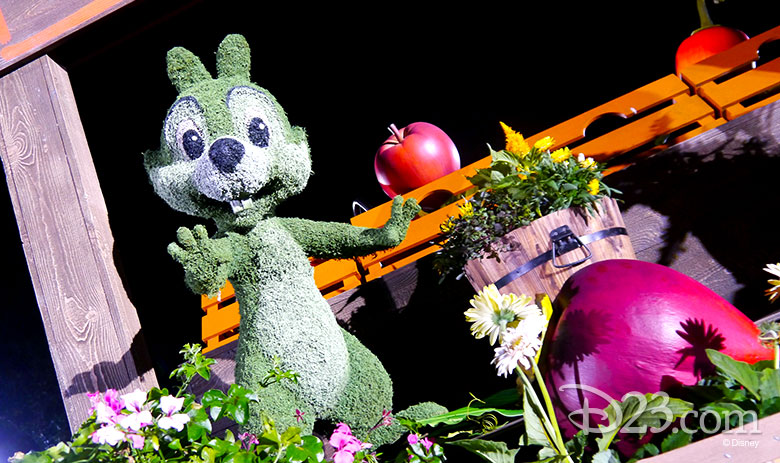 D23: You mentioned collaborating with the Food and Beverage team. Outdoor Kitchens have been a recent hit at the Epcot International Flower & Garden Festival. Are you excited to see these kitchens expand to 15 kiosks in 2017?
ED: Yes. When we first added the Outdoor Kitchens a few years ago, we knew in Horticulture that we were giving guests what they wanted. Before that, we were growing a lot of food plants before we offered food. The guests would ask me, "When are you going to start serving food?" That has really has taken the festival to a place we wanted to go. We're telling a whole story now. When you think about a garden, you automatically think of vegetables. So, to me, it's our natural home.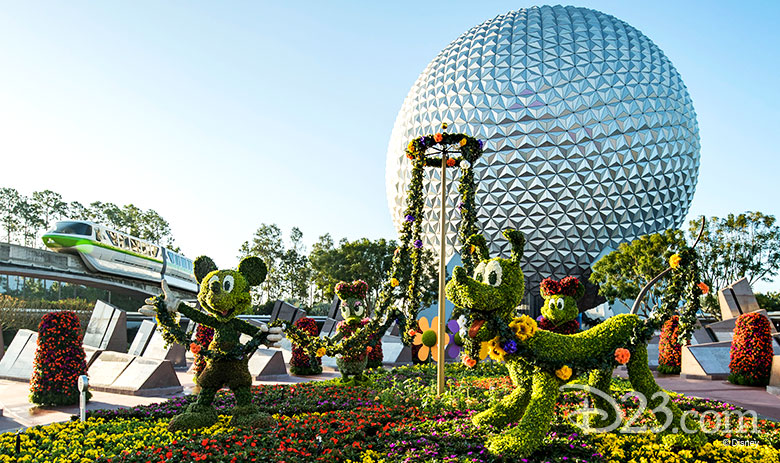 The Epcot International Flower & Garden Festival runs each spring. For more information on the Festival, check out epcotinspring.com.