By D23 Team
It's a tale as old as time, but a story we love to see again and again. The 1991 animated classic Beauty and the Beast introduced audiences everywhere to a cast of lovable characters, all turned into household objects by a terrible curse. The new, live-action adaption of Beauty and the Beast, in theaters March 17, brings to life these beloved enchanted objects in a brand-new way. From beautiful hand-drawn animation to cutting-edge CGI, let us now reacquaint you with your favorite friends from the Disney classic, and show you how they will come to life in the fantastic new film!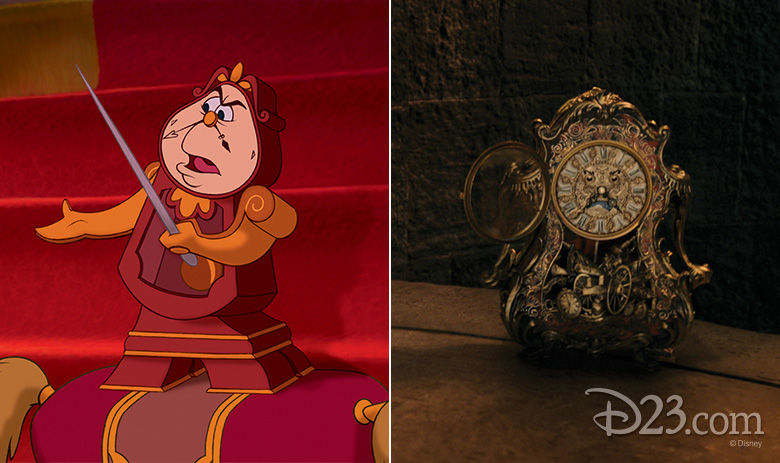 Cogsworth
1991: Voiced by the distinguished David Odgen Stiers, Cogsworth is Beast's majordomo and always a voice of reason. The clock likes to keep things orderly, so his pal Lumière's free spirit sometimes grinds his gears. While others may call him a stick in the mud, Cogsworth has a playful side––the line "Oh, flowers… chocolates… promises you don't intend to keep…" is one of the film's most memorable quotes (and was an ad-lib by David!).
2017: As Cogsworth in the 1991 film says, "If it's not baroque, don't fix it!" Played by Ian McKellen, Cogsworth's anxious, cranky demeanor continues to delight in the new film. While his personality remains constant, the mantel clock received an enchanting redesign: The base and main box were made from polyester resin and painted gold with a brass face, and the exterior pieces were gold-plated. The clock was even fitted with proper clock movements to make the ticking and movement of the weights authentic.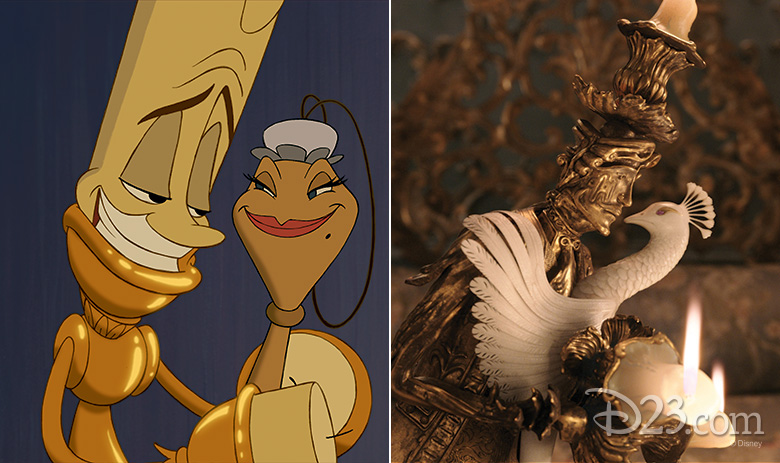 Lumière
1991: The charming candelabra is the counterpart to the more cautious Cogsworth. While Cogsworth is apprehensive of helping Belle at first, Lumière wastes no time in making her feel at home. Who could forget the entertaining––and appetizing!––"Be Our Guest"? He also makes time to romance the beautiful Fifi, a maid turned feather duster. Voiced by Jerry Orbach, Lumière has a special talent for helping Beast keep his cool, and always remains optimistic that Belle and Beast might see something there that wasn't there before.
2017: Lumière still oozes charm in the 2017 film. Voiced by Ewan McGregor in the live-action film, Lumière is one of the few household objects that could become a fully fluid and moving character. Filmmakers captured Ewan dancing and moving the way he envisioned Lumière would move via performance capture technology and tried to bring his personality and movements to life through the candelabra. "Lumière was difficult to concept because we wanted him to be able to move, but at the end of the day he's still a gilded candlestick," says visual effects producer Steve Gaub. "Once we had a 3-D computer model of him that everyone was happy with, he was constructed from a process called rapid prototyping, which is able to take 3-D computer files and produce an accurate model in polyester resin so you can physically see and feel it." Joining him now is his flying feather duster love, the charming maid Plumette, voiced by the enchanting Gugu Mbatha-Raw.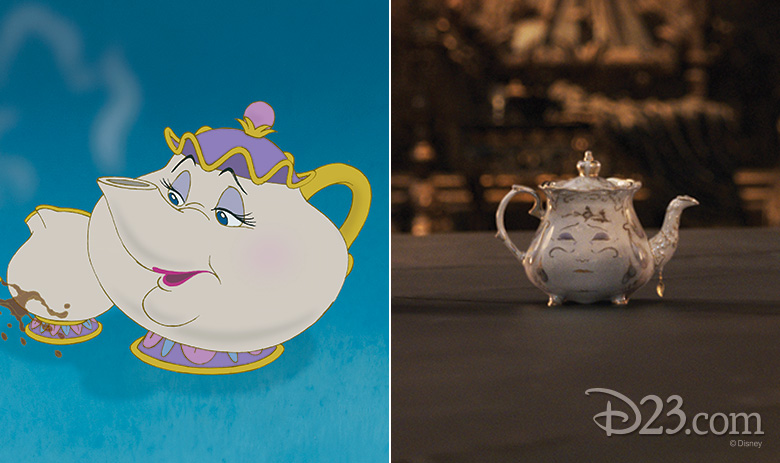 Mrs. Potts
1991: Mrs. Potts became everyone's favorite mother figure when we met the teapot in the 1991 film. Voiced by Disney Legend Angela Lansbury, Mrs. Potts comforts Belle as she adjusts to life in the castle, and is a calming force when Beast blows his lid. The teapot also looks after her son, Chip, who the curse transformed into an adorable teacup. Mrs. Potts might be remembered best for singing the title song "Beauty and the Beast" during the film's iconic ballroom scene.
2017: Emma Thompson takes on the iconic role in the live-action film, and of course, she still has the cutest teacup to look after! These two feature gilded accents, including playful faces that almost look like they could be part of the pattern on the cup. While she may have a new design, Mrs. Potts still has the same lovely singing voice, and Emma Thompson performs the classic "Beauty and the Beast" number during the live-action movie's version of the ballroom scene.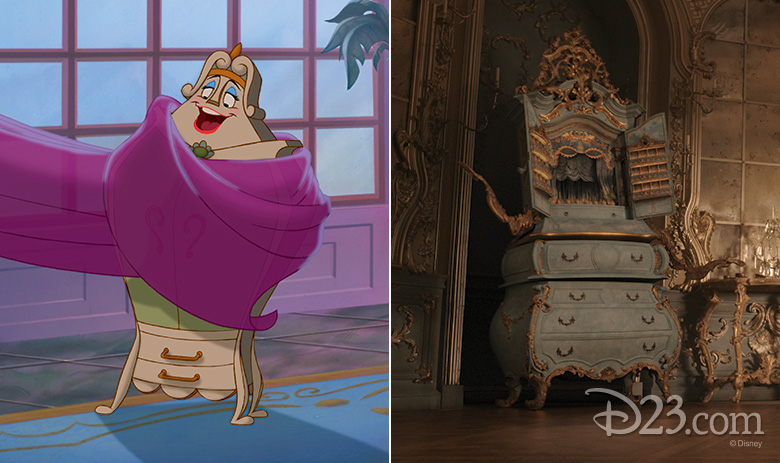 The Wardrobe/Madame Garderobe
1991: A lady-in-waiting turned wardrobe, this larger-than-life character is there to comfort Belle when she is locked in her room—but she's also there to dress Belle in fabulous fashions fit for a princess. Although this dramatic dresser prioritizes high fashion and good looks, she is also ready to protect the people she cares about, even when an angry mob storms the castle! Voiced by Jo Anne Worley, the Wardrobe has a tendency to break out into opera when the situation is dramatic.
2017: Six-time Tony® and Emmy® Award winner Audra McDonald brings Madame Garderobe—now a renowned Italian opera diva enchanted to live as a wardrobe—to life in the live-action film. While she was human, she toured the world with her husband, the Maestro Cadenza, voiced by Stanley Tucci and enchanted to live, appropriately, as a harpsichord. Madame Gardrobe still has her flair for melodrama even as an enchanted object, although she also retained her love for frequent naps.