By Courtney Potter
Star Wars: Episode VIII Title Revealed!
Well, the moment has arrived: Star Wars: Episode VIII, scheduled for release December 15 (a date we already have circled in red permanent marker on our calendar), has finally gotten an official title! And it's ever so tantalizing…
According to our pals over at StarWars.com, the film—set to be "the next chapter in the Skywalker saga"—shall henceforth be known as Star Wars: The Last Jedi. This eighth installment of the continuing Star Wars saga is directed by Rian Johnson; produced by Kathleen Kennedy and Ram Bergman; and executive produced by J.J. Abrams, Jason McGatlin, and Tom Karnowski.
Stay tuned for more The Last Jedi news in the days and weeks to come…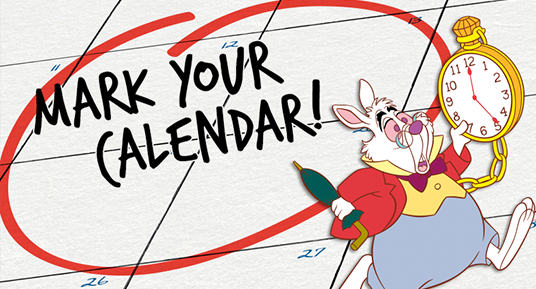 Save the Date!
Be sure to mark these upcoming Disney events on your calendar:
D23 and Walt Disney Archives


February 4, 2017


D23's Magical Screening Series: Tangled On the Lot


February 10, 2017


Lunch with a Disney Legend: Dave Smith


February 11, 2017


D23's Magical Screening Series: Tangled in Florida


February 19, 2017


D23 Member Night at Freaky Friday at La Jolla Playhouse


July 14-16, 2017


D23 Expo 2017


Studios




February 16, 18 and 22, 2017


Newsies in select movie theaters


March 17, 2017


Beauty and the Beast opens in theaters


April 21, 2017


Born in China opens in theaters


May 5, 2017


Guardians of the Galaxy Vol. 2 opens in theaters


May 26, 2017


Pirates of the Caribbean: Dead Men Tell No Tales
opens in theaters


June 16, 2017


Cars 3 opens in theaters


November 3, 2017


Thor: Ragnarok opens in theaters


November 22, 2017


Coco opens in theaters
Parks


January 13–February 20, 2017




Epcot International Festival of the Arts




January 20–February 5, 2017




Lunar New Year Celebration at Disney California Adventure park




March 10–April 16, 2017




Disney California Adventure Food & Wine Festival




August 31-November 13, 2017




Epcot Food & Wine Festival




Television




February 26, 2017




The Oscars® are broadcast on ABC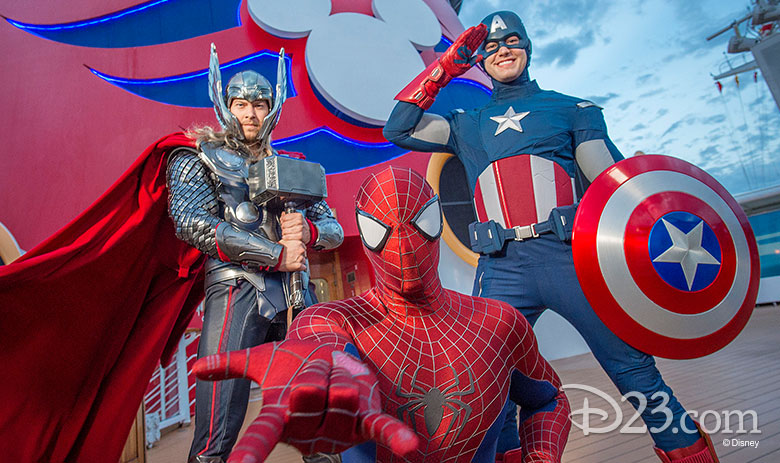 Disney Cruise Line Expands Marvel Day at Sea in 2018
This year, for the very first time, Disney Cruise Line is welcoming guests into the astounding world of Marvel—and they've decided to extend the adventures through 2018. Next year, guests will continue to celebrate Marvel Day at Sea on the Disney Magic during eight special voyages from Miami, departing January through April. These just-announced Marvel Day at Sea voyages will follow the premiere of the epic event on seven special sailings from New York City this fall.
The special day-long party combines the thrills of renowned Marvel comics, films, and animated shows with the sea-bound excitement of a Disney Cruise to summon everyone's inner Super Hero! Guests will enjoy exclusive character interactions—including the debut of Black Panther and Loki, and the first official appearance of Iron Man on a Disney Cruise Line ship! Over in the Walt Disney Theatre, a spellbinding new Doctor Strange-themed production will keep families on the edge of their seats.
Plus, look for all-day entertainment (including interactions with some of the mightiest Marvel Super Heroes and the menacing foes who oppose them), an incredible deck bash, Marvel-themed activities for kids, special merchandise, and totally unique food and drink offerings. For more info on the Marvel Day at Sea sailings in 2017 and '18, visit DisneyCruise.com.
Color by Disney App—Now Available for iOS and Android
Looking to add a little more Disney and Pixar magic to your everyday life? Enter the new Color by Disney App, now available for both iOS and Android! This unique coloring platform is designed to inspire and foster creative expression using an amazingly extensive library of Disney art! It's sure to unlock hours of imaginative coloring… not to mention relaxation. Building on the trend of coloring books for adults—and the popularity of Disney's "Art of Coloring" book series—Color by Disney is ready to help you take the fun of coloring "on the go."
With a Color by Disney subscription (there are three to choose from), users instantly gain unlimited access to an ever-growing art collection of premium Disney and Pixar coloring images—with new content added weekly, and new features already on the horizon. You can find the app now on the Apple App Store, the Google Play Store, and the Windows App Store. Take a sneak peek at the app via the video clip above!
New Trailer for Tangled: Before Ever After
We're pretty sure you're as excited for Tangled: Before Ever After (and the TV series it's kicking off) as we are—and this latest trailer, which just debuted last week, has left us positively breathless! We can't wait to find out exactly how Rapunzel's long blonde hair grows back, and what kind of shenanigans the gang gets up to this time around. Take a gander at the teaser, above.
Tangled: Before Ever After comes to Disney Channel in March as a brand-new Disney Channel Original Movie, and it's all in advance of Tangled: The Series, which will premiere soon after. Original voice actors Mandy Moore (Rapunzel) and Zachary Levi (Eugene) are returning for both the DCOM and the series; joining them are luminaries including Eden Espinosa (Broadway's Wicked) as Rapunzel's handmaiden and confidant, Cassandra; and Sean Hayes (Will & Grace) as Pete the Guard.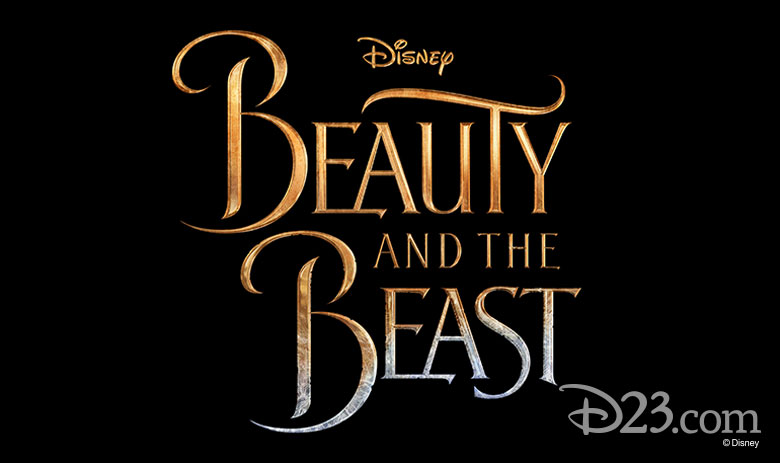 Celine Dion Added to New Beauty and the Beast Soundtrack
We remember it well… The first time we heard "Beauty and the Beast," the title song from the legendary 1991 Disney animated feature. Life-changing, right? Well, while Ariana Grande and John Legend will be lending their dulcet delivery to the song popularized by Celine Dion and Peabo Bryson (a Grammy®, Golden Globe®, and Oscar®-winning tune) for the upcoming live-action retelling, that doesn't mean Ms. Celine will be absent from the new soundtrack.
In fact, Celine recently announced that she'll be singing a new song, titled "How Does A Moment Last Forever"—written by original Beauty composer Alan Menken and Sir Tim Rice (of The Lion King fame)—that will play over the end credits of the film. So mark your calendars for Beauty and the Beast's big debut on March 17… and make sure to stick around 'til the end!