By Alison Stateman
When Disney Legend Burny Mattinson passed away on February 27, 2023, he was the longest-serving cast member in the history of The Walt Disney Company, a few months shy of his 70-year work anniversary. The animator, director, producer, and story artist worked on films that spanned the decades, from Lady and the Tramp (1955) to Strange World (2022).
At the beginning of his career, Mattinson worked directly with several Disney Legends and members of the Studios' core group of early animators—dubbed the "Nine Old Men" by Walt Disney—including Marc Davis, Eric Larson, and Ollie Johnston. During his years at Disney, Mattinson influenced and inspired generations of the Disney animators and other artists who followed in his footsteps. Several shared with D23 their memories of Mattinson, his lasting legacy, and more about their treasured collaborator, mentor, and friend.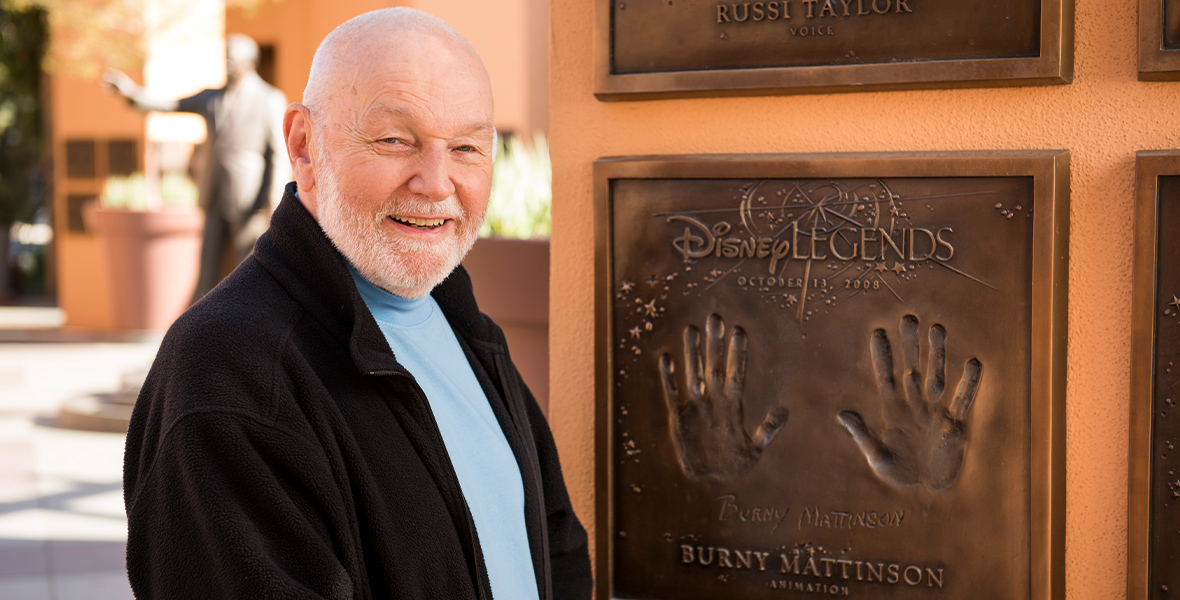 "Burny was a kind of bridge," animator Mark Henn shares. "I always likened him to being the missing link. There weren't many artists of his generation. We almost went right from the 'Nine Old Men' to my generation. It was like a big jump. But Burny was one of the few of what I call the missing-link generation, and that was a big part of what made his stories so special."
Mattinson, Henn says, jumpstarted Henn's career when he hired the young artist to animate Mickey Mouse in Mickey's Christmas Carol—Mattinson's directorial debut—and was always available for guidance and a "kibitz" in his office.
"Burny's office was always a safe haven, a place to come to chat, shoot the breeze, talk about work, talk about life—he was very open and accommodating to ideas," says Henn. "One of the things I will always remember was we'd periodically put a story reel up and screen it and we'd all come back to Burny's office, and he would say, 'Alright, what's working? What's not working?' And I was always so impressed with that, because he had his vision for a show, but he was always open to ideas, anything that would make it better."
Academy Award®-winning director Don Hall, who began his career at Disney as a story apprentice on Tarzan (1999), recalls first meeting Mattinson, who worked alongside fellow animator and Disney Legend Joe Grant at the time.
"I was very much aware of this 'Room of Legends,' and it took me a while to get up the nerve to talk to him… But once I got over the living legend part of it and just asked questions and got them talking about the Studios' history, that fear kind of melted away, and I was just in awe of many of the stories from back in the day," Hall says.
"For somebody who was new to the studio and soaking up everything I could from every legend that this place had, it was kind of amazing."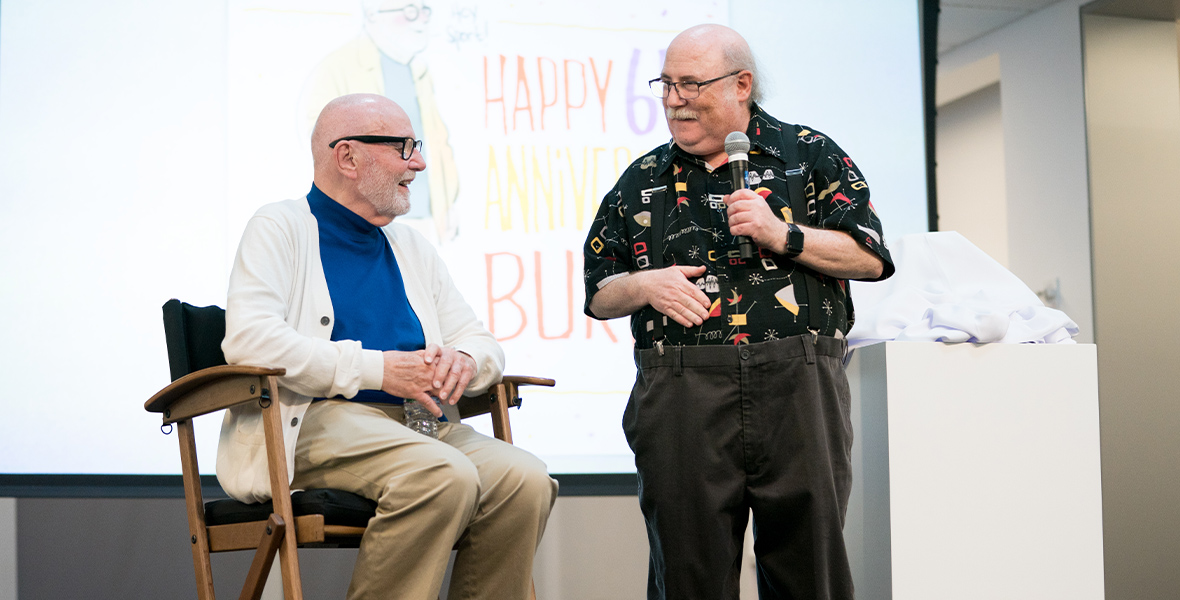 Legendary Disney animator Eric Goldberg (pictured above, right, with Mattinson in 2018) first met Mattinson when Goldberg joined Disney in 1990 to work on Aladdin (1992), for which Goldberg was responsible for bringing the Genie to life.
"Funny enough Burny at first didn't actually care for what we were doing with the Genie," Goldberg shares. "He'd sit in on the meetings and go, 'All this Robin Williams stuff isn't funny.' And eventually it clicked, and he got it. He understood what our wavelength was, and we got along swimmingly. We became fast friends, and we continued to have a mutual admiration society for each other," Goldberg shares.
Remembering the first time he saw Mattinson's storyboard work on Aladdin, Goldberg says, "The boards that he had up were spectacular. That's the only word I can use. The boards were very atmospheric of the Genie going under Jafar's evil control and lifting up the palace and all the clouds are circling, and those boards were unbelievable… You could feel all the emotions and feelings in all the characters."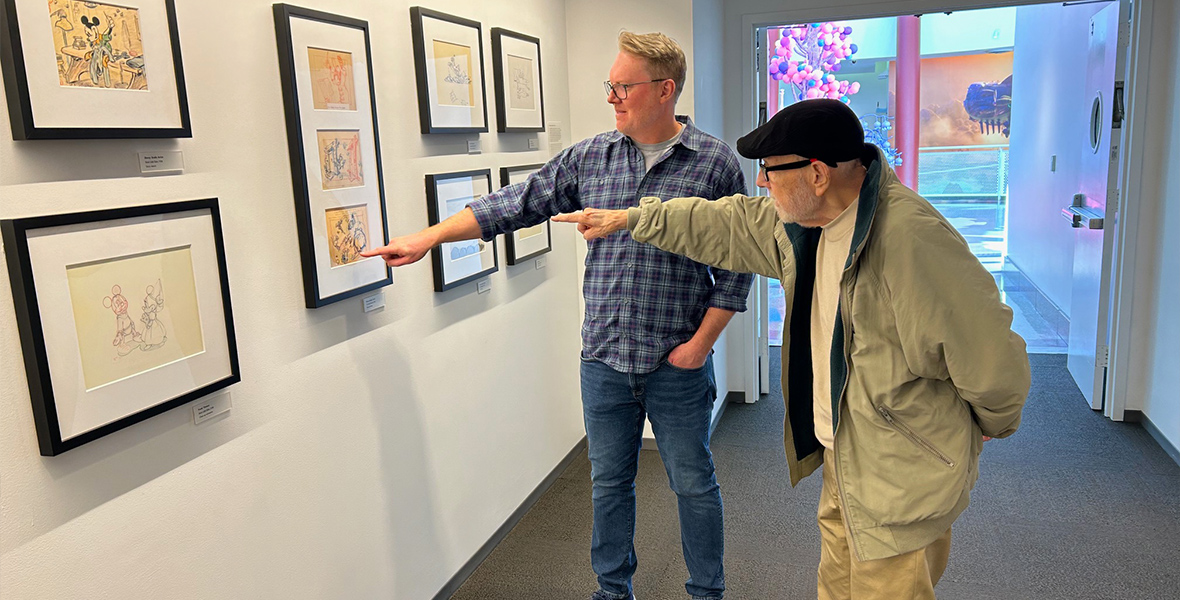 Hall, pictured above with Mattinson in a photo from January 2023, worked with Mattinson on several projects, including his directorial debut, Winnie the Pooh (2011); Big Hero 6 (2014); and Strange World. Hall says one of Mattinson's greatest lessons was to never lose sight of the audience and the heart of the story.
"Burny was such a great guide to reorient us," says Hall. "If the story was getting too plot heavy or getting bogged down in the rules, Burny was so good about taking it back to simplicity and reminding us that we're here to entertain the audience. He was always such a great barometer for that."
Mattinson was responsible for the addition of one very particular element in Strange World, the final film Hall worked on with him.
"Very early on in a story meeting, he said 'I think you need a dog in the movie. The Clades need a dog.' And I said, 'I don't know, Burny, I think Splat is going to be our dog character.' And then all the story artists ganged up on me and said, 'We want a dog.' So I said, 'Alright,' and so we named him Legend after Burny, because that was my nickname for him, because he's a bone fide Disney legend. And then in Strange World that dog Legend steals the show in every scene he's in. That's all because of Burny."
As Goldberg says, "what was the thing he did best? He did all of it the best. He was a great director. He was a great producer. He was a great animator. He was a genial personality, which just made it a pleasure to work with him. He would just always do his best and, usually 99 percent of the time, his best was better than anybody else's."