By Courtney Potter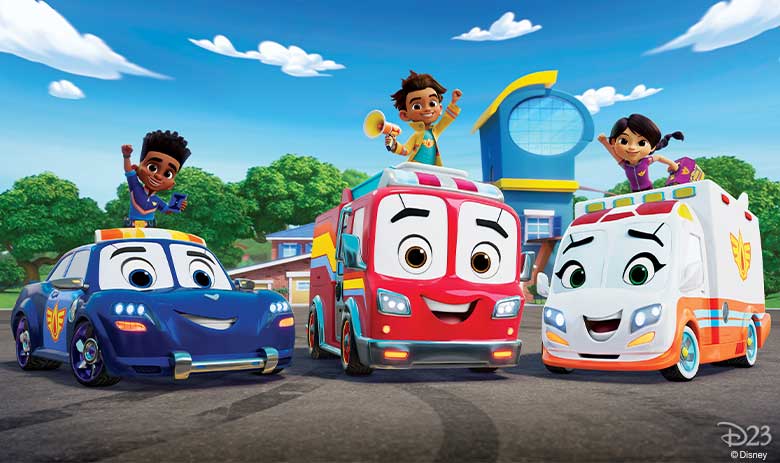 Disney Junior Announces New Animated Comedy-Adventure Firebuds
Let's roll! Our pals over at Disney Junior just revealed they've greenlit a new animated series from Emmy®Award-winning creator and executive producer Craig Gerber (Disney's Elena of Avalor and Sofia the First)…
Set in a fantastical world where talking vehicles live, work, and play with the humans who drive them, Firebudsis a music-filled series that will introduce viewers to a boy and his firetruck as they team up with their first responder friends to help others in their community with problems big and small. Whether rescuing a young car that's stuck in a tree, tracking down lost Dalmatian puppies, or helping their neighbors stock up on emergency supplies during a blackout, the Firebuds highlight the importance of teamwork and helping your fellow citizens. Each episode is comprised of two 11-minute stories and features at least one new original song.
The Firebuds team consists of Bo, the optimistic leader, voiced by Declan Whaley (Criminal Minds); Flash, a young fire engine and Bo's best friend, voiced by Terrence Little Gardenhigh (Danger Force); Violet, a confident, cool-under-pressure young girl, voiced by Vivian Vencer (Rapunzel's Tangled Adventure); Axl, Violet's outgoing ambulance friend, voiced by Lily Sanfelippo (Marvel's Spidey and his Amazing Friends); Jayden, Bo's imaginative neighbor, voiced by JeCobi Swain (Home Economics); and Piston, Jayden's safety-conscious police car sidekick, voiced by Caleb Paddock (Adult Beginners).
Firebuds is slated to premiere on Disney Junior and Disney+ in 2022.
5 Fantastic Things to Watch This Weekend
Y'all, it's Halloween weekend—and you best be ready to have a spooky good time, because you're in for a proverbial bag o' treats from around the fang-tastic worlds of Disney. There's the final weekend of "31 Days of Halloween" on Freeform, as well a marathon of The Simpsons Treehouse of Horror over on FXX… and so much more!
Incredible Sneak Peek at West Side Story
Earlier this week, The Walt Disney Company unleashed an all-new "sneak peek" at Academy Award® winner Steven Spielberg's highly anticipated film adaptation of the musical West Side Story. Check it out, if you haven't already, above.
Directed by Spielberg, from a screenplay by Pulitzer Prize and Tony Award® winner Tony Kushner, the film tells the classic tale of fierce rivalries and young love in 1957 New York City. This reimagining of the beloved musical stars Ansel Elgort as Tony; Ariana DeBose as Anita; David Alvarez as Bernardo; Mike Faist as Riff; Brian d'Arcy James as Officer Krupke; Corey Stoll as Lieutenant Schrank; and Josh Andrés Rivera as Chino; with Rita Moreno as Valentina, who owns the corner store in which Tony works; and introducing Rachel Zegler as Maria. Moreno (one of only three artists to be honored with Academy, Emmy, Grammy®, Tony, and Peabody awards) also serves as one of the film's executive producers.
Adapted for the screen from the original 1957 Broadway show—with book by Arthur Laurents, music by Leonard Bernstein, lyrics by Stephen Sondheim, and concept, direction, and choreography by Jerome Robbins—West Side Story opens in U.S. theaters on December 10.
Adventure Along with Marvel's Guardians of the Galaxy
Ready for a wild ride across the cosmos? Players can now fire up Star-Lord's jet boots for in the brand-new third-person action-adventure game Marvel's Guardians of the Galaxy, available everywhere.
In Marvel's Guardians of the Galaxy, you are Star-Lord—so nothing's off-limits with your bold (and hilarious) combat style. And with the Guardians fighting at your side, you get to call the shots and overwhelm your opponents with signature attacks. Meanwhile, the consequences of your decisions will range from light-hearted to downright unexpected as your journey unfolds.
Leave it to the Guardians to set off a somewhat disastrous chain of events, leading to a wild ride through mind-blowing worlds inhabited by iconic and original Marvel characters including Cosmo, Dweller, Lady Hellbender, Mantis, the Nova Corps, and Wendigo, just to name a few. So, turn up the all-star '80s mixtape and get ready to kick it!
You got this. Probably.
Marvel's Guardians of the Galaxy is now available for PS4, PS5, Xbox One, Xbox Series X|S and PC, while Marvel's Guardians of the Galaxy: Cloud Version is available for Nintendo Switch. For more info, click this link.
It's the Buzz Lightyear Origin Story We've Been Waiting For…
Next year, we'll get to go "to infinity and beyond" in an entirely new way when Disney and Pixar's Lightyearrockets into theaters. With this week's huge debut of the animated film's teaser trailer, D23 was lucky enough to hear a bit more from director Angus MacLane; whet your proverbial whistle by reading our exclusive interview right here.
Zany, Insane-y Antics Abound in Season Two of Hulu's Animaniacs
To paraphrase our beloved Yakko, "Hellooooooo, season two!" Hulu, Spielberg's Amblin Television, and Warner Bros. Animation have delighted fans new and returning with Animaniacs, their Emmy Award-winning animated series—and one of Hulu's all-time most talked about shows on social media… and now, it's back with 13 brand-new episodes beginning next Friday, November 5!
Season two of this iconic, family-friendly series (with a lil' something for everyone, truly) features adorably zany siblings Yakko (voice of Rob Paulsen), Wakko (voice of Jess Harnell), and Dot (voice of Tress MacNeille) as they careen through pop culture parodies and musical showstoppers; take down of historical baddies; and even offer up some important safety tips. Join the Warners—as well as Pinky (voice of Paulsen) and the Brain (voice of Maurice LaMarche)—as they wreak havoc everywhere they go, from the Warner Bros. lot to an international beauty pageant and all the way into outer space! And keep an eye out for season one favorites Starbox & Cindy, as well as some rejected Animaniacs characters that were left on the cutting room floor.
ICYMI: A Delectable Wish Come True
D23 was recently given the very special chance to sample some of the delightful dishes that'll soon grace the restaurants of Disney Cruise Line's Disney Wish, setting sail next summer. See what's in store for the gastronomically minded by clicking here… and if you get as hungry as we did reading the article, don't say we didn't warn you!