By Zach Johnson
This isn't just any Toy Story film.
Disney and Pixar today launched the first trailer for its out-of-this-world feature film Lightyear, slated for a summer 2022 release. The sci-fi action-adventure is billed as the definitive origin story of Buzz Lightyear (voice of Chris Evans), the hero who inspired the toy. The original film will reveal how a young test pilot became the ultimate Space Ranger. In celebration of the trailer's release, we recently chatted with Lightyear director Angus MacLane—who, of course, is no stranger to the Toy Story franchise. From his work as an animator and story board artist on Toy Story 2 to his turn as the writer and director of Toy Story Tower of TERROR!—in addition to many other Toy Storyfeatures and shorts—he knows Buzz intimately, making him the perfect person to chart the character's next course.
Opening in theaters on June 17, 2022, Lightyear is inspired by the sci-fi classics of the late '70s and early '80s. "Right now, I'm afraid I can't reveal much more about the plot," said MacLane. "Suffice to say, Buzz Lightyear will be in it… and he'll be voiced by Chris Evans!"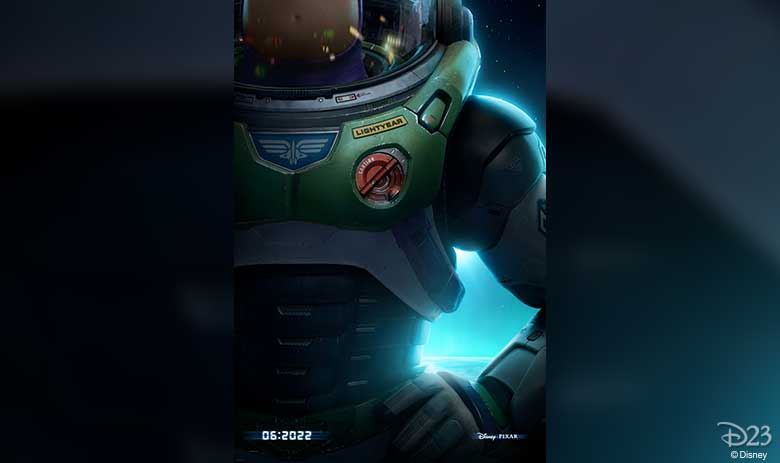 That much we knew, of course, as buzz has been building ever since Lightyear was first announced as part of The Walt Disney Company's Investor Day event in December 2020. The idea for the film, however, dates back to the very first Toy Story. As Pete Docter, Pixar Animation Studios' Chief Creative Officer, explained during the Investor Day presentation, Buzz had always been inspired by a character from an epic blockbuster film. It just wasn't until the last few years, however, that Pixar decided to bring that story to the big screen.
"Buzz, as a character, I've always been pretty close to as a fan—mostly because of his overlap into the sci-fi genre," MacLane said. "I've always wanted to know about Buzz." As fate would have it, he'd get the opportunity to pitch his idea for Lightyear: "I said, 'Maybe there was a movie starring Buzz Lightyear, and that's what Andy saw that made him want a Buzz Lightyear action figure. Why don't we just make that movie—and make it awesome?'"
Speaking of making things "awesome," it's clear from the trailer that Lightyear has a different aesthetic than the other Toy Story features and shorts. "There's a very specific cinematography aesthetic I was chasing, which is a lot of chiaroscuro—a lot of light and dark," MacLane said. "I also wanted to make the world feel really tactile and chunky. There's a lot of different sci-fi design aesthetics, but especially in that era that, the ships and the materials were very chunky and the industrial design for them was really robust."
To realize his vision, MacLane explained, "We first had a Buzz Lightyear ship built by a modelmaker who used to work at ILM [Industrial Light & Magic]. Then, after we saw the ship in 3D, we said, 'OK, what are the signifiers that make it feel tangible? How do we get that into the movie?' At the same time, we didn't want it to look like live-action, because then the CG characters wouldn't sit in there. It was really a balance of design aesthetics. From shape to surface texture to paint color, everything was designed with that in mind."
Also top of mind was finding the right person to voice the titular character. Enter Evans, a skilled performer who can easily find the humor amid moments of gravitas. "That's what he does as Captain America really well," MacLane said of Evans' 10-year run in the Marvel Cinematic Universe (MCU). "This is not the same character, but that proved he could do it."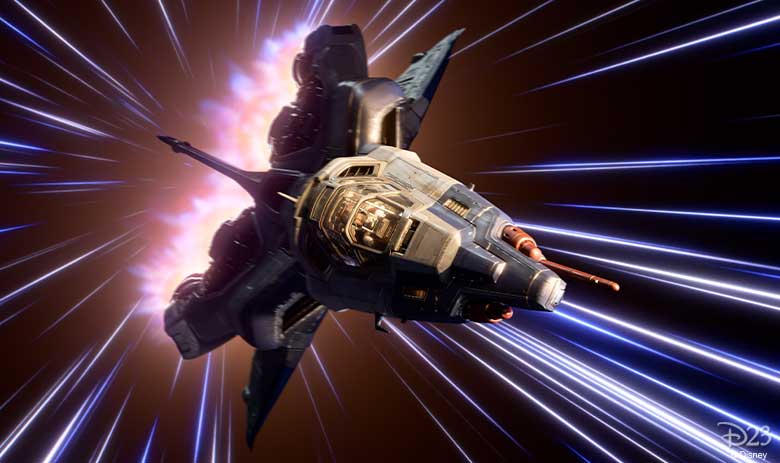 "He's a really good comedic actor, he's a really good dramatic actor, and he's really good at action," MacLane continued. "When we pitched it to him, we saw how easy he was to work with and how excited he was for the project. Once he agreed to do it, we started recording, and it was a really natural fit; it couldn't have gone better. It's such a breeze every time we work together. Chris is such a great partner for the film, creatively and spiritually. He's just so excited and just really positive about it. He's exactly who you think he is. He's awesome!"
Getting to voice Buzz Lightyear is a big deal for Evans. "The phrase 'a dream come true' gets thrown around a lot, but I've never meant it more in my life," Evans said. "Anyone who knows me knows that my love for animated films runs deep. I can't believe that I get to be a part of the Pixar family and work with these truly brilliant artists who tell stories unlike anyone else. Watching them work is nothing short of magic. I pinch myself every day."
While Lightyear features classic sci-fi elements, MacLane said the goal was to tell a wholly original story. "There might be something that feels like an echo of something, but we never want things to be too overt," he said. "The movie is meant to be a love letter to film."