By Courtney Potter
Sit Back and Unwind with Summer of Disney+
To paraphrase an iconic song from the 1960s, "Summer's here and the time is right, for streaming all night long!" This summer, Disney+ is ready to be a veritable headquarters of guaranteed no-stress streaming—and big-time fun for the whole family. With a fresh batch of weekly Disney+ Original Series episodes; a "New to Disney+" movie of the week; and curated seasonal favorites to relive again and again, Disney+ is your passport to countless streaming adventures over these next few months…
To kick off the good times, Walt Disney Animation Studios' Raya and the Last Dragon will be available to all subscribers at no additional cost beginning this Friday, June 4—along with the critically-acclaimed short film that premiered with it in theaters, the tunefully adorable Us Again. Additionally, fans will surely want to tune in every week to find out what happens next to the God of Mischief in Marvel Studios' Loki; the monsters of Monstropolis in Disney Television Animation's Monsters at Work; and the crime-solving, dog-loving Turner family in Turner & Hooch. And don't forget—who could, honestly?—the amazing new adventures to come with Disney and Pixar's Luca on June 18, Marvel Studios' Black Widow on July 9, and Disney's Jungle Cruise beginning July 30.
There's a lot more where that came from—including the return of WDAS's experimental short film program Short Circuit and the new series Growing Up Animal from National Geographic—so stay tuned for further info as the summer months progress…
5 Fantastic Things to Watch This Weekend
Welcome to June, y'all! To go along with all that Disney+ summer fun mentioned above, there's also a smorgasbord of great content to watch this very weekend from around the worlds of Disney. Disney Channel's Gabby Duran & the Unsittables begins its second season; FX offers up the series finale (say it isn't so!) of its critically acclaimed series Pose; and so much more.
Get Ready to Assemble at Avengers Campus in Disney California Adventure Park
Unless you've recently returned from a months-long, Internet-free sojourn through the Himalayas (in which case, wow! Welcome back! Also, a lot has happened…), you've heard that Avengers Campus at Disney California Adventure park is set to open Friday, June 4—and to celebrate such a momentously heroic occasion, Disneyland Resort pulled out all the stops for an incredible opening ceremony that streamed live on the Disney Parks Blog. In case you missed it, check out the replay, above.
Disney CEO Bob Chapek was joined in front of Avengers Headquarters—near an amazing, full-size Quinjet—by Disney Parks, Experiences and Products Chairman Josh D'Amaro and Marvel Studios President/Marvel Chief Creative Officer Kevin Feige… They were accompanied by Paul Rudd, star of the Ant-Man films; Anthony Mackie from the hit Disney+ series The Falcon and the Winter Soldier; and Iron Man director and actor Jon Favreau. Several other special guests had earlier toured Avengers Campus and made special appearances during the event, including Guardians of the Galaxy's Zoe Saldana, Shang-Chi and the Legend of the Ten Rings' Simu Liu, and Captain Marvel's Brie Larson.
And don't forget: Join along as D23 Inside Disney assembles at Avengers Campus for a special inside look! We'll see ya there!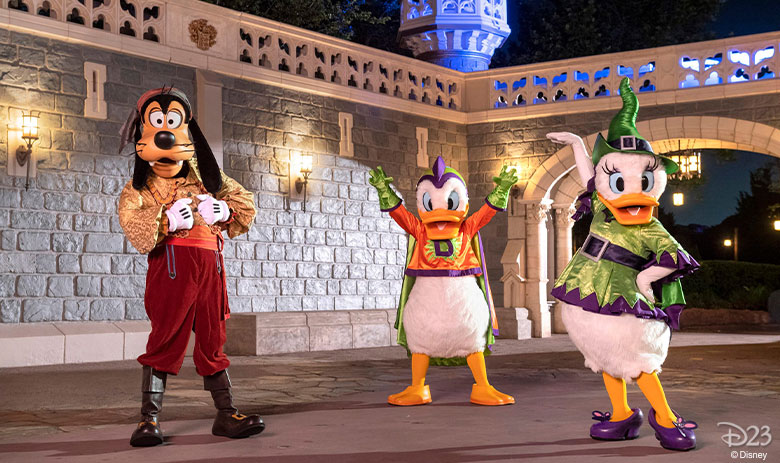 "Disney After Hours Boo Bash": Details Revealed
There's a brand-new Halloween-themed event spiriting its way into Magic Kingdom park later this year at Walt Disney World Resort… "Disney After Hours Boo Bash," a separately ticketed and limited-capacity event, will take place select nights August 10 through October 31 from 9 p.m. to midnight.*
Just what can foolish mortals young and young-at-heart expect? Special cavalcades full of characters will pop up throughout the night, including "Mickey's Happy Halloween Cavalcade," the "Disney Villains Halloween Cavalcade," and "Jack's Nightmare Cavalcade" featuring Jack Skellington and friends… And be sure to look out for Maleficent, who will make an appearance down the parade path in the form of a fire-breathing dragon! Plus, other faves will be lurking about—such as Miss Carlotta at the Haunted Mansion, and Goofy and Chip 'n' Dale appearing in their Halloween best. Lots of specialty food and drink is in store, as well as complimentary snacks and beverages. But that's not all: Guests can dress in costume for "Disney After Hours Boo Bash" and get their fill of Halloween candy while trick-or-treating around the park!
Tickets for this hauntingly fun-filled three-hour event go on sale Tuesday, June 15! For more information, including how you can score yourself a ghostly good space inside one of these "Disney After Hours Boo Bash" evenings, click here.
*Some event nights in August and September will be from 9:30 p.m. to 12:30 a.m.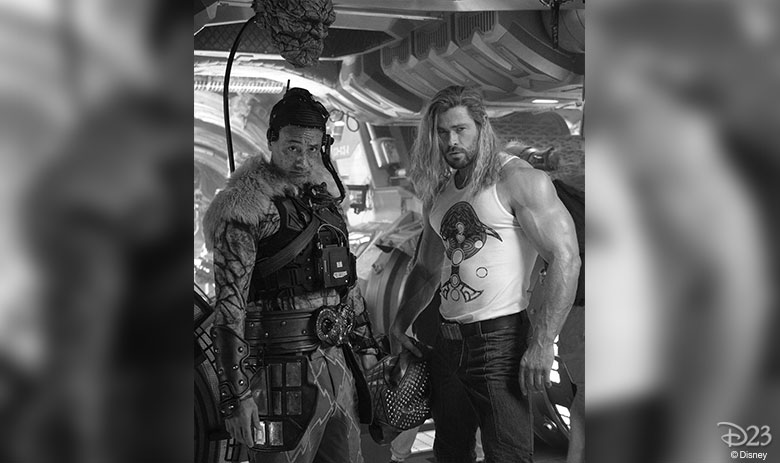 Marvel Studios' Thor: Love and Thunder Wraps Production
We couldn't let a hilarious photo like the one seen above slip by without calling it out here in News Briefs… After wrapping filming on Marvel Studios' Thor: Love and Thunder, actor Chris Hemsworth and director Taika Waititi celebrated by sharing a photo from the set of the upcoming film.
Posting in costume as Thor alongside Waititi (who also reprises his role as Korg), Hemsworth took to Instagram to post the image alongside this equally rib-tickling caption: "That's a wrap on Thor: Love and Thunder, it's also national don't flex day so I thought this super relaxed photo was appropriate. The film is gonna be… crazy off the wall funny and might also pull a heart string or two. Lots of love, lots of thunder! Thank you to all the cast and crew who made this another incredible Marvel journey. Buckle in, get ready and see ya in cinemas!!"
During The Walt Disney Company's Investor Day late last year, Marvel Studios president Kevin Feige revealed Christian Bale is joining the cast of Thor: Love and Thunder as Gorr the God Butcher, alongside Hemsworth (Thor), Natalie Portman (Jane Foster), and Tessa Thompson (Valkyrie). The film is set to open in theaters on May 6, 2022.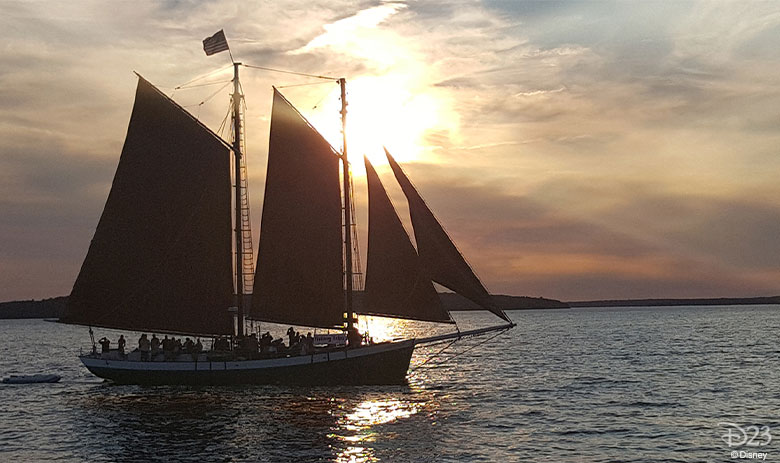 Adventures by Disney Announces 2022 New England Vacation
Ready to plan your next big adventure? Adventures by Disney has you covered—and they've just announced an all-new guided vacation to New England: Vermont, New Hampshire and Maine for 2022.
With bike rides through Burlington, carriage tours through Acadia National Park, lobster feasts in Bar Harbor, and tours of covered bridges in Vermont, this adventure will help you experience life as a New Englander and get a glimpse of all that makes this part of the U.S. so captivating. The eight-day, seven-night New England adventure also includes a morning of exploration at the Shelburne Museum; an afternoon cruise along Lake Champlain on Vermont's largest cruise ship; and even a stay at the historical Trapp Family Lodge, the former home of Maria and Baron von Trapp! Ten New England departures will be offered between May and October 2022, four of which are reserved for adult guests.
In other news, ABD is also offering up an expansion of its Private Adventure itineraries—adding Vietnam, Laos and Cambodia; England and France; New Zealand; Australia; South Africa; and Ireland to the mix. In 2022, Adventures by Disney will be offering a total of 11 Private Adventures, in which families can venture alongside a preferred travel party of up to 12 guests and select flexible booking dates (pending seasonality).
Bookings for both the new Adventures by Disney New England vacation and added Private Adventures open to the public on June 11. For more info, visit adventuresbydisney.com, call 1-800-543-0865, or contact a travel agent. Safe travels!
Helen Mirren to Narrate Hilarious Unscripted Series for ABC
Fun news from our pals at ABC: Iconic actress Helen Mirren has been tapped to narrate When Nature Calls with Helen Mirren (formerly When Nature Calls WT), a laugh-out-loud, one-hour unscripted comedy series that looks at the lighter side of the natural world. Mirren will lean into her considerable comedic talents (seriously, she's a hoot!)—matching the spirit of this visually enchanting and ridiculously hilarious tour of the animal kingdom.
When Nature Calls with Helen Mirren also has a new premiere date: Thursday, June 24, at 8 p.m. EDT on ABC. (Episodes will air the next day on demand and on Hulu.) Based on a BBC Studios comedy format, the series features comedians putting words into the mouths of beautiful beasts, teeny-tiny frogs, beatboxing badgers, and more in captivating footage from all over the world. "I am excited by the opportunity to reveal the 'true inner lives' of the noble creatures with whom we share the planet," Mirren recently said.
FYI: With When Nature Calls with Helen Mirren debuting on June 24, that now means ABC's Holey Moley 3D in 2D will swing into its season three premiere with an epic two-hour episode on Thursday, June 17, at 8 p.m. EDT—returning to its regular 9 p.m. timeslot the following week.