Beginning this Friday, June 4, guests will team up and assemble with Earth's Mightiest Heroes at Avengers Campus inside Disney California Adventure park at the Disneyland Resort. And in addition to the memories they'll make through missions, attractions, and encounters with an amazing array of Avengers, there's a super selection of merchandise debuting in the brand-new land that'll boost the heroic feeling you get during your visit—and even keep it going after you return home.
The stories of Earth's Mightiest Heroes have always been a reflection of the world outside our window, and that's been a guiding force for the team behind Avengers Campus. "We're trying to introduce you to concepts and ideas that can happen within the world that you live in," Brad Schoeneberg, vice president of Brand Merchandising for Disney Parks, Experiences and Products, tells D23.
There'll be three dedicated locations where this magnificent merchandise will be available for purchase: Disneyland Resort Backlot Premiere Shop, located at Stage 17 in Disney California Adventure; and within Avengers Campus at WEB Suppliers and the Avengers Campus Supply Pod. Schoeneberg offered an inside look at the vast collection debuting at Avengers Campus, which includes brand-new Funko Pop! figures, STEM (Science, Technology, Engineering, and Math)-inspired kits to do at home, drinkware, and more. Here are five items that we're sure every Super Hero recruit will want to pick up while they're in the new land: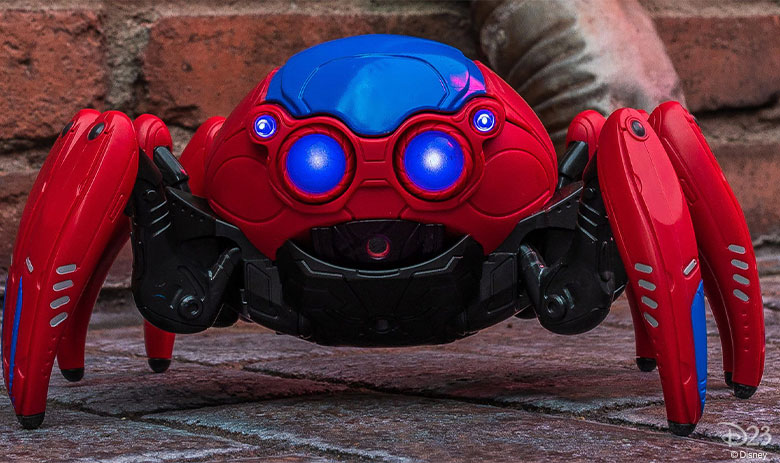 Spider-Bots
In creating these interactive companions, Schoenberg explains that he and his team thought, "Every Super Hero needs a friendly sidekick to help protect their neighborhood, so how can we make something that each person can connect with and then learn to play with in their own unique way?" Spider-Bots are powered by a remote control with eight articulated legs that move forward and backward—and they're customizable. Guests can utilize tactical upgrades to harness the powers and style of favorite Super Heroes such as Black Panther, Iron Man, Black Widow, and Ant-Man and The Wasp. Adding to the "friendly" nature of these sidekicks, it's also possible to connect with friends' Spider-Bots to engage in epic showdowns.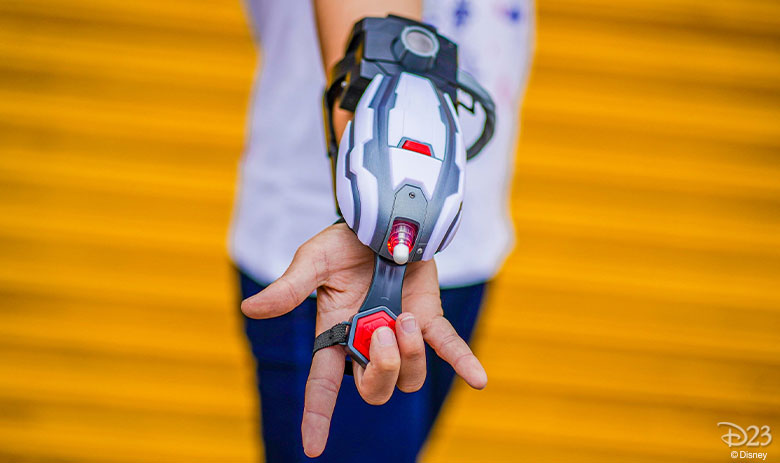 WEB Tech Accessory: The WEB Power Band
The exciting new attraction WEB SLINGERS: A Spider-Man Adventure invites guests to don 3-D glasses and sling webs like Spidey himself, and for a truly customizable experience you'll want to have WEB Tech on your wrist. The WEB Tech base band features an attraction mode that unlocks multi-fire webs while you're in the ride vehicle to personalize game play for a cool, new experience on the attraction. Schoenberg reveals, "When you wear that WEB Tech inside the attraction, you're going to get a different power on the ride than others that may be with you." Guests will have fun discovering their own powers, and they can also add on WEB Tech that's inspired by Spider-Man, Ghost Spider, Iron Man and Rescue, and other favorite Super Heroes. With lights, sounds, projections, and webs that eject and retract, WEB Tech is the ultimate role-play accessory, both in Avengers Campus and at home.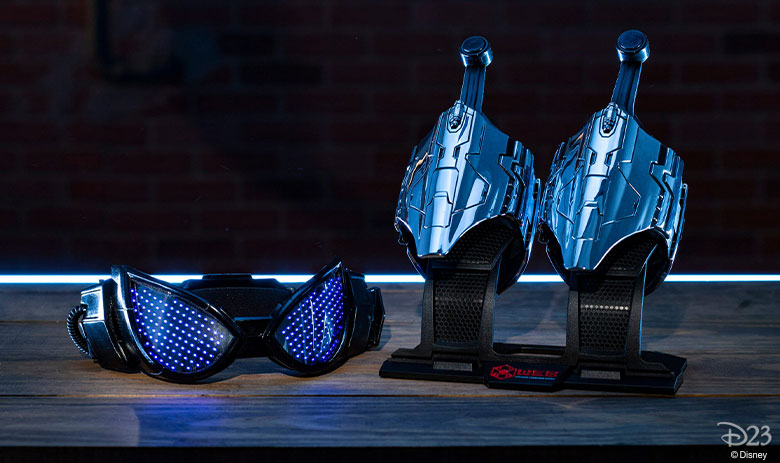 Spider-Man Goggles
It's been said that eyes are the windows to the soul, and these stylish Spider-Man goggles display a range of emotions—from concern to puzzled to, well, joy (as conveyed via flashing hearts). They wear like sunglasses, Schoeneberg notes, with a digital screen that the wearer won't see that's sure to delight every passerby. "They're fun to wear but they're really fun to see someone wearing," he emphasizes.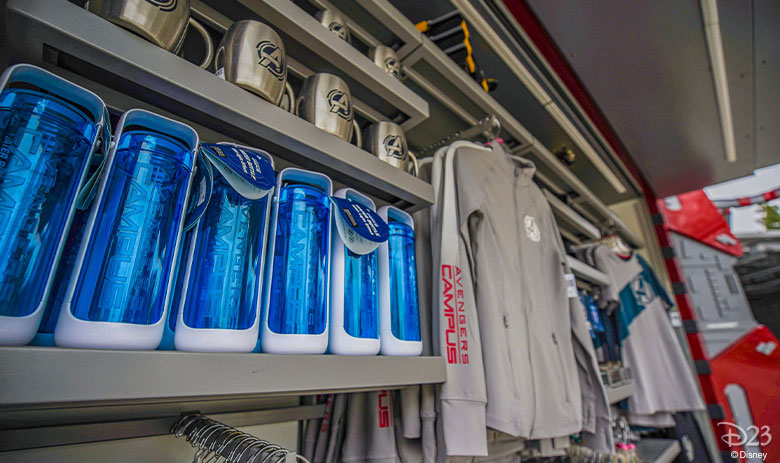 Avengers Campus Gear
"We really thought about what do our campus recruits wear when they're in training," Schoeneberg explains, and that's the aesthetic behind the performance fleece hoodies, tees, and more that will be available at Campus Supply Pod. The iconic, Disney Parks-exclusive Avengers "A" is layered in, and items also feature pockets to hold every recruit's tech. The gear, Schoeneberg says, "is not only reflective of the fact that you're training potentially for the Avengers, but it's also comfortable."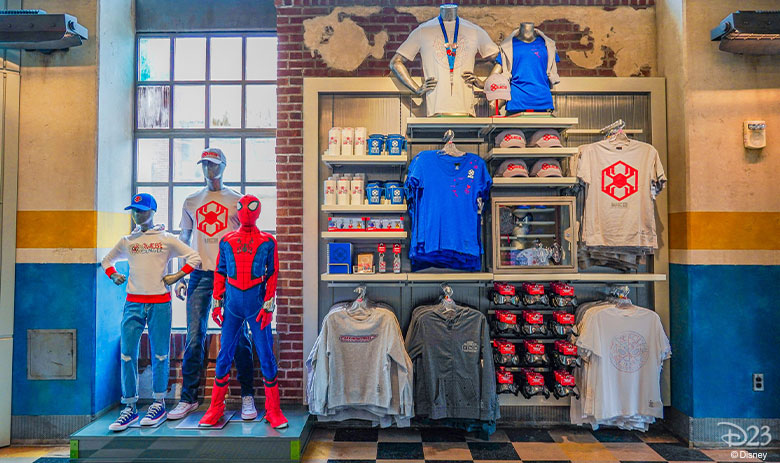 A Brand-new Spidey Suit
Throughout Avengers Campus, Spider-Man will be seen in a new suit that's been designed exclusively for Disney Parks. This suit has been re-created for young recruits, and Schoenberg says, "It's really reflective of the character that you're spending the day with on your visit to a park."
Schoeneberg notes that the team behind the Avengers Campus merchandise kept technology and innovation in mind as they approached all of the new products and experiences—whether guests will be enjoying them in the park or back at home. "Technology and innovation isn't a destination on any one item, it's just part of the way we want to approach new products, new experiences, and especially things that are tied to this fantastic world of the Avengers," he says. "And there's nothing more fantastic than guests being able to experience the products in the spaces and in the world that's been designed by Walt Disney Imagineering. It just feels like you're living this story. You are really having your own Super Hero journey."