By Courtney Potter
Take a first look at several much-anticipated films, including Timmy Failure: Mistakes Were Made, and check out some breaking Sam Eagle news… Read more, along with other news from around Disney, in this week's news briefs!
Meet Your New Fave Detective in Disney+'s Timmy Failure: Mistakes Were Made
Coming to Disney+ in just a few weeks is a brand-new film that looks hilariously quirky and completely entertaining… Timmy Failure: Mistakes Were Made will premiere on Friday, February 7—and just this week, Disney+ shared a sneak peek at the movie's trailer.
Directed by award-winning filmmaker Tom McCarthy, Timmy Failure: Mistakes Were Made is based on the best-selling book of the same name (written by Stephan Pastis) and follows the exploits of pint-sized, straight-faced hero Timmy Failure (Winslow Fegley)—who, along with his 1,500-pound polar bear partner Total, operates Total Failure Inc., a Portland detective agency. The clueless but confident Timmy must navigate the world of adults around him, including his overburdened mother (Ophelia Lovibond), her well-meaning boyfriend (Kyle Bornheimer), his teacher/nemesis (Wallace Shawn), and a school-mandated guidance counselor (Craig Robinson), all in his quest to become the best detective in the world.
Don't forget to add it to your (ever-burgeoning) Disney+ queue!
Save the Date!
Be sure to mark these upcoming Disney events on your calendar:
D23 and Walt Disney Archives


January 17, 2020


Get VIP Tickets to Disney's Frozen The Hit Broadway Musical


January 31, 2020


Disney's Aladdin the Hit Broadway Musical VIP Tickets


August 9, 2020


Adventures by Disney Rhine River Cruise Presented by D23
Parks
January 17, 2020
Star Wars: Rise of the Resistance opens at Disneyland park
January 17—February 9, 2020
Lunar New Year returns to Disney California Adventure park
January 17—February 24, 2020


Epcot International Festival of the Arts


February 28—April 21, 2020
Disney California Adventure Food & Wine Festival returns to the Disneyland Resort


March 4

—

June 1, 2020
Epcot International Flower & Garden Festival at Walt Disney World Resort


March 4, 2020


Mickey & Minnie's Runaway Railway opens at Disney's Hollywood Studios



Studios




March 6, 2020


Onward opens in U.S. theaters


March 27, 2020


Mulan opens in U.S. theaters


May 1, 2020


Marvel Studios' Black Widow opens in U.S. theaters


May 29, 2020


Artemis Fowl

opens in U.S. theaters




Television


January 10, 2020 (8:45 p.m. ET)
The Owl House premieres on Disney Channel and DisneyNOW
February 14, 2020 (8 p.m. EST/PST)
ZOMBIES 2 premieres on Disney Channel and DisneyNOW
February 16, 2020 (8 p.m. EST/ 7 p.m CST)
American Idol returns to ABC
Disney+
January 17, 2020
Diary of a Future President premieres
February 7, 2020
Timmy Failure premieres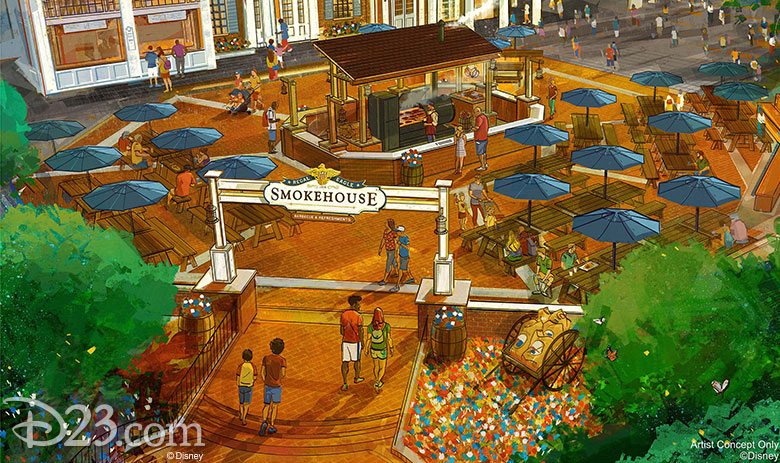 New Epcot Eatery Takes Inspiration From Muppet Stalwart Sam Eagle
Fans of Sam Eagle, that ever-so-patriotic (and occasionally semi-judgmental) Muppet, we have most excellent news: There's a brand-new restaurant coming to The American Adventure pavilion inside Epcot at Walt Disney World Resort, and it's taking its inspiration from our beloved blue bird of prey!
Regal Eagle Smokehouse: Craft Drafts & Barbecue is a new fast-casual restaurant, and it'll be the site for "Sam's Centennial Cook-Off: A Salute to All Cook-Offs but Mostly Barbecue"; guests will be the beneficiaries of said contest—described as "a competition fit for all patriots and pit masters"—as it will offer a delicious variety of classic backyard barbecue selections from across the country that are "vying" for Sam's top honor.
Collectors of Muppet memorabilia (you can't see us raising our hand, but we are!) will also be delighted to learn that Sam Eagle will be incorporated into new Regal Eagle Smokehouse merchandise available exclusively at this exciting eatery.
Stay tuned for more information about the restaurant as we get closer to its big debut later this winter…
We're Voting for This Brand-New Diary of a Future President Trailer
It's an origin story for a Commander in Chief, told in a whole new—and wholly adorable—way. Disney+'s Diary of a Future President, set to debut in just about a week's time, recently released a trailer introducing the world to future president Elena… if you haven't already, check out the clip, above.
Told using the narration of Cuban American pre-teen Elena's (newcomer Tess Romero) diary, this new family comedy follows her journey through the ups and downs of middle school, which set her on the path to becoming the president of the United States. Inspired by creator Ilana Peña's (Crazy Ex-Girlfriend) childhood and produced by Gina Rodriguez (Jane the Virgin)—who also helmed the first episode and guest stars as grown-up Elena—Diary of a Future President premieres Friday, January 17.
ICYMI: How Does The Show Go On? with Thomas Schumacher
If you still have a gift card from the recent holidays burning a proverbial hole in your digital wallet, might we suggest a very cool book to peruse? It's called How Does The Show Go On?, and it's written by Thomas Schumacher, President & Producer, Disney Theatrical Productions. So, y'know, he knows a thing or two about theater. See what he has to say about the book right here at D23.com.
Freeform's The Thing About Harry to Premiere on February 15
Hard to believe, but Valentine's Day is just around the corner. (Which is particularly hard to fathom when someone's Christmas tree might still be up… Judge us if you must; we've been busy!) And in honor of such an auspicious occasion of feel-good feels, Freeform recently announced that their brand-new romantic comedy, The Thing About Harry, will premiere Valentine's Weekend—Saturday, February 15, at 8 p.m. EST/PST.
Directed by Peter Paige (Good Trouble, The Fosters), the film tells the story of high school enemies, uber-jock Harry and out-and-proud Sam, who are forced to share a car ride to their Missouri hometown for a friend's engagement party on Valentine's Day. Things take a turn when Sam learns Harry has come out. Stuck spending the night together in a roadside motel, Harry and Sam begin to develop a deep friendship—with neither admitting a potential romance may be brewing—leaving them wondering if one road trip could change the rest of their lives… Take a sneak peek of that fateful car ride in the teaser trailer, above.
Written by Paige and Josh Senter, The Thing About Harry stars Jake Borelli, Niko Terho, Britt Baron, Peter Paige, and Karamo. Tune in for some "rom-com" fun!
Who Are ABC's The Baker and The Beauty? Watch This Trailer to Find Out!
Coming soon to ABC is an exciting new "modern-day fairy tale," based on a popular Israeli series created by well-known TV host Assi Azar… and it's set to debut later this spring!
As announced at this past week's Television Critics Association (TCA) 2020 Winter Press Tour, ABC's The Baker and the Beauty chronicles the adventures of relatable "everyman" Daniel Garcia (Victor Rasuk) who, after a night out on the town in his native Miami, meets international superstar Noa Hamilton (Nathalie Kelly). Daniel is working in the family bakery and doing everything his loving Cuban parents and siblings expect him to do—but after meeting Noa, his life suddenly moves into the spotlight. Will this unlikely couple upend their lives to be together and pull his family into a culture clash? Check out the new trailer for the flavor-filled show, above.
Look for The Baker and the Beauty—also starring Carlos Gómez as Rafael Garcia, Dan Bucatinsky as Lewis, Lisa Vidal as Mari Garcia, David Del Rio as Mateo Garcia, Belissa Escobedo as Natalie, and Michelle Veintimilla as Vanessa—beginning Monday, April 6, at 10 p.m. ET/PT on ABC.
Find R2-D2 at Star Wars: Galaxy's Edge at Disneyland Park
Looking to spend some time with the coolest astromech droid this side of Endor? Then make sure to keep your eyes peeled the next time you're at Star Wars: Galaxy's Edge at Disneyland park, because R2-D2 is now roaming the grounds of Batuu! Get more info by clicking here.