By Courtney Potter
Beauty and the Beast. The Lion King. Mary Poppins. Aladdin. Frozen. These musicals are giants of the Broadway (and international) stage, and they've all been shepherded to The Great White Way by Thomas Schumacher—President & Producer, Disney Theatrical Productions. There are few people on the globe who know more about what goes into taking a musical "from page to stage" than Schumacher… and lucky for us, he wrote a book about it!
How Does The Show Go On? An Introduction to the Theater, the first edition of which was published in 2007, gives readers unprecedented access to the business of theater. Using all the fantastical—and fantastically successful—musicals in the Disney stable, Schumacher (with author Jeff Kurtti) takes readers from the front of house to backstage, from the box office to the stage door, and literally behind the curtain to learn everything it takes to bring a show to life.
The third edition, which highlights all the magic that goes into making Frozen come alive on stage, was just released in early November; not only does this edition include never-before-seen photos and personal stories from the making of Disney's latest hit Broadway musical, but it also includes an incredible new "augmented reality" component—by scanning a code found sprinkled throughout the book, you can use the free Disney Scan app and open fun, related video content right on your mobile device! At the recent kick-off of Frozen's North American Tour (now playing at the Hollywood Pantages Theatre in Los Angeles, CA, through February 2), D23 was lucky enough to visit with Schumacher and hear about makes the book so compelling—for both the young and the young-at-heart.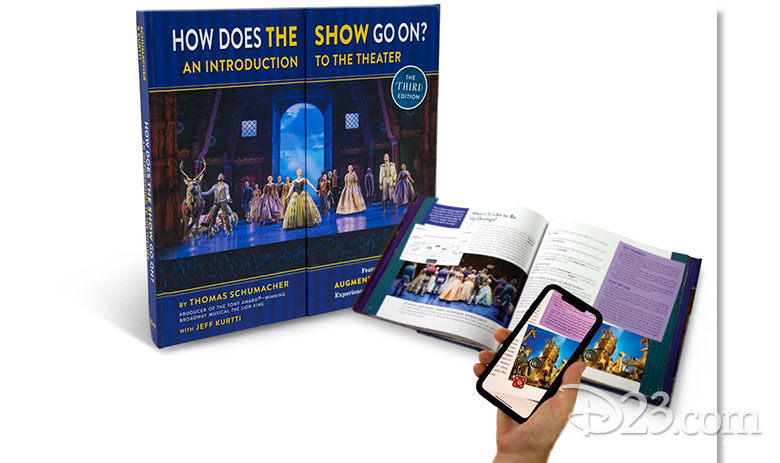 On what made him want to write a book like this…
"[It] actually happened in a conversation with Jeff Kurtti, who's written many books for Disney… We were on our way to the Apollo Theater in Harlem to see something… [and] I said, 'I want to write a book.' And he said, 'What would it be?' And I said, 'I want to write a book about theater. I want to write the book that we wanted when we were kids. I want the book that wasn't available for us. I don't want a book about actors, because [most people] know what actors do. I want a book about people who make theater—how it actually happens.' And all [Jeff] said was, 'When do we start?'"
On the process of writing the original edition, and then updating it for 2019…
"Because he'd [already] worked so much in publishing, Jeff did the 'book map'—he helped me figure it out… The original book was an 'artifact' book, which was Jeff's idea. So as you opened it, you could, say, take a ticket out of an envelope. Now that sounds like nothing, but a ticket is meaningful—if [you're new to theater and] you don't know that it [lists] a row and a seat number… so there were things you could take out of it. The great thing about the book was it was fun to touch [and explore]; the bad thing about the book was kids took everything out of it… We sold a lot of copies, but we couldn't reprint it because it was so complicated… Time passed, and we did two editions of the book. I knew that the book had become out of date—technology had changed, and there were [new] things I wanted to say. I wanted the format to be bigger; I wanted different photography… [then] someone brought a bottle of wine to a party at my house—it had a picture on it that if you held your phone over it, it would 'talk' to you… I thought there's got to be a way to embed that [in the book], and they did… The fun thing is, we can update those videos over time. And in future versions I'm thinking about embedding even more stuff."
On showing young people the possibilities that lie in theater—onstage or behind the scenes…
"Cheryl Thomas is the lead hair and makeup artist on Aladdin. [Her picture in the book] comes to life; it's an actual of her doing her work… Imagine all the kids who are thinking, well maybe I'll go to beauty school and maybe I'll work in a beauty shop… but they could work on Broadway! They could see this and go, 'I could do that!' And at the back end of the book is Lisa Dawn Cave, who's the production supervisor on this Frozen tour. To see her being the most important person backstage, as production stage manager—calling the show—is so empowering. Because [as a kid], I didn't know people could do any of these things. I knew what actors did; I knew what Fred Astaire did… but to see that there's all these other jobs and all these [other] people… we were able to put all that kind of stuff in the book!"
On why Disney musicals are the perfect way to introduce readers to the magic of creativity…
"The secret value of [this book] to me was that if you had never done theater, you'd open this and go wait—that's Simba [from The Lion King]. Wait, that's Elsa [from Frozen]. You wouldn't have to physically see the show because you'd know that's Ariel [from The Little Mermaid]. And even though what she looks like isn't the [1989] movie, you'd know who that was… it kind of 'de-terrorizes' [theater]. I worked for a man who said our job in the arts is to constantly think about 'de-terrorizing' them… You'll meet people all the time who think they're not creative and it's just because someone made fun of the way they decorated a cookie, or made fun of their handwriting, or made fun of the way they draw a tree. And if someone had celebrated how they did that, they wouldn't have been afraid of it."
For more information about Thomas Schumacher and the book—and to download the free Disney Scan app—visit HowDoesTheShowGoOn.com