By Courtney Potter
The holly-jolly featurette Olaf's Frozen Adventure found the merriest snowman on the planet (voice of Josh Gad) searching high and low in Arendelle for the perfect holiday tradition to pass along to his best friends, Anna (voice of Kristen Bell) and Elsa (voice of Idina Menzel).
Besides the gorgeous visuals, the nifty songs, and the chance to revisit such beloved characters, the featurette also contains some very fun surprises you might have missed! Our pals over at Walt Disney Animation Studios recently clued us in to several Disney-related "Easter eggs" you may not have caught the first time 'round… and now that the featurette is available on digital HD platforms like Movies Anywhere and iTunes, it's the ideal opportunity to take another look!
Here are our five favorites: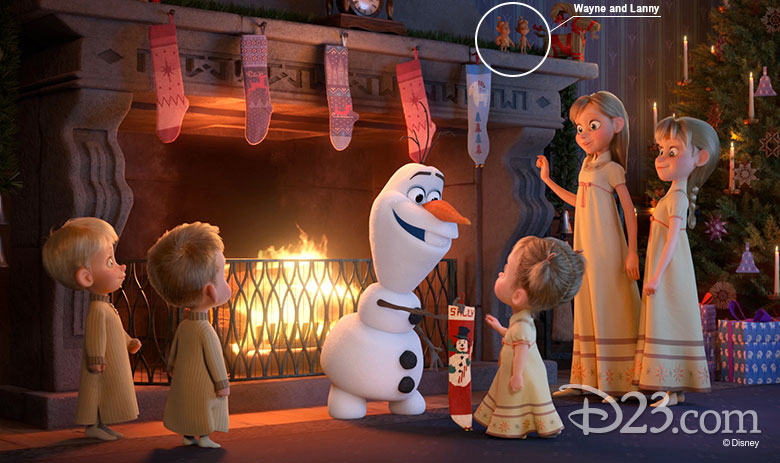 Prep & Landing's Lanny and Wayne
As you may know, the directors of Olaf's Frozen Adventure—Kevin Deters and Stevie Wermers-Skelton—also directed the adorable 2009 holiday TV special Prep & Landing (and its sequel, Prep & Landing: Naughty vs. Nice). So of course the special's stars, Lanny and Wayne, had to end up in their most recent project! Here they are as wood carvings on the mantel of a family Olaf is visiting to get some "holiday tradition" tips.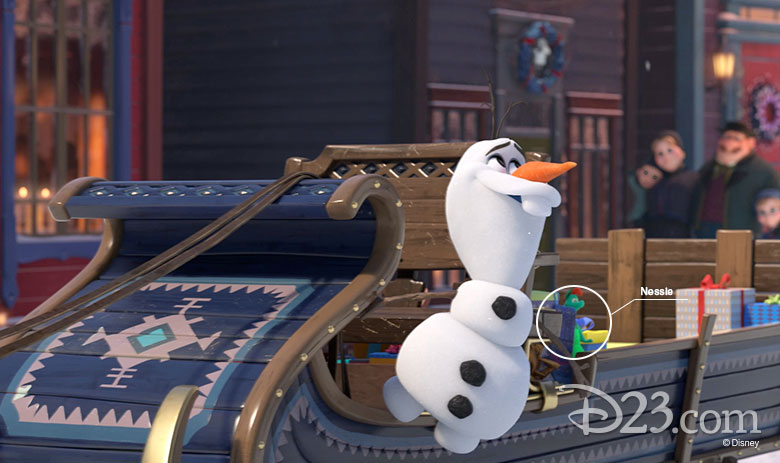 Nessie from The Ballad of Nessie
Deters and Wermers-Skelton also directed the 2011 Walt Disney Animation Studios short film The Ballad of Nessie, which tells the origin story of the Loch Ness Monster. Here, you can see the film's lead character, the adorable Nessie, as a toy in Olaf's sleigh.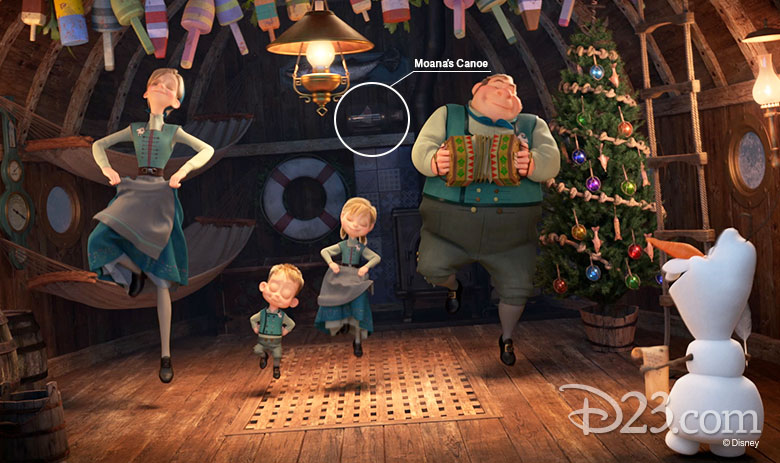 Moana's Canoe… in a Bottle!
You've heard of ships in a bottle… but what about canoes? (How do they get them in there, anyway?) During the song "That Time of Year," Olaf can be seen rollicking with a boat-bound family whose mantel features a very special "canoe in a bottle"… namely, the one belonging to Moana in Disney's 2016 animated hit of the same name.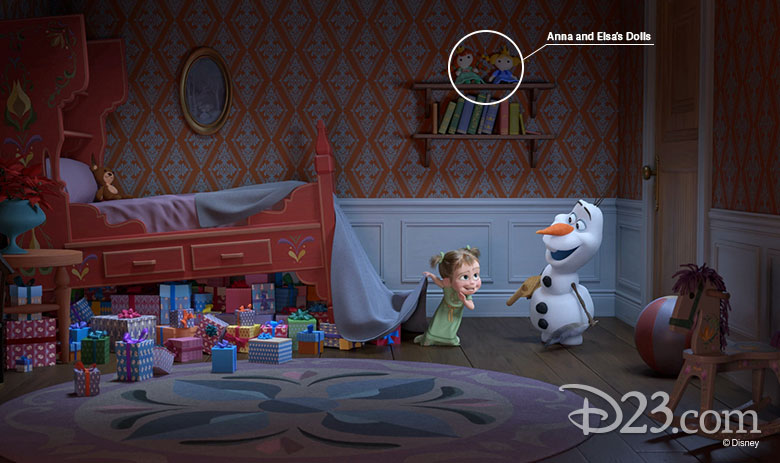 Anna and Elsa's Dolls from Frozen
Remember, in the original Frozen, how cute it was that little Anna and little Elsa had dolls that looked like them? Well those dolls also appear in Olaf's Frozen Adventure, on a shelf in a young girl's room. (Also, can we talk about how many gifts this kid is hiding? Hilarious!)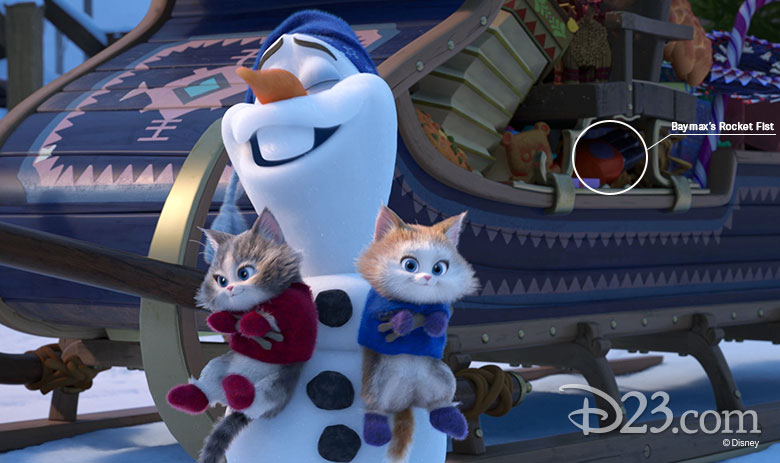 Baymax's Rocket Fist from Big Hero 6
"On a scale of 1 to 10, how would you rate your holiday traditions?" Disney's Oscar®-winning Big Hero 6 was produced by longtime Disney animator Roy Conli… who also happened to produce Olaf's Frozen Adventure! Naturally, Baymax had to make an appearance—in the form of his rocket fist, seen on Olaf's sleigh.