By Beth Deitchman
It was truly the start of something new. Debuting on Disney+ at launch, in High School Musical: The Musical: The Series—shot at the real-life high school where the original High School Musical DCOM was filmed—Disney fans found what we've been looking for. Over the course of the documentary-style High School Musical: The Musical: The Series' first nine episodes, we've watched the East High students prepare to perform in their high school's first-ever production of the iconic stage version. The season has been chockful of romance… rivalry… the most delightful drama both on- and off-stage… and an incredible soundtrack (that's available in its entirety on January 10, when the finale premieres).
Ahead of Friday's highly anticipated season ender, we sat down with the man who has had his head in the game and his heart in the song all season long, creator/executive producer Tim Federle. As fans wait to find out what will happen as Act Two gets underway, Federle talked about what to expect following last week's incredible cliffhanger—which ended with "wonderstudy" E.J. (Matt Cornett) poised to take Ricky's (Joshua Bassett) place on stage beside Nini (Olivia Rodrigo). He also shared favorite behind-the-scenes memories and even gave us a little inside scoop on what to expect from High School Musical: The Musical: The Series' second season.
D23: Going into the finale, there are so many unanswered questions—from, "Will Nini leave East High for the conservatory?" and "Will Ricky leave the musical?" to "Who sent the ginormous bouquet of flowers?" Can fans expect the answer to all of these questions before the curtain falls on season one?
Tim Federle (TF): I think season finales are a chance to answer a lot of questions and give people some peace of mind. They're also a chance to say, we're just getting started. When we shot the season finale, I did not know if we had a season two, so as I gave my final tearful goodbye to the cast and crew in Utah back in July, [and] I said, "I don't know what happens now. I only know that no matter what, we have this." And so I wanted to keep the doors open wide enough that I could write season two, and hopefully beyond. But I also wanted to offer some amount of closure because we have done a lot of cliffhangers all season and I want the audience to rest—even as they hold their breath to find out certain things for next season.
D23: Even when the finale episode is over, there's still more to come in an incredible end-credit sequence that showcases a member of the ensemble in a way we've never seen before. Can you share how that came to be?
TF: That end-credit sequence was one of the very first things I knew would be in the show when it was greenlit. And I knew it would be in the show because these actors have so many hidden talents, and one thing I wanted to show off and surprise people with is just how versatile they are.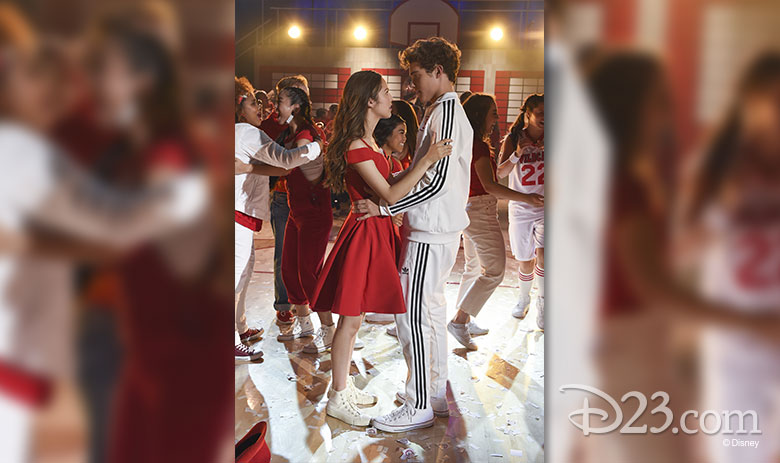 D23: How would you say that the end of season one sets things up for season two?
TF: The biggest clue I would say is the story is never over. I would say for "Rini" [Ricky and Nini] fans, for "Rina" [Ricky and Gina] fans, and for fans of couples who we haven't even seen get together yet, there's so much to come in season two that I think is going to surprise people.
D23: Are there any clues you might be able to offer about what musical is coming to East High next?
TF: The only thing I can really confirm is that we're not doing High School Musical 2 as our onstage musical. But the beauty of telling a story in the space of high school theater is that there are so many shows to choose from that really show off our cast.
D23: When you create a TV series, you write, cast, and shoot a pilot—but then as you go on to make 10 episodes you discover new things about your characters and your story takes new twists that you might not have originally expected. What changed for you over the course of the season?
TF: The first thing that changed for me was recognizing that some of the most gifted storytellers on the show were standing five feet away from me—and they happened to be kids. [I also discovered] that Joshua and Olivia are both very accomplished young songwriters on their own. I recognized pretty early on that with talent like that, one of my jobs as a gatekeeper was to try to lower as many gates as possible and give them an opportunity to write a song—or multiple songs—for us.
Another thing that changed is the "Rina" coupling of Ricky and Gina. That was never intended to be something that took much of a spotlight in the show. Frankly, by dint of the extraordinary gifts of these actors I can kind of pair any of them in any way—whether that's platonic or romantic—and something interesting happens. For Dara Reneé and Joe Serafini, who play Kourtney and Seb, I put them in a stairwell scene for half a page in episode 108 (the tech rehearsal), and all of a sudden I'm going, "Oh my gosh, I want to write more for these two. What a magical combination I didn't see coming!"
D23: In musicals, the songs so often serve as the inner voice for the characters. What was the impact of Olivia and Josh playing Nini and Ricky and also writing the music and lyrics that were coming directly from their characters?
TF: It's a high wire act because I'm taking a huge risk as a creator in asking a young person to put themselves out there for something that we might not end up using in the show. It's a calculated risk, which is me putting my neck on the line and saying, "Trust me, Disney. Let's give them a shot." And to their credit, they knocked it out of the park. The other way it impacts things is Olivia Rodrigo is still in high school (and, by the way, she's getting a 4.0 in her high school studies). But these are young people who are expected to show up in a hair and makeup trailer at 7 a.m., ready to know every line and be present all day, still get their homework in, and, in addition, put themselves out there as a creative person with a song and hope that it gets chosen. I try to create a really safe environment where people can fail and we're still going to hold them up. That goes for the crew as well in Salt Lake City. I want it to be a place where ultimately people love to come to work.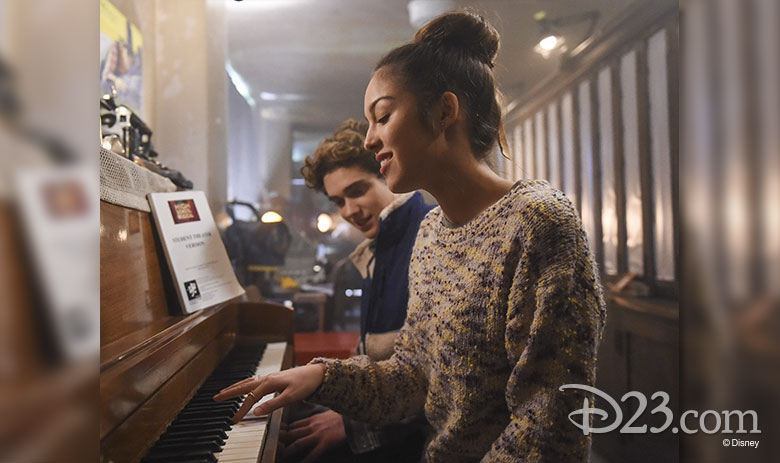 D23: From D23 Expo to the series' premiere, it seems like this has been an amazing ride. Do you have any favorite memories?
TF: I have a couple. One was the day that Joshua and Olivia first read for Ricky and Nini together, and there was such an undeniable spark that I felt we might just be lucky enough to re-create—or at least pay tribute to—some of the magic between Zac [Efron] and Vanessa [Hudgens].
There was also a moment during the homecoming episode when Frankie [Rodriguez, who plays choreographer Carlos] and Joe [Serafini, who plays Sharpay] were dancing together in the gym and the actors who were not called for that scene—in other words, they had the day off—came to set to watch the monitors. I remember that Matt Cornett and Joshua Bassett burst into tears watching Joe and Frankie dance. It was very meaningful to see them support each other and be there for each other and, I think, to witness a little bit of history that none of us grew up watching on TV.
And a final memory is just every time we were on break, you would hear from a corner of the set, Josh on his guitar, and all of the kids would burst into song, singing anything you could imagine. I remember thinking at the end of the day, the least I could do is write something as joyful as these kids are when they're given a break. Those are moments I hold dear to my heart.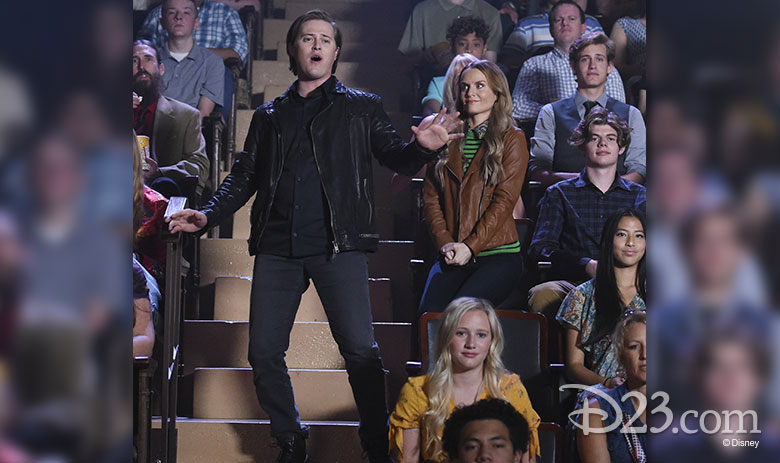 D23: This season we've seen KayCee Stroh, who played Martha in the High School Musical films, and we've seen Lucas Grabeel, who played Ryan… What kind of feedback have you heard from some of the other key players in the original franchise?
TF: Corbin Bleu has been such a vocal champion and supporter of the show, and really shouted from rooftops about it, starting right at D23 Expo 2019. It was great talking to Kenny Ortega at D23 Expo 2019—which is the actual most magical place on earth—and having him look me in the eye and say, "What you did with this is so fresh and new and it is just the way to extend this franchise." Kenny doesn't know this, but I auditioned for Newsies when I was nine and a half years old and I got a callback. I've never told that story to anybody! For me, to look at somebody who has always been a hero of mine in the musical movie and TV storytelling space, to be told you did it right, kid, gives me the pep in my step to keep marching forward into season two and hopefully beyond!
Want to hear what cast members Olivia Rodrigo and Joshua Bassett have to say about the epic finale? Listen to the latest episode of our D23 Inside Disney podcast now.