#ShareYourEars for Make-A-Wish with Disneyland Resort
Have a few more Mickey ears recently popped up on your social media feed? There's a great reason why! In honor of Disneyland Resort's ongoing Diamond Celebration, Disney Parks announced they'll donate $5 to Make-A-Wish® (up to $1 million) for every "ear photo" folks share on Facebook, Instagram, or Twitter… just make sure to use the hashtag #ShareYourEars.
Since 1980, Disney and Make-A-Wish® have worked together to grant more than 100,000 wishes for children with life-threatening medical conditions. It's a truly unique relationship that's touched the lives of millions of people around the world—from wish children and their families, to the countless medical professionals, volunteers, and donors who help make the wishes come true.
So from now until March 14, spread some hope and joy just by posting a single #ShareYourEars photo! The more creative, the better… and best of all, you'll be able to help make wishes come true!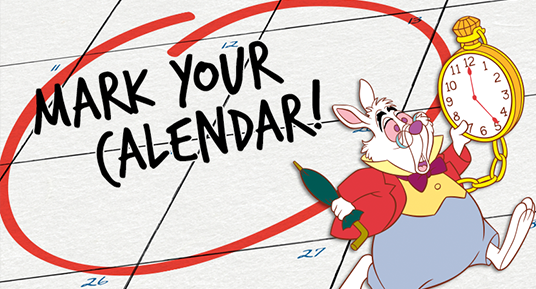 Save the Date!
Be sure to mark these upcoming Disney events on your calendar:
First Look at Pete's Dragon
Disney first told the story of young Pete and his friendly pet dragon Elliott in 1977… but now, a re-imagining of the film is coming to a screen near you this summer! Check out the first look at Pete's Dragon—starring Bryce Dallas Howard, Oakes Fegley, and Robert Redford—above.
It may be a teaser trailer, but luckily we have a bit more info about the film for you: Wood-carver Mr. Meacham (Redford) has delighted locals with tales of a fierce dragon that resides deep in the woods of the Pacific Northwest. To his daughter, Grace (Howard), who works as a forest ranger, these stories are little more than tall tales—until she meets Pete (Fegley), a mysterious 10-year-old with no family and no home who claims to live in the woods with a giant, green dragon named Elliott. And from Pete's descriptions, Elliott seems quite similar to the dragon from Meacham's stories. With the help of Natalie (Oona Laurence), an 11-year-old girl whose father, Jack (Wes Bentley), owns the local lumber mill, Grace sets out to determine where Pete came from, where he belongs, and the truth about this mysterious creature. Look for Pete's Dragon when it opens in theaters on August 12!
Shanghai Disneyland Resort: Almost Ready to Wow!
Sunday night's "Wonderful World of Disney: Disneyland 60" on ABC was an absolute blast—showcasing not only the amazing history of Walt Disney's first theme park, but also giving audiences a glimpse of what's to come at Disney Parks. Case in point: a super-special look at the ramp-up to Shanghai Disneyland Resort's opening this June!
The video above (aired as part of Sunday's special) gives us a glimpse of Shanghai Disneyland's Enchanted Storybook Castle (the largest castle at any Disney Park worldwide); the all-new TRON Lightcycle Power Run ride inside the park's Tomorrowland; and several of the park's other cool new lands.
Don't be surprised if this clip makes you want to renew your passport!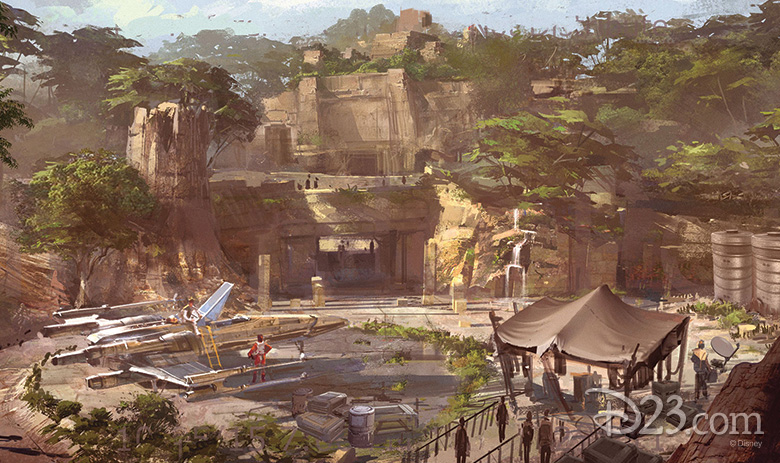 New Star Wars Entertainment at Walt Disney World Resort
Fans of Star Wars, take heart: We may have to wait a while for those fantastic Star Wars-themed lands to make their way to Disneyland and Walt Disney World Resorts, but that doesn't mean galactic fun isn't on the horizon. Walt Disney World Resort just unveiled more Star Wars-themed entertainment starting this spring—including one of the most elaborate fireworks and projection shows ever!
You'll feel the Force at Disney's Hollywood Studios this April 4 with the arrival of the new Star Wars entertainment experience Star Wars: A Galaxy Far, Far Away (a live stage show celebrating iconic moments from the Star Wars saga), plus a new First Order Stormtrooper procession… lead by Captain Phasma, of course. And to kick off summer, the park is launching a new nightly fireworks and projection show called Star Wars: A Galactic Spectacular that will eclipse anything of its kind in the park's history. It's the "next generation" of the current Star Wars-inspired fireworks show, and it's truly unprecedented; look for Star Wars-themed fireworks, lasers, light projections, and other special effects combined with music and iconic characters and scenes from throughout the saga.
Coupled with other Star Wars experiences already delighting guests at Disney's Hollywood Studios, Walt Disney World Resort is a fabulous place for fans to celebrate all their Star Wars passion! Lightspeed to Endor!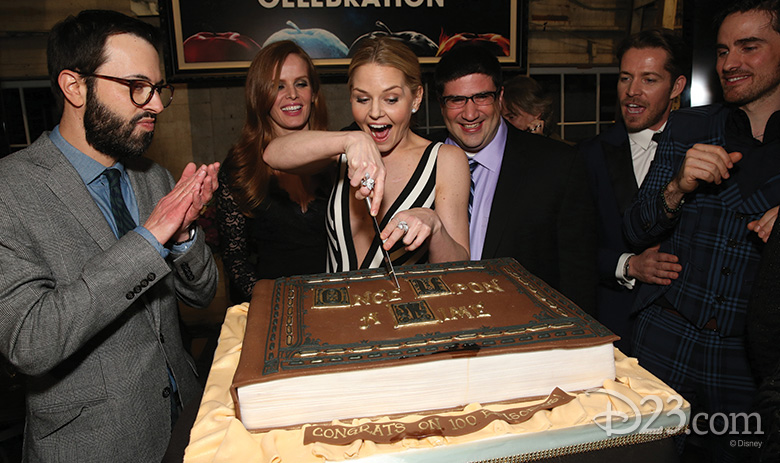 ABC's Once Upon a Time Celebrates 100 Episodes
The citizens of Storybrooke have been bringing fairy-tale adventures to the small screen since 2011—and just recently, the cast and crew of the ABC series celebrated their 100th episode in style! Actors including Jennifer Morrison, Lana Parrilla, Robert Carlyle, Rebecca Mader, Jared Gilmore, Colin O'Donoghue, and Josh Dallas partied alongside executive producers Edward Kitsis and Adam Horowitz… and like any good birthday party, the guests of honor cut a Once Upon a Time-themed cake!
Look for Once Upon a Time's special 100th episode—featuring Emma, Regina, Mary Margaret, and Gold's arrival in the Underworld on a mission to rescue Hook—on March 6, only on ABC.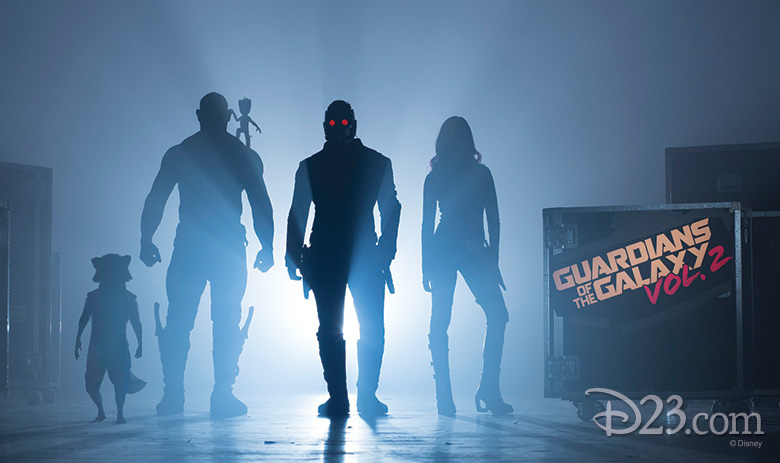 Marvel's Guardians of the Galaxy Vol. 2 Begins Production
Are you still "hooked on a feeling" from Marvel's Guardians of the Galaxy? If so, we don't blame you. And the good news is, a sequel to the film has just started production!
Marvel's Guardians of the Galaxy Vol. 2 just began principle photography at Pinewood Studios in Atlanta. You'll have to wait just a bit for all the music-filled space escapades; the film is slated to hit U.S. theaters on May 5, 2017.
Returning for the sequel are stars Chris Pratt, Zoe Saldana, Dave Bautista, Vin Diesel, and Bradley Cooper; adding to the mix this time 'round are Pom Klementieff (Oldboy), Elizabeth Debicki (The Great Gatsby), and Kurt Russell (The Hateful Eight). The film continues the Guardians' adventures as they unravel the mystery of Peter Quill's true parentage.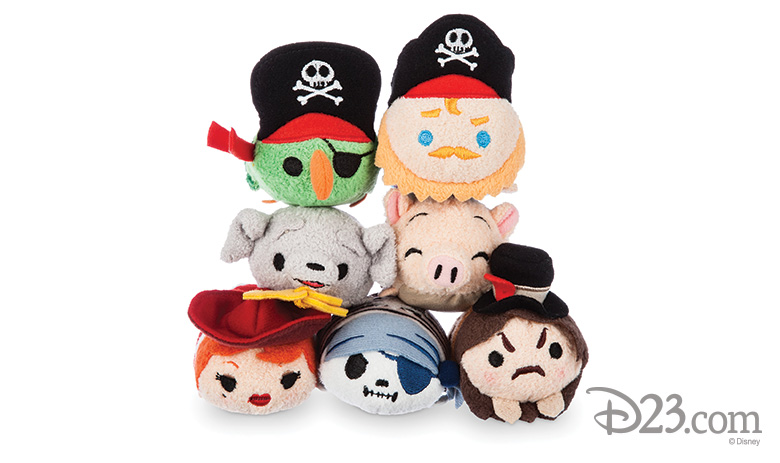 Pirates of the Caribbean Tsum Tsum Sail into Disney Parks
A new collection of Disney's totally adorable Tsum Tsum—created especially for Disney Parks—is set to sail into shops across Disneyland and Walt Disney World Resorts. Seven new Pirates of the Caribbean Tsum Tsum (featuring a pup with keys, a skeleton, the Captain, and more!) will be available on Friday, February 26… and with this release, a bunch of new Disney merchandise locations will begin carrying Disney Tsum Tsum—including World of Disney at Downtown Disney District; Once Upon a Toy at Disney Springs Marketplace; ImageWorks at Epcot; and Chester & Hester's Dinosaur Treasures at Disney's Animal Kingdom.
Get 'em while the gettin' is good on February 26!