By Courtney Potter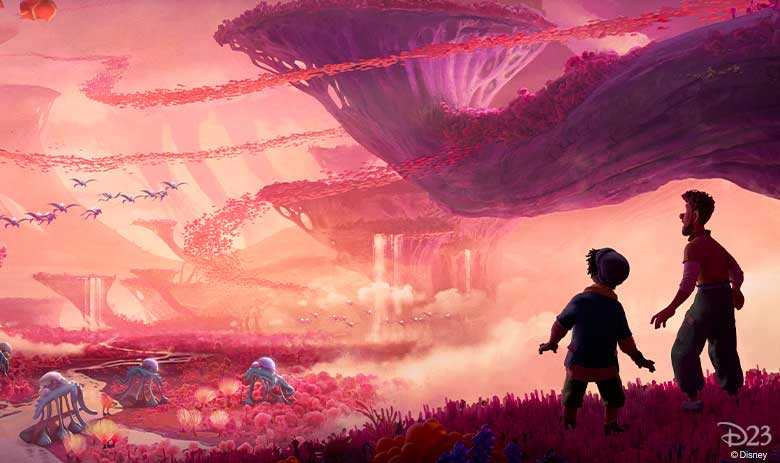 Walt Disney Animation Studios Reveals Concept Art for Strange World
Here's something to add to your calendar… the latest from Walt Disney Animation Studios! And, judging but this newly released concept art, we have a lot of magic to look forward to.
Strange World is an original action-adventure from our pals at WDAS, and it chronicles a journey deep into an uncharted and treacherous land, where fantastical creatures await the legendary Clades—a family of explorers whose differences threaten to topple their latest, and by far most crucial, mission.
According to director Don Hall (Big Hero 6, Raya and the Last Dragon), Strange World is a nod to pulp magazines—popular fiction from the first half of the 20th century that was printed on inexpensive wood pulp paper. "I loved reading the old issues of pulps growing up," Hall recently said. "They were big adventures in which a group of explorers might discover a hidden world or ancient creatures. They've been a huge inspiration for Strange World."
Helmed by Hall and co-director/writer Qui Nguyen (co-writer, Raya and the Last Dragon), and produced by Roy Conli (Big Hero 6, Tangled), Strange World is slated for release on November 23, 2022. And stay tuned for more info on the film in the coming months!
5 Fantastic Things to Watch This Weekend
It's the most wonderful time of the year! Whip up some hot chocolate (and/or one of our great new D23 Season of Magic recipes) and settle in for another weekend of holiday fun from around the worlds of Disney. Look for a new holiday-themed episode of ABC's Supermarket Sweep; Tron: Legacy coming to Disney+; merry mayhem from a Home Alone marathon on FX; and lots more where that came from.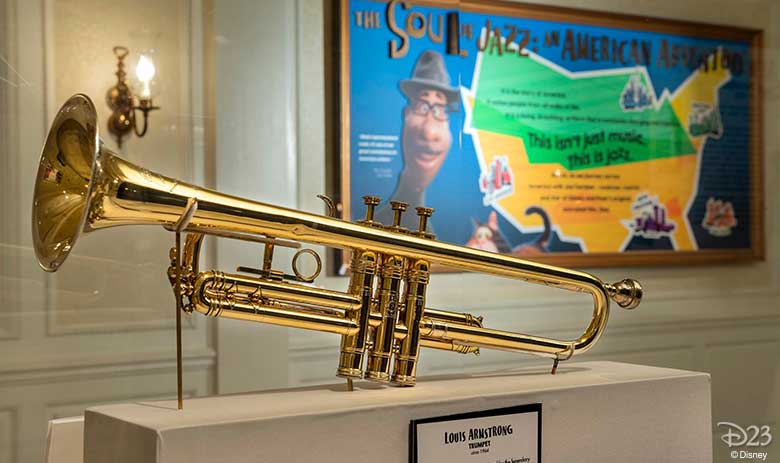 "The Soul of Jazz: An American Adventure" Exhibit Now Open at Kansas City's American Jazz Museum
Should you live in the Kansas City area (or have friends or family who do), listen to this: You have a very coolDisney exhibit to check out over these next few months, right in your own backyard! At "The Soul of Jazz: An American Adventure," now open at Kansas City's American Jazz Museum, Joe Gardner—the musician, mentor, and teacher from Disney and Pixar's Soul—takes visitors on a tour as they discover the rich and surprising history of jazz. And Kansas City is a perfect location, as it's one of the first cities where jazz took root in American culture.
Initially introduced at The American Adventure inside EPCOT at Walt Disney World Resort, the exhibit is a tribute to a musical art form that originated by African Americans and fuses influences from many different cultures. Guests will see incredible historic artifacts from famous jazz musicians, creating a sort of "musical tour" across the United States to learn more about this colorful, inspiring, and constantly evolving genre of music.
You can hear from musician Jon Batiste, Oscar® winner for co-composing the soundtrack to Soul, talk about the importance of jazz—and what he hopes guests will take away from this exhibit, in this recent video interview with John Dennis, executive creative director at Walt Disney Imagineering.
The exhibit is open now through April—check it out, if you're able!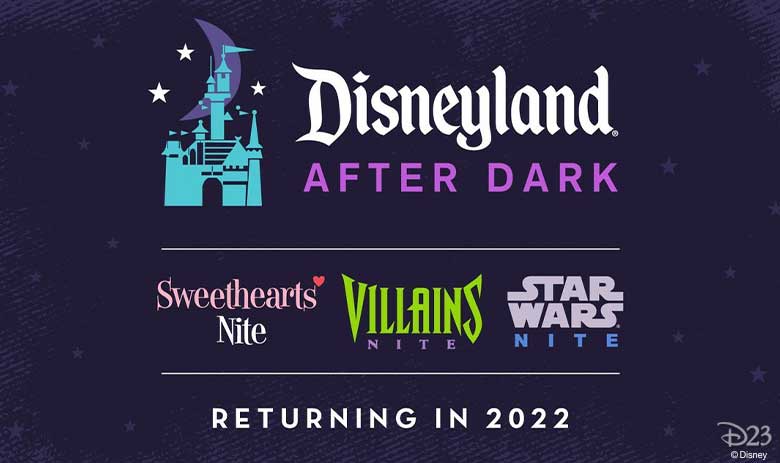 Disneyland After Dark Returns to Disneyland Resort in 2022
Yes, it's true: Disneyland After Dark events are returning to Disneyland Resort in 2022! These events take place after regular park hours and feature cool unique themes; all manner of fun festivities; special nighttime entertainment; access to most attractions with reduced wait times (cool, right?!); and so much more. Guests get to experience offerings that aren't typically available during a regular park visit—making it a super memorable adventure…
With each separately ticketed Disneyland After Dark event, guests are privy to four hours of non-stop fun after the parks close to day guests. Plus, there's a three-hour pre-party "mix-in" at the same park the event takes place in—which is included with each ticket. But that's not all: At each of these events, guests receive unlimited digital downloads of Disney PhotoPass photos* taken during the party, plus commemorative keepsakes including a souvenir credential and event guide map. So many ways to remember your Disneyland After Dark experience!
Sweethearts' Nite (February 1, 3, 8, 10, and 14, 2022, at Disneyland park) is already on sale… and look for Villains Nite (March 8 and 10, 2022, at Disney California Adventure park) and Star Wars Nite (May 3, 4, and 27, 2022, at Disneyland park) to go on sale Tuesday, January 11.
Click here to find out even more about each Disneyland After Dark event, and to buy tickets! (And if you bought a ticket for a 2020 Disneyland After Dark event, fret not; there's information on how to exchange your ticket here.)
*Disney PhotoPass service is subject to the Disney PhotoPass terms and expiration policy found at Disneyland.com/photopass-terms-conditions/. Online registration required.
Hulu Shares First Look at Dragons: The Nine Realms
Earlier this week, our friends at Hulu offered up an action-packed first trailer for Dragons: The Nine Realms, an all-new six-episode series from DreamWorks Animation.
Set 1,300 years after the events of How to Train Your Dragon, dragons are now just a legend to the modern world. When a geological anomaly opens up an immense, miles-deep fissure in the Earth's surface, scientists from all over the world gather at a new research facility to study the mysterious phenomenon. Soon, a group of misfit kids, brought to the site by their parents, uncover the truth about dragons and where they've been hiding—a secret they must keep to themselves to protect what they've discovered.
The series' voice cast includes Jeremy Shada as Tom Kullerson, Julia Stiles as Olivia Kullersen, Marcus Scribner as D'Angelo Baker, Aimee Garcia as Alexandra Gonzalez, Ashley Liao as Jun Wong, Lauren Tom as May Wong, Keston John as Philip Baker, Justina Machado as Carla Gonzalez, and D'Arcy Carden as Linda. Look for it streaming on Hulu beginning Thursday, December 23!
Disney Genie and Disney Genie+ Service Now Conjuring Magic at Disneyland Resort
Are you ready to make your next visit to Disneyland Resort easier—not to mention a lot more fun? Disney Genie and Disney Genie+ services, conveniently built right into the Disneyland app, are now available!
The Disney Genie service offers new features to help you create your best Disney day. At the heart of the service are helpful components like a personalized itinerary creator; users will receive attraction and dining recommendations inspired by what they've told the Disney Genie they're most interested in doing and seeing. But if they need to swap out an option, no problem! Disney Genie will continue to offer new suggestions throughout the day, so they can make the most of their visit. The Disney Genie service also offers additional features like a personal tip board to see favorite attractions and dining options in one central place, and forecasted future attraction wait times, helping predict the best time to visit during the day. Similar to a navigation app on one's phone, Disney Genie does all the work behind the scenes and updates itineraries continually from morning to night.
As for Disney Genie+, it's available for $20 per ticket per day and allows guests to select the next available arrival window for Disney Genie+ Lightning Lane entrances at select attractions at both Disneyland park and Disney California Adventure park, one at a time (subject to limited availability; limit one Lightning Lane selection per experience each day). Disney Genie+ also includes unlimited Disney PhotoPass digital photo downloads, as well as new audio experiences that let guests discover the parks in all-new ways.
So, make sure to download the latest version of the Disneyland app, and keep your notification and location services are turned on so you can enjoy all of the app's new features. Visit Disneyland.com/Genie for more details—and take a look at the helpful new video, above. We'll see ya down there!
Disney Channel's Secrets of Sulphur Springs Season 2 Begins This January
If you're in the mood for some spooky fun, mark your calendars for the season 2 premiere of Secrets of Sulphur Springs on January 14! Check out the trailer the good folks over at Disney Channel premiered earlier this week, above.
In season two, Griffin (Preston Oliver) and Harper (Kyliegh Curran) unravel new mysteries about The Tremont, and Harper follows the real ghost back to the 1930s to learn more about her family's deep-seated connection to the hotel. When the power source to the time machine is unintentionally taken and the portal disappears, Harper becomes trapped in the past with her great-uncle Sam and great-great-grandfather Elijah, while her great-grandmother Daisy is left to navigate the present. With help from Savannah (Elle Graham) from her new life in 1962, the friends attempt to fix the time machine and bring back the portal before it's too late and their lives are forever changed.
Additional series regulars returning for season two include Josh Braaten as Griffin's father, Ben; Kelly Frye as Griffin's mother, Sarah; Landon Gordon as Griffin's younger brother, Wyatt; Madeleine McGraw as Griffin's younger sister, Zoey; and Diandra Lyle as Harper's mother, Jess. Recurring stars in season two include Johari Washington as Topher Dunn, Harper's brother; Ethan Hutchison as young Sam Tremont, Harper's great-uncle as seen in the 1930s; Eugene Byrd as adult Sam Tremont, as seen in the 1960s; Kenneisha Thompson as Grace Tremont, Harper's great-great-grandmother; and Robert Manning Jr. as Elijah Tremont, Harper's great-great-grandfather.
Catch up on the first season of Secrets of Sulphur Springs now via Disney+ and DisneyNOW.
ICYMI: Handmade Warmth from Arendelle Castle Yule Log: Cut Paper Edition
D23 recently spoke with Disney Animation visual development artist Brittney Lee about a unique project she designed for this year's holiday season: the Arendelle Castle Yule Log: Cut Paper Edition, which begins streaming on Disney+ Friday, December 17. Find out what went into creating and photographing this fully handmade work of art by clicking here.