By Beth Deitchman
Disney releases combined to win five Academy Awards® during The Oscars®, which aired live last night on ABC. Searchlight Pictures' Nomadland earned three Oscars: Best Motion Picture, Best Actress in a Leading Role, and a history-making win for its director, Chloé Zhao. Zhao became the first Chinese woman to receive the Oscar for Best Achievement in Directing and she's just the second woman to win the award in the Oscars' 93-year history.
As she reflected on her Nomadland journey and on what inspires her to keep going, Zhao expressed her enduring belief that "People are inherently good," and she shared that she's found that goodness in people wherever she's gone in the world. "This," Zhao said, "is for anyone who had the faith and the courage to hold on to the goodness in themselves and to hold on to the goodness in each other, no matter how difficult it is to do that."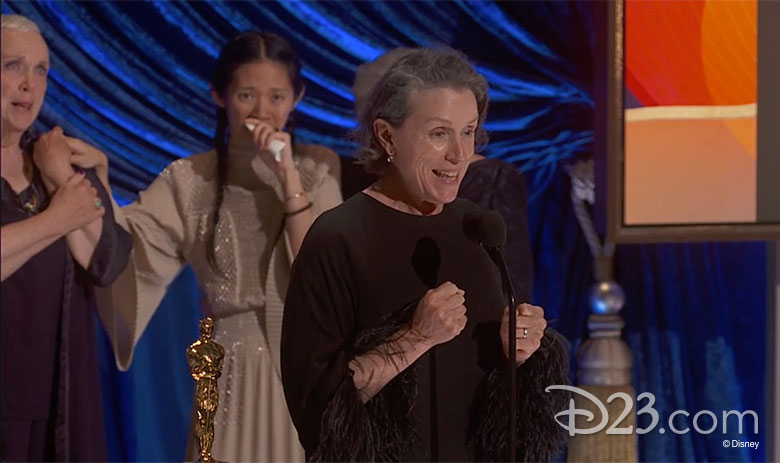 Frances McDormand stars in Nomadland as Fern, who packs up her van and takes to the road to explore life outside of conventional society, following the death of her husband and the economic collapse of the Nevada mining town she's called home. Accepting her award for Best Actress in a Leading Role, she said, "I have no words. My voice is in my sword. We know the sword is our work. And I like work. Thank you for knowing that, and thanks for this."
Disney and Pixar's Soul—the film that asks the question, "What is it that makes you…YOU?"—received two Oscars for Best Animated Feature and Best Original Score. As home to Disney and Pixar's Soul, Disney+ received its first Oscar wins since launching in 2019. Additionally, Soul earned Pixar the studio's 11th Best Animated Feature Film award, and it marks the third Oscar for Soul director and Pixar Chief Creative Officer Pete Docter, who previously won for Up and Inside Out.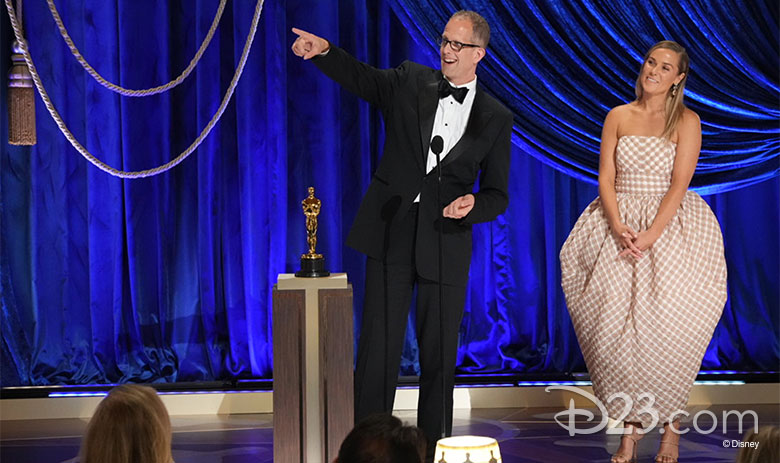 "This film started as a love letter to jazz but we had no idea how much jazz would teach us about life. We don't get to control what happens but we can, like a jazz musician, turn whatever happens into something of value and beauty," said Docter, who accepted the Oscar for Best Animated Feature with the film's producer, Dana Murray. Noting that Soul's protagonist, Joe Gardner, is a music teacher, Docter expressed his gratitude to music and art teachers everywhere. "You make the world a better place," Docter said, adding, "My wish for all of us tonight is that we can follow the example of jazz musicians, wherever we are, whatever we have, and turn it into something beautiful."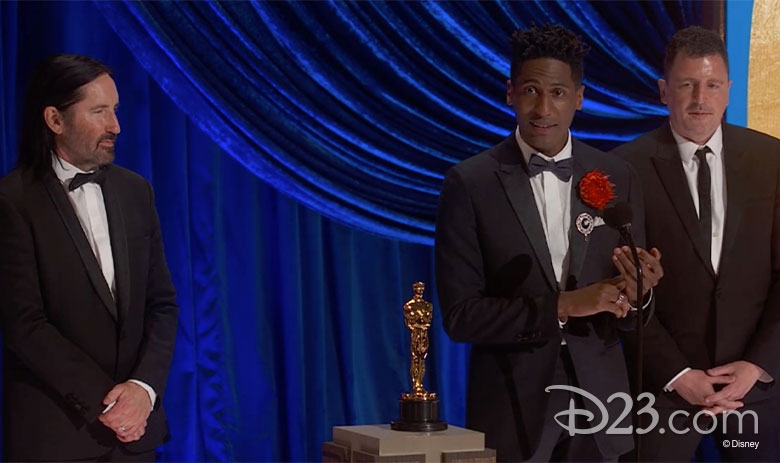 The film's unforgettable music, which drifts between the real and soul worlds, was also honored with the Oscar for Best Original Score. "You know what's deep is God gave us 12 notes, it's the same 12 notes Duke Ellington had, Bach had… Nina Simone," Batiste said. "Every contribution with music that comes from the divine into the instruments, into the film, into the minds and hearts and souls of every person who hears it, the stories that happen when you listen to it and watch it and the stories you share, the moments you create, the memories you make. Man, it's just so incredibly special."
Of course, the Oscar wins weren't the only Disney magic we experienced during the live broadcast, which the show's producers created with an "awards-show-as-a-movie approach."
Disney fans watching The Oscars on ABC were the first to see the inaugural teaser trailer for Steven Spielberg's West Side Story, from 20th Century Studios. The new film adaptation of the musical West Side Story will open in U.S. theaters on December 10, 2021.
Academy Award winner Steven Spielberg directs from a screenplay by Pulitzer Prize and Tony Award® winner Tony Kushner. This reimagining of the beloved musical, which tells the classic tale of fierce rivalries and young love in 1957 New York City, stars Ansel Elgort (Tony); Rachel Zegler (María); Ariana DeBose (Anita); David Alvarez (Bernardo); Mike Faist (Riff); Josh Andrés Rivera (Chino); Ana Isabelle (Rosalía); Corey Stoll (Lieutenant Schrank); Brian d'Arcy James (Officer Krupke); and Rita Moreno (as Valentina, who owns the corner store in which Tony works). Moreno, who is one of only three artists to be honored with Academy, Emmy®, GRAMMY®, Tony®, and Peabody Awards, also serves as one of the film's executive producers.
The film's creative team brings together the best of both Broadway and Hollywood and includes Kushner, who also serves as an executive producer; Tony Award winner Justin Peck, who choreographed the musical numbers in the film; renowned Los Angeles Philharmonic conductor and GRAMMY Award winner Gustavo Dudamel, who helmed the recording of the iconic score; Academy Award-nominated composer and conductor David Newman (Anastasia), who arranged the score; Tony Award-winning composer Jeanine Tesori (Fun Home, Thoroughly Modern Millie), who supervised the cast on vocals; and Grammy-nominated music supervisor Matt Sullivan (Beauty and the Beast, Chicago), who served as executive music producer for the film. The film is produced by Spielberg, Academy Award-nominated producer Kristie Macosko Krieger, and Tony Award-winning producer Kevin McCollum. West Side Story has been adapted for the screen from the original 1957 Broadway show, with book by Arthur Laurents, music by Leonard Bernstein, lyrics by Stephen Sondheim, and concept, direction, and choreography by Jerome Robbins.
Below is the complete list of The Walt Disney Company's Oscar winners for 2021; to view the full list of winners, visit the Oscars site now.
Nomadland (Searchlight Pictures): 3 Academy Awards
Best Motion Picture—Frances McDormand, Peter Spears, Dan Janvey, Mollye Asher, Chloé Zhao
Best Actress in a Leading Role—Frances McDormand
Best Achievement in Directing—Chloé Zhao
Soul (Pixar Animation Studios / Walt Disney Studios Motion Pictures / Disney+ / Disney Music Group): 2 Academy Awards
Best Animated Feature—Pete Docter, Kemp Powers, Dana Murray
Best Original Score—Jon Batiste, Atticus Ross, Trent Reznor