By Zach Johnson
Hollywood's biggest night is almost here!
ABC will broadcast the 93rd Oscars® live on Sunday, April 25, at 8 p.m. ET/5 p.m. PT, but the fun and the glamour will begin way before the first winner's name is announced! From dynamic pre-shows and post-shows to comprehensive podcasts, this is an awards season unlike any other. Here's everything you need to know about Oscars Sunday (and beyond):
How and when can I watch the pre-shows?
ABC News will kick off Oscar Sunday with five hours of live coverage from Los Angeles. Oscars Countdown, LIVE! will air Sunday, April 25, from 1–4 p.m. ET. Hosted by ABC's Chris Connelly and Janai Norman, the special will highlight Hollywood's transformative year and the impressive careers of several nominees, and also include a special tribute to Best Actor nominee Chadwick Boseman. Connelly and Norman will be joined by special contributor Kelley Carter, Senior Entertainment Reporter for ESPN's The Undefeated; Variety's Clayton Davis and Elizabeth Wagmeister; and celebrity stylist Joe Zee. Then, with a countdown clock ticking down to Hollywood's biggest night, ABC News Live will present the two-hour special Oscars Countdown, LIVE! Beginning at 4:30 p.m. ET/1:30 p.m. PT. The glamorous special will feature live celebrity interviews, entertainment and fashion reports, and more. Then, at 6:30 p.m. ET/3:30 p.m. PT, Ariana DeBose and Lil Rel Howery will host Oscars: Into the Spotlight. The special will highlight the nominees' journey to Hollywood's biggest night, give fans around the world the ultimate insiders' look at the party—and, for the first time, bring Oscar music to the festivities. The show will include a special appearance by DJ Tara.
Who are the performers?
Celeste, H.E.R., Leslie Odom Jr., Laura Pausini, Daniel Pemberton, Molly Sandén, and Diane Warren will perform their nominated songs in full during Oscars: Into the Spotlight. One performance will be recorded in Húsavík, Iceland; the other performances will be recorded at the Dolby® Family Terrace at the Academy Museum of Motion Pictures in Los Angeles.
Where can I download a printable ballot?
Our friends at ABC.com have made it easier than ever to make and track your predictions.
How can I watch the Oscars?
The 93rd Oscars® will be held on Sunday, April 25. They will be televised live on ABC and in more than 225 territories worldwide starting at 8 p.m. ET/5 p.m. PT. You can watch the ceremony on your television or live stream it via abc.com or the ABC app. If you're unsure if you can access the ABC live stream, visit the ABC.com FAQ for the details.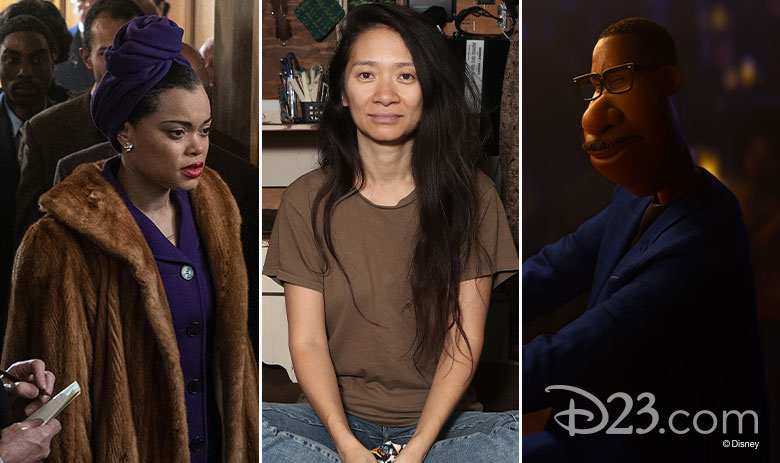 Who are the nominees?
The Walt Disney Company received 15 nominations across 12 categories. Nomadland leads the pack with six nods, followed by Soul with three and Mulan with two. The One and Only Ivan, Onward, and The United States vs. Billie Holiday and the short film Burrow are also being recognized across a number of categories. For a more detailed breakdown, click here.
Which celebrities will be in attendance?
In addition to nominees appearing from various locations around the world, producers have assembled a stellar cast of presenters that includes Riz Ahmed, Angela Bassett, Halle Berry, Bong Joon Ho, Don Cheadle, Bryan Cranston, Viola Davis, Laura Dern, Harrison Ford, Regina King, Marlee Matlin, Rita Moreno, Joaquin Phoenix, Brad Pitt, Reese Witherspoon, Steven Yeun, Renée Zellweger, and Zendaya. Additional talent joining the show will be announced in the days leading up to the show. Filmmaker Tyler Perry will also be presented with the Jean Hersholt Humanitarian Award.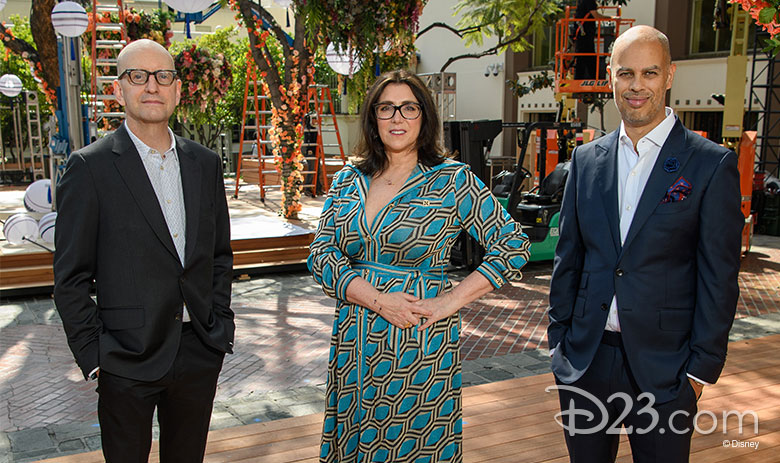 Who is on the production team?
Jesse Collins, Stacey Sher, and Steven Soderbergh are producing this year's ceremony. Glenn Weiss is returning to direct his sixth Oscars telecast. The crew includes supervising producer Rob Paine; co-producers Dionne Harmon, Raj Kapoor, and Jeannae Rouzan-Clay; talent producer Taryn Hurd; head writer Jon Macks; writers Amberia Allen, Rodney Barnes, dream hampton, Richard LaGravenese, and Mitchell Marchand; musical director Questlove; production designer David Rockwell; lighting designer Robert Dickinson; and many others.
Where is this year's ceremony taking place?
The Oscars will be held at Union Station Los Angeles and at the Dolby Theatre at Hollywood & Highland Center® in Hollywood, and international locations via satellite.
Will there be an Oscars post-show?
Hosted by Colman Domingo and Andrew Rannells, Oscars: After Dark will air immediately after the ceremony. Featuring interviews by film critic Elvis Mitchell, the special will feature show highlights and interviews with winners as they get their awards personalized.
Live with Kelly and Ryan's After Oscar Show will return on Monday, April 26, airing in national syndication (check local listings for time and station). In keeping with the Oscars' theme of "Bring Your Movie Love," the annual special is a love letter to films past and present, as well as a salute to the legendary awards ceremony. In a prerecorded bit, hosts Kelly Ripa and Ryan Seacrest will spoof classic films such as Braveheart, Casablanca, Forrest Gump, Mommie Dearest, and The Wizard of Oz. To meet the challenges of this extraordinary year, Live's After Oscar Show will attend the festivities virtually. As always, Ripa and Seacrest will be the first to speak with the winners after they accept their Oscars. The broadcast also will include a video valentine to the cinema, with celebrities such as Ciara Bravo, Kristin Chenoweth, Cynthia Erivo, Arsenio Hall, Jimmy Kimmel, Dylan McDermott, David Muir, Lionel Richie, and more sharing their favorite movies of all time. In addition, Ripa and Seacrest will recap the red carpet fashions of the nominees, presenters, and other participants; they will be joined by Carson Kressley and Cheslie Kryst. The "Predict the Winners Ballot Contest" will also return this year. Live has partnered with Dr Pepper Zero Sugar, and one entrant with the most correct answers will win a grand prize of $10,000. In addition, all viewers who fill out a ballot will be entered to win $5,000.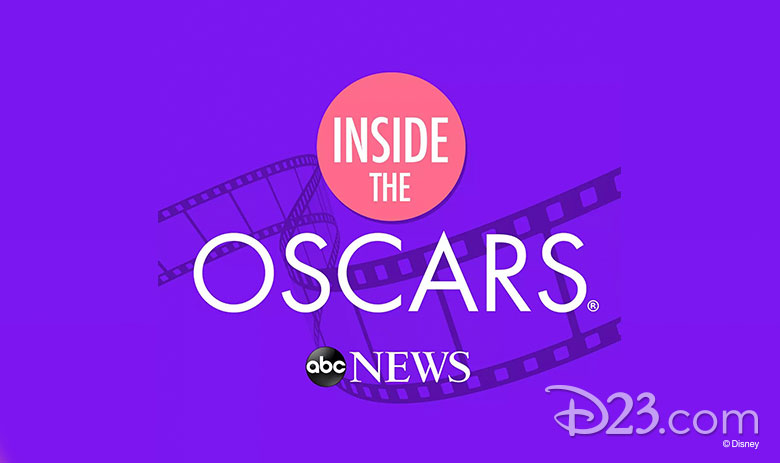 Where can I stream ABC Audio's Oscars podcast?
The new podcast Inside the Oscars, hosted by ABC News' Ginger Zee, dives even deeper into an Oscar Sunday that will be unlike any other. The six-part series features reporting by Carter, Connelly, Norman, and ABC News Radio Entertainment Correspondent Jason Nathanson. Inside the Oscars is available for free on major listening platforms, including the ABC News app, Amazon Music, Apple Podcasts, Google Podcasts, iHeartRadio, Spotify, and TuneIn. The final episode will be released Monday, April 26, following the 93rd Oscars.
Will any other networks be celebrating the Oscars this weekend?
Freeform's "Oscar Funday Movie Weekend" will start Saturday, April 24, with Lilo & Stitch at 7 a.m. ET/PT, followed by Finding Nemo at 9 a.m. ET/PT, Up at 11:30 a.m. ET/PT, Zootopia at 1:40 p.m. ET/PT, Ratatouille at 4:10 p.m. ET/PT, Moana at 6:50 p.m. ET/PT, Wreck-It Ralph at 9:20 p.m. ET/PT, and Cars at 11:25 p.m. ET/PT. The movie marathon will continue on Sunday, April 25. The East Coast broadcast (ET) will include Mary Poppins at 7 a.m. and 10 a.m.; Monsters, Inc. at 1 p.m.; Toy Story 3 at 3 p.m.; Coco at 5:30 p.m.; Shrek at 8 p.m.; Shrek 2 at 10 p.m.; and Shrek Forever After at 12 a.m. The West Coast broadcast (PT) will include Mary Poppins at 7 a.m. at 5 p.m.; Monsters, Inc. at 10 a.m.; Toy Story 3 at 12 p.m.; Coco at 2:30 p.m.; Shrek at 8 p.m.; Shrek 2 at 10 p.m.; and Shrek Forever After at 12 a.m.
FX will air a three-day marathon featuring Oscar nominees and winners from years past, including Bohemian Rhapsody, Hidden Figures, The Lord of the Rings: The Fellowship of the Ring, The Martian, The Shawshank Redemption, and Spider-Man: Into the Spider-Verse. The marathons will begin at 4 p.m. ET/PT on Friday, April 23; at 8:30 a.m. ET/PT on Saturday, April 24; and at 8 a.m. ET/PT on Sunday, April 25. FXX, meanwhile, has planned a two-day Oscars-themed marathon of The Simpsons, starting at 12 p.m. ET/PT on Saturday, April 24, and at 7 a.m. ET/PT on Sunday, April 25. Since Monday, FXM/Retro has been playing Oscar-nominated and -winning films spanning the past eight decades, including Alien; Aliens; Anna and the King of Siam; BlacKkKlansman; Blood and Sand; Can-Can; Cocoon; Dawn of the Planet of the Apes; Fantastic Voyage; Get Out; The Ghost and Mrs. Muir; The Greatest Showman; The Hot Rock; The Hustler; Hush… Hush, Sweet Charlotte; My Cousin Vinny; My Gal Sal; The Ox-Bow Incident; Passengers; Patton; The Post; The Revenant; Rise of the Planet of the Apes; Selma; The Shape of Water; Straight Outta Compton; Three Billboards Outside Ebbing, Missouri; Three Coins in the Fountain; and Von Ryan's Express. FXM/Retro's marathon will continue leading up until the 93rd Oscars air on ABC Sunday.
Many other Oscar-nominated and -winning films are also available on Disney+ and Hulu.