By Zach Johnson
Jamie Foxx may provide the voice of Joe Gardner in Soul, but Jon Batiste provides his hands. "When you see Joe's hands playing in the film, that's Jon's playing," producer Dana Murray says. "Our animators studied reference footage of Jon at the piano to capture details of how he plays—everything from how his fingers move to the breaths he takes." Grammy® nominee Batiste handled the original jazz compositions and arrangements for the film, while Oscar® winners Trent Reznor and Atticus Ross composed an original score.
In an exclusive Q&A with D23, Batiste opens up about his work as a musician and a consultant on Soul, premiering exclusively on Disney+ (where available) on December 25.
D23: The Official Disney Fan Club: In your first meetings with Pixar, what were some of the early ideas you pitched director Pete Docter and co-director Kemp Powers, who wrote the script with Mike Jones? And how did that evolve as production progressed?
Jon Batiste (JB): I pitched the idea of putting together a large, multi-generational ensemble that would feature a range of musicians from living jazz legends to young lions. We were able to do that over the course of several recording sessions, which is a historic feat! The age range of the band is 95 years old to 19 years old. I mean Roy Haynes, who played some drums for us, played with Louis Armstrong!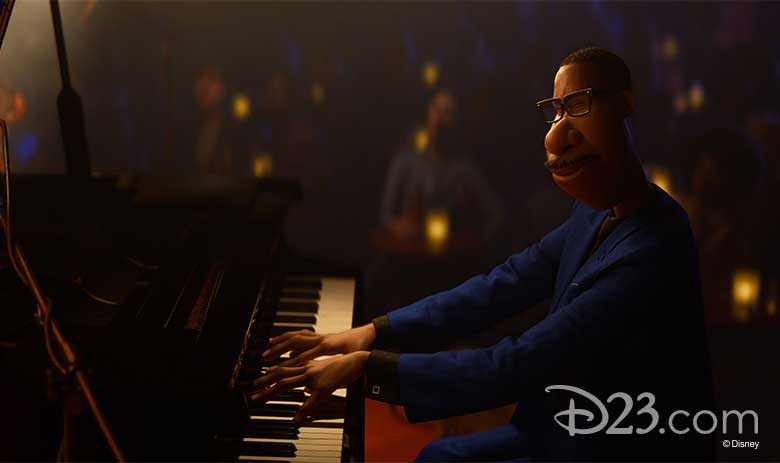 D23: Are there any specific jazz musicians that inspired your work on Soul?
JB: I created a unique style for the film that was influenced by Thelonious Monk, Duke Ellington, Roy Hargrove, Cassandra Wilson, Nina Simone, Louis Armstrong, and many, many others.
D23: What made you want to get involved with a Pixar film—and Soul in particular?
JB: Pixar is home to some of the world's best storytellers. Also, Pixar has such a distinct style, which is something artists all strive for. It's rare to be able to blend wholesomeness and high artistry, all wrapped in universal themes that draw from a diverse range of cultures and sensibilities. These are all core values of mine and no one else in the world does it like Pixar can at such a high level. It's been a dream come true.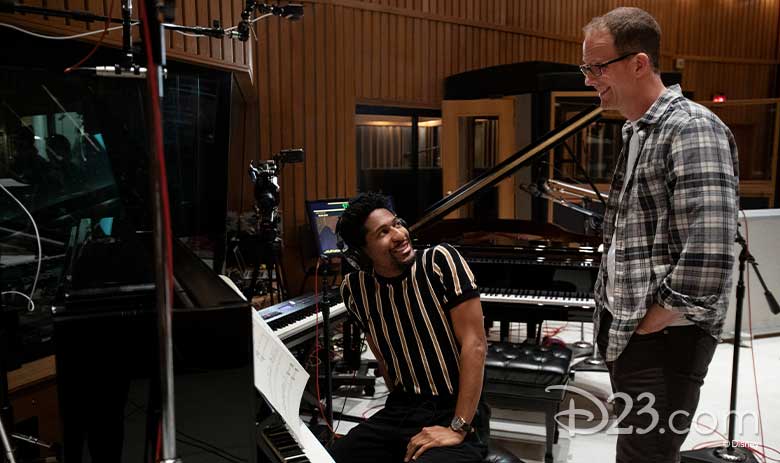 D23: Were you in touch with Nine Inch Nails' Trent Reznor and Atticus Ross to make sure your compositions complemented each other, or did you want to keep that separate?
JB: The songs and the score mostly exist in separate worlds—Earth and The Great Before—so it worked better for us to not communicate at the start of the creative process since we wanted there to be a contrast between the two worlds. Once we were further into the process, we played each other some of the music, and that's when their music started to influence my approach more. There are moments when our worlds collide, and for those moments, we collaborated on the music together. It really was the blending of two worlds. My creative process was completely different from theirs. Figuring that out with them were some of my favorite moments in the studio.
D23: Soul aside, what are your favorite music memories associated with Disney and Pixar?
JB: The music in Aladdin changed my life. What a brilliant score and remarkable way to incorporate middle eastern culture. The 1953 animated Peter Pan with music done by Oliver Wallace was orchestrated beautifully! So was Fantasia! Also, the music Randy Newman wrote for Toy Story stands in the top five of all-time great movie music for me.
Get even more insights and revelations from Batiste—as well as from the cast and creatives behind Soul—in the Winter 2020 issue of Disney twenty-three, offered exclusively to D23 Gold and Gold Family Members as a benefit of their membership.