By Courtney Potter
Imagine gathering by a cozy hearth this holiday season, celebrating family and toasting to the coming of a fresh new year. Sounds absolutely lovely… but what if you don't have a fireplace? Never fear: Our friends at Walt Disney Animation Studios and Disney+ are once again providing homes near and far with a virtual version sure to warm your heart.
Themed to the world of Frozen and Frozen 2, Arendelle Castle Yule Log: Cut Paper Edition—which debuts on the streaming service on Friday, December 17—features beloved characters Anna, Elsa, Olaf, Kristoff, and Sven around Arendelle Castle's fireplace (known as the location for many a "Family Game Night"). What makes this year's yule log fantastically unique is that it's handmade… and we truly mean handmade. What you'll see on your TV screen (or streaming device of choice) is a high-resolution image of an incredible paper art sculpture designed and created by Disney Animation visual development artist Brittney Lee.
D23 recently spoke with Lee, the production designer for the short Myth: A Frozen Tale (now streaming on Disney+), about what made this project so very special: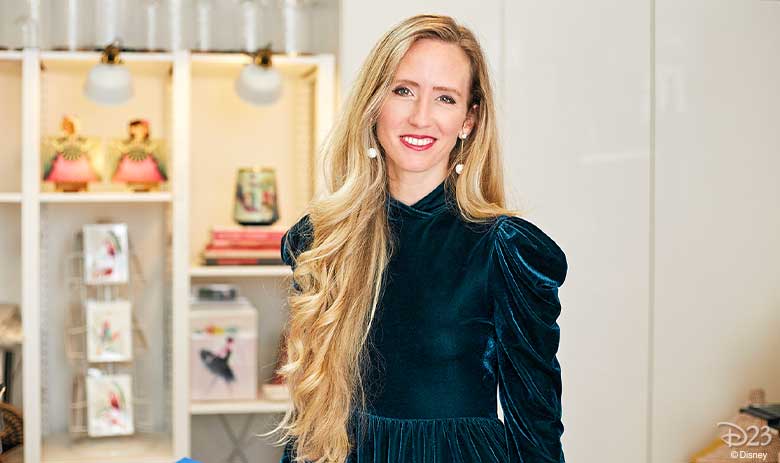 On returning to a familiar world…
"I am so immersed in Frozen at this point that it feels like home. It almost feels like I never left," Lee admitted. "I never thought in a million years someone was going to be asking me to design a yule log—but the idea of it being the family at home in Arendelle made total sense to me. It was really comfortable and easy to a point where, I'm used to stressing over getting something done, but this was just very natural—because it felt like the pieces exist in Arendelle already. So, it was mostly just composing a 'family picture' of that; making it cozy and feel like a tactile piece that could be a little 'vignette' in front of a fireplace, or a shadowbox you put on your mantle."
On what the process was like…
At her home studio in Southern California, Lee mapped out her images and then cut the pieces from sturdy cardstock paper using a precision craft-carving knife. "I think I cut the majority of the yule log piece all on one day… The idea behind it is that all of these different layers are cardstock, stacked," she said. "They're about 32 inches by 20 inches, stacked, and there are probably five or six different layers." The finished-product Arendelle Castle Yule Log: Cut Paper Edition that viewers will see on their Disney+ screens is not a digital scan of the artwork. "Scanning collapses the depth for my pieces," Lee explained. "I photographed some 'works in progress' just to see the detail levels on them… then I took a photo and I processed it, so that it's the right dimensions; the right aspect ratio; and to make sure my feet aren't in the image," she laughingly admitted.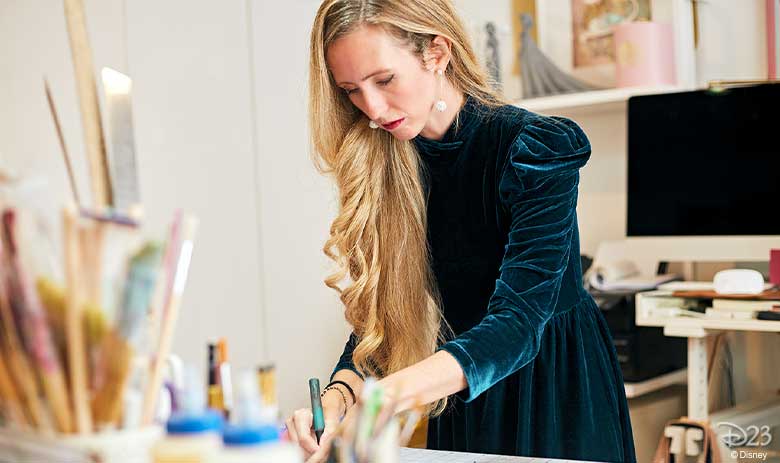 "We took that photo and broke it into layers, so that they can be processed in depth with our CGI artists… One thing that I haven't ever done tactilely in real life, with my own work, is add the element of backlighting. Since it's a fireplace, it feels like lighting could be alive… [so] it was really important that we try to capture that [practically] rather than digitally," she continued. "It was a huge question mark for me. I'm pretty confident that I can compose a front-lit image out of paper; I know how to do that and I can make it look good. But I am not a professional photographer, nor do I have a lot of experience with LED lighting. So, there was a bit of trial and error at my house—trying to figure out the best way to photograph it, and the best temperature of lights to use, to get the photo closest to the concept."
On how the artists at Walt Disney Animation Studios help bring the image to life…
"We have an effects animator helping us to figure out what the design of the animated fire will look like," Lee explained. "I cut each frame of the fire out [of vellum, a kind of opaque paper], and hopefully it'll have a stop-motion feel to it." Keep an eye out for other animated touches, like glittering snow—"very subtly, so that you get that mix of a warm fire, but also paying homage to Elsa"—as well as certain diamond shapes incorporated into the flames of the fire: "Those are used all throughout Frozen 2, and were a huge design element for us in Myth: A Frozen Tale," she added.
…Any other Easter eggs viewers should look out for?
"It just made sense, because this was a cozy scene by the fire, that everybody should be in their pajamas," said Lee. And guess what? She designed Elsa's original pajama gown for Frozen 2—"another full-circle thing."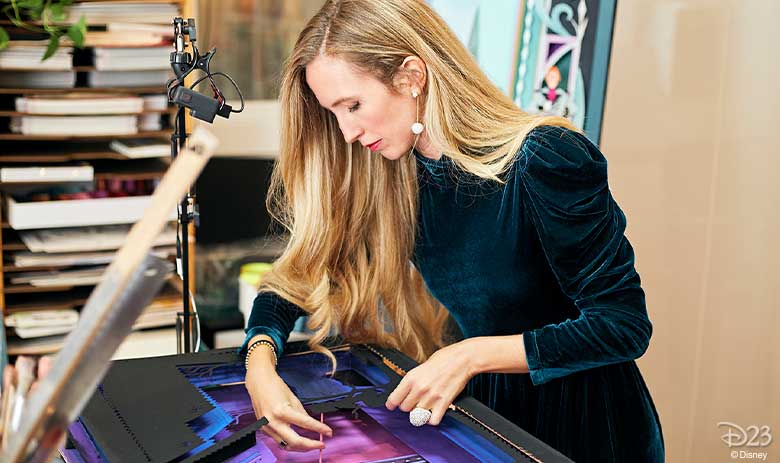 On how she began with paper art in the first place…
"I started working with paper about a decade ago," she explained. "I'm so used to working digitally for every job that I've ever done, so I wanted to work on a project for myself where I could focus on something tactile… there's a bunch of artists through the years who've focused on paper, and [it soon became clear] how experimental it can be—the added depth of pieces of paper. There's something magical to it that invites you in. So, I started experimenting with it on a single piece that took me forever, but I fell in love with it—and I've been experimenting ever since."
On what Lee hopes Disney+ viewers take away from in this year's Arendelle Castle Yule Log: Cut Paper Edition …
"I don't have a fireplace in my house," the artist said, "so during the holidays, I'll often end up putting on a yule log [on my TV] just to have that feeling. Hearths in general are so warm and so inviting and so much about family. I wanted to bring people together, and Frozen already does that so well. And I think the neat thing about Frozen, and Disney in general, is that there's always that added touch of magic. I think that's what we're trying to do here… I'm hoping that everybody will enjoy it!"
Look for Arendelle Castle Yule Log: Cut Paper Edition beginning Friday, December 17—only on Disney+!