By Courtney Potter
Disney and Pixar's Soul: Hear from Jon Batiste and Watch a New Trailer!
Jazz musician Jon Batiste—a Grammy® nominee known currently as the band leader on The Late Show with Stephen Colbert—has contributed music to the upcoming Disney and Pixar film Soul… and now, we get a sneak peek at one of his songs! The above clip features Batiste playing his original song "Born to Play" as well as a brand-new look at the film itself.
Pixar Animation Studios' Soul introduces audiences to Joe Gardner, a middle-school band teacher who gets the chance of a lifetime to play at the best jazz club in town. But one small misstep takes him from the streets of New York City to The Great Before. Adventures ensue, and Joe may finally find himself uncovering answers to some of life's most important questions.
Also featuring the voices of Daveed Diggs, Phylicia Rashad, Angela Bassett, and Ahmir "Questlove" Thompson, the film—directed by Academy Award® winner Pete Docter (Inside Out, Up) and co-directed by Kemp Powers (One Night in Miami)—begins streaming exclusively on Disney+ beginning December 25. Don't miss it!
5 Fantastic Things to Watch This Weekend
Halloween in finally here, and don't be scared—there are lots of frightfully fun things to watch this weekend from around the worlds of Disney. So break out the peanut butter cups and settle in for a new episode of One Day at Disney on Disney+; Modern Family's Julie Bowen taking ABC's Who Wants to Be a Millionaire by storm; and (naturally) an airing of the fan-favorite Halloween staple Hocus Pocus on Freeform!
News from the World of Disney+'s The Mandalorian
This Friday, October 30, is not only the portal to a weekend full of Halloween fun… it also means a brand-new season of the acclaimed Disney+ series The Mandalorian! Yes, the time has finally come to follow the titular bounty hunter (Pedro Pascal) and the Child across the galaxy as they embark on thrilling new adventures in season two.
If you need a bit of a refresher before you launch into the next season, you're in luck: our pals at StarWars.com recently dropped a video recap of season one, which you can take a gander at above. But that's not all… If you read D23.com with any regularity, you know we're huge fans of Mando too—so we've come up with our own rundown of where we left off at the end of season one. (Be warned, however: Both the video and the article obviously contain some spoilers!)
Should you feel the need to bring some Mandalorian fun into your home, independent of the series streaming on the device of your choice, do be sure to check out Mando Mondays—where new goods inspired by the series debut every Monday from now until December 21! The first Mando Monday was earlier this week, and featured sneakers from Adidas, makeup from ColourPop, and toys from Hasbro and Mattel. For more info, and to join in on the next go 'round, keep those eyes peeled on MandoMondays.com.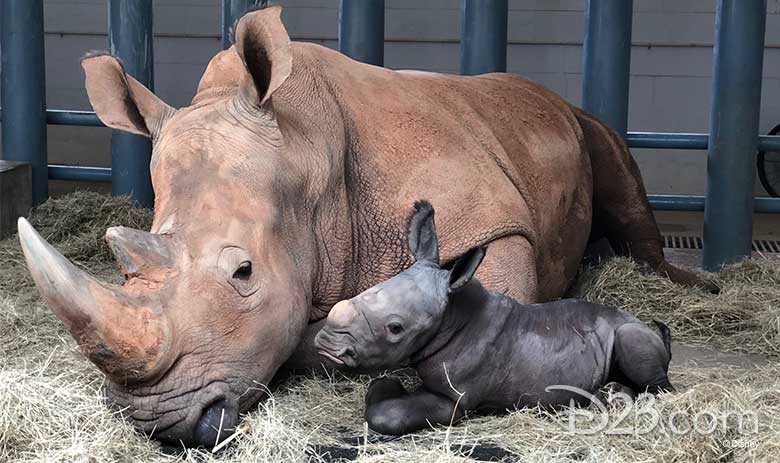 Disney's Animal Kingdom Welcomes Endangered White Rhino Calf
Baby animals of all stripes (pun intended) are just the kind of adorable we need in the world today. But when they also help to repopulate an endangered species, that's even better! Case in point: The good folks over at Disney's Animal Kingdom park at Walt Disney World Resort recently welcomed a baby white rhinoceros, bolstering the park's efforts to save the magnificent species.
Following a 16-month pregnancy, the male calf weighing approximately 150 pounds was born to mom Kendi, herself the first rhinoceros born at Disney's Animal Kingdom back in 1999. This birth marks the 11th white rhino calf born at Walt Disney World Resort. Although rhinos are sociable by nature, the calf is now resting, nursing, and bonding with his mom. The yet-to-be-named rhino is expected to join the "crash"—that's the term for a group of rhinoceroses; no kidding!—on the theme park's savanna in the coming weeks. And in further amazing news, the animal care team is also caring for two rhinos expected to give birth in 2021. So stay tuned for further "adorable baby animal" news in the coming months!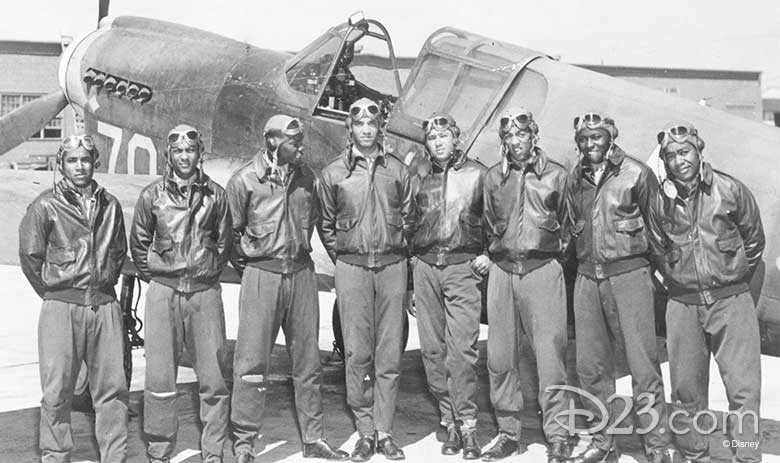 Lucasfilm Celebrates the Tuskegee Airmen with Free Educational Content
Here's a piece of American history that everyone should know… not just because of how significant it is, but because it's truly fascinating to boot. Earlier this week, Lucasfilm launched an educational initiative and social media campaign all about the Tuskegee Airmen—the first Black military aviators in the U.S. Army Air Corps
—with the goal of providing resources to both educators and students. The documentary Double Victory: The Tuskegee Airmen at War is now permanently available on Lucasfilm.com and is accompanied by an all-new educational curriculum guide for grades 6-12, created by educator Vivett Dukes.
Lucasfilm also released Celebrate the Tuskegee Airmen, a reel narrated by Hamilton star Leslie Odom Jr., which spotlights the Airmen's story and legacy. Plus, Lucasfilm will be adding written profiles on Tuskegee pilots, nurses, and ground personnel leading up to Veterans Day on November 11—and throughout the month of November, Disney+ is offering the film Red Tails for free via Lucasfilm.com. To find out more, visit Lucasfilm.com/TuskegeeAirmen.
Avast, Me Hearties: A Pirate-Filled Ride & Learn from #DisneyMagicMoments
We may all not be able to do much in-person traveling these days, but that doesn't mean we can't share in something truly thrilling—and located halfway across the globe!—for the very first time. Our pals at #DisneyMagicMoments recently debuted a very special edition of their Ride & Learn series, where we get to experience one of the coolest, most technologically advanced attractions at any Disney park…
By all accounts, Pirates of the Caribbean: Battle for the Sunken Treasure at Shanghai Disneyland is legitimately life-altering, and now we get to "ride" it from the comfort of our homes! Among this attraction's many innovations is its new, highly controlled ride system that allows the boat to spin, travel sideways, and even move backward—unlike anything guests have ever encountered in Pirates of the Caribbean before.
As always with Ride & Learn, you'll gain some fun insight into how Walt Disney Imagineering created the attraction; dive deeper into its story; and see how this new version pays tribute to its predecessors around the world. Don't be a hornswoggler—give it a looksee, above.