By Zach Johnson
The Mandalorian covered a lot of ground in season one—like, five planets' worth! Before the second season begins streaming exclusively on Disney+ on Friday, October 30, we're retracing Mando's footsteps to ensure you're all caught up on the out-of-this-world series.
This article contains spoilers for the first season of The Mandalorian.
This is the way:
Destination Unknown
At the end of season one, the Mandalorian armorer deemed The Child a foundling and instructed the titular Mandalorian, Din Djarin (Pedro Pascal), to reunite it with others of its kind. She also branded a mudhorn signet on Din's pauldron to signify that he and the child are now a "Clan of Two." Season one took Din to a number of planets—including Arvala-7, Maldo Kreis, Nevarro, Sorgan, and Tatooine—and you can bet season two will find him exploring more corners of the galaxy as he searches for The Child's mysterious species.
The armorer also spoke of "sorcerers" known as Jedi, an order of people who have since become legend five years after the Empire's defeat. Finding them could prove especially challenging for Din, as most of them were murdered after the Empire had risen to power.
Friends in Low Places
Despite being double-crossed—sometimes even triple-crossed—Din found a few allies in season one. Among them are Greef Karga (Carl Weathers), leader of the Bounty Hunters' Guild, and former Rebel shock trooper turned mercenary Cara Dune (Gina Carano), both of whom will join his adventures in season two. (The circumstances and details, of course, are being kept tightly under wraps.) Sadly, Din also lost some friends, including Kuiil (voice of Nick Nolte), who died in vain to protect The Child, and IG-11 (voice of Emmy® Award nominee Taika Waititi), whose self-sacrifice forced Din to reconsider his stance on droids.
The season finale also revealed Cara is from Alderaan, the home planet of Leia Organa (Disney Legend Carrie Fisher)… which the Death Star decimated in Star Wars: A New Hope. And while we learned Greef is a "disgraced magistrate," much is his past remains a mystery.
Enemies and frenemies—including Toro Calican (Jake Cannavale), The Client (Werner Herzog), and Ranzar Malk (Mark Boone Junior)—met their demise in season one, while a few others—including Mayfeld (Bill Burr) and Peli Motto (Amy Sedaris)—remain very much alive. And one of the biggest questions fans have been asking is who mysterious figure seen approaching Fennec Shand's (Disney Legend Ming-Na Wen) body might be…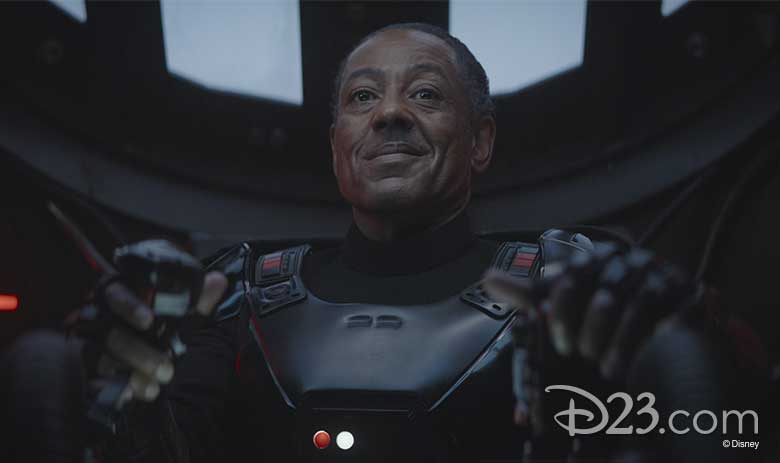 The Real Big Bad
Prior to being blasted to bits, it seemed as if The Client would stop at nothing to secure "the asset"—aka, The Child. And that was true. But it turned out The Client was small potatoes compared to by Moff Gideon (Emmy® Award nominee Giancarlo Esposito), whose ambush on Navarro resulted in The Client's quick death. After trapping the Mandalorian and his allies, he revealed secret details about each of them—including the Mandalorian's birth name, which hinted that he was somehow involved in the great "Purge of Mandalore."
Gideon is not a patient man—he killed several of his own troopers just to make a point—but he is a persistent man. After Din and his allies managed to escape through the lava tunnels, Gideon encircled them in an Outland TIE fighter, firing with abandon. Luckily, Din was able to plant two detonators on Gideon's ship, causing it to spiral out of control and crash… but that wasn't the last we'd see of him. Gideon later carved his way out of the wreckage using the Darksaber, a black-bladed lightsaber and the Mandalorian symbol of leadership. How he came to wield this weapon is unclear, but it is clear the war is not over!
What will happen next? The adventure continues when The Mandalorian season two debuts on Disney+ on October 30.