By Beth Deitchman
If you've visited Disney's Animal Kingdom Theme Park and gazed in awe at the incredible array of animals who call the park's savannas, forests, and tranquil pools home, you've only experienced part of the story. Beginning Friday, September 25, Disney+'s new docuseries Magic of Disney's Animal Kingdom, produced by National Geographic and narrated by Josh Gad, presents the ultimate behind-the-scenes look at Disney's Animal Kingdom Theme Park, Disney's Animal Kingdom Lodge, and The Seas with Nemo and Friends at EPCOT. And whether you've ridden Kilimanjaro Safaris more times than you can count, or if Magic of Disney's Animal Kingdom marks your first visit to this wondrous place, prepare to be amazed.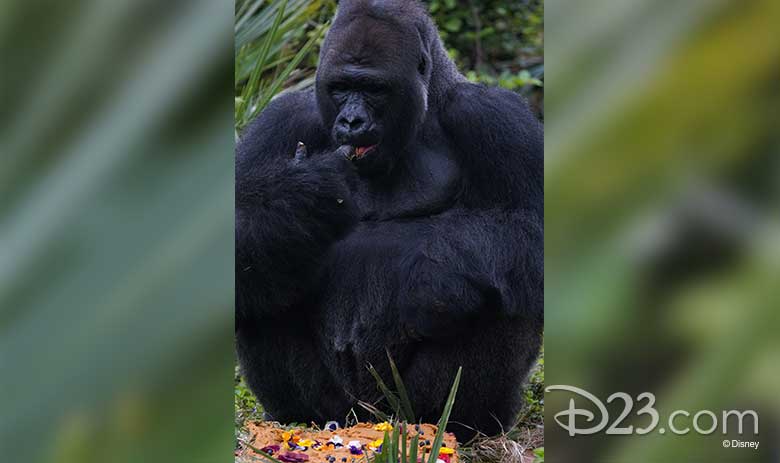 Magic of Disney's Animal Kingdom grew from "a desire to show the incredible relationships of trust between the animals and the people who take care of them, and how passionate we all are about saving these animals in the wild," Dr. Mark Penning, vice president of Disney's Animals, Science and Environment team, explains. That's evident from animal manager Rachel Daneault's unabashed joy watching western lowland gorilla Gino celebrate his 39th birthday with a storybook-worthy cake; and in the patience demonstrated by Dr. Dan Fredholm and Kenya the giraffe's keepers as they wait for her to take the one step that will place her foot in exactly the right location needed for a hoof trim. The process usually requires sedation, and this new technique will be simpler and safer for the giraffes (and—bonus!—even comes with a snack).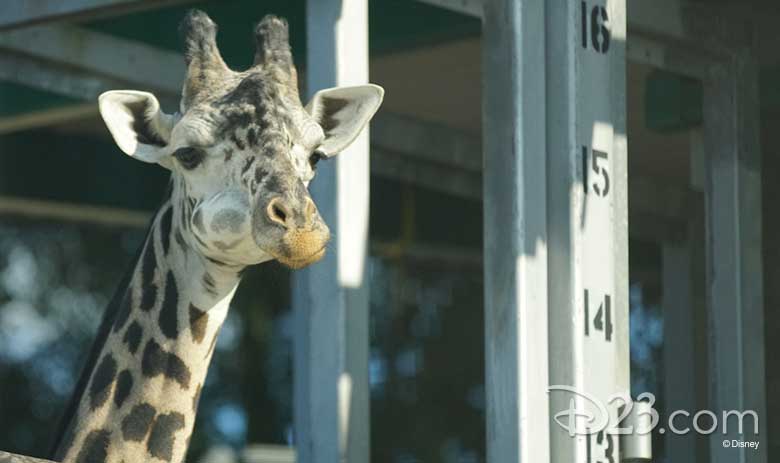 World-class storytelling is part of every Disney experience, but it's the animals themselves who drive the story in Magic of Disney's Animal Kingdom, Penning tells D23, just as they do throughout the parks. "We don't want to stress animals about anything. We want to know that they're relaxed and they're doing what they would normally do every day," he says, and those everyday activities come to life in surprising and compelling ways in the docuseries. To ensure that the cameras were never intrusive, the production sometimes looked to cranes to stay a comfortable distance from the animals, and they also used a little out-of-the-box ingenuity. "In some instances, [the camera] was an apparatus inside the animals' space, but we did it in such a way that the animals found this was a play opportunity, or they were inquisitive," Penning shares.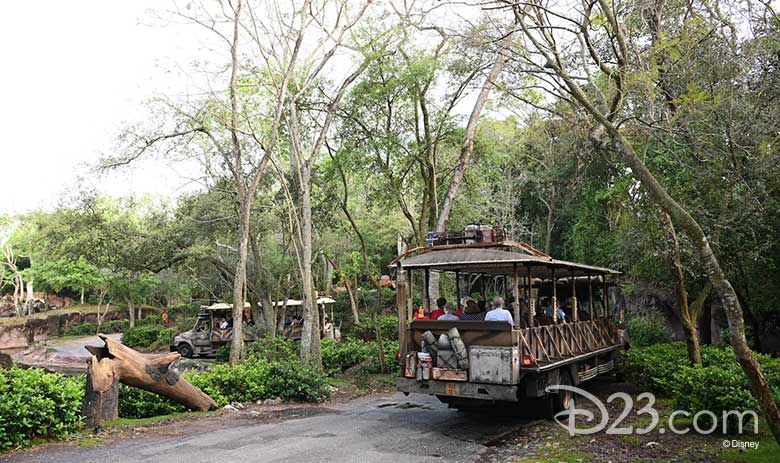 And that's the way the parks were designed: to provide an authentic experience that puts the animals first, but still delivers a memorable experience for guests. Joe Rohde, portfolio creative executive for Walt Disney Imagineering, emphasizes that the animals' health, safety, and desires were the first things taken into consideration when the parks were designed. "The presence of animals defines the entirety of the experience of Animal Kingdom," he says, noting that it informs the style of the buildings, the way the pavement is laid out, and more. "We must create a place where an animal feels at home. Then the next question we have to ask ourselves is, if all of that is true, what is the way in which we can interact with and see and experience this place that doesn't interfere with that? And then the next thing is, how can we fold that into a story that brings greater understanding, greater emotional meaning, greater impact, than simply seeing the animal? That actually informs everything in the entire park, whether you ever see an animal or not—because ultimately, everything you experience leads to a moment where you encounter an animal."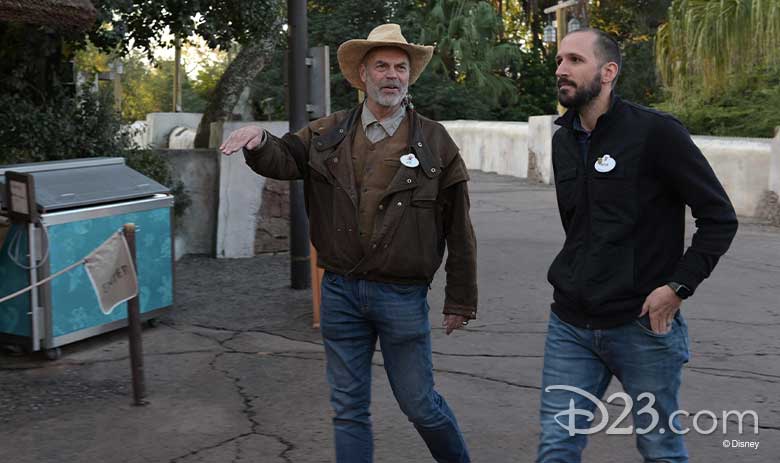 Rohde sees Disney's Animal Kingdom as "a place suffused with story, in which, when you finally see these animals, the moment is filled with additional meaning." And in many ways, the Imagineers achieve the greatest level of success in the theme park with work that is relatively invisible—in stark contrast to the thrilling and innovative attractions that they also create. In Magic of Disney's Animal Kingdom, Rohde points to moats that appear to be lovely watering holes for the animals of the savanna, but actually serve as natural barriers to ensure everyone stays within their respective habitats. Viewers of the docuseries will also watch Imagineers install a palm tree that looks as though a coconut could fall from it at any minute, but in reality, is an incredibly lifelike light designed to illuminate the elephants during the park's evening safari.
"So much of what we do, not only ourselves but the entire [Animals, Science and Environment] group, is invisible," Rohde says, and he's eager for viewers to peek behind the curtain in the docuseries. "Animal Kingdom is a place where people have far greater enjoyment of what it is the more they know. So, by putting this out there where they can see it, where they can understand what goes into it, I believe they're going to have a much richer experience of the whole place," he shares.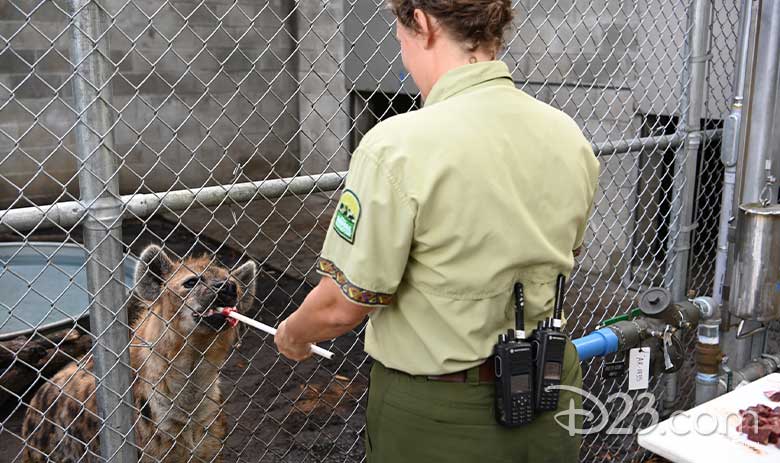 "There is so much more that happens behind the scenes than people realize. Our animals here thrive because we have an incredible team of professionals that take care of them," Penning emphasizes, adding that the team members also share a passion for protecting animals and wildlife in general.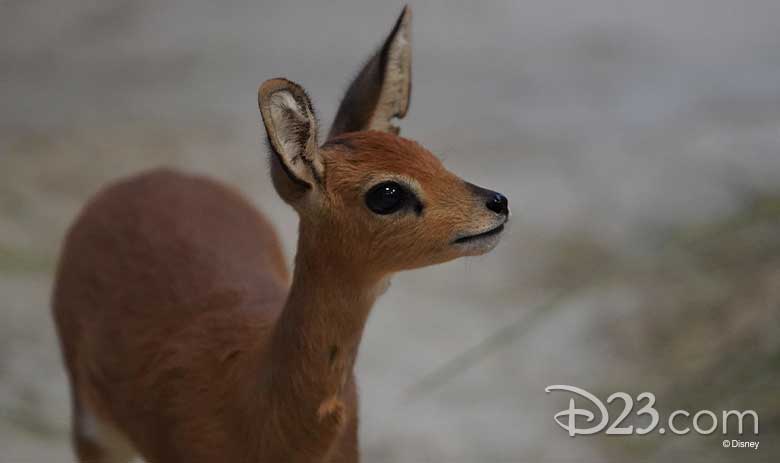 "I think that one of the most important things that I hope people take away from watching this show is the human-animal bond. I think anybody who has a beloved pet at home understands how strong that bond can be," Fredholm says. "We love these animals and there is a real, palpable bond that I hope will come across when you watch the show."
Zoological manager Rachel Daneault believes that Magic of Disney's Animal Kingdom will also show how Disney is leading the way, both in terms of innovative veterinary care at the park, and through the Disney Conservation Fund, which has directed more than $100 million to programs around the world that are working to protect wildlife and wild places. "To be able to be part of that and support that is really important to me, because I'm working with these animals, but I am looking out for the greater good of all animals," she says.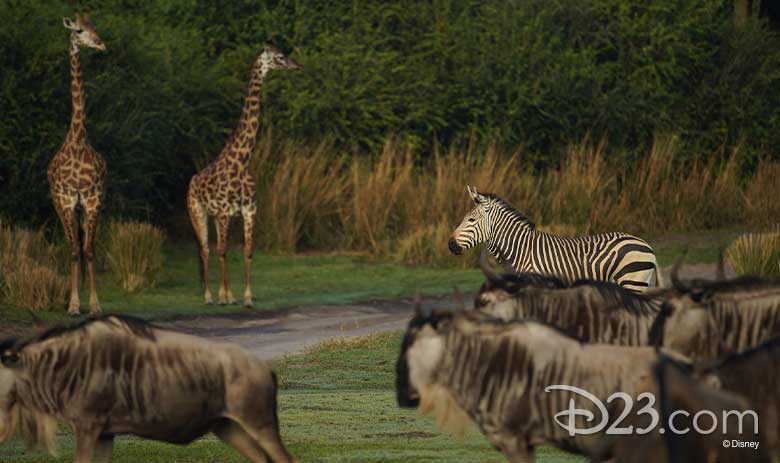 Penning will be happy if Magic of Disney's Animal Kingdom sparks viewers to come to Florida and see the amazing level of care in person, but he also hopes the docuseries will encourage them to take action closer to home. He says, "If we can just inspire people to think about nature and to take care of the nature in their backyard, I will consider this a big success."