By Max Lark
One of the many reasons that Beauty and Beast continues to live on in the hearts of generations of Disney fans is its incredibly realized characters. We all know that writers, actors, and animators played pivotal roles in bringing these characters to life; less well-known are the contributions of former Disney animation artist and sculptor Rubén Procopio, whose maquettes—small-scale reference statues—of Beast, Belle, Gaston, and LeFou, helped animators visualize characters in three dimensions and from every possible angle. As Procopio said about the making of Beauty and the Beast in an August 29, 2007, interview with the Burbank Leader, "Our media was 2D, but we have to think in 3D and draw as if this character were alive on paper." Procopio eventually left Disney to form his own animation studio in 2003.
His impeccably nuanced maquettes, which measure between four and 20 inches high, were made first from polyform—or "sculpy" in sculptors' parlance—and then cast in polyurethane using silicone molds.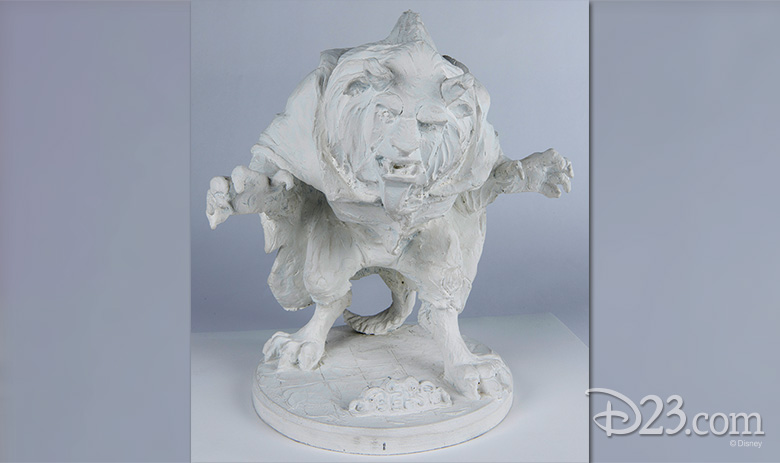 Procopio, who also created maquettes for The Little Mermaid, The Lion King, and more, said at the time that one of his favorite maquettes, was, in fact, Beast. It was rendered in a highly Impressionistic style, more rough-hewn and looking as if it might spring to life at any second. In the Burbank Leader story, Beast animator Glen Keane recounted watching Procopio "boldly" slash away the planes of Beast's face, and realized "they had finally hit on the image of Beast that would be used in the film."
Interestingly, Procopio's father, Adolfo, was a sculptor at Walt Disney Imagineering for more than three decades, creating countless sculptures for Disney attractions and parks around the world. His sister, Vivian, also worked in Disney's Animation Resource Library for many years.
Clearly, helping create unforgettable characters is in Procopio's DNA. And his marvelous artistry will forever live on in Disney's beloved Beauty and the Beast.
Take a look at more of the beautiful maquettes from Beauty and the Beast below.