By Courtney Potter
Step inside the world of Eoin Colfer's über-popular book, and catch a glimpse at Disney's upcoming retelling of The Lion King… See more, along with other news from around Disney, in this week's news briefs!
Brand-New Peek Inside the World of Disney's Artemis Fowl
'Tis the holiday season, which brings with it a festive cornucopia of trailers for upcoming Disney films—all of which look amazing, and all of which we're currently adding to our jam-packed calendar. (Not a bad problem to have, right?) Well, color us enthralled by the latest entrant in the teaser-trailer hoopla: Disney's Artemis Fowl, which will grace movie screens across the country next summer. See young Artemis in (amazing) action, above.
Based on the beloved book by Eoin Colfer and directed by Oscar® nominee Kenneth Branagh, Artemis Fowl follows 12-year-old genius Artemis Fowl (newcomer Ferdia Shaw)—a descendant of a long line of criminal masterminds—as he finds himself in a battle of strength and cunning against a powerful, hidden race of fairies who may be behind his father's disappearance.
Also starring Lara McDonnell, Tamara Smart, Nonzo Anozie, Josh Gad (Frozen), and Oscar winner Judi Dench, Artemis Fowl will rocket into U.S. theaters on August 9.
Save the Date!
Be sure to mark these upcoming Disney events on your calendar:
D23 and Walt Disney Archives


December 8, 2018


Mickey's of Glendale – Holiday Shopping 2018


December 9, 2018


D23's Light Up the Season – 2018


December 15, 2018


D23's Grand Gingerbread Workshop


August 23-25, 2019


D23 Expo 2019
Parks


Summer 2019


Star Wars: Galaxy's Edge Opening at Disneyland Resort


Fall 2019


Star Wars: Galaxy's Edge Opening at and Walt Disney World Resort



Studios




December 19, 2018


Mary Poppins Returns opens in U.S. theaters


March 8, 2019


Marvel Studios' Captain Marvel opens in U.S. theaters


March 29, 2019


Dumbo opens in U.S. theaters


April 19, 2019


Penguins opens in U.S. theaters


May 24, 2019


Aladdin opens in U.S. theaters


June 21, 2019


Toy Story 4 opens in U.S. theaters


July 19, 2019


The Lion King opens in U.S. theaters


August 9, 2019


Artemis Fowl opens in U.S. theaters


Television




November 29, 2018


The Wonderful World of Disney: Magical Holiday Celebration airs on ABC (9–11 p.m. EST)


December 1, 2018


Disney Parks Presents a 25 Days of Christmas Holiday Party airs on Disney Channel (8-8:30 p.m. EST)


December 2, 2018


Life Size 2 premieres on Freeform (9–11 p.m. EST/PST)


December 8, 2018


Disney's Fairy Tale Weddings: Holiday Magic airs on Freeform (8–9 p.m. EST/PST)


December 25, 2018


Disney Parks Magical Christmas Day Parade airs on ABC (10 a.m.–12 p.m. EST, 9–11 a.m. CST/MST/PST, airtimes vary, check local listings)

Revisit the Pride Lands: The Lion King Roars to Life!
We weren't kidding when we said there are some incredible Disney movies on the (Pride Lands) horizon… Guests at D23 Expo 2017 were among the first to see footage from director Jon Favreau's amazing retelling of The Lion King, and now fans across the world can marvel in the film's photo-realistic CGI—the same process that brought Favreau's The Jungle Book to life. We legitimately cannot wait to see how it enhances the treasured tale of Simba and all his friends. Take a look, above.
The film will take us once again into the African savanna, where a future king must overcome betrayal and tragedy to assume his rightful place on Pride Rock. Featuring the voices of Donald Glover as Simba, Beyoncé Knowles-Carter as Nala, Chiwetel Ejiofor as Scar, Seth Rogen as Pumbaa, Billy Eichner as Timon, Keegan-Michael Key as Kamari, John Oliver as Zazu, Alfre Woodard as Sarabi, and James Earl Jones as Mufasa (reprising his iconic role from the 1994 animated film), The Lion King roars into a cineplex near you on July 19.
Frozen on Broadway Breaks Box Office Record
The cold never bothered us anyway… and it certainly hasn't been bothering Broadway audiences in New York City. Disney Theatrical Group's new musical Frozen recently broke the house record at the St. James Theatre for the week ending November 25, with an amazing gross of $2.3+ million over eight performances—breaking Frozen's previous record of $2.275 million for the week ending April 8, 2018. This marks the third time the production has broken the house record at the St. James since opening this spring!
Frozen opened on Thursday, March 22, and has been in the top 10 best-selling shows every week, establishing itself as the biggest musical hit of its season. A North American tour will open at the Hollywood Pantages Theatre in Los Angeles in Fall 2019. And since we're celebrating the original film's fifth anniversary this week, why not check out D23's roundup of the five best ways to "let it go" with Anna, Elsa, and all their friends?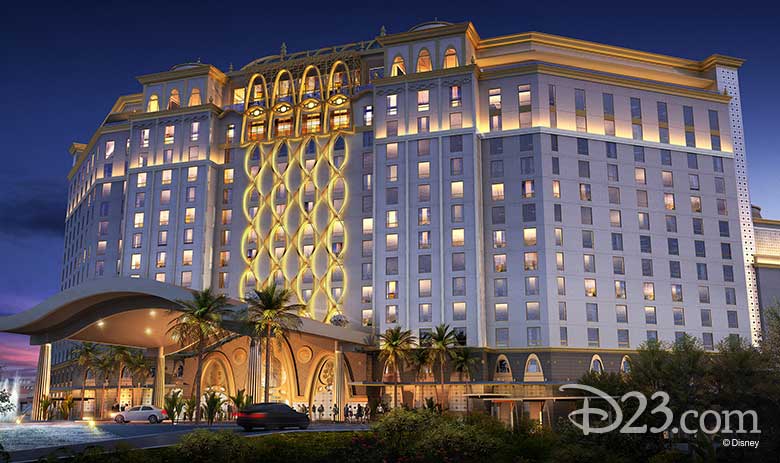 Wanna Visit the New Gran Destino Tower at Disney's Coronado Springs?
If the answer to the above question is "yes," we not only agree, but we also have great news: Beginning this week, guests can make reservations for rooms at the Gran Destino Tower, at Disney's Coronado Springs Resort at Walt Disney World, for stays starting July 2019!
The Gran Destino Tower is part of the reimagining of Disney's Coronado Springs Resort—a transformation inspired by the adventurous spirit of great Spanish explorers, as well as innovative Spanish artists, writers, and architects. New dining experiences at Three Bridges Bar & Grill (which will sit on an island in the middle of the resort's 14-acre lake) and Toledo – Tapas, Steak & Seafood (featuring incredible views of Walt Disney World Resort) will tickle taste buds, while 545 new guest rooms (including 50 suites) will tempt with comfort and amenities galore. And that's on top of Coronado Springs' existing 1,800+ rooms having recently been renovated with new furnishing, fixtures, and lighting.
To reserve your own grand Gran Destino adventure, visit the Walt Disney World website today.
ICYMI: Every Amazing Moment from Destination D: Celebrating Mickey Mouse
There was so much fantastically fun news to come out of D23's recent Destination D event in Florida that we just had to make a video recap to celebrate. From special appearances by Disney characters and favorite celebs, to memorable panels on Disney history, and everything in between—it was truly a weekend for the Mickey-shaped record books! See for yourself right here.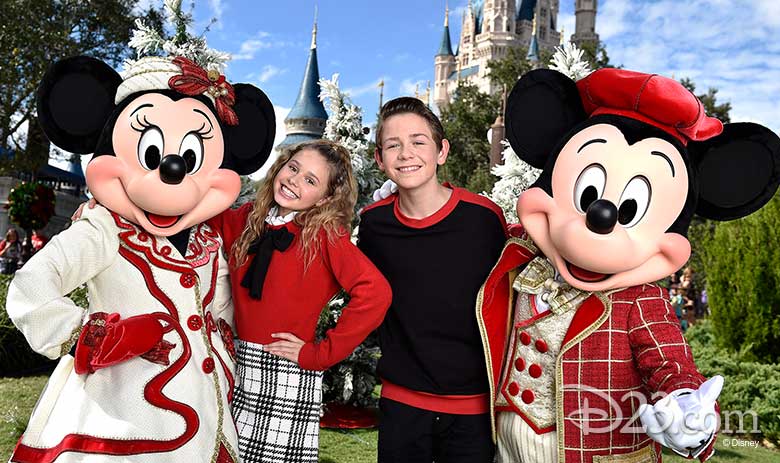 Holiday Special to Feature Sneak Peek of Lightning McQueen's Racing Academy
Grab the family and gather 'round the TV (or mobile device of your choice): Disney Parks Presents a 25 Days of Christmas Holiday Party debuts this Saturday, December 1, at 8 p.m. EST on Disney Channel! It's a brand-new half-hour special featuring appearances and performances from a cadre of fave Disney Channel stars, including hosts Ruby Rose Turner, Dakota Lotus (Coop & Cami Ask the World), Kylee Russell, Meg Donnelly (ZOMBIES), and Sadie Stanley and Sean Giambrone (the upcoming Kim Possible).
During the special, Stanley and Giambrone take viewers behind the scenes of Lightning McQueen's Racing Academy at Disney's Hollywood Studios—where guests will step into the world of Disney•Pixar's Cars. This exciting new show opens in the park's Sunset Showcase in spring 2019 as part of the overall transformation of Disney's Hollywood Studios.
So mark your calendars for some holiday "ka-CHOW!" this weekend.