By D23 Team
It's been 90 magical, wonderful years of Mickey Mouse, and in celebration of this
monu-mouse-tal occasion, we're taking a look back at our top Mickey questions, answered by Dave Smith, Chief Archivist Emeritus of the Walt Disney Archives.
Got a question of your own? You can submit it to Dave here.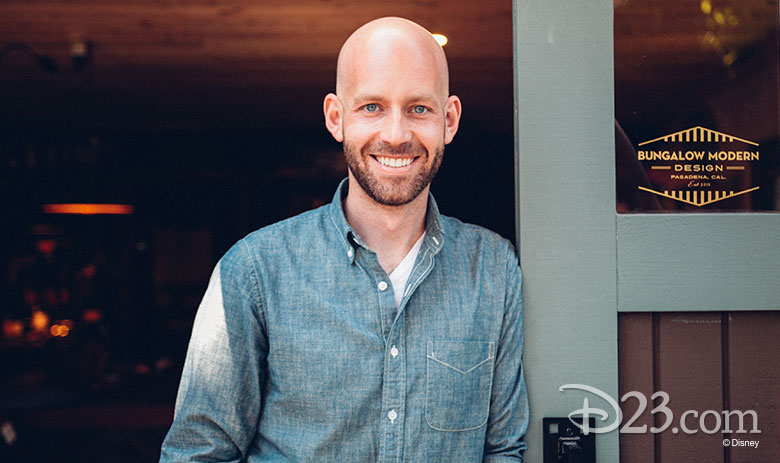 Q : If you could, do you think you could put together a list of everyone who has ever voiced Mickey Mouse? Possibly a list of how long they voiced him to go with it?
Krista, Hillsboro, Oregon
A: There have, up to now, been four people who were the official voices of Mickey Mouse. Walt Disney was the first (1928-1946), followed by Jim Macdonald (1946-1977), Wayne Allwine (1977-2009), and Bret Iwan (pictured above, 2009- ). Additionally, composer Carl Stalling performed Mickey's voice in a few early cartoons when Walt was busy.
Q : Has Mickey Mouse ever presented at the Academy Awards®?
Matthew, North Hollywood, California
A: The Disney parks'-costumed Mickey helped present an award in 1978 with Jodie Foster and Paul Williams, and an animated Mickey interacted with Tom Selleck as a presenter at the 1988 Academy Awards ceremony and with Jennifer Garner in 2003. Those were the only times for Mickey, though other Disney characters appeared in the 1990s. Mickey did, however, appear in a short special cartoon, made by Disney for the 1932 ceremony, in which he led a parade of caricatures of that year's award nominees.
Q : Hi Dave! Let me begin by saying thank you for sharing your wealth of knowledge with the world so we can all feel like a part of the Disney magic. I do have a question for you. I'm a hopeless romantic and huge Disney fan, and a friend told me once that the actors who play the voices of Mickey and Minnie are married in real life. Is this true? I know many voice actors have portrayed Mickey and Minnie, so I'm not certain if that was ever the case. Also, I know Mickey and Minnie were never actually married, but there is certainly a wealth of merchandise portraying their wedding. Why was that merchandise created if it was never a part of their stories? Are there plans to have them get married?
Krystina, Avondale, Arizona
A: Russi Taylor, who did the voice of Minnie Mouse, and Wayne Allwine, who did the voice of Mickey Mouse, were indeed married. Wayne, sadly, passed away in 2009, the year after he was named a Disney Legend. Russi is still active in voice recording.
Q : Have Mickey and Oswald ever been in a comic or a cartoon together?
Cora, Navarre, Florida
A: Not in a comic book, comic strip, or animated cartoon, but they are together in the Disney Epic Mickey videogame. [Oswald appears briefly in the 2013 animated short Get a Horse!]
Q : What was the first Disney-based merchandise on the market?
Daniel, Pevely, Missouri
A: There was an Oswald stencil set, a candy bar, and a pin-back button, all licensed through Universal, who owned and distributed the Disney Oswald cartoons. The first Mickey Mouse item was a writing tablet. Supposedly Walt was walking through a hotel lobby in New York, and a man offered him $300 if he would allow Mickey to be used on the tablets. Walt needed the $300, so he said okay.
Q : I'm obsessed with Disney pins. I have more than 300 pins, and I'm only 11! Could you describe what the first pin made looked like and when it was made? Also, is it in the Archives? When did pin trading start, and why did Disney start trading pins?
Kobe, Delaware, Ohio
A: One of the earliest Disney pins I have seen is a Mickey Mouse Chums pin made in England in the 1930s; there is an example of it on display in the Archives. But actual pin trading at the parks began at Walt Disney World in 1999 and at Disneyland the following year.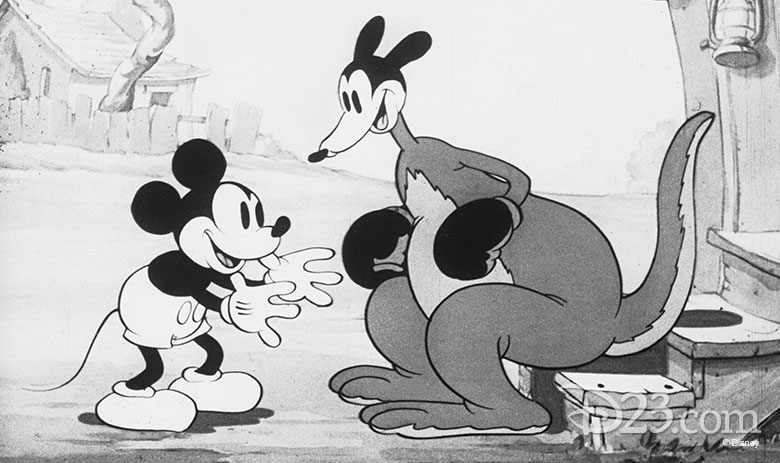 Q : The Art of Walt Disney by Christopher Finch says that Mickey Mouse's last black-and-white cartoon was Mickey's Service Station. But other sources say that Mickey's Man Friday was one of the last. Which one is the last Mickey Mouse cartoon?
Christopher, Lolo, Montana
A: The last one in black and white was actually Mickey's Kangaroo. Even though The Band Concert, the first one in color, was released in early 1935, two black-and-white ones followed it—Mickey's Service Station and Mickey's Kangaroo. From then on, all the rest of the Mickey cartoons were in color.
Q : Upon watching the movie Who Framed Roger Rabbit, I was wondering if there are any other non-Disney characters that have been portrayed as being friends with Mickey Mouse and Donald Duck?
Ross, Aurora, California
A: I can think of no instance when Mickey Mouse or Donald Duck appeared in a film with cartoon characters from another studio, except in Who Framed Roger Rabbit.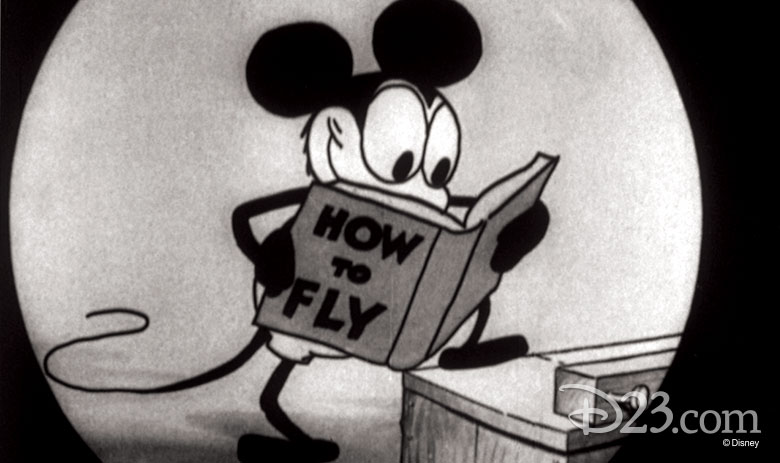 Q : Why does Disney not acknowledge Plane Crazy as Mickey Mouse's first movie?Mark, Mission Viejo, California
A: While Plane Crazy was animated before Steamboat Willie (as was The Gallopin' Gaucho), they were not released until after it. The first two films had been made without sound. With the success of synchronized sound in Steamboat Willie, sound was later added to Plane Crazy and The Gallopin' Gaucho, and they were released later.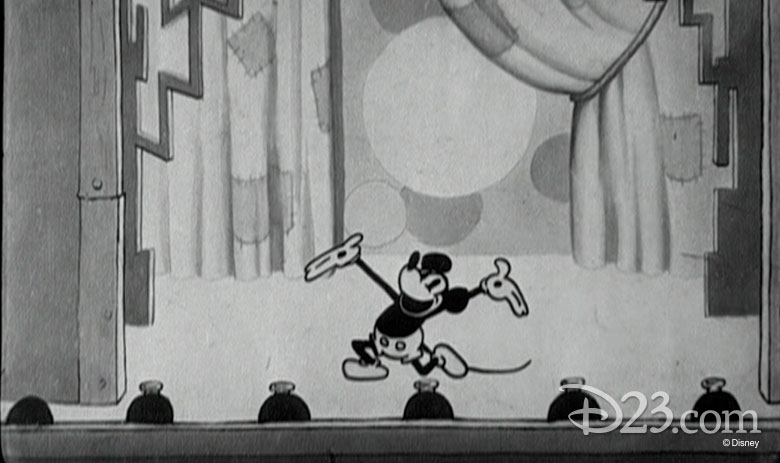 Q : I read that in the film The Opry House (1929), Mickey was first given white gloves as a way of contrasting his naturally black hands against his black body. Is that true?
Marie, Serris, France
A: The white gloves were added to Mickey's hands in When the Cat's Away (1929), the film made after The Opry House. John Grant, in his Encyclopedia of Walt Disney's Animated Characters, quotes Walt Disney as saying, "We didn't want him to have mouse hands, because he was supposed to be more human. So we gave him gloves." The white gloves against a black body indeed provided a necessary contrast to the black hands that were utilized in the first few cartoons, so the gloves continued to be used thereafter.
Q : This may sound like a strange question, but I was wondering when did the Mickey Premium Bar first hit the Disney parks?
Samuel, Faribault, Minnesota
A: The current Mickey Premium Bar (ice cream) is a Nestlé product; Nestlé first joined Disney to sponsor The Land at Epcot in 1992. Before that ice cream bar, there was an earlier one, with only the Mickey Mouse ears covered in chocolate. Gold Bond Ice Cream was licensed in 1975 for a Mouseketeer Bar; Gold Bond was acquired by Good Humor in 1989, and they continued selling the bar as part of their Mickey's Parade line until Nestlé came out with theirs.