By Tim Lammers
When considering directors for their latest Marvel Cinematic Universe Super Hero adventure, Marvel Studios' Thor: Ragnarok, Marvel Studios had to have sensed something special with Taika Waititi. Having already displayed his unique set of filmmaking sensibilities with the indie sensations What We Do in the Shadows and Hunt for the Wilderpeople, the New Zealand filmmaker proceeded to blow fans' minds when he came thundering out of the gate in April with the neon-infused teaser trailer for the film. In less than two minutes time, Waititi made it known that the third adventure for the God of Thunder would be like nothing fans had ever seen before.
"I wanted to do something that felt fresh and new for the character and the franchise, but also for me as a filmmaker as well," Waititi says. "I don't want to fall into a trap of repeating myself, and just getting comfortable and doing the same thing again and again. So, getting to do this film was a great opportunity for me to test and challenge myself, and say, 'You know what? You can make a Super Hero movie if you want, as long as you make it your Super Hero movie and do the film in your own voice.'"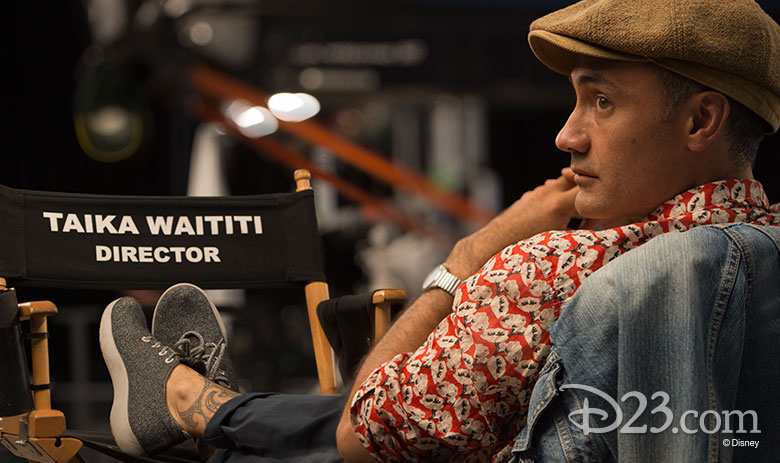 Marvel Studios' Thor: Ragnarok, which opens in 2-D and 3-D in theaters and on IMAX screens on Friday, November 3, brings back Thor (Chris Hemsworth) as you've never seen him before: in an action-comedy-style adventure where he reunites with fellow Avenger Bruce Banner/Hulk (Mark Ruffalo) and recruits his very untrustworthy brother, Loki (Tom Hiddleston), to battle the Goddess of Death, Hela (Cate Blanchett)—who threatens to destroy the brothers' home planet of Asgard. Joining the trio for the fight is Valkyrie (Tessa Thompson), but first they must escape the planet of Sakaar, whose savvy ruler Grandmaster (Jeff Goldblum) features Hulk in gladiator-style battles to entertain the planet's denizens.
Waititi recently chatted with D23 about the making of the film.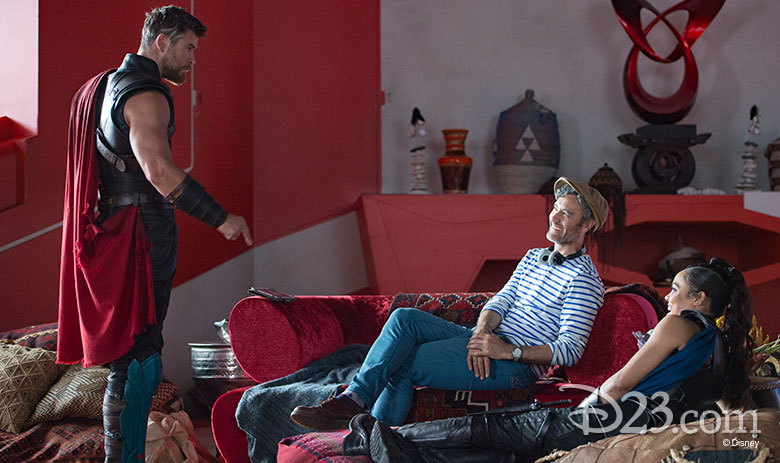 D23: You've taken a more lighthearted route on Thor: Ragnarok that's quite different from Thor and Thor: The Dark World.
Taika Waititi (TW): That's exactly right. I'm so grateful to [directors] Kenneth Branagh and Alan Taylor for laying the groundwork, and establishing the world and establishing the characters so well that for me the job was a lot easier, so I could come in and add these colorful elements without having to establish or explain anything to the audience. That was a huge thing for me. Also, you can't forget that these stories come from comic books, especially Marvel's comic books, including Thor, which are very colorful. They're very irreverent and have great humor in them, and great art. They have a vibrancy and life to them that we tried to capture in the film. Other people have obsessed with making their comic book movies dark and brooding and more depressing than life itself, but for me, I want people to go to the movies and smile again. I want them to enjoy the escape from the real world. We tried our very hardest to make it a film that made people happy, and made them laugh and smile.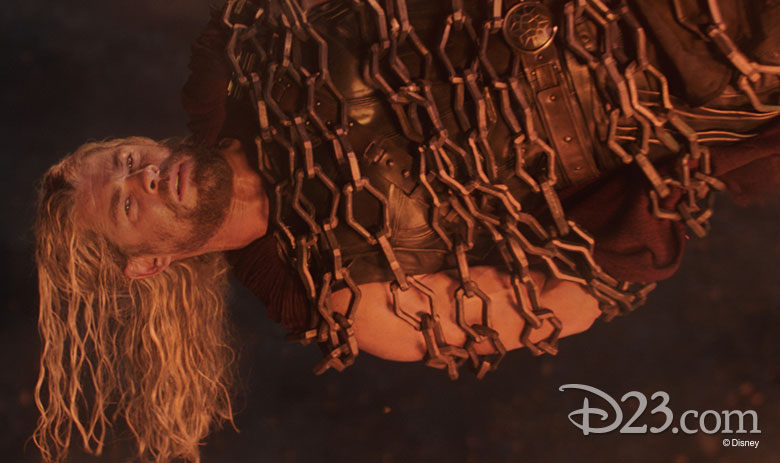 D23: I really see Thor: Ragnarok as an opportunity to play up some of Chris Hemsworth's previously untapped strengths—at least in a Thor film—by playing up his charm. He has a naturally fun and jovial demeanor about him, and Thor: Ragnarok gives him the perfect opportunity to showcase that.
TW:  Oh, yeah. We really made an effort with the character of Thor to make him more like Chris, because Chris is a very charming and funny guy, and someone you want to follow on an adventure. He was almost our secret weapon in deciding who Thor should be. So, we got Chris to be a slightly larger version of himself.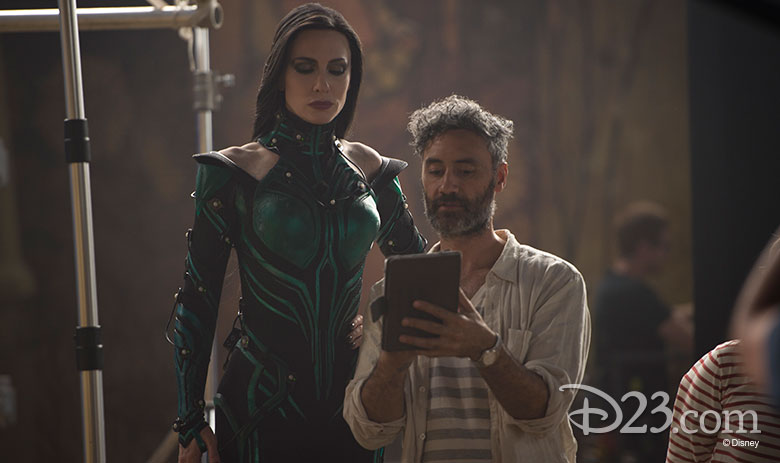 D23: Whose comedic abilities most surprised you? My guess is that it's Cate Blanchett, who is so incredibly talented and so deliciously evil as Hela. She's so fun to watch.
TW:  She really is. The comedy really wasn't a surprise because I knew she could do anything, but there's a certain nonchalance about her in the film, which I think mirrors how Cate is in what she's done. She's won a bunch of awards, she doesn't have anything to prove and she knows her stuff. There's something really cool about seeing somebody at the top of their game who is so relaxed and just comes in and turns it on. I feel that's the way it was watching her playing Hela. Hela's won all these battles in her past, yet waltzed in in a casual way, and it allowed her to be funny and irreverent. It allowed her to make wisecracks before annihilating Asgard's army
D23: And certainly you found with Anthony Hopkins—especially playing Loki disguised as Odin—that he can be quite funny, too.
TW: We had a huge amount of fun with Tony. Really, he can just come in and turn it on when he wants. He hardly has to do anything. There's a relaxed thing going on there where you feel like you're in safe hands. It's confidence that gives you confidence. You feel like, "Man, I don't know if he's dialing it in" [laughs] or "He's just so fabulous and useable." Maybe that's what acting is.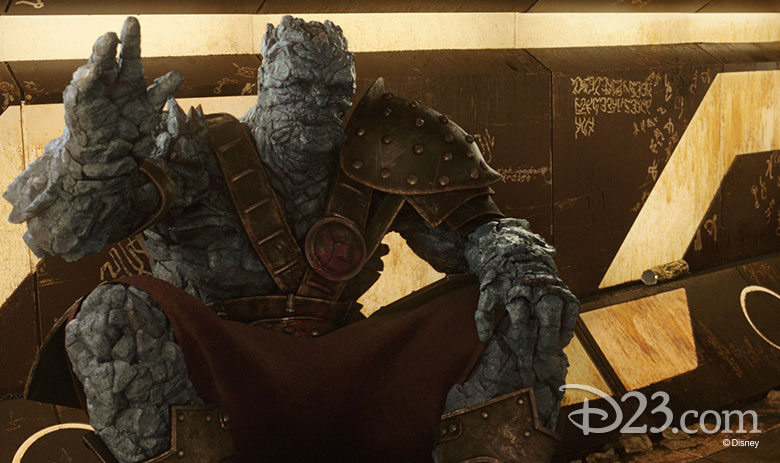 D23: We have to talk about Taika, the actor, because fans are going to love your role as Korg. He's this big, looming character made of rocks, but instead of giving him this gruff demeanor, you went with a lighter, almost whimsical take on his voice. He's very much a gentle giant and mild-mannered—I love that you gave him that read.
TW: Doing things like that—it was about not making the obvious choice. That was our M.O. throughout the entire film. Every time we felt like, "Have we seen this before? What can we do to change what's expected of us?" We wanted to do whatever it took to make something really different. We had a good team that was really supportive of that approach, and that team was Marvel Studios.