By Courtney Potter
Lightning Strikes Again in New Cars 3 Teaser Trailer
It's been almost six years since we last saw legendary Lightning McQueen (voice of Owen Wilson) race around the world (and take down the evil Professor Z) in Disney•Pixar's Cars 2. But gas up and start your engines, because everyone's favorite Piston Cup champ is back! Cars 3 will rev into our hearts this summer—and we just got an extended sneak peek at the film… take a gander, above.
Blindsided by a new generation of blazing-fast racers, Lightning is suddenly pushed out of the sport he loves. To get back in the game, he will need the help of an eager young race technician, Cruz Ramirez (voice of Cristela Alonzo), with her own plan to win… plus inspiration from the late, great "Fabulous" Hudson Hornet and a few unexpected turns. Proving that No. 95 isn't through yet will test the heart of a champion on Piston Cup Racing's biggest stage!
Directed by Brian Fee (storyboard artist, Cars and Cars 2) and produced by Kevin Reher (A Bug's Life, La Luna), Cars 3 cruises into theaters on June 16, 2017.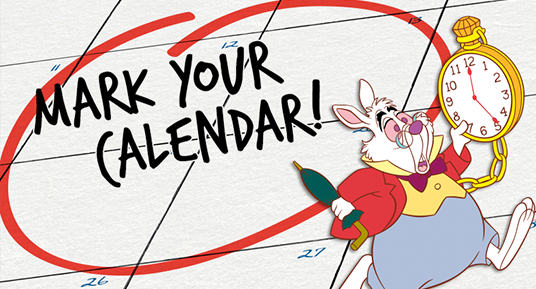 Save the Date!
Be sure to mark these upcoming Disney events on your calendar:
D23 and Walt Disney Archives


January 14, 2017


The Official Walt Disney Studios Tour—Presented by D23


January 19, 2017


D23 Behind-the-Scenes Experience: The Magic of Disney Park Maps


February 4, 2017


D23's Magical Screening Series: Tangled On the Lot


February 11, 2017


D23's Magical Screening Series: Tangled in Florida

February 19, 2017


D23 Member Night at Freaky Friday at La Jolla Playhouse


July 14-16, 2017


D23 Expo 2017


Studios




December 16, 2016


Rogue One: A Star Wars Story opens in theaters


February 16, 18 and 22, 2017


Newsies in select movie theaters


March 17, 2017


Beauty and the Beast opens in theaters


April 21, 2017


Born in China opens in theaters


May 5, 2017


Guardians of the Galaxy Vol. 2 opens in theaters


May 26, 2017


Pirates of the Caribbean: Dead Men Tell No Tales
opens in theaters


June 16, 2017


Cars 3 opens in theaters
Parks


January 13–February 20, 2017




Epcot International Festival of the Arts




January 20, 2017


Main Street Electrical Parade returns to Disneyland park


January 20–February 5, 2017




Lunar New Year Celebration at Disney California Adventure park




March 10–April 16, 2017




Disney California Adventure Food & Wine Festival




August 31-November 13, 2017




Epcot Food & Wine Festival




Television




January 15, 2017


Mickey and the Roadster Racers Premieres at 9 and 9:25 a.m. ET on Disney Channel and Disney Junior


February 26, 2017




The Oscars® are broadcast on ABC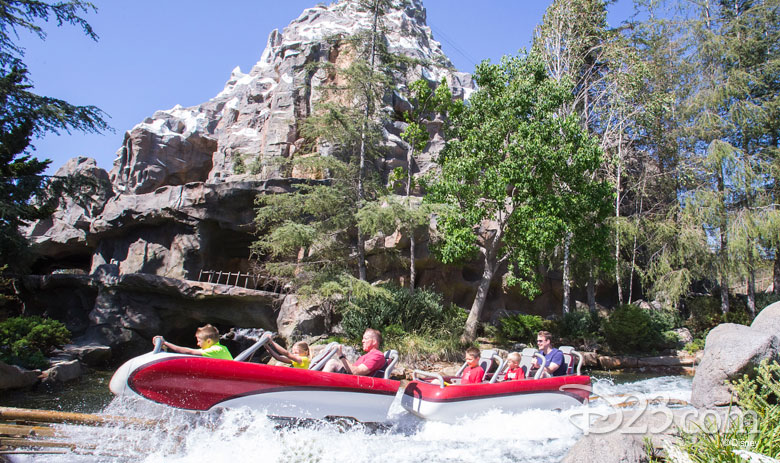 Disney MaxPass comes to Disneyland Resort
Get ready for a new way to enjoy attractions at Disneyland Resort! Disney MaxPass allows guests to make their experiences even more memorable with unlimited downloads of PhotoPass images and mobile booking and redemption of Disney FASTPASS through the Disneyland App. Disney MaxPass will be available for an introductory price of $10 a day, but Annual Passholders will be happy to know that Disney MaxPass will be available to purchase on a daily or yearly basis for current passholders. Disney FASTPASS at Disneyland and Disney California Adventure parks will still be available for guests, with two attractions joining the 14 already utilizing Disney FASTPASS –– Matterhorn Bobsleds and Toy Story Mania! Stay tuned for more details.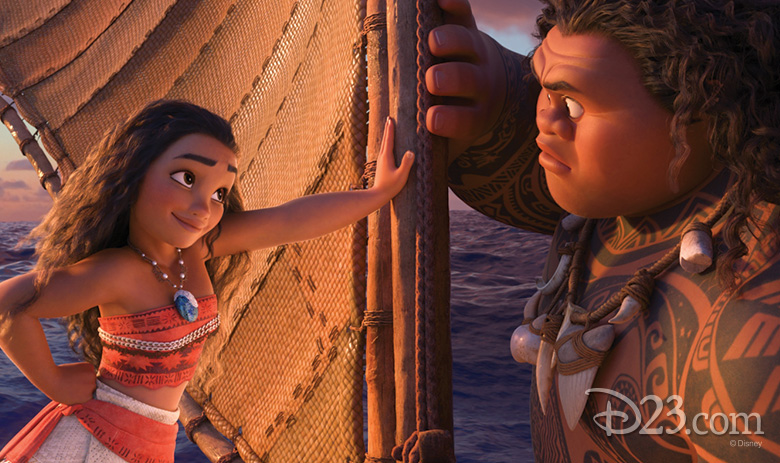 Sing-Along Version of Moana Coming to Theaters on January 27
There's more adventure on the horizon for everyone's favorite wayfinder and her demigod pal! Walt Disney Animation Studios is introducing an all-new, sing-along version of the hit, critically-acclaimed comedy-adventure Moana—and it's coming to theaters nationwide on January 27. Prior to its roll-out across the U. S. of A., the sing-along version will premiere exclusively at Hollywood's El Capitan Theatre on January 20. Plus, the good news continues: The original theatrical version of the film will be available on digital platforms this February 21, and on Blu-ray™, DVD, and On Demand this March.
The sing-along version of Moana includes the full feature film with on-screen lyrics, so audiences can belt out the words to their favorite songs—such as the Golden Globe®-nominated "How Far I'll Go," written by Hamilton creator Lin-Manuel Miranda. Moviegoers should check their local listings for showtimes and theaters… and just FYI: The sing-along run will vary by location, so don't miss out!
Gorgeous New Beauty and the Beast TV Spot and Poster
We're now fully ensconced in 2017, and that means we'll soon be singing that "song as old as rhyme" when Beauty and the Beast—Disney's live-action re-telling of the classic 1991 animated film—roars into theaters this spring. And during this past weekend's Golden Globes broadcast, a brand-new TV spot debuted… featuring a sneak peek of Emma Watson singing "Belle"! Be our guest and check out the new clip, above.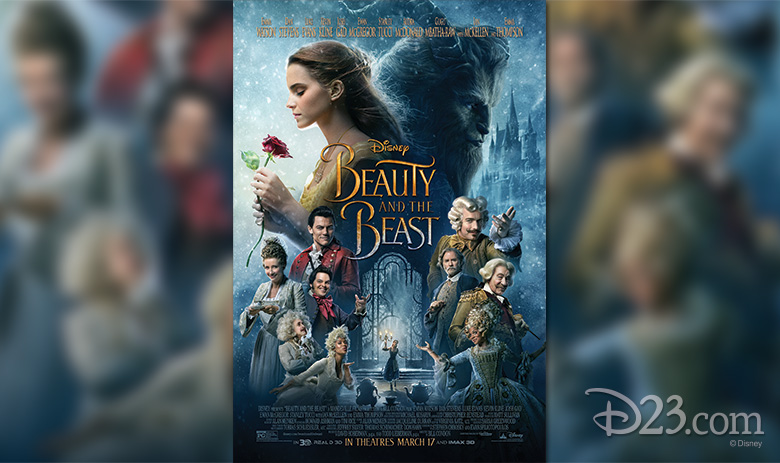 But that's not all—a new poster for the film (seen above) just debuted as well. It's the very first time we've seen some of our favorite "enchanted objects" as their human counterparts, including Emma Thompson as Mrs. Potts, Ewan McGregor as Lumiere, and Sir Ian McKellen as Cogsworth.
Beauty and the Beast waltzes into a cineplex near you on March 17!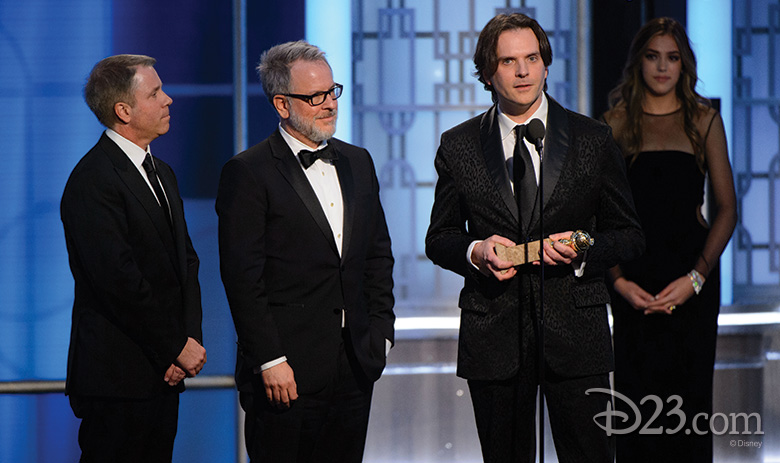 Zootopia and ABC's black-ish Win Golden Globes
Speaking of the Golden Globes, Disney was well represented during the primetime broadcast… First, Tracee Ellis Ross won Best Performance by an Actress in a Television Series—Comedy or Musical for her hilarious and heartfelt portrayal of Dr. Rainbow "Bow" Johnson in ABC's black-ish—and later in the evening, Walt Disney Animation Studios' 2016 hit Zootopia took home the trophy for Best Animated Feature Film!
Catch new episodes of black-ish on Wednesday nights through January 18, on ABC… and bring Zootopia home on Blu-ray™, Digital HD, or Disney Movies Anywhere now.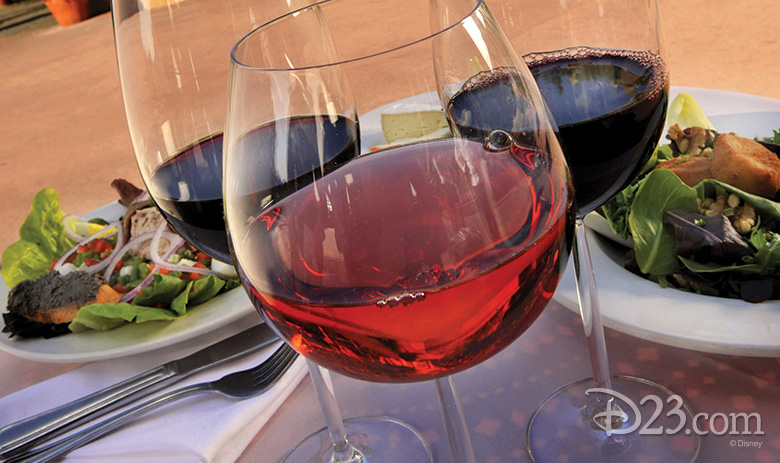 Disney California Adventure's Food & Wine Festival Returns
Epcot has hosted its Food & Wine Festival since 1995, which often left West Coast foodies hungering for their own version. Thankfully, their prayers were answered when Disney California Adventure (DCA) announced its own Food & Wine Festival a few years ago. After a short sojourn, the fest returned in 2016… and not surprisingly, it's back this spring! The popular culinary celebration will delight DCA guests each day from March 10 through April 16, 2017.
Fans of delicious flavor are invited to celebrate some of the best of delicious California cuisine throughout the park—and there will be even more Festival Marketplaces to enjoy this year, plus enhanced Festival-inspired menus at existing restaurants and eateries, where guests can savor delicious eats from across the Golden State. Guests will enjoy culinary experiences created for the whole family, including a variety of food, beverage, and lifestyle seminars; cooking demonstrations; and all kinds of yummy presentations. Plus, look for appearances by celebrity chefs like Duff Goldman, Jamie Deen, Robert Irvine, Guy Fieri, and more!
Tickets for premium experiences will be available starting February 1—and more information on the entire fest is forthcoming, so keep your eyes (and your apples) peeled…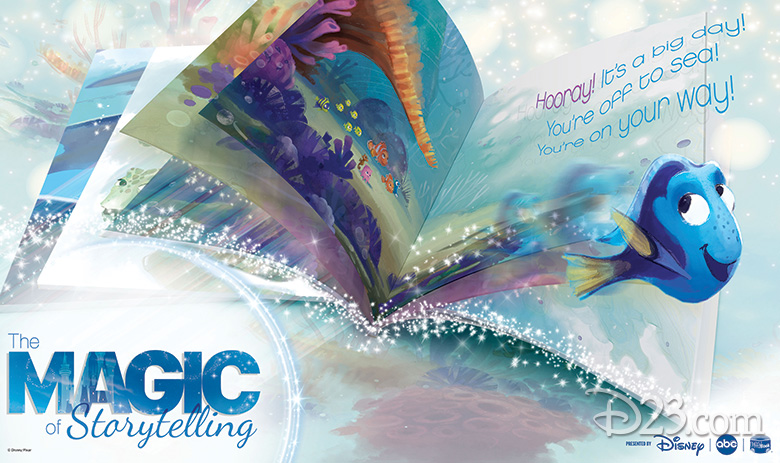 Disney and ABC's Fifth Annual "Magic of Storytelling" Campaign
Reading truly is, as the saying goes, fundamental—and to that end, Disney and ABC have just kicked off their fifth annual "Magic of Storytelling" Campaign with a donation of up to a whopping 1 million books to First Book, a nonprofit that provides new books to educators and organizations serving children from low-income families.
The campaign, which lasts now through March 31, aims to inspire imagination, cultivate a lifelong love of reading in kids, and bring books to underserved communities across the country. Disney itself has, over the last 16 years, donated an incredible 57 million books to First Book!
During the "Magic of Storytelling" campaign, families are encouraged to put everything else down, pick up a book, and read (independently or together!) during the second annual nationwide Disney Reads Day on February 4. Families can do this at home by taking time to read their favorite books together, or by visiting a participating Disney Store, Barnes & Noble, or other retail location for story time, themed activities, and cool giveaways. You can also help by posting a "Shelfie"—a selfie photo with a favorite book, or in front of a bookshelf—on Twitter or Instagram, using the hashtag "#MagicOfStorytelling"; for every "Shelfie" shared, Disney will donate a book to First Book!
For info on all the imaginative fun over these next few months, visit MagicOfStorytelling.com.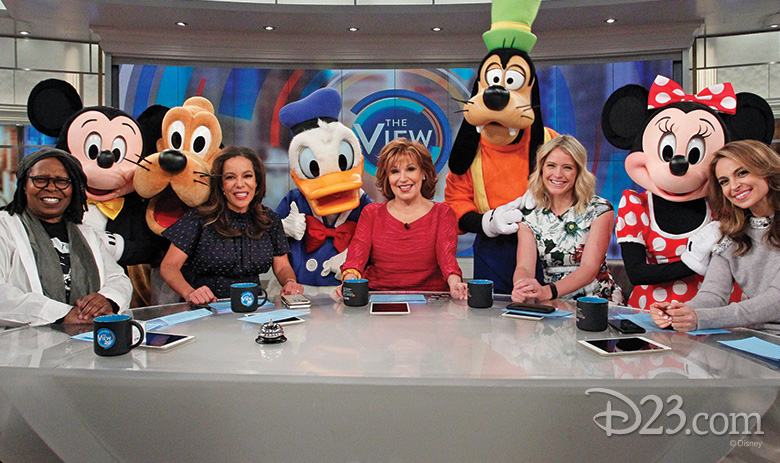 Take in The View from Disney's Animal Kingdom—This Spring!
Ready to take a little time and enjoy The View… direct from Disney's Animal Kingdom? We sure are! For the first time ever, ABC's long-running daytime chat fest will be broadcast live from Walt Disney World Resort.
For five magical days this spring, co-hosts Whoopi Goldberg, Joy Behar, Sara Haines, Jedediah Bila, and Sunny Hostin will take up residence right in front of the "Tree of Life" at Disney's Animal Kingdom for scintillating conversations about the latest "Hot Topics"—as well as chats with some amazing celebrity guests. Plus, the co-hosts will experience the magic of all four Walt Disney World theme parks. (Previously, The View broadcast from The Walt Disney Studios in March 2009, and from Disneyland Resort in November 2013.)
Sounds cool, right? Well, what if we told you there's a chance you could visit Walt Disney World Resort alongside the View crew? The View's "Magic Is Endless" sweepstakes, presented by American Tourister, offers the chance for three lucky viewers to win grand-prize packages—including a trip for themselves and up to three guests each to stay at Walt Disney World Resort; attend a taping of The View at Disney's Animal Kingdom; and receive a $500 Disney gift card. Fans can enter now through January 29… for more information and your chance to win, visit www.TheViewMagicIsEndlessSweepstakes.com.
Doc McStuffins Meets Winnie the Pooh on January 18
We here at D23 are big fans of the Hundred Acre Wood (and the adorable animals that live therein), so we're all about celebrating National Winnie the Pooh Day on Wednesday, January 18. And it looks like our pals over at Doc McStuffins are similarly enamored of Pooh, Tigger, and all their friends: In a very special episode of Disney Junior's Peabody Award-winning hit series, set to air on January 18 (at 7:30 p.m. EST), Doc and her toys will welcome Winnie the Pooh and friends to McStuffinsville.
The episode, "Into the Hundred Acre Wood!," begins when Doc and the toys spot Pooh floating through the air, unable to get down. As they set out to rescue him, the wind magically transports them all to the Hundred Acre Wood—where Tigger, Piglet, and Eeyore join Doc and the toys in the search for Pooh, in hopes of finding him in time for his favorite event of the year… the Honey Festival!
"Into the Hundred Acre Wood!" features two original songs, "Follow That Bear!" and "Think Heavy Thoughts," both written and produced by Michelle Lewis, Kay Hanley, and Dan Petty. Winnie the Pooh also sings the series' iconic song "I Feel Better." So mark those calendars—and take a look at the episode's trailer, above.